A quick Spinach and Feta Gozleme is one of the most requested and popular after-school snacks at our home. Made with my trusty 30-minute yoghurt-based gozleme dough recipe, the secret ingredient for faster rising and lighter dough is yeast. This golden, crispy stuffed Turkish flatbread recipe is the real deal! Once you try it, you will no longer need to buy this Spinach And Feta Gozleme at the markets.
Jump to:
My love affair with dough and flatbreads.
I grew up in a home where roughly about 30-40 chapatis (or rotis or flatbreads) were rolled and cooked on an open fire every day. In fact, making chapati dough and rolling them into perfect little thin rounds was one of the first things I learned in my mum's kitchen. I must have been 5 years old? That sounds about right. My mum used to let me make quite a mess on the floor of our little kitchen and therein she sowed the seeds to a lifelong love affair with food.
So back to rolling. Rolling any kind of dough is extremely therapeutic and results in an incredibly delicious dish. Who doesn't love anything stuffed and cooked in dough? Especially when the resulting pastry encasing is cooked to golden perfection. A crispy flaky gozleme with the most delicious spinach and salty feta filling might be one of the most delicious things I have ever tasted.
My Secret Gozleme Dough Recipe
Most recipes that pop up first on google have sugar listed as one of the ingredients. A good gozleme dough has no sugar in it. The yeast is enough by itself to create the perfect light texture needed. My gozleme dough doesn't require a long rise like bread does. A 30-minute initial rise is actually enough. An extra 30-minute resting time will produce a really light dough that will stretch to a paper-thin consistency when rolled.
Either way, this recipe for my gozleme dough is ironclad. I have kneaded this dough hundreds of times and made countless gozlemes stuffed with all kinds of delicious fillings. Every time I share it on Insta Stories, I get heaps of messages asking for the recipe. So here it is, at long last.
Tips for making authentic gozleme at home.
A. You MUST knead the dough till it is a smooth ball (see picture). If your dough ball has cellulite, it needs to be kneaded more. Always add a bit of extra water if you feel the dough is too tough. It needs to be like a squishy tummy when poked. To be kinder to your shoulders, use the help of your stand mixer (I always do this and the whole process is much faster). Put all the ingredients for the gozleme dough in the bowl of a stand mixer and using the dough hook attachment, knead the dough until it forms a rough ball. THEN place it on a flour-dusted work surface and knead until smooth.
B. I have a stone countertop. I have found that rolling on stone (marble, granite, Silestone, Caesarstone etc..) with a generous dusting of flour produces the thinnest, stretchiest pastry ever. Rolling on a wooden board is going to stunt and shrink the dough and you might struggle to stretch it enough to fill it. If it isn't rolled thinly, you need to cook it longer or else you will get doughy mouthfuls where the seams form.
C. It is very easy to overfill the gozleme. As a rule of thumb after placing your filling, you should be left with at least 4-5 times more naked pastry to fold over than the amount of filling being used.
D. After folding over, gently lift the folded gozleme and dust with flour generously on both sides. Place seam side up (this is very important) and roll gently over the folded seam, ensuring that the stuffing doesn't tear the pastry and squeeze out. I find this more effective than placing the seam side down and rolling on the thin surface.
E. If you do tear the pastry, it isn't the end of the world. It is only dough. Patch up with a bit more and continue.
F. I find a square-shaped gozleme is the easiest to not only roll and cook but also to cut. No wonder, you will find this to be the most widely used shape at markets and street stalls.
G. Brush liberally with oil when pan-frying. Always pan fry on medium. A gozleme cooks very quickly especially if oil is used liberally to brush the pastry. Ensure any meat filling is cooked prior to stuffing and rolling the gozleme.
---
I hope you make this spinach and feta gozleme. It is extremely satisfying to make something like this from scratch. It is nourishing, filling and extremely delicious. If you have any questions, please feel free to leave me a comment below. I would love to help you make your perfect gozleme.
Recipe
Hungry For More Recipes? Subscribe to my newsletter. Check out Facebook, Instagram and Pinterest to see everything I share! And if you love cooking and new cookbooks, join my free Cooking Club on Facebook!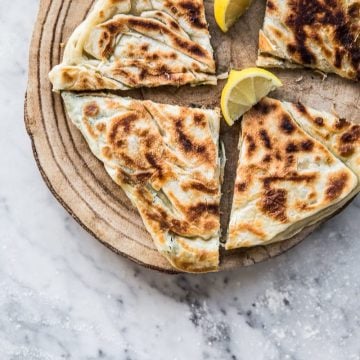 SPINACH AND FETA GOZLEME
A delicious and easy homemade recipe for the world famous Spinach and Feta Gozleme. Ready in just under an hour and better than takeaway!
Print Recipe
Rate / Comment
Ingredients
for the gozleme dough
2

cups

(

270

g

)

plain flour

3

tablespoons

Greek yoghurt

1/2

teaspoon

baking powder

1/2

teaspoon

dry yeast

1/2

teaspoon

sea salt flakes

2

tablespoons

olive oil

1/2

cup

(

150

ml

)

warm water

extra flour for dusting
to assemble
2

cups

baby spinach leaves

,

chopped

1

cup

crumbled feta

chilli flakes

,

optional

olive oil

,

for pan frying

lemon wedges

,

to serve
Instructions
Combine all ingredients for the gozleme except olive oil in a large bowl. Mix with a spoon until just combined. Turn onto a flour dusted surface and knead for a few minutes until smooth. If you feel the dough is too tough (it should feel pliable like a squishy tummy or little bean bag toy when poked) use a little extra water and knead some more. Knead until the dough ball is smooth and has no cellulite.

Return to the bowl. Cover with a tea towel and set in a warm corner of your kitchen for about 30 minutes to prove.

At this point the dough would have doubled in size. Knead in the olive oil to get a smooth dough ball. Cover and set aside for another 30 minutes.

Divide dough into 6 balls. Roll each dough ball into a large rectangle. Dust with extra flour as needed to avoid sticking. Roll it as thin as you can without tearing the pastry. When you place your hand under it you should be able to see through the pastry (the pastry should be thin enough to be translucent).

Scatter spinach, feta and chilli flakes (if using) in the centre of the rolled pastry. Fold the ends over like an envelope, brushing with water to seal and pinch the pastry.

Dust the folded gozleme lightly with extra flour and gently roll it out to three times the folded size.

Grease a large frying pan with olive oil and pan fry the gozleme on each side for a couple of minutes until golden.

Cut into triangles (or squares) and serve hot with lemon wedges.
Notes
Variations - You can bulk up the filling with cooked and shredded spicy chicken or sliced mushrooms. Storage - Stuffed and rolled gozlemes can be stored in tupperware or glass containers in the fridge (separated by baking paper) for up to 2 days. Remove and pan fry as required.  A note on salt - I usually use 1/2 teaspoon sea salt flakes. If you are using regular (finer) salt, obviously use less of it. Gozleme recipes often call for a pinch of salt which is okay but you want your dough to have a perfectly salted flavour if you taste test. You don't want the dough to be bland.
Did you make my recipe?
I'd love to hear how you went! Tag me on Instagram @cookrepublic