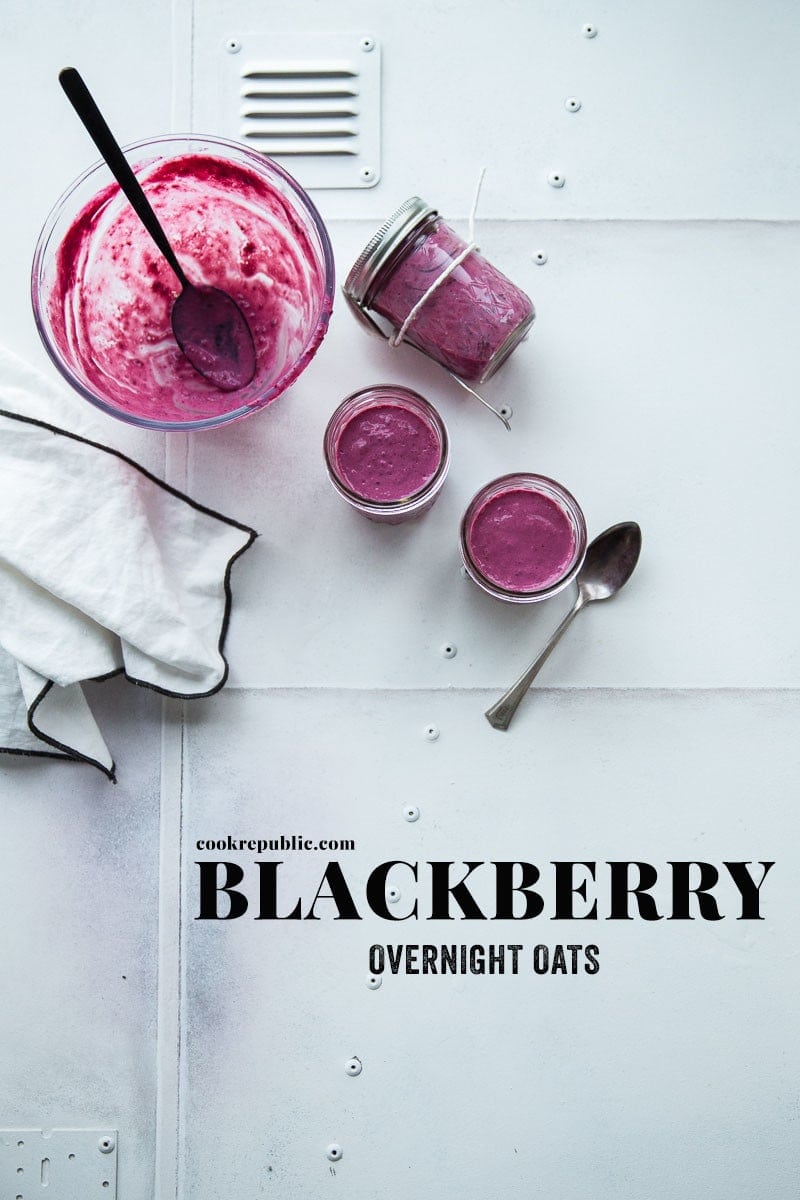 Every summer our blackberry vine creeps a bit further and grows more tendrils that become robust branches heaving with juicy black fruit at the peak of the season. It is amazing how many berries you can stuff in your mouth when you are picking them off the vines. As a result, I am never left over with any blackberries to freeze. Luckily, our local supermarket stocks an organic brand of frozen blackberries which is a key fixture in my freezer for this particular recipe - Blackberry Overnight Oats.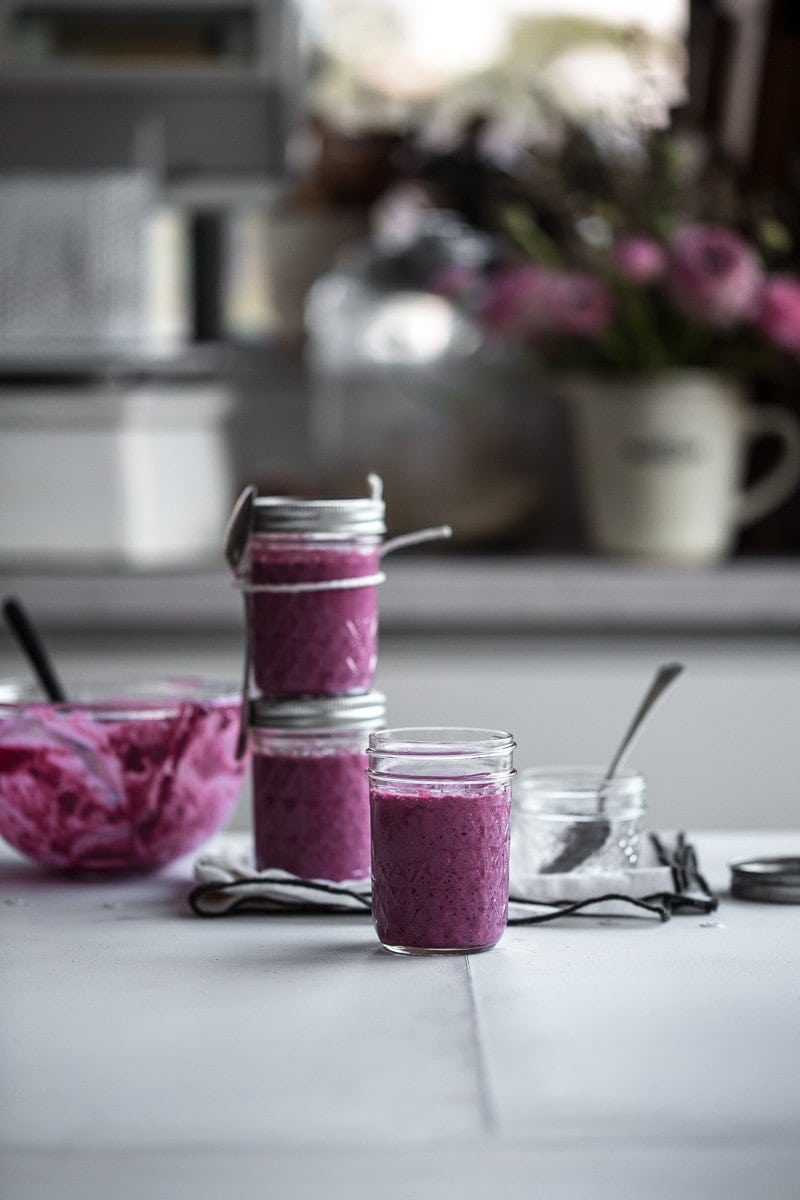 I first made this recipe about a year ago from the Green Kitchen Smoothies cookbook. At that time I had just brought home a bag of organic frozen blackberries for the very first time and was clueless about using them. The blackberry overnight oats recipe really jumped out at me. I made the smoothie blend and had a taste. It tasted like the best berry ice cream I had ever had. It was that wonderful combination of blackberry and vanilla. Yum! This recipe has become a staple in my breakfast repertoire during the warmer months. I have consumed more blackberries in this past year than I have in my entire life and my body literally thanks me for it.
Blackberries are known for their cancer preventing/fighting qualities. In addition, the manganese in blackberries is vital to brain health. They can also reduce inflammation within the body and boost immunity. If heavy and painful periods are something you struggle with, this recipe can help calm some of the symptoms if had regularly as blackberries are known to reduce menstrual symptoms. Coupled with the antibacterial and gut-health promoting qualities of yoghurt and the high fibre/high protein nature of chia; these Blackberry Overnight Oats are a complete nourishing breakfast for your busy mornings. I always double the recipe below and pack little glass jars and BPA free containers for Nick and the boys who grab one on their way out to work and school.
Recipe
Hungry For More Recipes? Subscribe to my newsletter. Check out Facebook, Instagram and Pinterest to see everything I share! And if you love cooking and new cookbooks, join my free Cooking Club on Facebook!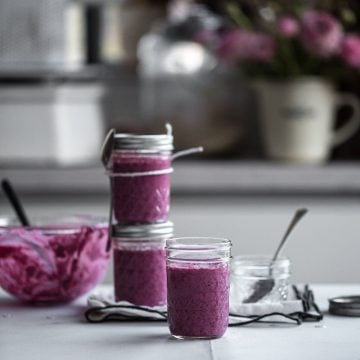 Blackberry Overnight Oats
slightly adapted from Green Kitchen Smoothies by David Frenkiel And Luise Vindahl
Print Recipe
Rate / Comment
Ingredients
1

cup

(

150

g

)

frozen blackberries

1

cup

(

250

g

)

unsweetened Greek yoghurt

3

tablespoons

maple syrup

1/2

teaspoon

vanilla powder

,

or extract

1/2

cup

(

50

g

)

rolled oats

2

tablespoons

black chia seeds
Instructions
Place blackberries, yoghurt, maple syrup and vanilla in the jug of a blender and process until smooth.

Place oats and chia seeds in a medium mixing bowl. Add the blackberry smoothie to the oats and mix well.

Pour the prepared blackberry oat mixture in 4 X 200ml capacity glass jars with sealed lids and place overnight in the refrigerator.

Oats will keep in the fridge for up to 3 days.
Notes
Make It Vegan

- Use Coconut Yoghurt
Make It Gluten Free

- Substitute rolled oats with either buckwheat groats or rice/quinoa flakes.
This recipe makes approximately 675g (24oz) which makes three serves of 225g (8oz) each. I double and triple the recipe to get more jars and serves for the entire week.
Did you make my recipe?
I'd love to hear how you went! Tag me on Instagram @cookrepublic
ONE YEAR AGO – SPELT SOUR CREAM BANANA CAKE
TWO YEARS AGO – TRAY BAKED FRENCH TOAST WITH YUZU CURD
FOUR YEARS AGO – HUNTER VALLEY ADVENTURE - HOT AIR BALLOONING, PASTA MAKING, LAKE PICNIC
FIVE YEARS AGO – BROWN BUTTER LEMON FRIAND CAKE
SIX YEARS AGO – TABOULI AND THE PANTRY GAME