What do you do when you have too many hot cross buns left over at Easter? You make Hot Cross Bun Pudding! Just like the classic, famous bread and butter pudding, hot cross bun pudding is made by slathering the buns with butter, soaking them in a warm, vanilla and nutmeg spiked custard base, and baking them into a delicious pudding! Always an instant hit, try my easy recipe.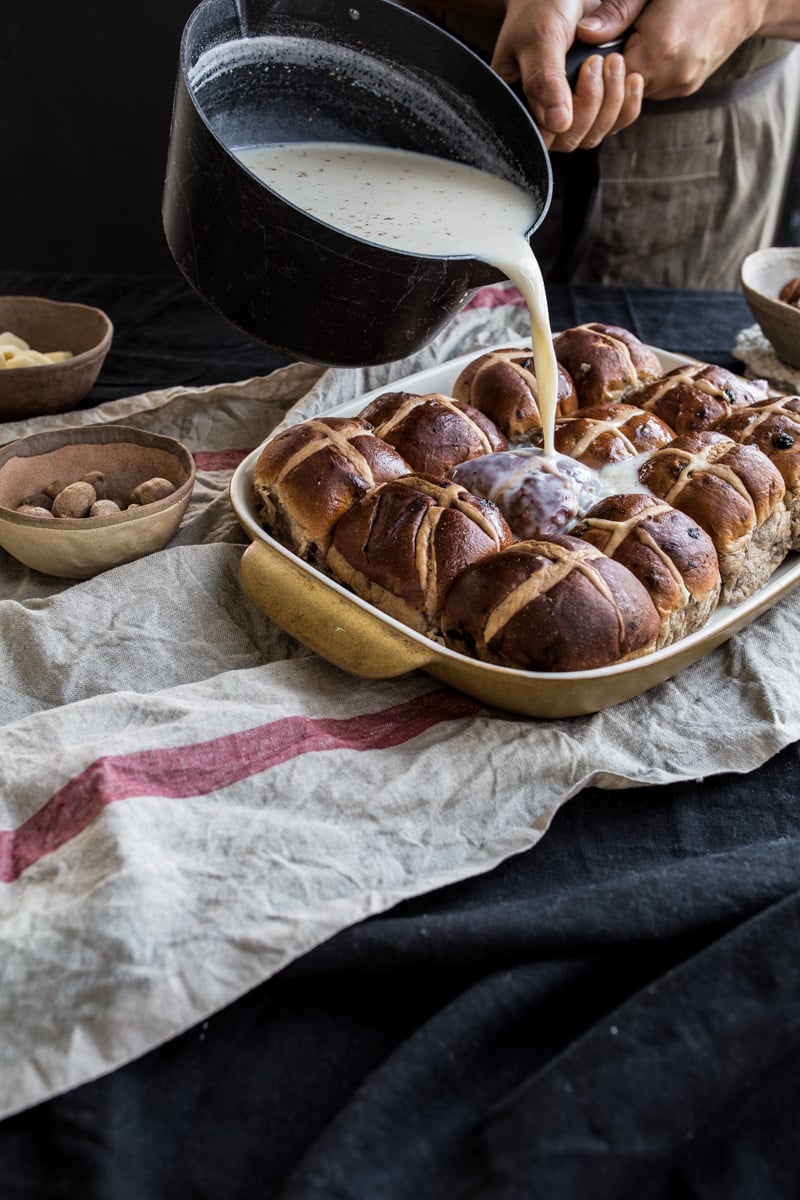 My boys once averse to Hot Cross Buns have only just started eating them this year (they are 11 and 7 and can be overtly fussy when it comes to sweet things!). As a result, in the past few weeks, I have been making regular trips to my local Bakers Delight for their Hot Cross Buns. Hot Cross Buns are as synonymous with Easter as chocolate eggs. Their history suggests that they were originally fruit and spice buns made without dairy (which was forbidden during Lent) and eaten hot on Good Friday. Marked with the instantly recognizable cross (made of flour and water) on top, Hot Cross Buns have since spawned more than a dozen variations, folklores, songs, flavours, forms and events. With buns arriving on bakery shelves nearly four months ahead of Easter, the Hot Cross Bun eating experience is not only prolongated but also made creative by using the buns to make baked desserts, battered breakfast toasts and even an ingenious stuffing for your Easter weekend roast.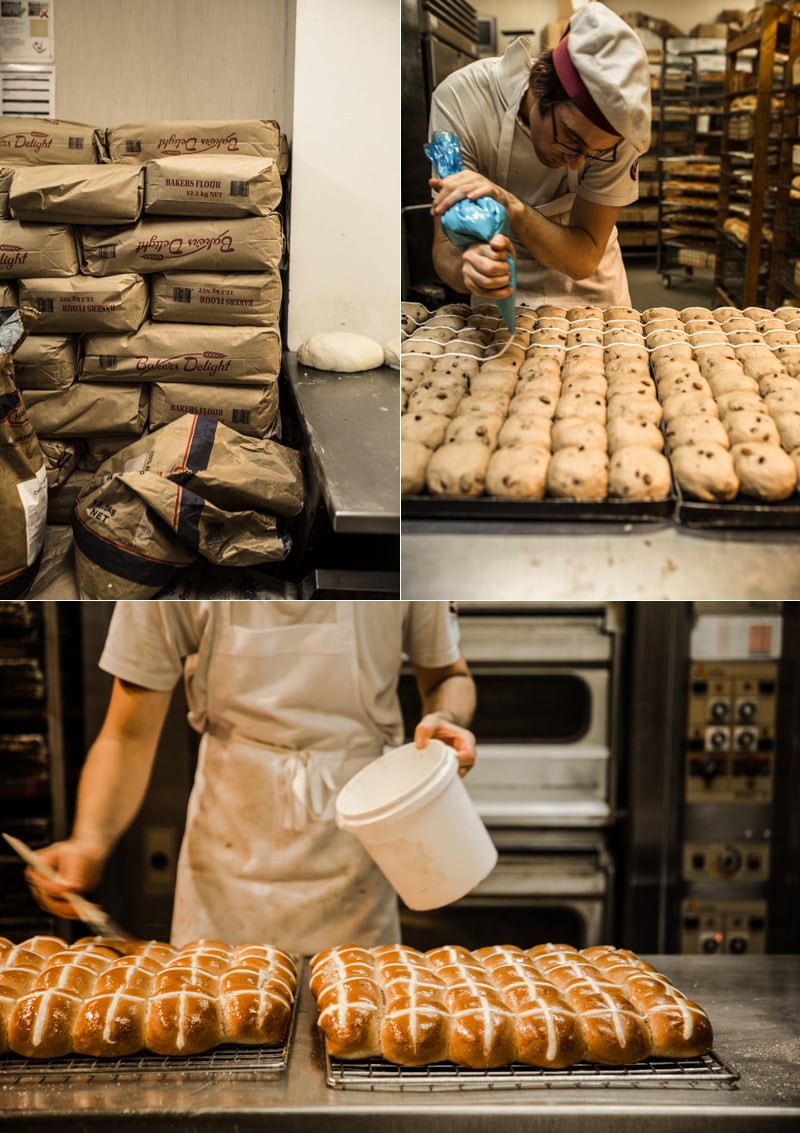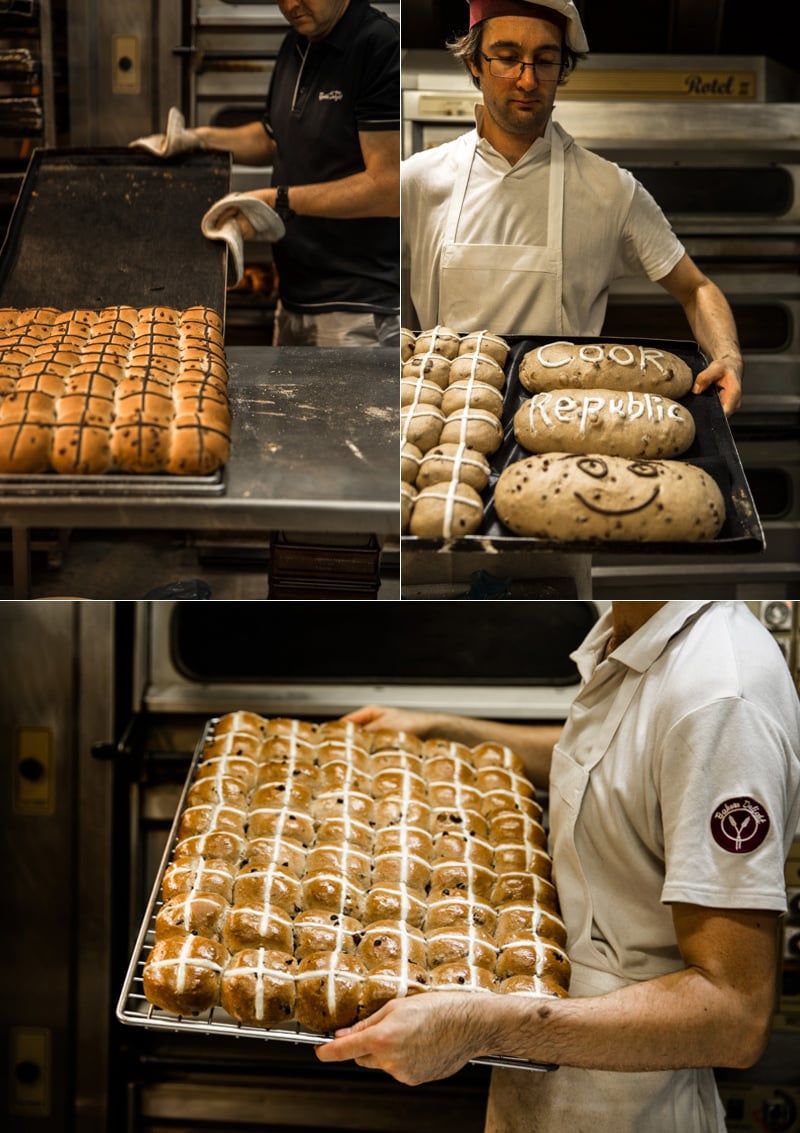 A few weeks ago, I was invited into the Bakers Delight kitchen at Cherrybrook one early morning to see and learn first-hand how they bake their delicious Hot Cross Buns. Owner David explained the nitty-gritty of running a bakery and the semantics of churning out a variety of hot, fresh bread mixed, proven and baked on the premises. Bakers Delight have a philosophy of sourcing the freshest ingredients, a majority of them local. They also have a zero-tolerance policy towards the use of preservatives. Their Hot Cross Buns for example had on average more fruit than most traditional Hot Cross Buns on the market. It was also very refreshing to hear David talk about the bakery being seriously embedded in the community and supporting everything from school events to weekend games and Scout clubs. Bakers Delight have been baking their Hot Cross Buns for over 35 years and this year they are expected to bake 17 million buns in the lead-up to Easter. They also proudly run a Bundraiser every year where $1 is donated to charity for every pack of Hot Cross Buns you buy.
With a warm fuzzy feeling of connecting with honest-to-good artisans and people who cared about the food they created and the community that grew them, I returned home that morning with an even warmer bag of Hot Cross Buns baked freshly for me. I froze a big batch (like I always do! Because hot cross bun cravings can also strike post-Easter) and with the rest, I created this beautiful Nutmeg Tray Bake.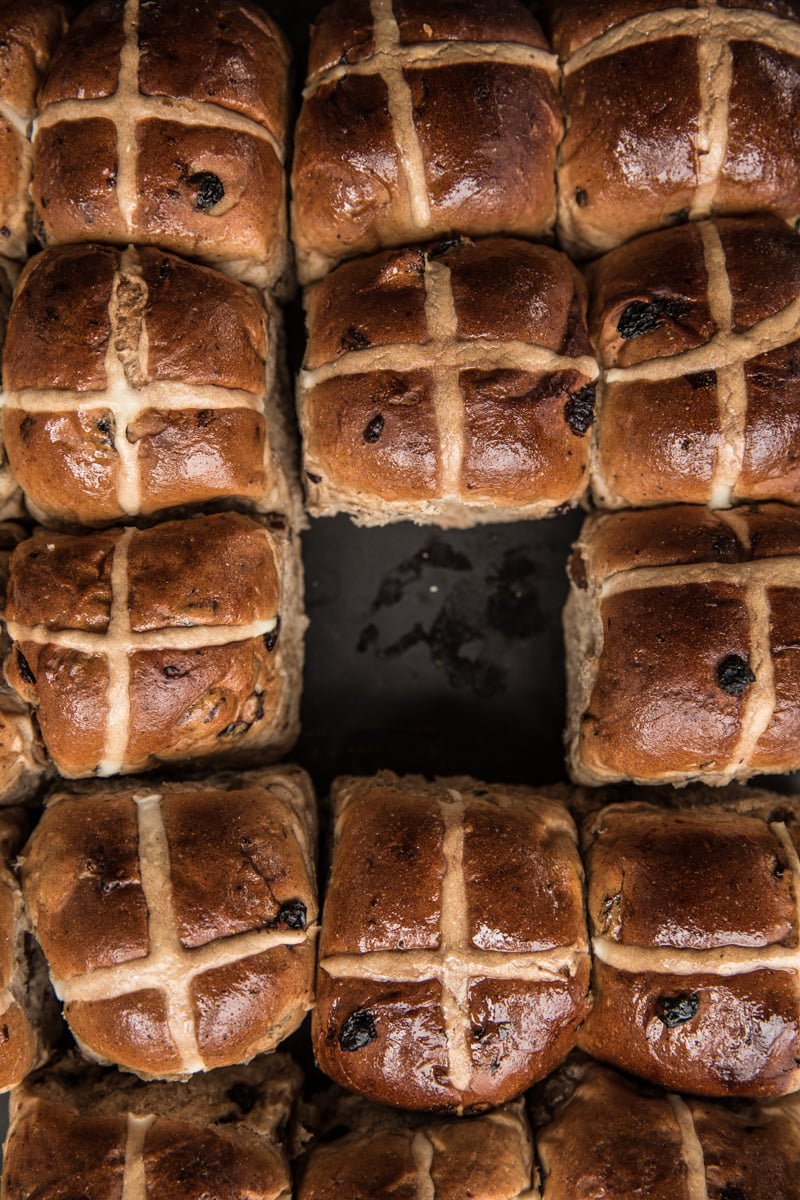 A bread and butter pudding has been my go-to dessert from the time I lived in Singapore. It was something I always baked, chilled and brought to potlucks the next day. Chilled, because it was so dang hot in Singapore and a chilled pudding was akin to having frozen cookie-dough swirled ice cream. Delicious! With autumn settling firmly in Sydney, cooler nights call for warming treats. I love soaking Hot Cross Buns in homemade nutmeg custard, then soaking them some more and baking them in a tray covered with foil. The top remains the bun while the bottom half is transformed into pudding. Served with a dollop of Crème Anglaise and a grating of fresh nutmeg, it is absolutely divine. Tastes sensational on the second day and out of the world on the third.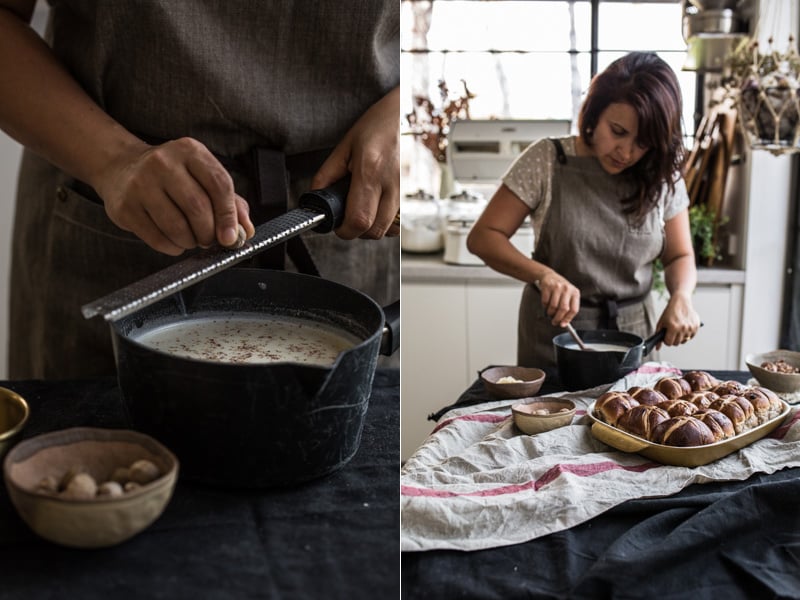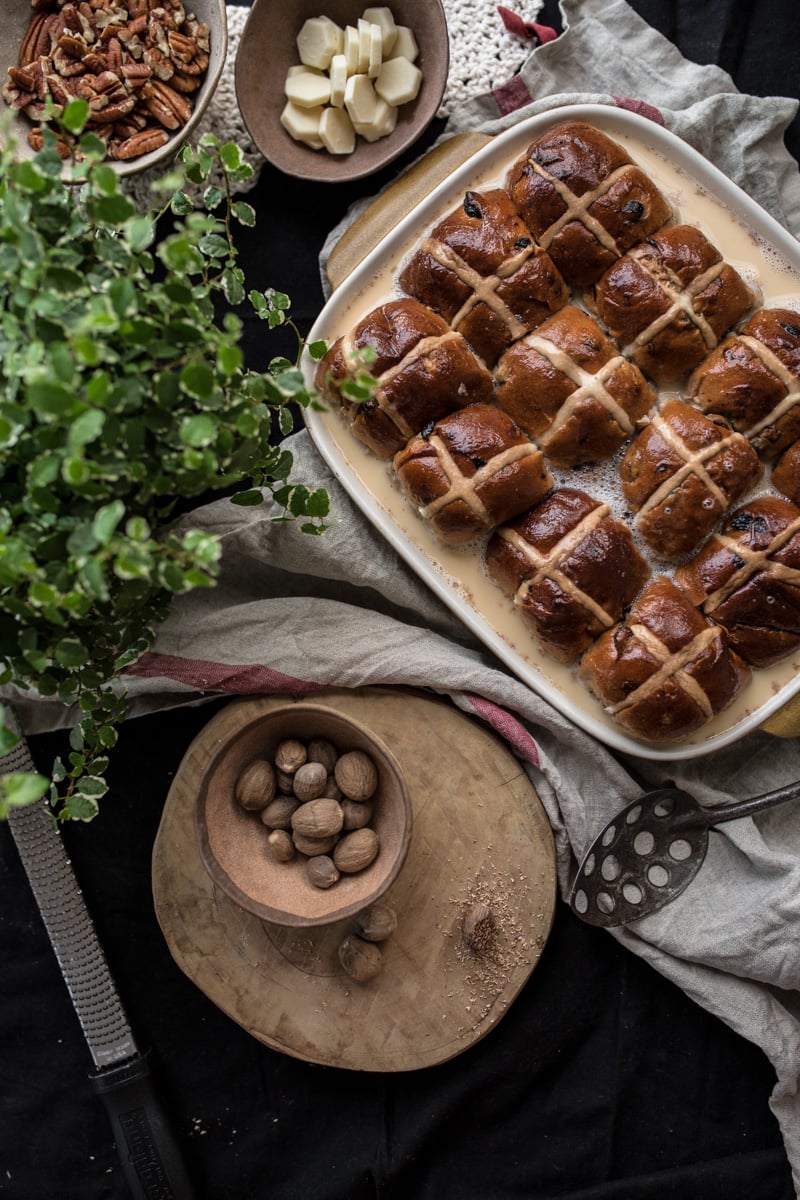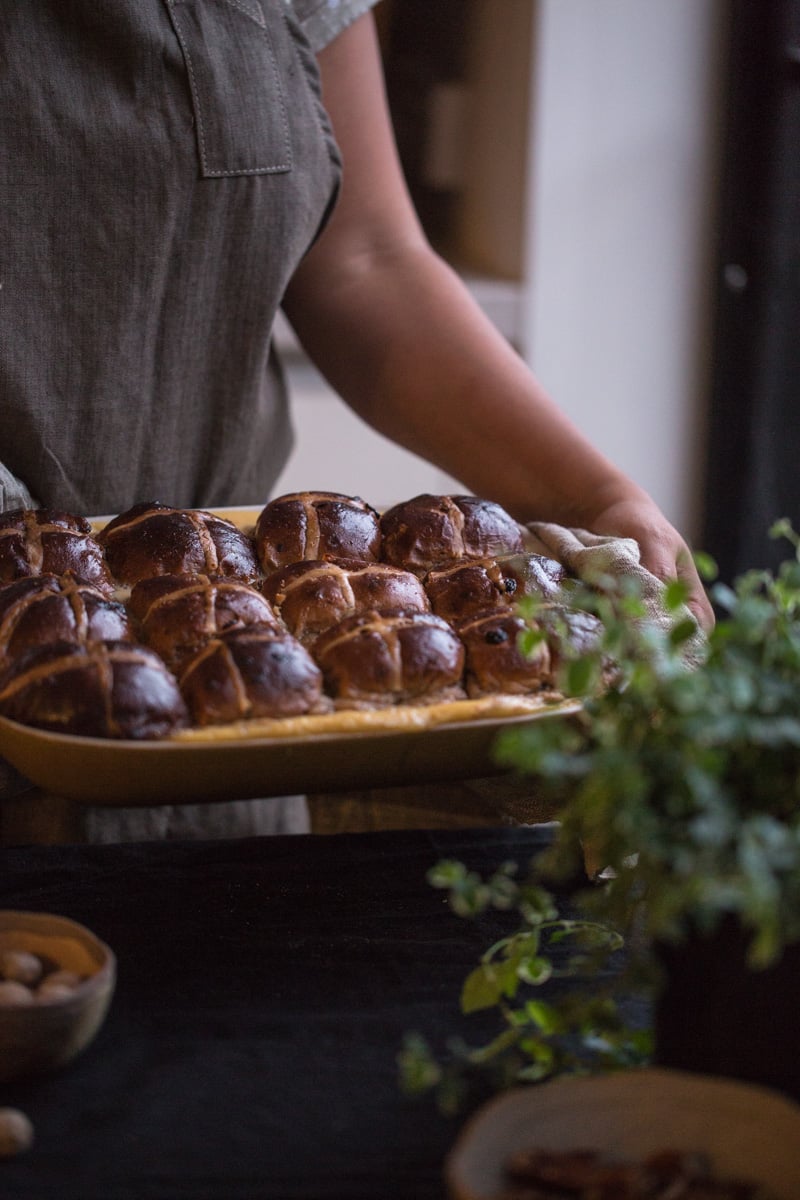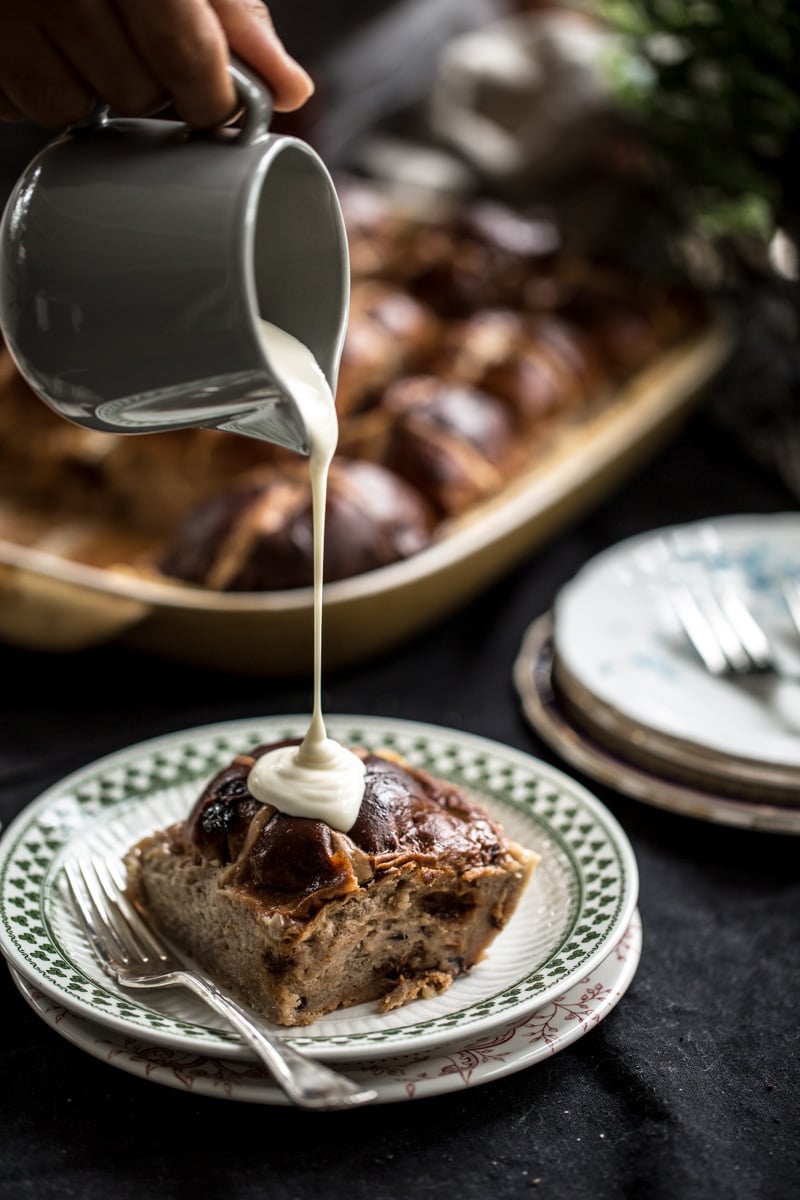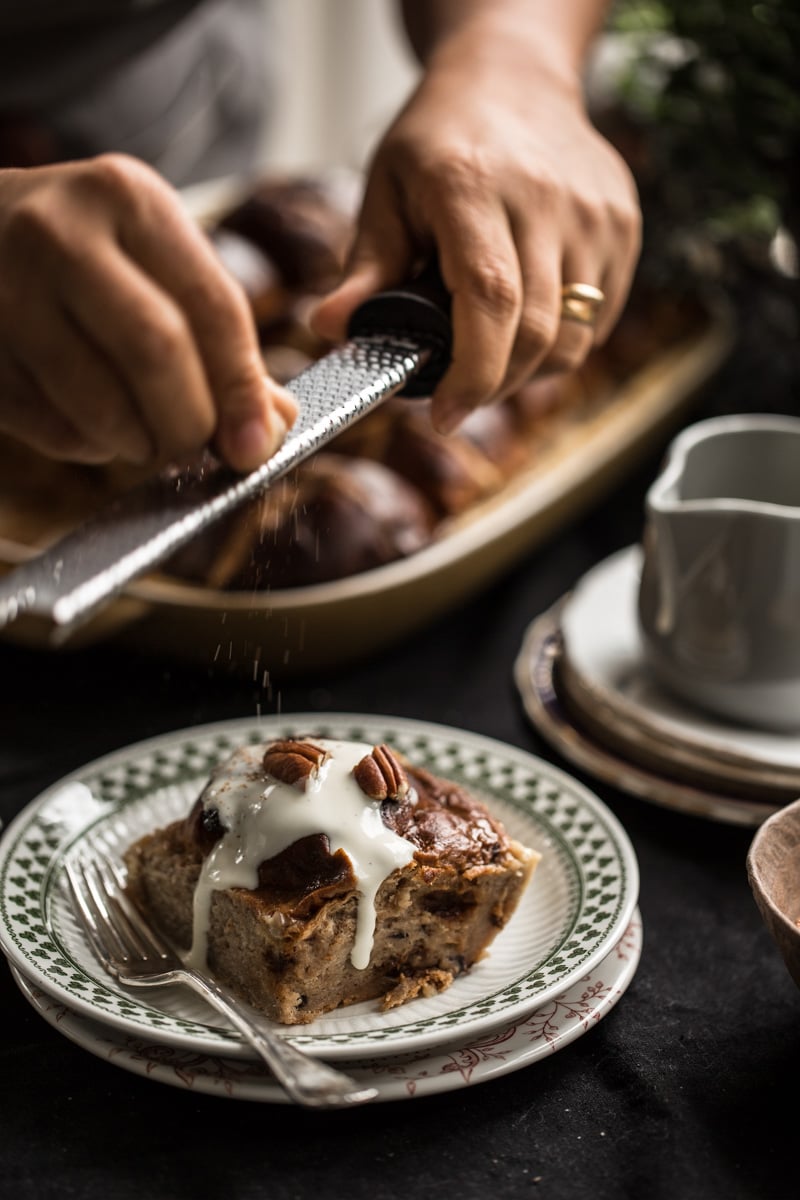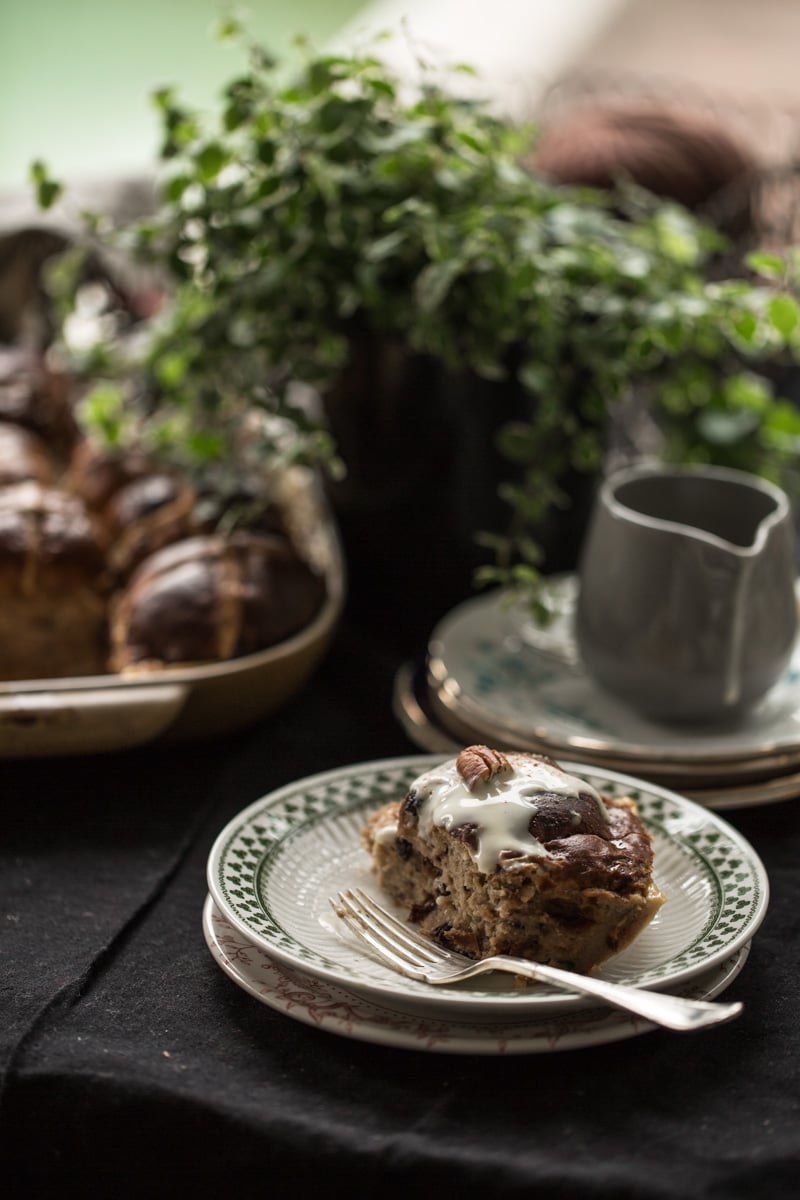 More Easter Recipes
Recipe
Hungry For More Recipes? Subscribe to my newsletter. Check out Facebook, Instagram and Pinterest to see everything I share! And if you love cooking and new cookbooks, join my free Cooking Club on Facebook!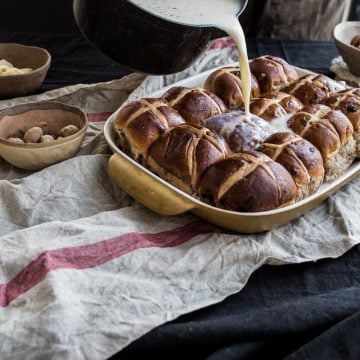 HOT CROSS BUN AND NUTMEG TRAY BAKE
A warming and luscious pudding baked with leftover Hot Cross Buns and fresh nutmeg.
Print Recipe
Rate / Comment
Ingredients
melted butter

,

for greasing tray

2 tbsps

butter

,

for slathering

12

hot cross buns

,

(traditional)

700

ml

milk

,

full-fat

200

ml

thickend cream

,

(heavy cream)

½

cup

chocolate chips

,

white

2

tsps

ground nutmeg

4

egg yolks

1 tbsp

cornstarch

,

(or cornflour)

½

cup

raw sugar

1

tsp

vanilla extract

1/4

cup

raisins

1/4

cup

pecan nuts

,

chopped, to serve

crème anglaise

,

to serve
Instructions
Preheat oven to 180°C. Brush a shallow (5cm deep and 28cm X 24cm base measurements) tray with melted butter.

Slice each hot cross bun in half and slather with butter. Press the halves back together and place Hot Cross Buns snugly in the buttered tray and set aside.

Put the cream, milk, chocolate and a teaspoon of nutmeg in a heavy-bottomed saucepan and gently bring to just below boiling point on medium-low heat.

In a large bowl, whisk the egg yolks, cornflour, sugar and vanilla with a balloon whisk. Gradually pour the hot milk mixture onto the sugar mixture, whisking and stirring gently.

Pour the mixture back into the saucepan on medium-low heat. Heat gently, stirring with a wooden spoon until the custard is thickened and coats the back of the spoon. Remove from heat.

Gently pour half of the custard over the Hot Cross Buns and allow to soak for 10 minutes, pressing down gently on the buns with your fingertips.

Pour the remaining custard and scatter the remaining nutmeg and sultanas. Bake in the pre-heated oven for approximately 10-15 minutes until the custard is just set.(If you feel the Hot Cross Buns start to brown too quickly, cover them with a foil)

Remove from the oven. Serve warm with pecan nuts and crème anglaise.

Pudding will keep well in the fridge for up to 3 days.
Nutrition
Calories:
431
kcal
|
Carbohydrates:
49
g
|
Protein:
10
g
|
Fat:
22
g
|
Saturated Fat:
11
g
|
Polyunsaturated Fat:
2
g
|
Monounsaturated Fat:
6
g
|
Trans Fat:
0.02
g
|
Cholesterol:
137
mg
|
Sodium:
247
mg
|
Potassium:
317
mg
|
Fiber:
2
g
|
Sugar:
27
g
|
Vitamin A:
655
IU
|
Vitamin C:
1
mg
|
Calcium:
206
mg
|
Iron:
2
mg
Did you make my recipe?
I'd love to hear how you went! Tag me on Instagram @cookrepublic