Today, I am extremely excited to share this veggie-powered recipe with you. A delicious Jackfruit Veggie Oknomiyaki! For those who are new to the party, Okonomiyaki is a savoury Japanese pancake and one of my favourite things to eat ever! When I first immigrated to Sydney 15 years ago, I was on a personal mission to find the best Okonomiyaki. One would often find me at different farmers' market stalls every weekend, stuffing my face with this delicious Japanese offering. My version is vegetarian friendly and introduces a superstar vegan ingredient - jackfruit!
Jackfruit - A Great Vegan Meal Option
Recently, I have been experimenting and cooking a lot with an amazing ingredient – Jackfruit! Not the highly perfumed, extremely sweet, golden yellow ripe fruit that is sold all over India and South-East Asia, but raw, young Jackfruit that is used in savoury cooking. When Jackfruit is raw, it has a very neutral flavour and a texture that allows you to shred it like meat. I have partnered with SPC to show you how to use their beautiful Young Green Jackfruit to create nutritious and delicious plant-based meals that are easy, exciting and perfect for the whole family.
Jackfruit is gaining a lot of popularity in vegetarian and vegan cooking. Because of its meaty texture and ability to absorb flavours, it does really well in plant-based dishes that have a lot of ingredients and flavours. I have been making Okonomiyakis for 15 years and thought it was about time to experiment with adding jackfruit to this world-famous Japanese pancake.
What Is Okonomiyaki?
Okonomi means how you like and yaki means cooked or fried. So basically, as long as you are using flour, eggs and shredded cabbage, you are free to add whatever you like and cook a delicious Japanese style pancake.
Traditionally in the Osaka style Okonomiyaki which is the only style I have eaten both in Singapore and in Australia, the batter is made of wheat flour, and grated Nagaimo (which is a type of slippery Japanese yam that helps bind the batter together), eggs, shredded cabbage, seafood or pork and cheese.
Since Nagaimo is very hard to find and not an everyday item, I find that a vegetable that can bind the ingredients together does the trick. I usually use potato but for this recipe, I have used zucchini. Grated zucchini is fabulous as a binder especially if you don't squeeze all that wonderful liquid out. And jackfruit adds the hefty meatiness to this okonomiyaki which is quite delicious for a meatless meal.
How To Prepare Jackfruit For Cooking?
Jackfruit is an excellent source of fibre, potassium and antioxidants. As a result, it is great for your gut and heart health. It is low sugar and low carb and contains polyphenols that fight disease and inflammation. Since it doesn't have a whole lot of protein, I like to combine it with ingredients that do have protein for a balanced meal – in this case, eggs.
Canned young jackfruit in brine is very easy to prepare. You start by draining the brine out. You then put the jackfruit in a colander and rinse it several times under cold running water to get rid of the briny flavour. Press down on the jackfruit in the colander to drain it completely. Using your fingers, gently shred the jackfruit meat. If you come across tough bits, apply more pressure. Your shredded jackfruit is now ready to marinate and cook.
To maximize the flavour of the jackfruit, I marinate it with some delicious ingredients and flash fry in a hot cast iron pan for a few minutes until it starts to char. At this point, it is delicious enough to just snack on. But I add this beautifully cooked golden jackfruit to my okonomiyaki batter. It is a simple, quick recipe that is perfect for a light lunch or after-school snack.
Cabbage, zucchini, spring onions and jackfruit may be an oddball combination, but boy does it work well to create the most delicious veggie pancake you have ever eaten!
If you are trying to introduce more plant-based options in your daily cooking, this one is a MUST cook! The kids love it, the adults love it, it is packed with veggies and an exciting new ingredient you might not have explored yet. If you make and love this, please leave me your feedback ion the comment below. I would love to know what you thought of the jackfruit. Ciao!
Recipe
Hungry For More Recipes? Subscribe to my newsletter. Check out Facebook, Instagram and Pinterest to see everything I share! And if you love cooking and new cookbooks, join my free Cooking Club on Facebook!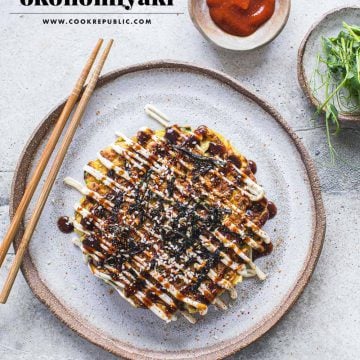 JACKFRUIT VEGGIE OKONOMIYAKI
A twist on the beloved Savoury Japanese Pancake, this okonomiyaki version has jackfruit and lots of veggies. A delicious, light meal option for any day of the week.
Print Recipe
Rate / Comment
Ingredients
For the okonomiyaki
1 ½

cups

(

200

g

)

plain flour

1

(

120

g

)

small zucchini

,

grated

2

cups

(

140

g

)

green cabbage

,

thinly sliced and chopped

1 ½

teaspoon

sea salt flakes

1

tablespoon

miso paste

½

teaspoon

baking powder

2

spring onions

,

thinly sliced

¾

cup

(

190

ml

)

water

3

eggs

,

whisked
For the jackfruit
1

X 410g can SPC Young Jackfruit

1

tablespoon

mirin

1

tablespoon

soy sauce

1

tablespoon

sesame oil

1

teaspoon

grated ginger

2

garlic cloves

,

minced
Instructions
To prepare the jackfruit, pour jackfruit in a colander over the sink. Rinse in cold water and drain. Press to squeeze out all excess liquid.

Using your fingers, shred the jackfruit. Place shredded jackfruit in a bowl along with the mirin, soy sauce, sesame oil, ginger and garlic. Toss and mix well.

Heat a small cast iron pan on high. Add the marinated jackfruit and pan-fry on high heat for 5 minutes, tossing constantly. Remove from heat when starting to char and cool.

To prepare the Okonomiyaki, add flour, zucchini, cabbage, salt, miso paste, baking powder, spring onion and water to a bowl. Mix well. Add the egg and cooled jackfruit. Mix gently until just combined.

Heat a tablespoon of oil in a frying pan on medium heat so that it covers the whole surface. Spoon a cup of the okonomiyaki batter (quarter of total batter) in the middle of the pan in the shape of a round pancake about 6 inches in diameter and 1/2 inch in thickness. Cook for 5-6 minutes until golden. Gently flip over and cook the other side for 5-6 minutes. Reduce heat to medium-low and cook both sides again for 3-5 minutes until cooked through the middle. (A longer cook over lower heat will ensure that the okonomiyaki is not raw in the middle but completely cooked through. Also, remember not to press down on the pancake will cooking as this prevents it from rising and acquiring a fluffy interior)

To serve, place the jackfruit okonomiyaki on a plate. Squeeze mayonnaise in a zig zag pattern on the okonomiyaki. Follow this by squeezing barbecue sauce in the same pattern. Sprinkle with nori flakes (seaweed), sesame seeds and Sichimi Togarashi (Japanese spice mixture). Serve with Sriracha and salad greens.
Did you make my recipe?
I'd love to hear how you went! Tag me on Instagram @cookrepublic
disclaimer - This post is sponsored by SPC Australia. It is a brand I have been using for many years and love. All opinion and musings are my own.