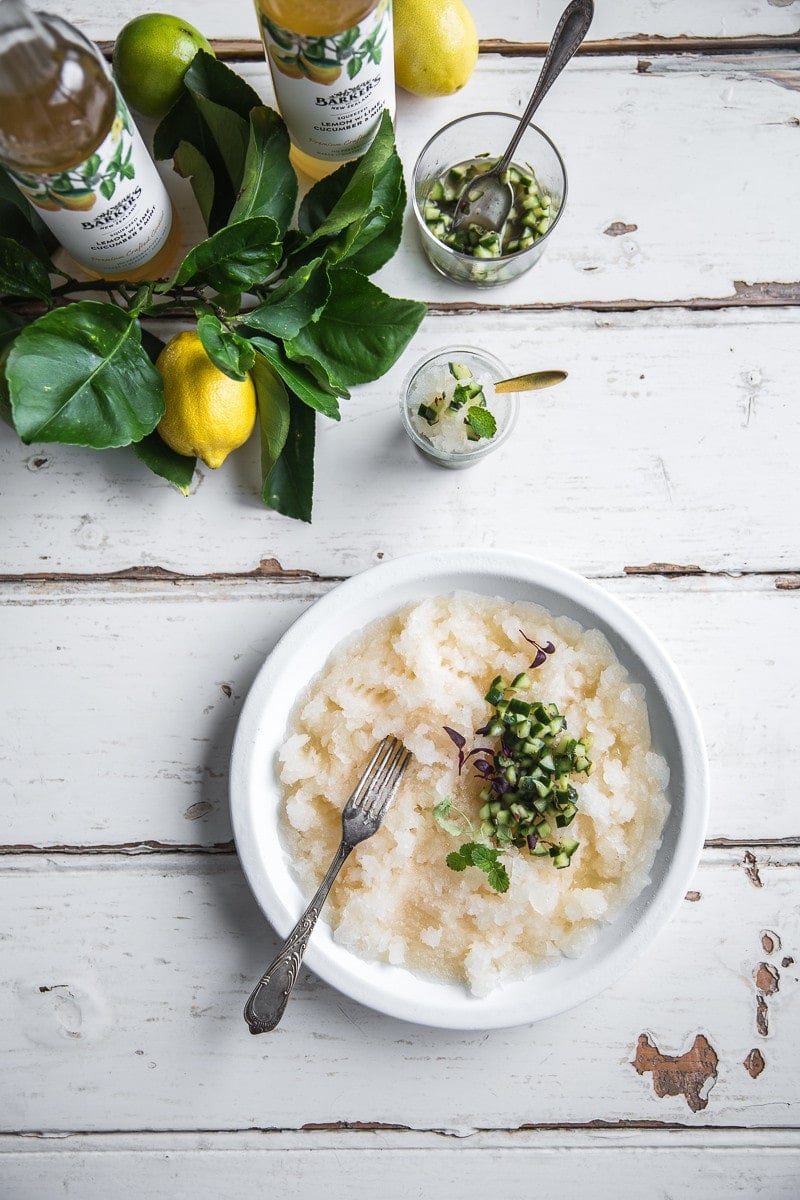 Granita hails from Italy, deriving its name from the Italian word for grainy. It is a frozen fruit dessert like a slushy made up of coarse crystals. Hence the name.  A granita is a labour of love. Don't let anyone tell you otherwise. If you think that you can mix it and just leave it in the freezer, you've got another think coming.
A lot of granita recipes suggest making a fruit purée, freezing it overnight in a shallow tin and then scraping it just before serving the next day. But to get a granita with a decent body and those delicious grainy frozen crystals, you will need to freeze it and scrape it and then refreeze and scrape it a few times over until the frozen crystals are coarse and evenly sized.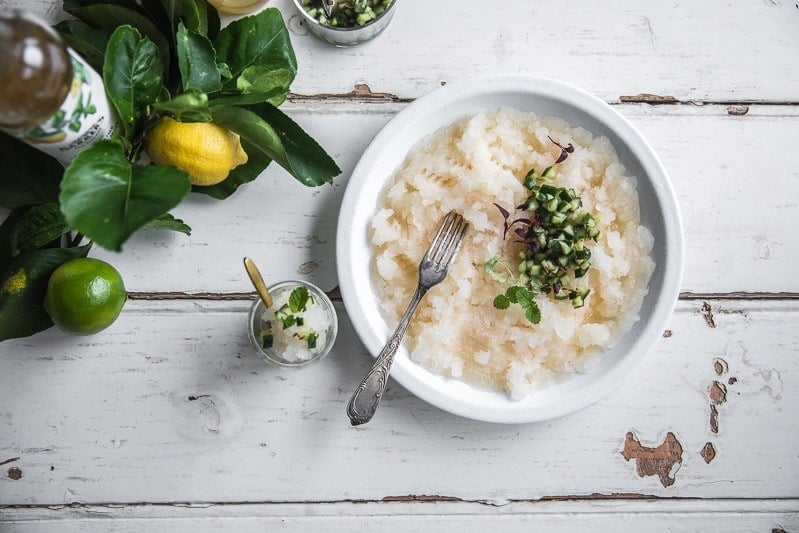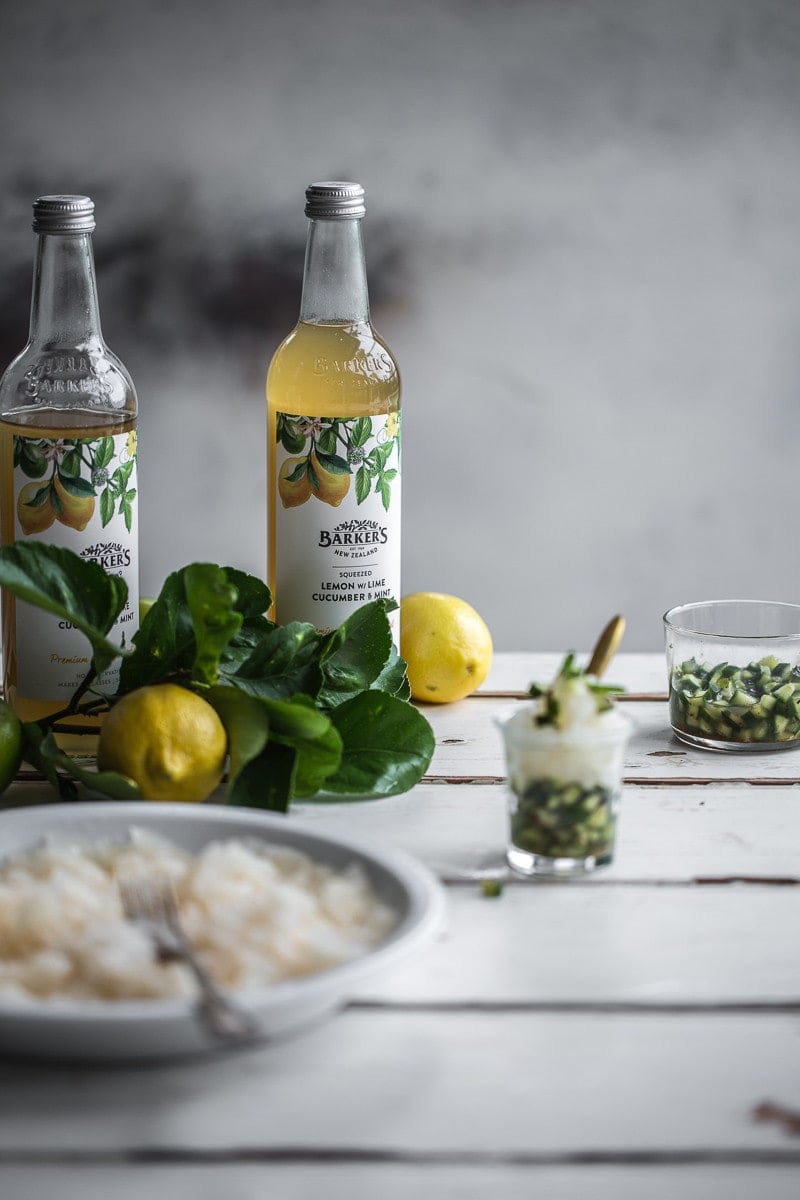 One of the most important rule of all frozen desserts is to pack in extra flavour while they are still in liquid form. Why? Because once the dessert freezes, it loses some of its flavour intensity. So, what better thing to use to create a delightful granita than a beautiful cordial with all its intense and punchy flavours. Barker's Squeezed Lemons With Lime, Cucumber And Mint is all mouthy and intense like a secret tryst with a beautiful Italian. The bright citrus flavours explode with a lip puckering pop while the gentle notes of cucumber and mint create a clean and delicious feel in the mouth. Using the cordial for the granita also cuts the time and effort used in creating a fruit and sugar syrup. It has freshly squeezed fruit with a much lower sugar content and no added preservatives or artificial sweeteners.
Inspired by a traditional Sicilian lemon granita, I decided to create a simple but really sophisticated little number drawing on all the flavours already existing in the bottle. A lemon granita served atop a beautiful cucumber salsa infused with anise and rosewater makes this a stunning palate cleanser, a light and very modern dessert without a whole lot of fuss. The delicate notes of rose hit you first and draw you into that crisp crunch and clean taste of cucumber and anise followed by a luscious citrus explosion in your mouth. You have to make it to believe how divine it really is! You won't be disappointed.
Recipe
Hungry For More Recipes? Subscribe to my newsletter. Check out Facebook, Instagram and Pinterest to see everything I share! And if you love cooking and new cookbooks, join my free Cooking Club on Facebook!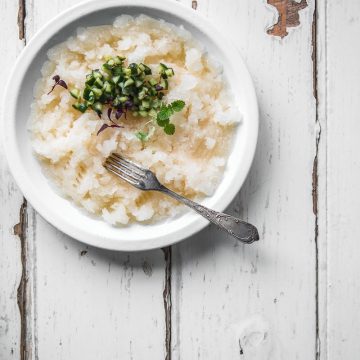 Ingredients
500

ml

Barker's Lemon With Lime Cucumber & Mint Cordial

250

ml

water

2

cucumbers

,

seeds removed and finely diced

12

mint leaves

,

finely chopped

1

teaspoon

ground star anise

,

(about 2 pods)

1

tablespoon

lime juice

1

tablespoon

rose water

1

tablespoon

raw sugar

1

teaspoon

sea salt flakes
Instructions
Mix Barker's Lemon With Lime Cucumber & Mint Cordial with the water. Pour in a 23cm shallow pie tin and place in the freezer for 2-3 hours.

Remove from the freezer and using a fork, scrape the frozen mixture around the edges. Return to the freezer for another 2-3 hours. Once again bring the granita mixture out of the freezer and scrape it with a fork. Continue this process over the next day, freezing the mixture every couple of hours and then scraping with a fork and returning to freezer until it is all scraped out. Cover with cling film and store in freezer until ready to use.

Place cucumber, mint, star anise, lime juice, rose water, sugar and salt in a small bowl. Mix to combine well.

To serve, scoop a generous tablespoon of the cucumber salsa in little shot glasses. Top two tablespoons of scraped granita. Garnish with micro herbs. Enjoy immediately.
Did you make my recipe?
I'd love to hear how you went! Tag me on Instagram @cookrepublic
Note – This post was sponsored by Barker's Of Geraldine. Words, opinions and feels are my own.