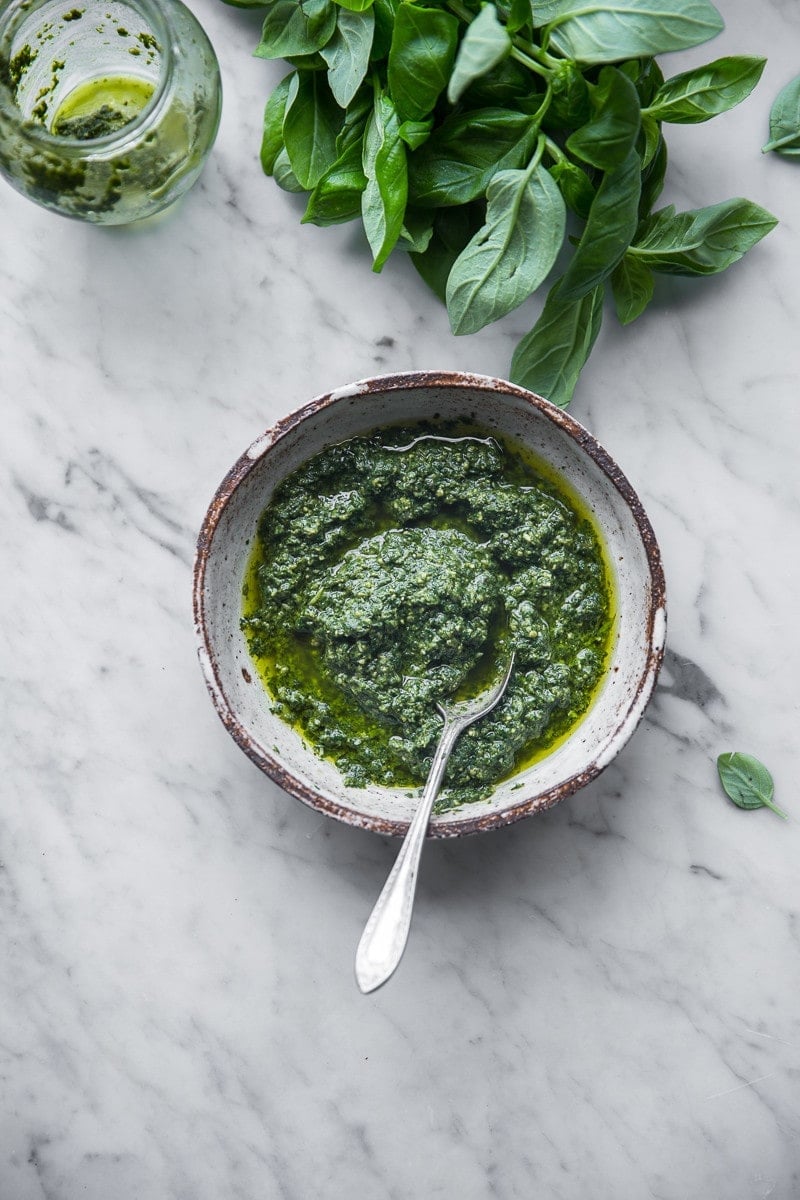 Let's talk about why I decided to share a vegan basil pesto recipe when I already have a few basil pesto recipes on the blog that are dead simple and house favourites including one for Thai pesto (yum!). Dairy has never been a good friend of mine. I love it. I mean, I love butter and couldn't live without it! I love a splash of milk in my coffee, yoghurt, a bite of hard aged cheese every now and then and the occasional (well, more than occasional!) ice cream. But I have to be sensible about it or else it wrecks havoc on my digestion and brings an onslaught of bloat and lethargy. To remedy that, I have been trying to cut it out of my recipes wherever I can without compromising on taste.
Everyone knows that a good basil pesto has a good amount of parmesan for that salty, umami flavour hit that is equal parts comforting and equal parts addictive. To replace a widely available ingredient is not easy but with the addition of nutritional yeast (magic ingredient!) and miso paste (the king of umami flavours and another magic ingredient!) my batch of basil pesto becomes not only vegan but tastes exactly like the parmesan version - EXACTLY! Even my fingers smell the same with that pungent combination of garlic and cheese, which I have to scrub or I am tempted to sniff them every few seconds (such an annoying habit!). But there is no cheese here which means no bloat. A tiny victory without compromising the taste and with a much higher nutritional value too. I love that!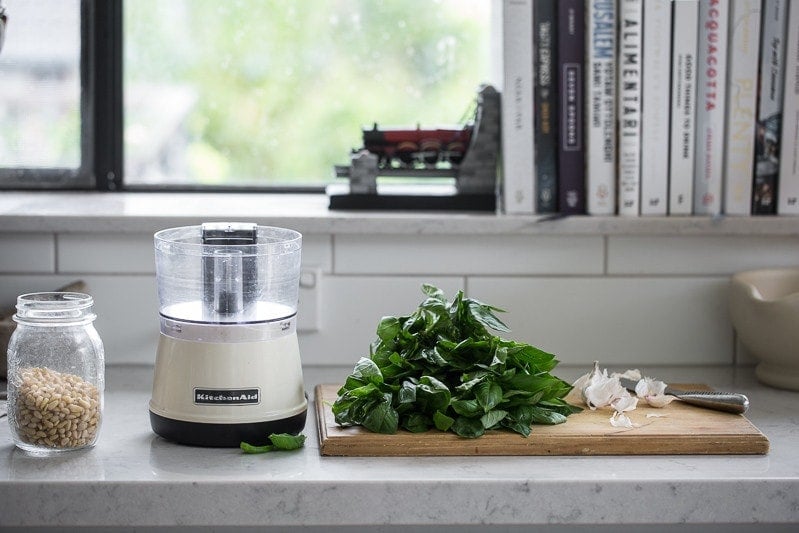 Pesto is an amazing thing to have on hand when you are short for dinner ideas. And for something that is so useful in the kitchen, it is sometimes hard to believe that you can make it by bashing a handful of fresh ingredients in the mortar and pestle or whizzing them in a food processor. If you have been making pesto all your life or have just eaten a lot of it, you will know that the shades of green it comes in could have its very own colour chart. This is basil pesto we are talking about. And there are some important things I have learned about this delicious, raw, green condiment. The most valuable lesson I have learned is a way to keep basil pesto a vibrant bright green.
For that you need fresh bright green basil leaves to start with. Basil is prone to oxidation which means like an apple it will start browning when it is cut or chopped and turn quite dark. To avoid this, you could blanch basil in boiling water for a few seconds till it becomes a bright green and then scoop and drop it in an icy water bath to stop the cooking. Pat dry the basil leaves. The pesto that you make with these leaves will be a bright green. Guaranteed!
If I am making a large batch ahead of a party or get together, then I follow the blanching method to ensure that the pesto is green and fresh looking on the day. But in all honesty, it is too much trouble to first blanch and then make the pesto, so when I am making a small batch for immediate use (just us!) then I just skip the blanching altogether. I chuck everything in a small food processor I have sitting in a corner on my bench and process it. The less you process it, the brighter it will be. Once you store it in a jar, make sure you cover the top with olive oil to stop the browning further.
Make this vegan basil pesto and let me know what you think in the comments below. Share your pesto with me #cookrepublic. Can't wait to see it! x
Recipe
Hungry For More Recipes? Subscribe to my newsletter. Check out Facebook, Instagram and Pinterest to see everything I share! And if you love cooking and new cookbooks, join my free Cooking Club on Facebook!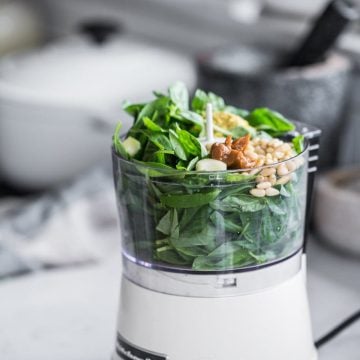 Ingredients
1

bunch basil

,

leaves picked (80g)

2

garlic cloves

1/4

cup

(

35

g

)

pine nuts

1

tablespoon

(

6

g

)

nutritional yeast flakes

1

teaspoon

shiro miso

1/4

cup

(

60

ml

)

olive oil

1/4

teaspoon

sea salt flakes

extra olive oil
Instructions
Place all ingredients in the bowl of a small food processor and process until coarse but blended. Process a bit more if you prefer a smoother pesto.

Scoop pesto in a glass jar and top with extra olive oil. Cover with a tight lid and store in the fridge for up to 5 days.
Notes
Pine nuts can be expensive and can be easily swapped with cashew nuts. With cashew nuts, the pesto will be lighter will last only 3-4 days.
Nutritional yeast can be found at health shops or online grocers. If you can't find it, it is okay to skip it in the recipe. You can slightly increase the miso quantity by another teaspoon to supplement.
Shiro miso is white or yellow miso. It is the mildest of all miso pastes with the least amount of fermentation and a sweet flavour that is perfect for adding a bit of umami flavour to your dish.
Did you make my recipe?
I'd love to hear how you went! Tag me on Instagram @cookrepublic