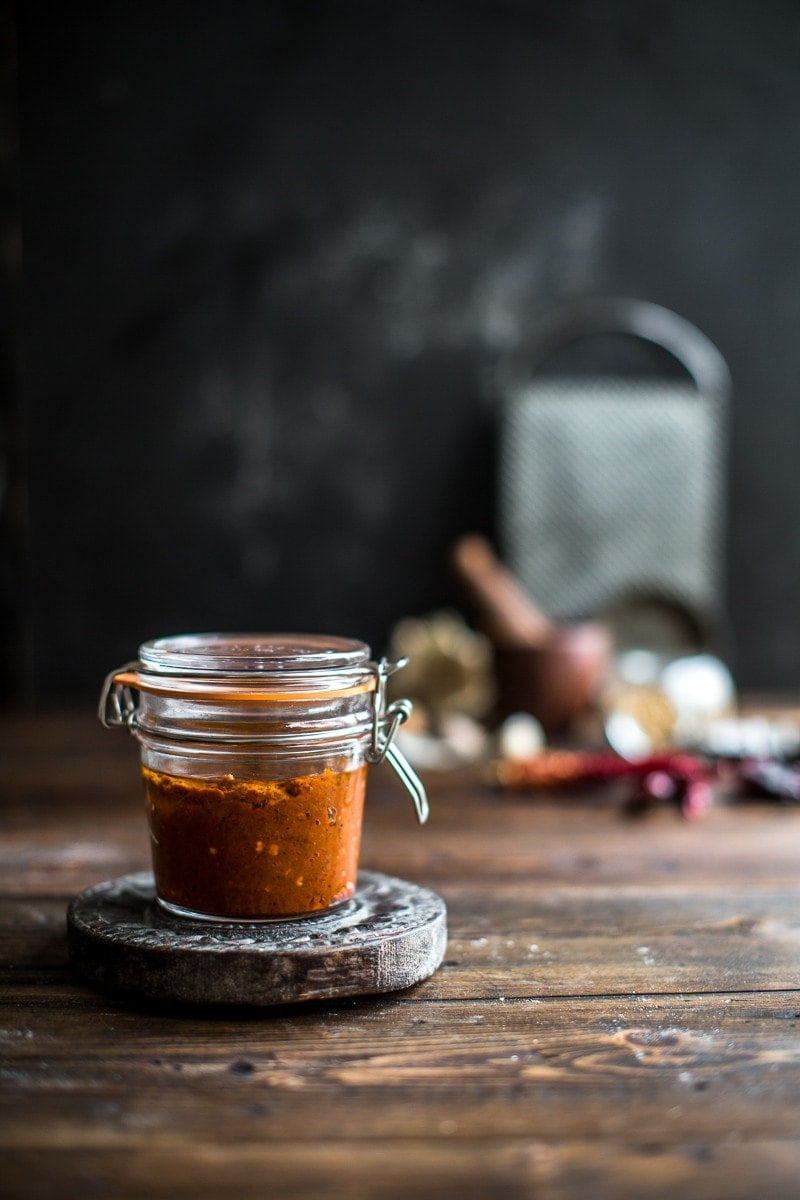 More or less every cuisine in the world has contributed to the hot sauce movement. And Harissa is North Africa's delicious offering to the world of spicy, flavour packed food. A traditional red harissa is a hot chilli pepper paste very popular along North Africa's Mediterranean coast - typically Tunisia, Morocco, Libya and Algeria. It is usually made by roasting hot chilli peppers and then grinding them to a paste along with toasted spices and oil. From scouring the ingredient list of popular harissa brands imported from Tunisia, I came to the conclusion that the Africans were not kidding when it came to heat. Their harissa paste was made from purely hot dried chillies and the heat factor of some of those pastes was off the charts - which meant it was too hot for my boys to handle.
This was the motivation for developing a homemade harissa recipe that could be made with everyday accessible ingredients and one which also had a truly delicious, almost authentic flavour. Authenticity is always debatable when it comes to much loved recipes from far away shores. Everyone will tell you that their version or their mum's version is truly authentic. Which is true. But with recipes steeped in a region's history, there are often as many versions of that recipe as there are households. Which also means that there is no wrong way of making that recipe. The only sin you can commit here is that you make it bland and skimp on the salt.
I am a spice fiend. I love hot food. Not senseless hot food where the flavour is pure pain imposed by a mindless smattering of chillies.  But a good combination of ingredients that produce the most beautiful heat while still preserving the true flavour of the dish. As I mentioned, I wanted to move away from the yellow harissa tubes with the red caps that I always bought at my local deli because that flavour was pure pain. It was incredibly spicy and had preservatives.
Instead I started researching harissa on blogs and in books and here is what I found. You could potentially make harissa with any dried hot chillies you have on hand (even red chilli flakes!) depending on how much heat you can handle. But if you can find dried South American chillies like guajillo then you have hit the jackpot, because guajillo chillies are closest in their taste to the Tunisian chillies that make harissa so popular.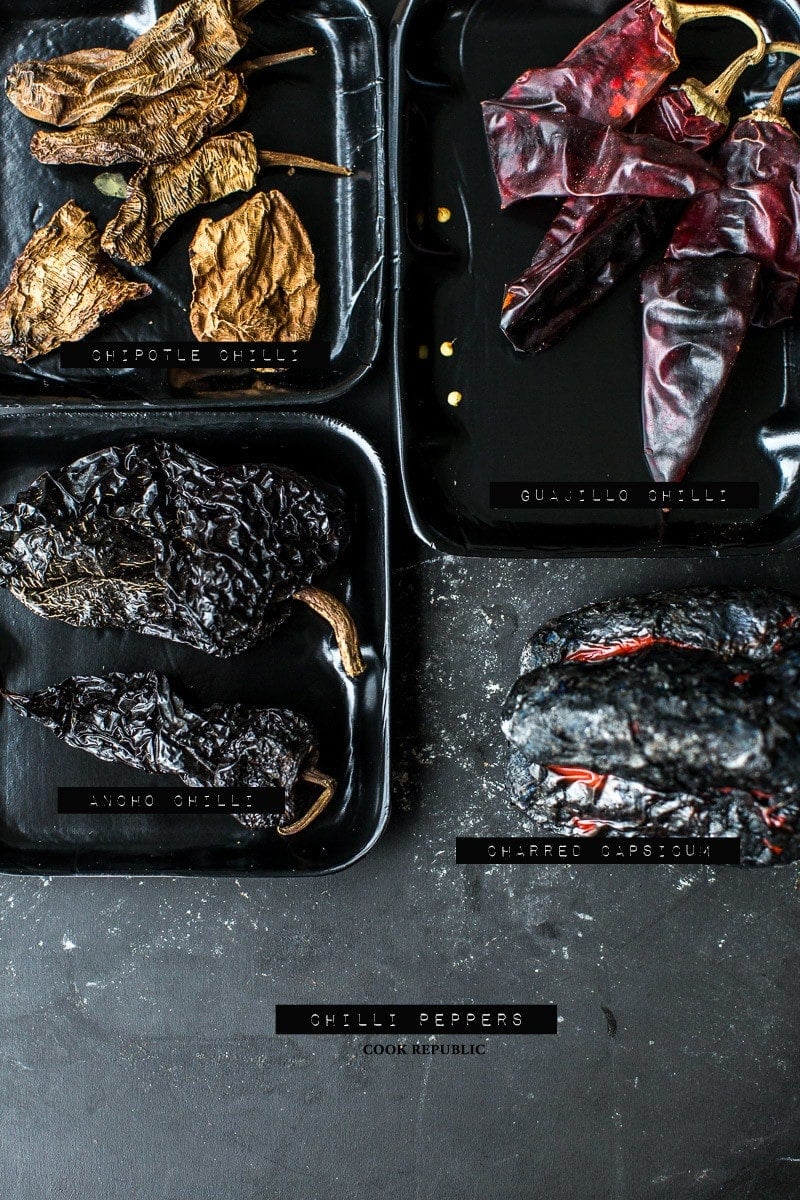 The same local deli where I used to buy the harissa paste from, also sells dried chillies. Lucky me! So I bought some dried chipotle, guajillo and ancho chillies. I had some dried cayenne peppers at home. I grow a lot of long red cayenne peppers in my garden that I dry on my window sill in an enamel bowl throughout the year. I now had four different kinds of chillies to play with. In the end, I decided to use a combination of guajillo(for the flavour), cayenne (for the heat) and chipotle (for the smokiness).
The base of my paste was a red capsicum or bell pepper that I roasted to a black charred perfection on an open fire and I also pan-roasted the garlic to bring out its sweetness. The capsicum mellows the heat in the harissa. Finally I toasted the spices before grinding them. I learned something from mum very early on from my kitchen sessions with her. Toasting and roasting is an absolute must if you are preparing a condiment or curry paste. It draws out the rich flavours of the ingredients and makes the end result very more-ish and complex.
Now here is the fun part. Having a jar of this condiment sitting in your fridge means that you can easily jazz up 5-minute and 10-minute meals of egg chop or poached salmon or even frozen quinoa. You can shake things up by layering sandwiches with harissa or creating a harissa dressing for a killer salad. In the coming weeks, I am going to share heaps of brilliant recipes using harissa, so go ahead and make this jar. You'll be ready for when I do! And if you have my cookbook Tasty Express, check out the delicious Harissa Roasted Potato recipe on page 154. If you make this Harissa, don't forget to share your feedback and rating in the comment below. If you have any harissa wisdom to share, I would love to hear it as I am now working on a fiery batch of harissa (for me)!
Recipe
Hungry For More Recipes? Subscribe to my newsletter. Check out Facebook, Instagram and Pinterest to see everything I share! And if you love cooking and new cookbooks, join my free Cooking Club on Facebook!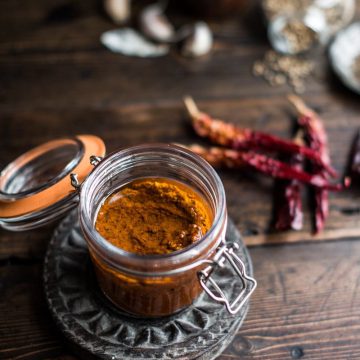 Ingredients
30

g

dried red chillies

,

I used 2 guajillos, 2 chipotles, 2 cayenne

1

small red capsicum

1

teaspoon

coriander seeds

1/2

teaspoon

cumin seeds

1

teaspoon

caraway seeds

3

garlic cloves

1-2

teaspoons

red chilli flakes

pinch

of saffron

,

4-5 strands

30

g

sun dried tomatoes

,

(approximately 4 pieces)

1/2

teaspoon

sea salt flakes

60

ml

olive oil
Instructions
Discard the stems and cut the dried chillies down the middle. Shake out the seeds and discard along with the membrane. (Wear rubber gloves if you don't want your fingers to burn for a day) Place dried chillies in a bowl and cover with boiling water for 20 minutes to rehydrate. Drain water. Place chillies in the bowl of a food processor.

Score three slits in the sides of the capsicum and place over an open fire or barbecue. Roast/grill for approximately 15-20 minutes until completely charred on the surface. Remove from heat and allow to cool. Once cool, rub the skin to peel the blackened char off. Cut the capsicum in half and discard seed, stem and membrane. Add capsicum to the food processor.

Toast seeds and garlic in a pan on medium until golden and toasted. Add to the food processor along with the red chilli flakes, saffron, tomatoes, salt and olive oil.

Process the harissa to a smooth paste. Scoop in a jar and top with a thin layer of olive oil. Store in the fridge for up to a month. Use liberally on pretty much everything that needs a kick. Top up the oil every time you use some of the harissa.
Notes
If you don't have access to any dried red peppers mentioned in the post, 1-2 tablespoons of dried red chilli flakes is a good substitute. These can be found in the spice section of supermarkets.
This recipe has mild heat. The Harissa mellows after the first day or two. If you want your Harissa to be medium hot or quite hot, don't discard the seeds and membrane of the dried chillies. Taste at every step to ensure the heat is to your liking. Remember, it will mellow a bit with time.
Did you make my recipe?
I'd love to hear how you went! Tag me on Instagram @cookrepublic