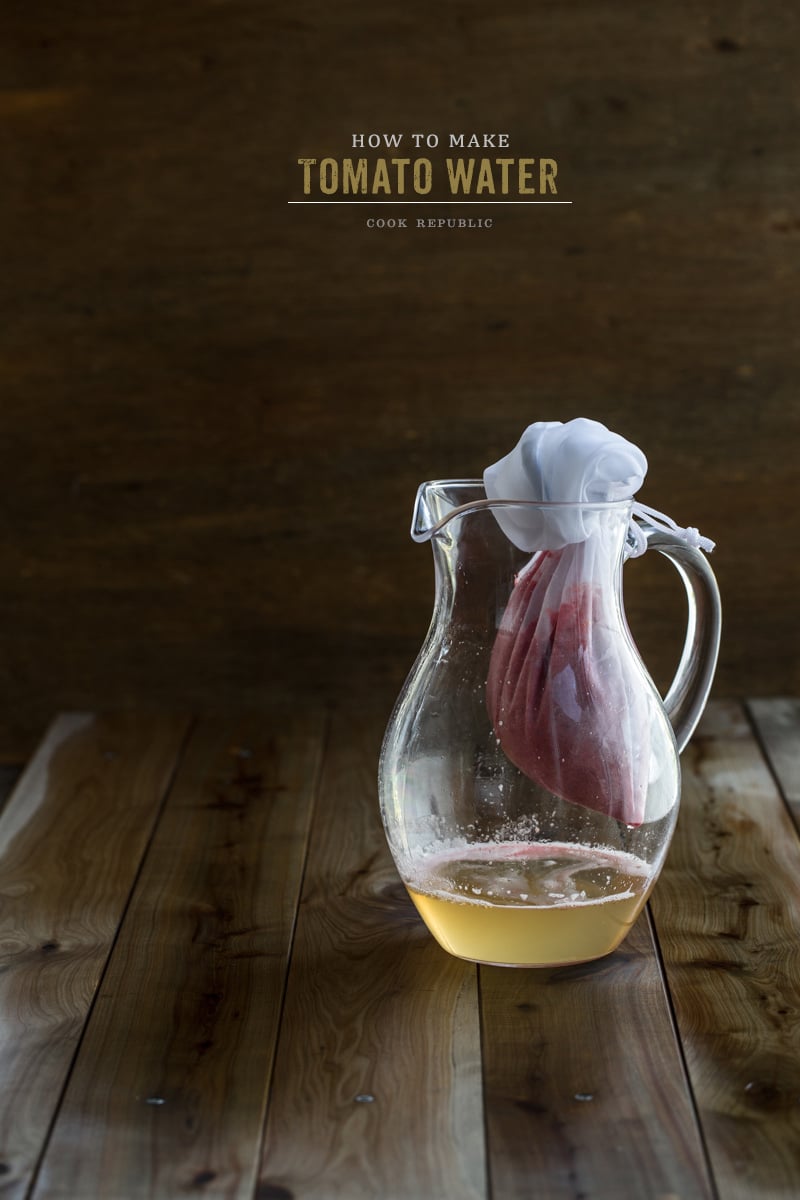 I am 36 today. It is my birthday. It kind of crept up on me. It crept up on my family. It managed to scare them because they were caught unawares. While the boys got busy with their craft box, Nick assured me there would be cake and good food that evening and not cooked or baked by me. I always love that! Half an hour later, I had an armful of lovely artwork and homemade chopsticks in my favourite colour - yellow!  I don't feel any different today from yesterday or the week before. What is different though this year is that I find myself in a place I could almost be content in. I have a beautiful family, and lovely friends and am doing something I love from the bottom of my heart for work every day. This year, amazingly enough, I was able to strike a few things off my bucket list. Like running a half marathon, writing a book, having a magazine column (spoiler alert!), studying design and taking a trip by myself. I am grateful for that. This also makes room on the list for new things to be added!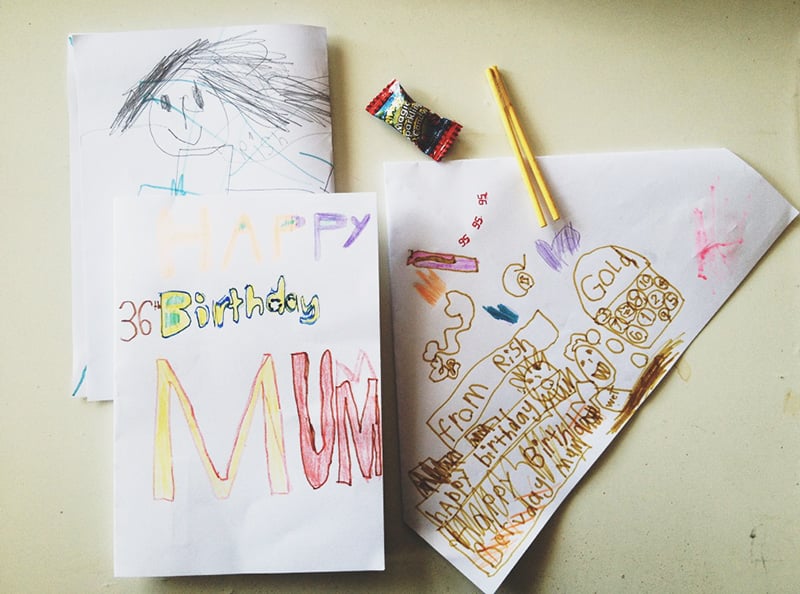 Exactly a week ago I was jolted out of my sleep at 2:00 am with a pending feeling of doom. I had just watched a mean lady with horn-rimmed glasses glaring at me, ready to spank me with a lean black cane. No, it was not a sex dream. And I assure you, I haven't read Fifty Shades Of Grey. This was a nightmare. The mean lady wanted my manuscript. All 240 pages of it and she was prepared to spank the living daylights out of me to get it. I had none. That was Day 1 of Writing A Cookbook. So what has been happening in my world during the past week. Plenty!  
Our 8-year-old fridge died, so we spent a day at The Good Guys shopping for a new fridge and migrating whatever we could salvage from the old to the new. For a few weeks leading up to last week, I had been sourcing kitchen equipment to help speed the process. Everyone knows about my dear old oven that replaced an even older oven recently. Well other than baking, that oven really is good for nothing. So two portable Eurolab induction cookers are manning the makeshift kitchen in my photography studio. A bevvy of induction-enabled cookware keeps trickling in now and then through the front door in the daily mail. Nick and I have built several photography surfaces in the past two weeks. We also spent a day at Reverse Garbage (not much luck!) and Major & Tom where I rented almost half of the props and surfaces I would need for the shoot.
We now have a neatly typed recipe list from big A3 pages of scribbles. That list although neatly typed, is anything but. It is filthy with sauce stains and oil splatters and more scribbling and striking out as I have been testing recipes and cooking up a storm. We also have a flat plan that tells us what goes on what page. We have 240 pages to fill up and right now the task seems utterly daunting. The designer and I have started collaborating and we have drawn up mood boards, visual references and colour palettes for the book. I really want to include some illustrations that are shaping up in my head. I just need more time to finish the writing and shooting to sit down and get dirty in Illustrator. Wish me luck! Follow my instagram feed to see pictures from the cookbook process.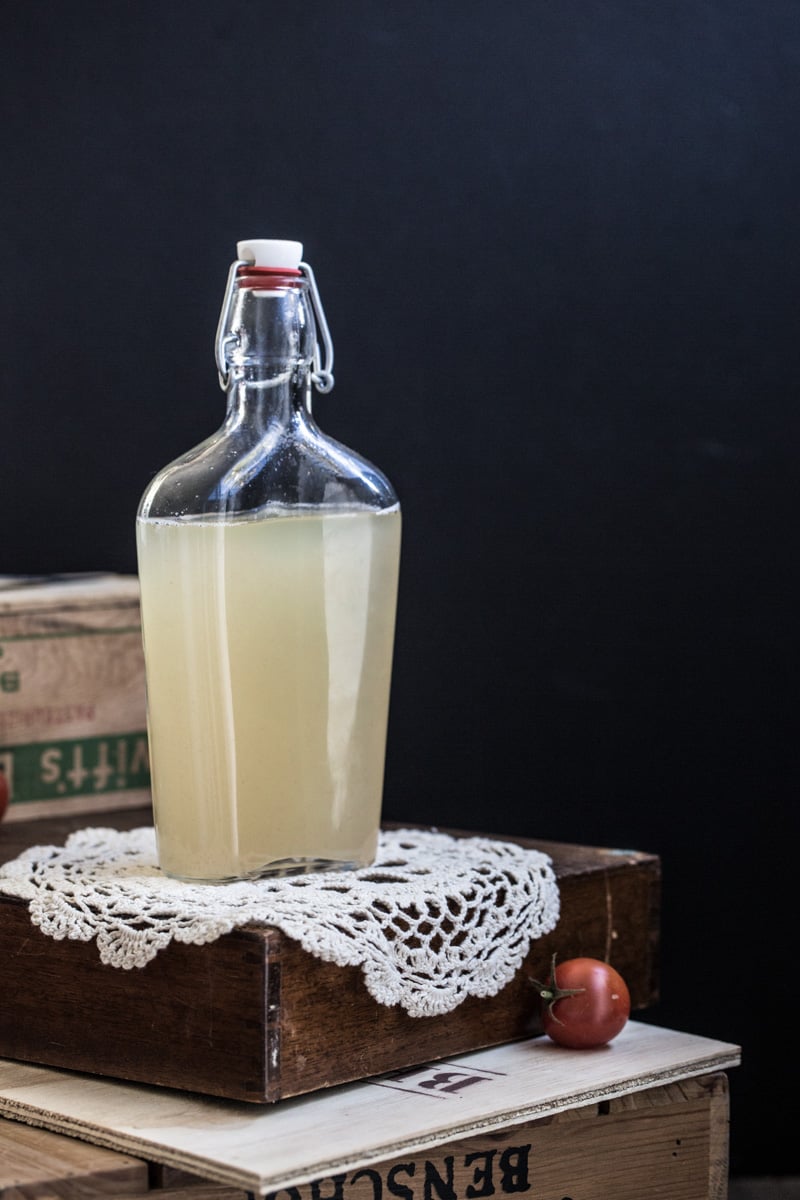 Amidst all this madness, I find that experimenting in the kitchen works as a salve when my head starts throbbing with all the stress and responsibility. Short and sweet fruitful experiments are a bonus. Like the idea of having an alternative hydration source to plain water or lemon water (which is my favourite!) throughout the day. An article in Bon Appetit spurred me to try making Tomato Water. It is gorgeous. For those of you in the northern hemisphere, tomatoes might still be in abundance. In the southern hemisphere, I have started seeing boxes and crates of red everywhere. Perfect time to make some tomato water and sip summer in a glass. Try it!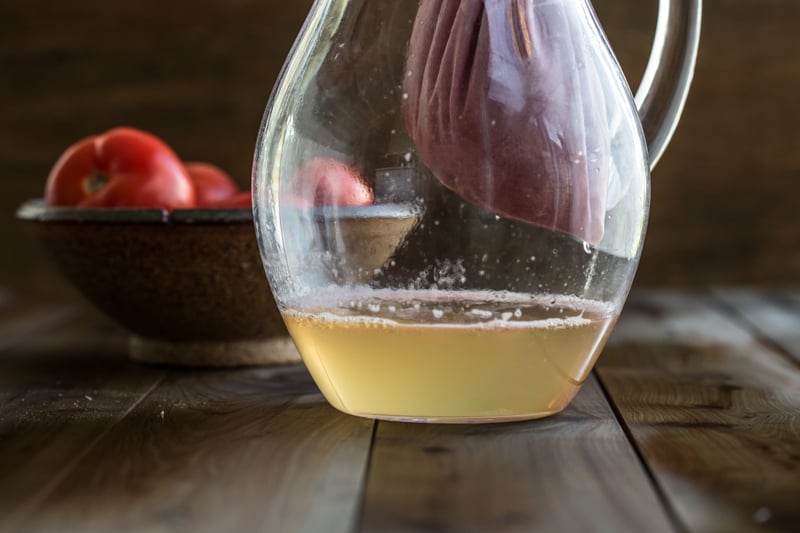 Recipe
Hungry For More Recipes? Subscribe to my newsletter. Check out Facebook, Instagram and Pinterest to see everything I share! And if you love cooking and new cookbooks, join my free Cooking Club on Facebook!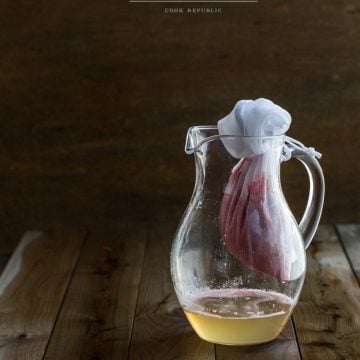 Tomato Water
A light and refreshing tomato broth that can be used as seasoning for savoury dishes, in cocktails, as a soup base and in smoothies.
Print Recipe
Rate / Comment
Ingredients
10

large red tomatoes

,

halved

1

teaspoon

salt

1/2

cup

cold water
Instructions
Combine all ingredients in the jug of a blender and process until smooth.

Line a tall jug with a nut milk bag or muslin cloth. Scoop the blended mixture into the nut milk bag/muslin cloth and allow to rest for approximately 2 hours.

Take care to not press the tomato mixture through the muslin cloth as you don't want any solids escaping into the clear liquid. The tomato water will slowly and steadily drain into the jug below. You will get about 2-3 tall glasses worth of tomato water with this recipe.

Store in a glass bottle in the fridge. Jazz it up with a squeeze of lemon juice and few sprigs of mint. Sip chilled, throughout the day.
Nutrition
Calories:
81
kcal
|
Carbohydrates:
17
g
|
Protein:
4
g
|
Fat:
1
g
|
Saturated Fat:
0.1
g
|
Polyunsaturated Fat:
0.4
g
|
Monounsaturated Fat:
0.2
g
|
Trans Fat:
0.01
g
|
Sodium:
38
mg
|
Potassium:
974
mg
|
Fiber:
5
g
|
Sugar:
11
g
|
Vitamin A:
3415
IU
|
Vitamin C:
56
mg
|
Calcium:
43
mg
|
Iron:
1
mg
Did you make my recipe?
I'd love to hear how you went! Tag me on Instagram @cookrepublic