Papaya Barramundi Ceviche Cups should become the poster recipe for all your summer gatherings this year. There is no fish fresher than a Barra and Papayas are bringing people together with their golden-tangerine hued goodness, inside and out! A match made in summer heaven!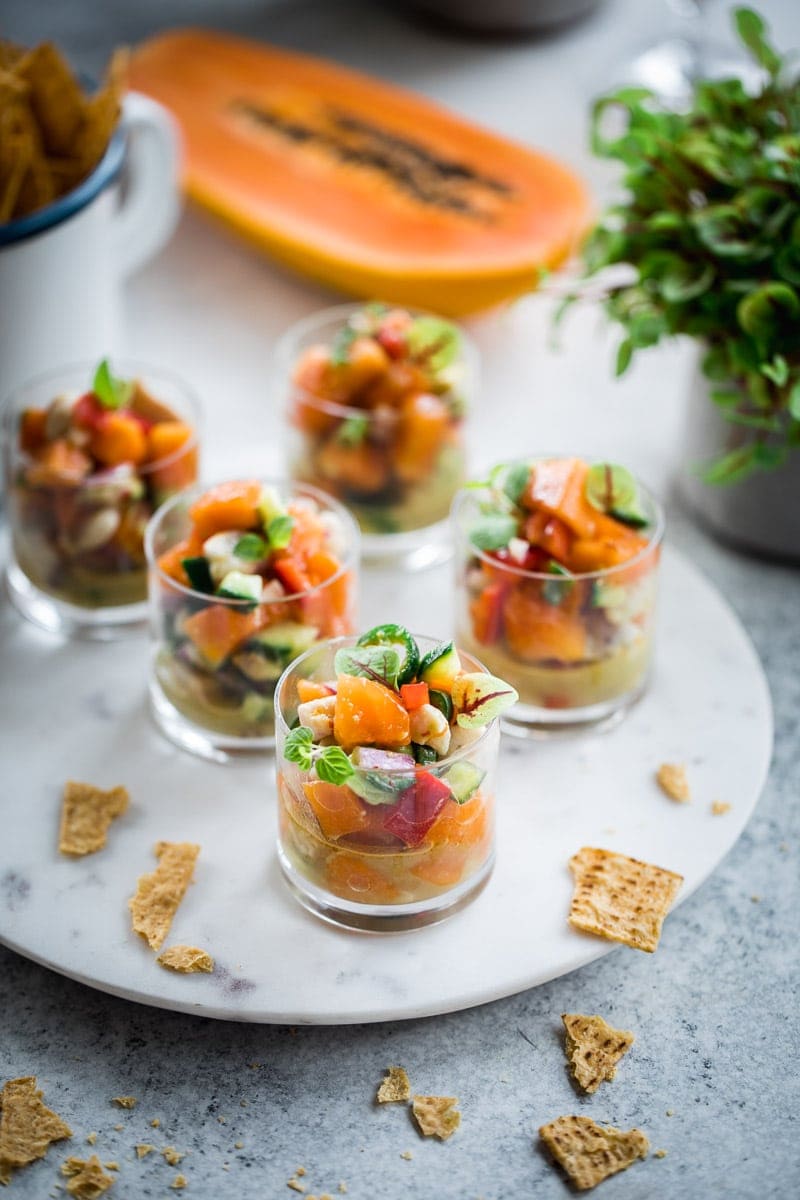 Golden Australian Papayas
I am very excited to be working with Ruby Rise Papaya to bring you an exciting papaya recipe that will be a guaranteed hit at your summer gatherings. Ruby Rise Papayas are 100% Australian and grown by the Mackay family in far northern Queensland. Nestled in the Tully Valley, and surrounded by rainforest and the Great Barrier Reef, Ruby Rise Red Papayas are beautiful golden fruits with the smooth skin and juicy flesh bursting with tropical sweetness. And they are the star of my Papaya Barramundi Ceviche Cup recipe.
Papaya is really a Superfruit, you know ...
Papayas are so good for you. If you aren't eating them, you must have them ASAP and every day! When we lived in Singapore for 5 years, papayas were on the breakfast menu EVERY … SINGLE .. DAY! I admit that they were just sliced up and nothing exciting was going on there. But there are so many fun and fancy ways of having papayas now, that we are spoilt for choice.
Make sure you pick ripe papaya, characterised by a lot of yellow/orange on the skin and a pleasant fruity tropical aroma when you sniff the part where the stalk was attached. A perfectly ripe fruit would also give slightly when pressed gently.
Papayas are rich in fibre, Vitamin C and antioxidants. A single papaya contains more than 200% of your daily Vitamin C needs. Papayas help lower cholesterol, reduce menstrual pain, improve digestion and eyesight. They reduce signs of ageing and also reduce the risk of certain cancers.
So, what makes a good ceviche?
Ceviche is the most understated entertaining dish ever. The freshest fish neatly diced and marinated in a cocktail of citrus juices and spices, tossed with chopped veggies and herbs for crunch and chopped fleshy fruit for that glorious sweetness to bring it all together.
I buy my barramundi fillets from the fishmonger. Make sure you pick out any bones and use a very sharp knife to dice the fish in neat little cubes. I like to marinate the fish for approximately 30 minutes before tossing all ingredients and chilling in the fridge for another 30 minutes. This ensures that the fish is cooked through and not raw. Having said that, the assembled ceviche will keep well in the fridge for 4-6 hours, so you can make it ahead.
If you love to entertain but don't like to sweat it, then Ceviche ...
Ceviche is a delicious starter that requires no cooking and is always fun to eat, no matter how it is presented. And there are some fun ways to present a ceviche. Serve it in a beautiful large bowl for sharing with corn chips on the side. Or scoop into petite bite-sized edible pastry cups. Or load it up in petite glass cups and serve it with tiny forks.
When the sun is out, gather your friends, crack open a cold Kombucha and enjoy the goodness of papaya in these tasty ceviche cups. If you make this and love it, please share your feedback in the comments/ratings below. And don't forget to tag me on Instagram with pictures of your Papaya Barramundi Ceviche Cups! Big love! xx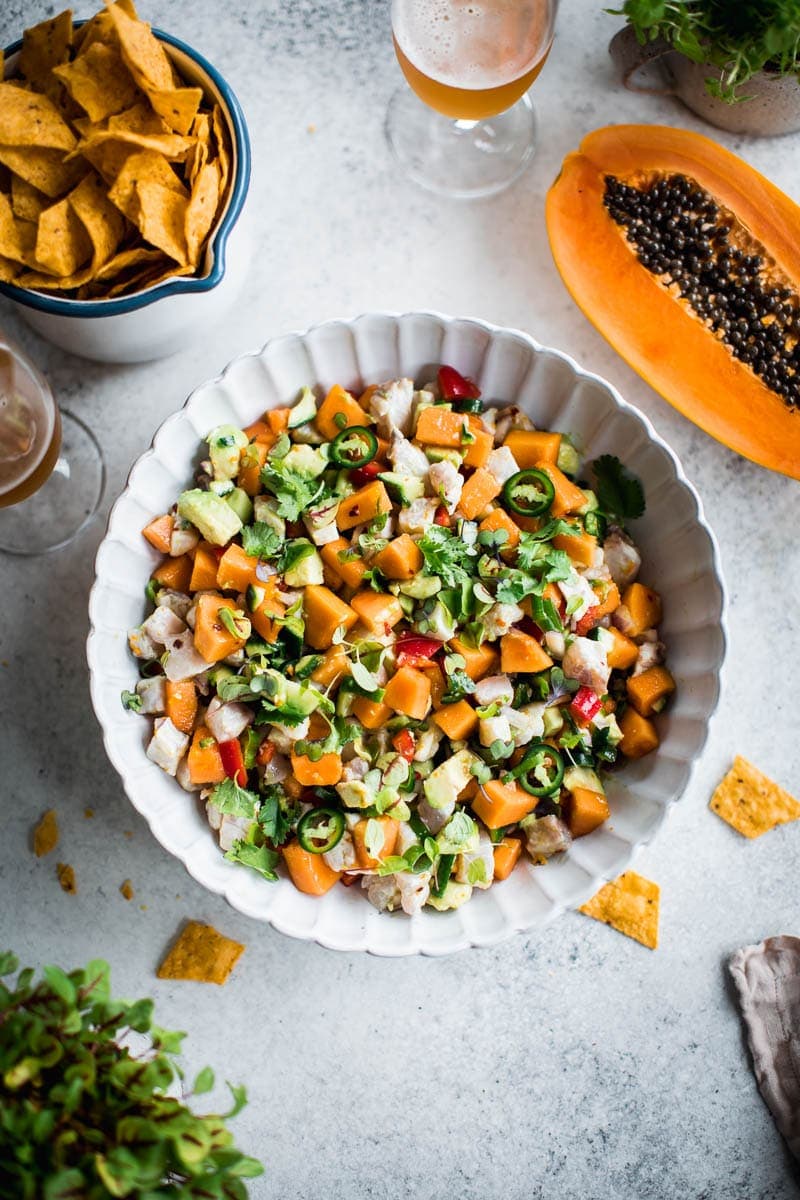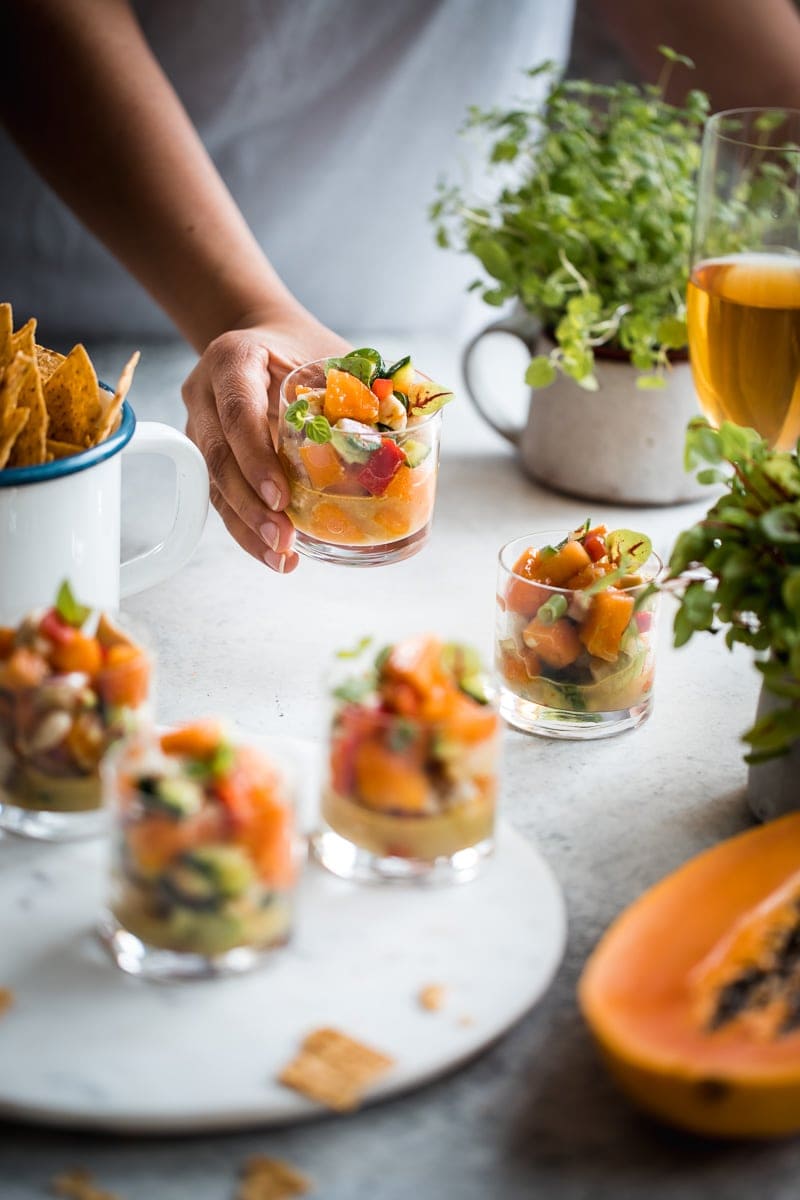 Recipe
Hungry For More Recipes? Subscribe to my newsletter. Check out Facebook, Instagram and Pinterest to see everything I share! And if you love cooking and new cookbooks, join my free Cooking Club on Facebook!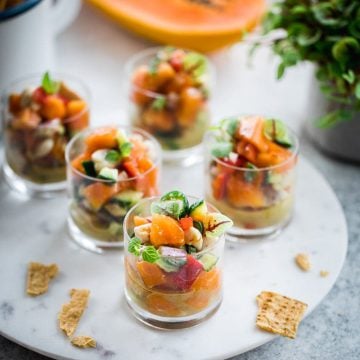 Ingredients
Zest and juice of half an orange

1

teaspoon

red chilli flakes

1

teaspoon

sea salt flakes

1

tablespoon

Extra Virgin Olive Oil

350

g

boneless Barramundi fillets

,

cut into 2cm cubes

½

red onion

,

35g, finely diced

1

small red pepper

,

35g, finely diced

1

small cucumber

,

120g, deseeded and finely chopped

1

small avocado

,

deseeded and cubed

1

green cayenne or jalapeno chilli

,

thinly sliced

2

cups

(

300

g

)

papaya

,

cut into 2cm cubes

2

spring onions

,

finely chopped (green only)

¼

cup

fresh coriander leaves

,

chopped

Sea salt flakes and freshly ground black pepper

,

to taste

Fresh mint and micro herbs

,

to garnish

Corn Chips

,

to serve
Instructions
To prepare the ceviche dressing - Place orange zest, orange juice, chilli flakes, salt and olive oil in a small lidded jar. Shake well.

Place the fish in a non-reactive (ceramic or glass) bowl. Pour the dressing over the fish. Mix well and spread to ensure that the fish is completely covered by the dressing. Cover the bowl with cling film and chill in the refrigerator for a minimum of 30 minutes (or 1 hour if you want your fish to be cooked further in the dressing).

Remove the bowl from the fridge. Add the onion, pepper, cucumber, avocado, cayenne/jalapeno, papaya and coriander to the bowl. Mix well. Cover and chill for another 20 minutes. Adjust seasoning (salt and pepper) to taste.

Garnish with mint and micro herbs. Serve in a large bowl for sharing or single-serve glass cups with a side of corn chips.
Did you make my recipe?
I'd love to hear how you went! Tag me on Instagram @cookrepublic
Note – This post is sponsored by Ruby Rise Papaya. All thoughts and opinions are my own.