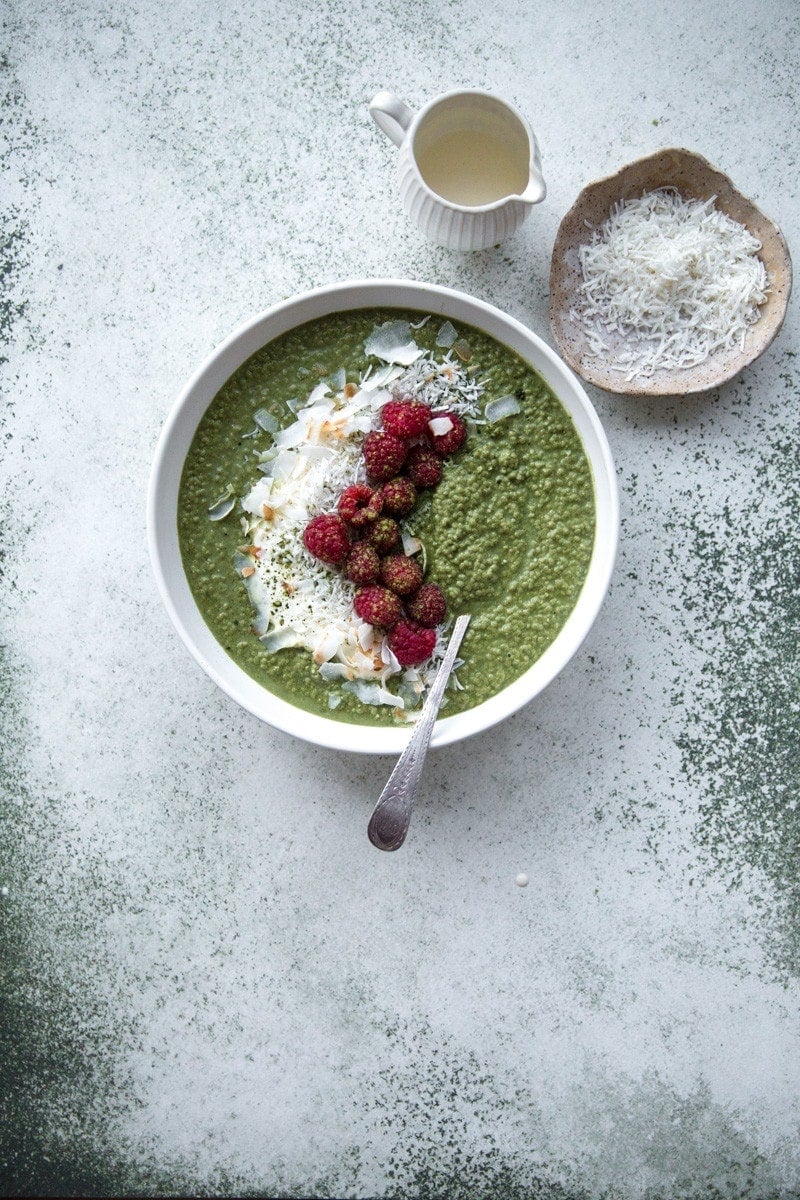 My love for matcha is legendary. At least here on the blog. An acquired taste, matcha is the fine ground powder of a specially grown green tea. Grown in the shade away from direct sunlight, the tender leaves of the green tea are grown for a mere three weeks before harvesting. The delicate tea that results from this process is a gorgeous dark shade and has increased amounts of chlorophyll due to the absence of the sun. The leaves are hand picked and then dried. They are then ground slowly between grinding stones.
This process can take up to an hour to grind a measly 30 grams of matcha so as to not heat up the stones and affect the delicate nature of the tea. It is little wonder then that matcha has the highest amounts of antioxidants in the entire gamut of antioxidant boasting superfoods. Much more than goji berries, acai berries and blueberries. So great are the health benefits of a single cup of matcha that one would have to drink 10 cups of regular green tea to get similar benefits.
From preventing ageing to enhancing mood, from aiding in eradicating chronic illnesses to weight loss and mood improvement, matcha is more than just a superfood. It is a way of life for some. And it is a ritual I have adopted in recent times. Brewing matcha the traditional way with a bamboo whisk in a handmade tea bowl is an art that needs your complete presence and is instantly calming. But more about that another day. Today I want to share another one of those instant desserts I have been making recently. This matcha chia pudding has replaced this chia pudding and a gorgeous caramel chia pudding that I still need to share with you. It is a show stopper of a dessert and would turn heads with green envy goodness. It just needs a little whisking and you are good to go. I have even made (my first!) little video to show you how easy it is to make this. Let me know what you think.
If you make it, don't forget to share with me on Instagram using #cookrepublic. Cheers! xx
Recipe
Hungry For More Recipes? Subscribe to my newsletter. Check out Facebook, Instagram and Pinterest to see everything I share! And if you love cooking and new cookbooks, join my free Cooking Club on Facebook!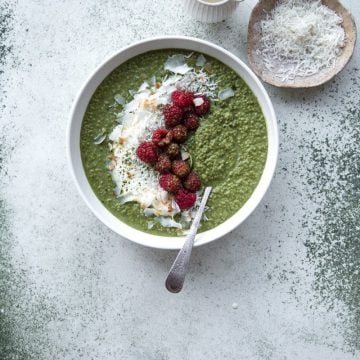 MATCHA COCONUT AND CHIA PUDDING
A super quick chia pudding with the most gorgeous green hue from matcha. Brimming with the goodness of coconut, this luscious dessert is packed with antioxidants.
Print Recipe
Rate / Comment
Ingredients
1/2

cup

(

85

g

)

white chia seeds

2

cups

(

500

ml

)

coconut water

1 1/4

cup

(

300

ml

)

coconut milk

3

tablespoons

maple syrup

1 1/2

tablespoons

matcha powder

1/4

teaspoon

vanilla powder

pinch

of salt

toasted coconut flakes and shredded coconut

,

to serve

coconut cream

,

to serve

handful of raspberries

,

to serve

1

Granny Smith apple

,

cut into matchsticks, to serve
Instructions
Place chia seeds, coconut water, coconut milk, maple syrup, matcha powder, vanilla and salt in a wide shallow bowl (1.5 litre). Mix well with a balloon whisk until smooth and even.

Allow to develop in a cool corner of your kitchen or in the fridge (covered with a clingfilm) for 3-4 hours.

To serve, top with coconut cream, toasted coconut flakes, raspberries and apple. Alternatively, divide into 4 X 250ml capacity jars/glasses and top with the toppings to serve.
Did you make my recipe?
I'd love to hear how you went! Tag me on Instagram @cookrepublic