My Pasta Alla Norma is made with creamy eggplant chunks tossed with spaghetti in a fragrant tomato sugo. It is utterly delicious and packed with so much flavour, even meat eaters rave about it. The perfect easy, light and healthy weeknight dinner for the whole family.
Jump to:
What is Pasta Alla Norma?
Pasta Alla Norma is a traditional eggplant and pasta dish from Sicily in Italy made of fried eggplant tossed with pasta and tomato sauce and topped with ricotta salata. In the past, it was called "pasta con le melanzane" which literally means "pasta with eggplant".
Pasta Alla Norma is thought to have originated in Catania, the hometown of Vincenzo Bellini, the famous Italian composer. Vincenzo's most famous opera in the 1800s was called "Norma" after its lead character, a high priestess and was considered a masterpiece. The story goes that Nino Martoglio (1870-1921), a famous playwright from Catania, upon tasting the dish, exclaimed, "Chista è 'na vera Norma!", meaning "This is a real Norma!" comparing it to the masterpiece. High praise indeed!
Ingredients
With only a handful of ingredients in this beautiful eggplant pasta dish, it is of utmost importance that they are of the finest quality. These are the five main ingredients
Eggplant - You will need a big, meaty eggplant. Fresh and plump eggplants are the best as they render to creamy perfection upon cooking. If you are wondering why my eggplant looks the way it does, I buy a lot of Imperfect Veggies every week to rescue them from being thrown out and help do my bit for food wastage. Often veggies have dents and markings but they are in absolute peak condition.
Tomato Sauce - I use a simple tomato-basil pasta sauce by Mutti. It is rich with the best tomatoes and is highly fragrant with basil with a touch of sweetness.
Pasta - I have used spaghetti for this recipe. Traditionally maccheroni or rigatoni is used for pasta alla norma.
Cheese - Traditionally, grated ricotta salata is used to top the pasta. This is an aged, air-dried and salted ricotta. It has a delicious sharpness that balances the flavours in the pasta. But it is hard to source here in Sydney. So, I use grated sharp parmesan. You could try adding a dollop of fresh ricotta to make the dish creamier or a more pungent Pecorino Romano grated over the top.
Basil - Basil is a non-negotiable when it comes to this eggplant pasta. It is essential to add freshness and cut through the robust flavour of this dish.
Besides the above, my eggplant pasta has some chilli, garlic and oregano for a flavour boost. Plenty of olive oil and flaky salt is a must to draw out the beautiful flavour and texture of eggplant. I use robust, strong-flavoured, first-press, extra virgin olive oil.
How to make Pasta Alla Norma?
This beautiful Italian Eggplant Pasta is slowly cooked in a pan with lots of oil and salt and building the flavour in layers. Here is what you need to do
Shake or slice eggplant skin in strips (zebra pattern).
Cut eggplant in half-inch rounds.
3. Salt eggplant rounds on both sides and allow to purge for 15 minutes.
4. Lightly rinse eggplant in cold water.
5. Dry eggplant completely using paper towels.
6. Cut each round in half-inch pieces.
7. Pan fry eggplant in hot oil until starting to brown.
8. Add garlic and cook down for 12-15 minutes until eggplant is soft, then add chilli and oregano.
9. Add pasta sauce.
10. Mix well and cook for few minutes.
11. Add salt and pepper to taste.
12. Cook pasta as per packet instructions.
13. Add basil and stir.
Add pasta, mix well and cook for a few minutes until heated through and the eggplant is really tender.
Eggplant Cooking Tips
I usually don't salt eggplants before cooking. But for my Vegan Nasu Dengaku and this Pasta Alla Norma recipe, I do. I find that salting, rinsing, drying and then cooking makes the flesh utterly creamy and decadent to eat.
For this recipe, I also make use of one of Ottolenghi's glorious eggplant cooking tips. Shaving half of the skin. Eggplant skin can often become tough and chewy after cooking. Shaving half off reduces the chance of having too many skin pieces floating in your pasta but leaves enough for a lovely texture.
Finally, eggplant needs a lot of oil to cook. It is like a sponge and the oil helps soften it. If you don't use enough oil, the eggplant becomes dry and is unpleasant to eat. I have tried this dish with different amounts of oil and 4 tablespoons for a large eggplant hits the sweet spot.
Types of Pasta to use
Text in old cookbooks and records show that pasta alla norma was traditionally made with maccheroni or rigatoni - small-cut pasta. And although I love making this with rigatoni or paccheri, spaghetti is a pretty good weeknight option.
Make sure you use the lighter-coloured pasta available at independent grocers and specialty stores. Good quality dry pasta is not dark yellow but lighter in colour - a pale yellow or rich cream. It means it has most likely been dried slower and longer using traditional drying techniques. High-temperature drying irreversibly changes the pasta turning the beta-carotene orange. In addition, the pasta changes in appearance and consistency, becoming more elastic.
Slowly dried, paler pasta is silkier after cooking and has a wonderful melt-in-your-mouth feel. I love these brands - Rummo, Garofalo, Molisana, Squisito. You will find them at most supermarkets and grocers.
Serving Suggestions & Storage
Pasta Alla Norma is a beautiful, meat-free, weeknight dinner option. A fresh salad or some smaller sides would make the meal complete. Try these.
Storing - This eggplant pasta dish keeps well in the fridge in an air-tight lidded container for up to three days. It can be frozen in a freezer-safe container for up to a month. To reheat, simply warm in the microwave.
Recipe FAQs
What does Pasta Alla Norma taste like?
This dish has a very strong delicious eggplant taste with a lot of umami from the tomato and a creamy mouthfeel from the pasta and sauce. It is warming and utterly comforting.
Is Pasta Alla Norma vegetarian?
Yes, it is vegetarian as it has no meat and only uses eggplant as its main ingredient.
Is Pasta Alla Norma healthy?
This dish is meat-free, so provides a good vegetarian weeknight meal option. But it is also carb-heavy and as such must be enjoyed in moderation like all pasta dishes.
More Eggplant Recipes You'll Love
Recipe
Hungry For More Recipes? Subscribe to my newsletter. Check out Facebook, Instagram and Pinterest to see everything I share! And if you love cooking and new cookbooks, join my free Cooking Club on Facebook!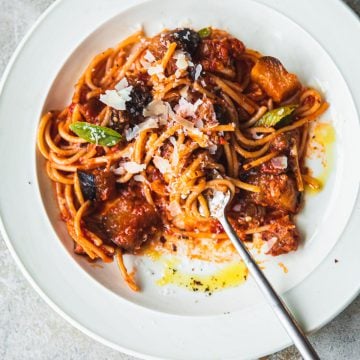 Ingredients
1

(

650

g

)

large eggplant

Large pinch of salt

4

tablespoons

olive oil

5

garlic cloves

,

minced

2

teaspoons

dried oregano

¼

teaspoon

red chilli flakes

1 ½

cups

(

600

g

)

tomato basil pasta sauce

flaky salt

,

to taste

ground black pepper

,

to taste

12

basil leaves

,

torn

4

cups

(

600

g

)

cooked spaghetti pasta
Instructions
Wash and dry the eggplant. Trim the top.

Stand the eggplant vertically on the flat end. Shave strips off the skin lengthwise with a vegetable peeler in order to get a zebra like pattern.

Cut eggplant into half inch thick rounds. Salt them on both sides and place them on a plate for 15 minutes. Rinse off the seepage (purging) in cold water very briefly, then pat dry completely using paper towels.

Cut each round into half inch pieces.

Heat 3 tablespoons oil in a cast iron saute pan on high.

Add eggplant and saute on high heat for 4-5 minutes until starting to brown.

Reduce heat to low and add garlic and another tablespoon of oil. Cook for 12-15 minutes, tossing occasionally until eggplant is soft and velvety.

Add oregano, chilli, tomato sugo, salt and pepper. Mix well and cook for 5-6 minutes until heated through. Test the eggplant by cutting into it with a fork. It should be tender and cut like butter while still retaining its shape.

Add cooked pasta, 2 tablespoons of pasta cooking water and basil. Increase heat to medium, mix well and cook for a further minute.

Serve hot with parmesan cheese.
Notes
Eggplant - Use a big, meaty eggplant for this dish. Tomato sauce - I use a basic tomato-basil pasta sauce. You can use your favourite pasta sauce if you like. Pasta - I have used spaghetti in this dish. Traditionally, maccheroni or rigatoni was used. You can also use paccheri, penne or casarecce. Cheese - Traditionally, this dish is served with ricotta salata grated on top. It is a dried, aged, salted ricotta cheese. If you can't find it, use parmesan or pecorino instead. Vegan - Make it vegan by substituting with vegan cheese. Gluten-free - You can use gluten-free pasta for gluten intolerances.
Nutrition
Calories:
411
kcal
|
Carbohydrates:
60
g
|
Protein:
10
g
|
Fat:
15
g
|
Saturated Fat:
2
g
|
Polyunsaturated Fat:
2
g
|
Monounsaturated Fat:
9
g
|
Sodium:
192
mg
|
Potassium:
508
mg
|
Fiber:
8
g
|
Sugar:
8
g
|
Vitamin A:
426
IU
|
Vitamin C:
6
mg
|
Calcium:
61
mg
|
Iron:
3
mg
Did you make my recipe?
I'd love to hear how you went! Tag me on Instagram @cookrepublic