Who doesn't love a golden, crispy, flaky pastry encasing lots of finely chopped spring onions and dipped in the most divine sesame sauce? A yum cha favourite and a winner in our family, Chinese Scallion Pancakes are not only fun to make but absolutely delicious as a snack or appetizer. Served with my punchy ginger garlic and chilli sesame dipping sauce.
Jump to:
Why you'll love Chinese Scallion Pancakes!
There are quite a few different versions of the Chinese Scallion (Spring Onion) Pancakes. Some are thin and crispy. Some are chunky and crusty. But they are always flaky and pan-fried to perfection. Which makes them an ideal vegetarian/vegan appetizer for Chinese banquets or Asian night at home. This is pretty much a pantry meal if you don't count the Spring Onions. If you are hard-pressed to find fresh spring onions, dried chives from the pantry will do just fine.
It is a great meal to make in about 45 minutes. And the fun factor is definitely a bonus. The magic of flour and water creates the dough which gets mixed with the spring onions. Once you roll the dough as thinly as possible (channeling your gozleme vibes), you brush the dough with oil, roll it into a cigar shape, then coil it into a disc, flatten that and roll it into the final pancake. Fun all the way!
Hot Water Dough or Cold Water Dough
The dough for Chinese Scallion Pancakes is made using either the hot water dough or the cold water dough technique. Some recipes employ the use of both hot and cold water. The hot water makes the dough easy to work with and subsequent pancake softer whereas the cold water makes the dough sticky and hard to work with while imparting a chewiness to the texture of the pancake.
I tried out all three methods - hot water dough, cold water dough and both hot and cold water dough. I found that hot water dough was the easiest to work with. The dough came together nicely and I was able to knead it into a smooth ball in just minutes. There was barely any stickiness and I only needed a dusting or two of extra flour during kneading.

Two Different Techniques Of Making Chinese Scallion (Spring Onion) Pancakes
Method 1 (Pictures Below & Recipe Shared is this version) - The original method for making the Chinese Scallion Pancakes is to knead the dough and divide it into 4 portions. You roll each portion out, brush it with oil and scatter spring onions over the brushed oil. You roll this into a cigar shape and then coil the rolled log. You flatten the coil and roll it into the final 6 to 7 inch round pancake. I make the pancakes using this method all the time because I find that this is easier to make and creates flakier pancakes.
Method 2 - This involves adding the spring onions to the dough right at the beginning. SO basically you knead the dough with the spring onion in it. You divide the dough into 4 portions. You then roll the dough portion out thinly (spring onion and all), brush it with oil, roll into cigar shape and then coil. You flatten the coil and roll it into the final 6 to 7 inch round pancake. This method of working the spring onions into the dough right at the beginning gives a more even distribution of spring onions but the dough is sticky and messy to work with and the final pancakes are a bit stodgy.
Tips For Making Vegan Chinese Scallion Pancakes
After kneading the dough, you need to rest it for at least 30 minutes to 1 hour. This helps the dough relax the gluten and hydrate the starch, producing a soft pliable dough that is easy to work with rather than an elastic dough that won't stretch the way you want.
These vegan scallion pancakes are going to less flaky and crispy than the restaurant versions because they use animal lard instead of sesame oil for brushing. Lard produces flakier pancakes. These vegan ones that I share today are still mighty crispy and flaky and absolutely delicious.
It is best to fry these on a cast iron or carbon steel frying pan. These pans produce the best crispy crust.
Make sure you keep topping up oil in the frying pan during frying. This will ensure crispy, perfectly cooked crust.
Only use the green part of the spring onion and make sure you chop it really fine. The white part is tougher and can easily tear the pastry while rolling.
I have a dumpling roller (rolling pin) which is basically a non-tapered cylinder. If you can find one, that would be perfect. It is great for rolling pastry evenly and especially rolling the edges thinly.
Recipe
Hungry For More Recipes? Subscribe to my newsletter. Check out Facebook, Instagram and Pinterest to see everything I share! And if you love cooking and new cookbooks, join my free Cooking Club on Facebook!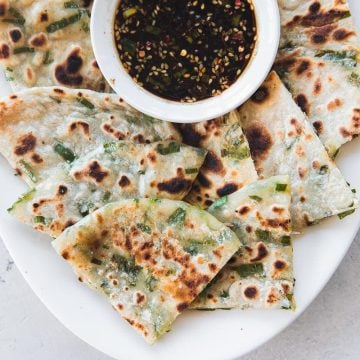 Vegan Chinese Scallion (Spring Onion) Pancakes With Sesame Dipping Sauce
A yum cha favourite, a golden crispy and flaky Chinese Scallion Pancake is a joy to bite into. Made with lots of finely chopped spring onions and served with a delicious sesame dipping sauce.
Print Recipe
Rate / Comment
Ingredients
1 1/2

cups

(

225

g

)

plain flour, plus extra for kneading and dusting

3/4

cup

(

180

ml

)

hot water

1

teaspoon

sea salt flakes

1

cup

spring onions

,

finely chopped (green only)

sesame oil

,

for brushing

vegetable or olive oil

,

for pan frying
for the sesame dipping sauce
2

tablespoons

light soy sauce or tamari

2

tablespoons

rice wine vinegar

1

teaspoon

sesame oil

1

teaspoon

grated ginger

1

large garlic clove

,

grated

1/2

teaspoon

red chilli flakes

1

teaspoon

sugar

1/2

teaspoon

sesame seeds
Instructions
Prepare the sesame dipping sauce by mixing all ingredients in a lidded glass jar. Can be stored in the fridge for up to two weeks.

Place flour and salt in a medium bowl. Make a well in the centre. Add the hot water.

Using chopsticks, mix the water into the flour till it resembles breadcrumbs.

Using your hand, knead into a smooth dough. If too sticky, use a dusting of extra flour. If too stiff, add a tablespoon of water. Dough should be soft and pliable. Work the dough into a smooth ball (this takes about 3-5 minutes). Cover with a tea towel and rest for 30 minutes (up to two hours is also great).

Divide dough into four portions. Dust a clean workbench lightly with flour. Using a rolling pin, roll your dough out into a thin rectangle shape. Brush the rolled portion with sesame oil. Scatter spring onions onto the brushed oil leaving a 1/2 inch margin all around. From the top, start rolling the dough onto the spring onion into a cigar shape. Make sure you roll it tight so that the dough is wrapped tightly around the spring onions. Pinch and seal the ends. Starting at one end, coil the cigar roll until you reach the other end and are left with a 4 inch coiled disc. Flatten the coiled disc with the palm of your hand and dust with flour. Using a rolling pin, roll the coil into a 5 to 6 inch round pancake. Repeat with the remaining dough portions.

Heat a cast iron frying pan on medium. Drizzle some olive/vegetable oil in the pan. Place your pancake in the pan. Pan fry on each side for a few minutes until golden and crispy. Remove from heat, place on a chopping board and cut into wedges.

Serve hot with the sesame dipping sauce.
Did you make my recipe?
I'd love to hear how you went! Tag me on Instagram @cookrepublic