If you have joined the millions of people in isolation around the world having a crack at making their own Sourdough Starter and baking sourdough bread, you would have some (or a lot of) Starter Discard. I do too! And I am coming up with fun, clever and delicious recipes to use up that starter discard. First up, we have a golden, crispy, salty and spicy Vegan Sourdough Pizza Crackers.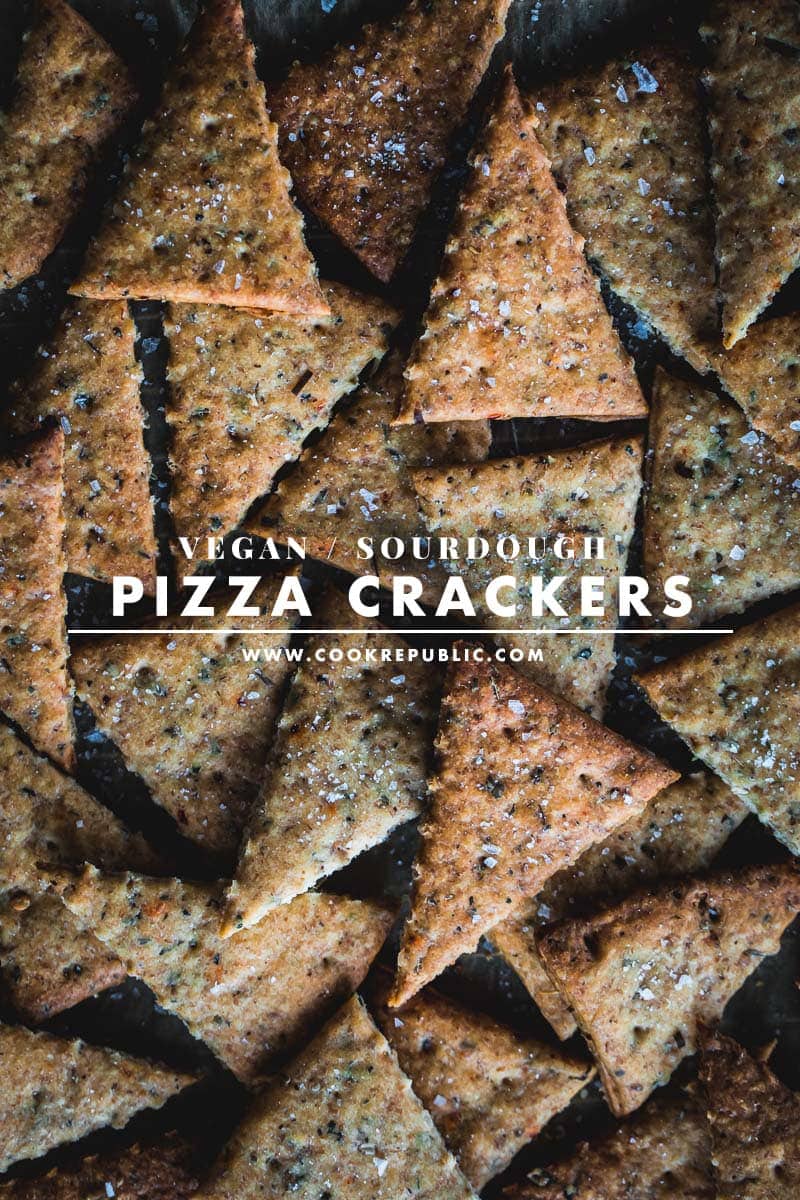 Why Make A Sourdough Starter?
Even if you have no intention of baking sourdough bread, it is really worthwhile making a sourdough starter. There are a number of reasons for that. You are in isolation and you have a little bit more time on hand. It is a simple experiment that only requires a jar, flour and water. It could be fun to do it with kids (Think of it as homeschooling Science & Fermentation 101). And once you have the starter bubbling and ready to use in just a week's time, instead of baking sourdough bread (which admittedly involves a lot more time and patience), you can start making fun instant recipes with that discard. And reap the gut benefits of ingesting all that good bacteria in the starter.
We have now established that you NEED to make a starter and bake these delightfully crispy and more-ish pizza flavoured crackers. But if I still haven't convinced you, that's okay. Because in the recipe below (in the footnotes) I share a plain version of the crackers that you can make from just pantry ingredients if you don't have starter discard on hand. Both the plain version and the sourdough version are based on one of my favourite recipes for Baked Spinach Crispies in my cookbook Tasty Express.
Weekly Family Movie Night Tradition During Isolation
My Vegan Sourdough Discard Pizza Crackers taste just like a pizza slice thanks to all the beautiful combination of herbs. We had them with spicy salsa and it was like eating pizza. No jokes! It has to be one of the best quick snacks I have made when the evening munchie strike. In times of isolation, we are trying to do different things at home to compensate for being cooped up in a rut everyday. One of our initiatives is Weekly Family Movie Nights where we pick out a movie from bowl. We each get to put in 4-5 movies of our choice in little folded notes in the bowl and we each take turns picking out the weekly movie. It is a lot of fun. And movie snacks like this Sourdough Pizza Crackers just seal the deal.
How To Make Sourdough Discard Pizza Crackers?
This is a very simple recipe. You basically put all the ingredients for these Sourdough Discard Pizza Crackers in a bowl, mix and knead into a rough dough. You can cover and rest it for 30 minutes or even a whole day. The longer the rest, the more flavour will develop. The outside might get hard and crusty, but you just knead it again and it all gets incorporated back to a smooth dough. From there on, you roll the dough to about 0.3 or 0.4 cm thickness. And cut into crackers using a fluted cutter or knife. You can prick each cracker with a fork to ensure the cracker stays nice and flat during baking.
The green gadget you see in the picture is a Betty Bossi cracker roller. It was an impulse buy at Christmas, but boy has it proved to be useful. Basically, you just roll the cracker roller ina straight line and it cuts the crackers, pricks holes in them and creates perforated lines in between crackers so you can just snap the crackers and separate them once baked. Genius! Can you imagine all the crackers you can make with healthier flours, veggie powders and fresh herbs?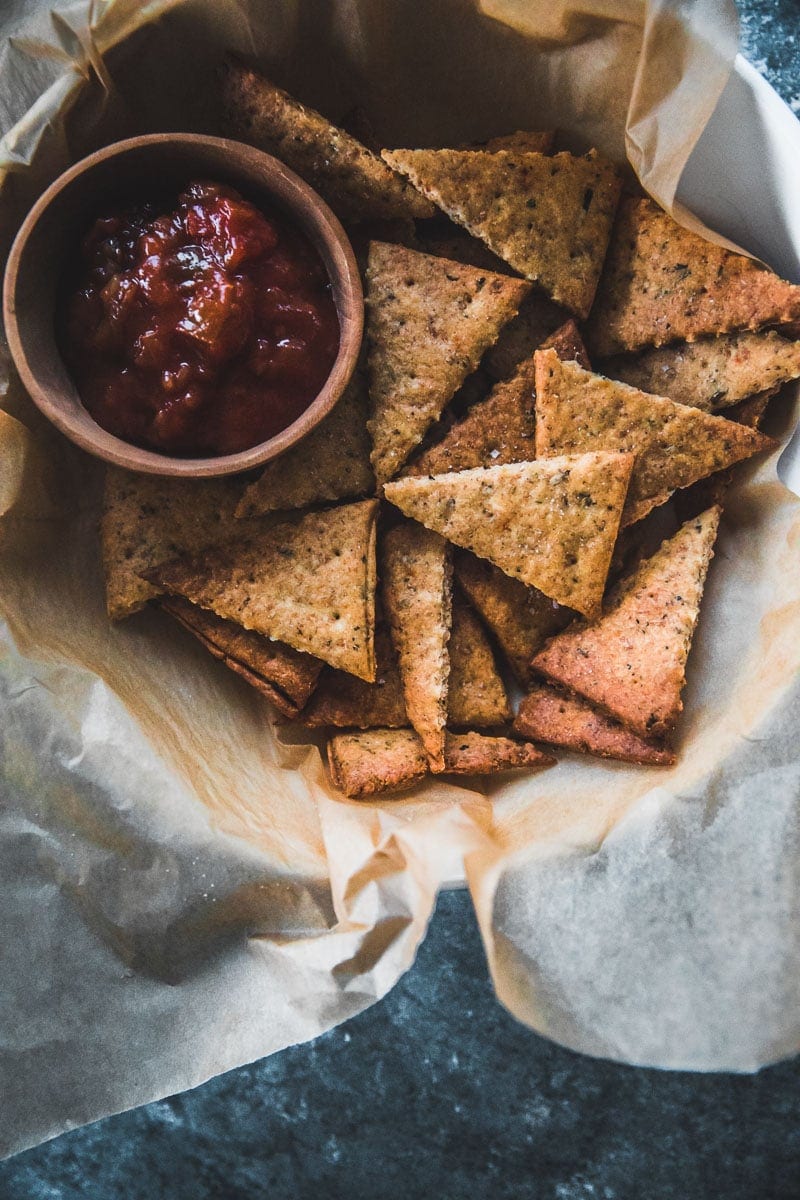 Show me your Pizza Crackers and Movie Night photos on Instagram by tagging me @cookrepublic #cookrepublic. And don't forget to share your feedback in the comments below. Happy Baking! x
Recipe
Hungry For More Recipes? Subscribe to my newsletter. Check out Facebook, Instagram and Pinterest to see everything I share! And if you love cooking and new cookbooks, join my free Cooking Club on Facebook!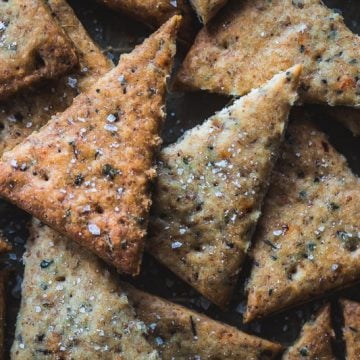 VEGAN SOURDOUGH DISCARD PIZZA CRACKERS
A great recipe for using up your sourdough discard, these Vegan Sourdough Pizza Crackers taste just like pizza. Just mix, roll, bake and cut. Perfect for movie nights!
Print Recipe
Rate / Comment
Ingredients
1

cup

(

250

g

)

Sourdough Starter Discard

1

cup

(

135

g

)

plain flour

1/4

cup

(

60

ml

)

extra virgin olive oil

1

teaspoon

sea salt flakes

1/2

teaspoon

garlic powder

1/2

teaspoon

red chilli flakes

1/2

teaspoon

dried thyme

1/2

teaspoon

dried oregano

1/2

teaspoon

dried basil

1

tablespoon

finely chopped fresh chives

extra sea salt flakes

,

for sprinkling

salsa

,

to serve
Instructions
Pre-heat oven to 170°C/150°C (fan-forced).

Get a large rimmed baking tray.

Place starter discard, flour, oil, salt, garlic powder, chilli flakes, thyme, oregano, basil and chives in a bowl. Mix and then knead into a pliable but stiff dough.

Cover and rest for 30 minutes.

Flatten dough and place between two large sheets of baking paper. Using a rolling pin, roll the dough out to about 0.3 or 0./4 cm thickness. remove the top baking paper. Using a fluted cutter or knife, cut the dough into desired shapes (squares, rectangles or triangles). Separate the strips and pieces slightly, so they don't stick together after baking. (if you are using a cracker roller, you don't need to separate) Prick each piece with a fork. Lift the baking paper and place the crackers with the baking paper on to the tray.

Bake in the pre-heated oven for approximately 20-25 minutes. The edges might get darker (that is okay), the larger baking tray helps keep the crackers in the middle and away from extreme heat.

Remove from oven. Lift baking paper and crackers onto a wire rack and cool completely. Sprinkle with extra sea salt flakes and serve with salsa.
Notes
IF YOU DON'T HAVE STARTER DISCARD - Replace starter discard in this recipe with 40g plain or rye flour AND 1-2 tablespoons lemon juice. If dough is too stiff to roll, loosen with a bit of cold water until pliable but still stiff.
Did you make my recipe?
I'd love to hear how you went! Tag me on Instagram @cookrepublic