This 6-ingredient, one-pan, easy lemon cake recipe is bright sunny yellow and absolutely delicious. A beloved family recipe, this buttery cake packs a hefty citrus tang. It can be made ahead and you can enjoy it as a simple afternoon tea cake or dress it up with lemon icing for a special birthday or wedding.
Jump to:
🍋 Why Make This Lemon Cake
A good lemon cake is a joy to eat fresh from the oven, whether it is a Lemon Ricotta Cake or a Lemon Madeira Cake. Just like old-fashioned lemonade it has the ability to lift your spirits and make your summer afternoons special when you bite into a delicious, moist cake slice.
All my butter cakes are spiked with grated lemon zest. But my easy lemon cake is extra lemony with extra lemon zest and juice. Here is what makes it so special,
Only 6 Ingredients - My easy lemon cake only has 6 ingredients. It is a simple, fuss-free, uncomplicated recipe. A true classic!
Low sugar and no icing - When I first started baking this cake more than a decade ago, it had much more sugar and butter in it. Over the years, I have perfected the recipe to use much less sugar and butter without compromising the taste. I love plain cakes without all the bells and whistles. My cake has no icing and hence is much lighter and perfect as an everyday afternoon tea cake dusted with just a light scattering of icing sugar.
No artificial flavours - This cake recipe has no artificial flavours or additives. The strong lemon flavour is 100% natural and comes from using an abundance of good lemons.
Can be made ahead - This cake tastes even better the day after baking. This is because the lemon intensifies as the cake rests and you can really taste the deliciously mouthy citrus flavour. Make this lemon cake at least a day before you want to serve it for maximum flavour.
📝 Ingredients
Lemon - I use sunny yellow Meyer Lemons to bake this easy lemon cake. I have two Meyer lemon trees growing in pots and have a steady supply of Meyer lemons throughout the year. Meyer lemons are a bright sunny yellow with thin skin that zests well. Their flesh is orange-tinged with a delightful sweet-sour taste. They are less acidic and perfect for desserts that use a lot of lemon zest and juice. Meyer lemons also give the cake a beautiful canary yellow colour. If you can't find Meyer lemons, try to use the yellowest and juiciest lemons you can find.
Flour - My recipe uses self-raising flour. If substituting with plain flour, add a teaspoon of baking powder to the batter.
Sugar - I use raw caster sugar (also known as turbinado sugar) for this easy lemon cake. Turbinado sugar is great for baking as it is minimally processed and retains some of the molasses and hence a golden colour.
Butter - I use organic salted butter. If using unsalted butter, add a pinch of salt to the batter.
Milk - I use low-fat milk for this recipe. You can use full-fat milk, soy milk or buttermilk.
🥣 How To Make This Easy Lemon Cake
Wash and dry the Meyer lemons. Grate the zest using a microplane.
Squeeze the lemon juice in a jar.
Add butter, sugar and lemon zest to the bowl of an electric mixer. Beat for a couple of minutes until light, creamy and voluminous.
Add eggs to the mixture and beat for a minute until pale and creamy.
Add lemon juice. Mix briefly.
Sift flour over the mixture, add milk and beat for a few seconds until thoroughly combined.
Spoon batter into the prepared, lined cake tin.
Bake the cake as per the recipe until golden and cooked through when tested with a skewer. Remove from the oven and cool completely in the cake tin.

🍰 Serving Suggestions
The beauty of this easy lemon cake is that it is a blank canvas for a number of special treats.
Whip up some mascarpone cheese, icing sugar and vanilla in a bowl until fluffy. Dollop on top of the cake. Garnish with extra lemon zest and serve as dessert.
Cut the cake into slices and serve each with a dollop of this delicious Instant Vegan Mango Ice Cream. If you have never tried a lemon and mango combination before, you must! Trust me, it is divine!
Toast a slice of this cake in the toaster. Lay it flat on a plate and drizzle with vanilla custard and a handful of berries.
Shake it up and serve this easy lemon cake with passionfruit curd. So yum!
🙋 FAQs
What kind of lemon is the best for baking lemon cake?
Meyer lemon is the top choice for baking this easy lemon cake. It is tart as well as sweet with a flavour and colour that is between an orange and a lemon. Other lemon varieties you can use are Eureka and Lisbon which are two of the most widely available lemon varieties all over the world. These lemons are more tart and acidic. If using these lemons, you might need to increase the sugar by about a quarter cup to balance the tartness.
Can I add buttermilk to the lemon cake?
Yes, absolutely! Buttermilk adds a rich sour tang to the cake and helps it rise perfectly for a soft, fluffy crumb.
Can I bake lemon cake into a loaf?
Yes! I use this exact same recipe (same quantities and baking time/temperature - 50 minutes at 180°C) to bake a lemon cake loaf (22cm X 11cm X 7cm high), a wide round lemon cake (20cm X 7cm high) or a taller round lemon cake (18cm X 10cm high).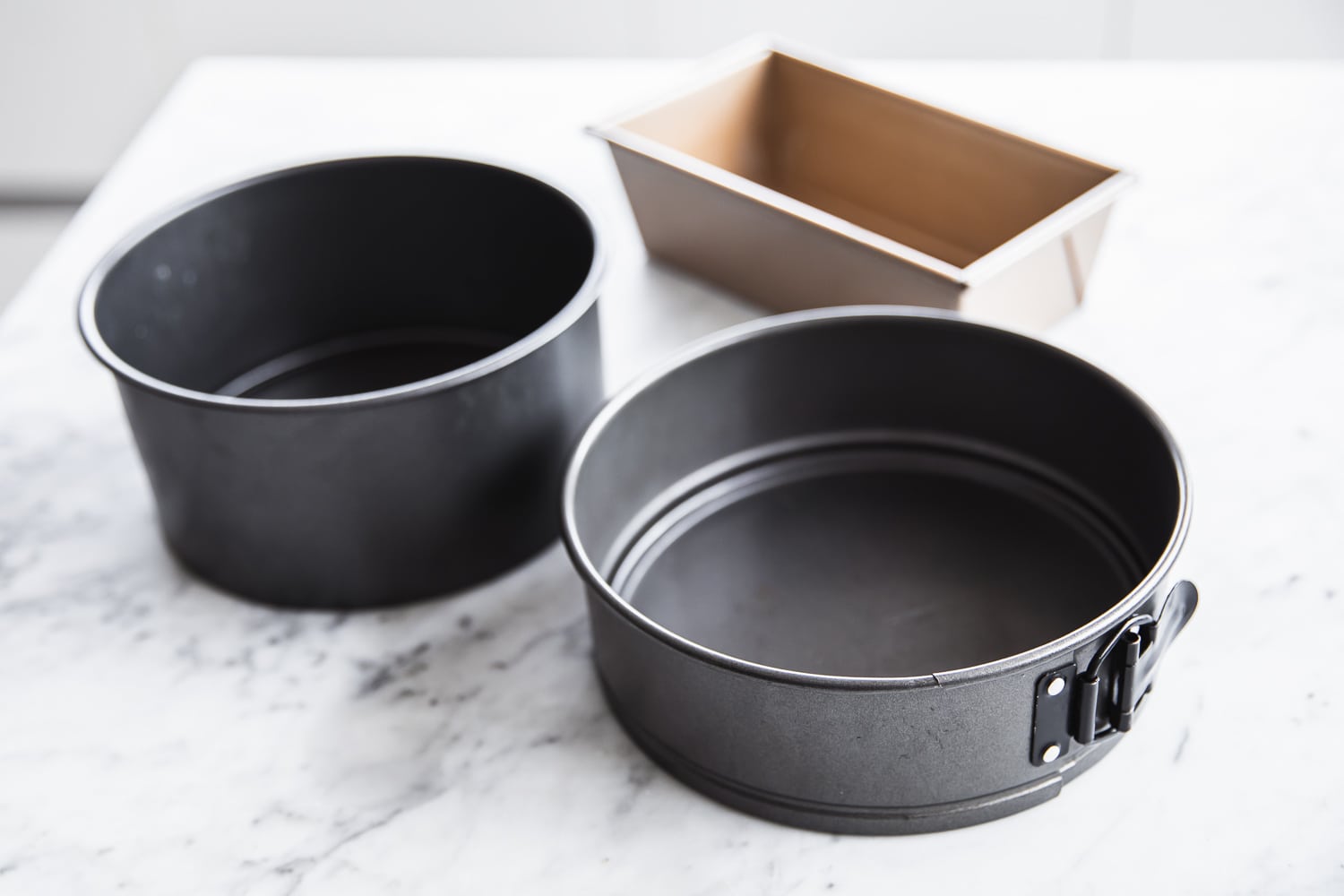 Why is my lemon cake dry after baking? How can I fix this?
Any cake baked with butter will become a tad tough and feel dry if the weather is cool. This happens as the butter in the cake solidifies. To fix this, simply microwave your cake slice for approximately 20 seconds. Your cake slice will become soft and moist as the butter softens and melts.
Is lemon cake healthy?
This recipe is lighter than most lemon cake recipes as it is lower in sugar and butter. Eaten in moderation, it is a lovely treat.
Can I freeze lemon cake?
Yes! Individual slices of lemon cake can be wrapped in baking paper and frozen in zip-lock bags for up to a month. To serve from frozen, simply thaw in the microwave for 1-2 minutes depending on your microwave settings.
💛 More Easy Cake Recipes
Recipe
Hungry For More Recipes? Subscribe to my newsletter. Check out Facebook, Instagram and Pinterest to see everything I share! And if you love cooking and new cookbooks, join my free Cooking Club on Facebook!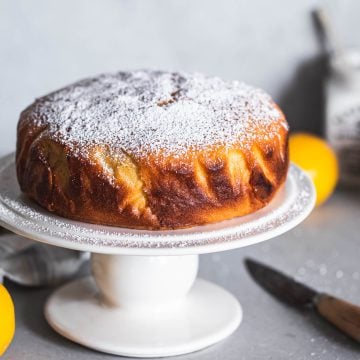 Ingredients
150

g

salted butter

,

softened, note 1

1

cup

(

200

g

)

raw caster sugar

,

(turbinado sugar), note 3

1

tbsp

lemon zest

,

Meyer lemons, note 6

3

eggs

,

note 2

1 1/2

cups

(

240

g

)

self raising flour

,

note 4

60

ml

lemon juice

,

Meyer lemons, note 6

1/2

cup

(

125

ml

)

milk

,

note 5

icing sugar

,

for dusting
Instructions
Preheat oven to 180°C. Grease and line the base of a deep 20cm cake pan with baking paper.

Beat butter, lemon zest and sugar in a bowl until creamy and fluffy.

Add eggs one at a time, beating after each addition for a couple of minutes until the mixture is light and creamy.

Sift flour over the egg mixture. Add juice and beat for a few seconds. Add milk and beat until well combined.

Pour in prepared tin. Tap the tin on the worktop to settle the batter. Bake in preheated oven for approximately 50 minutes until golden and cooked through when tested with a skewer.

Remove cake from oven and allow to cool in the tin completely. Dust with icing sugar. Cut into slices and enjoy.

The cake keeps well in a cool corner of the kitchen for up to 2 days. It will keep well in the fridge for up to 5 days. When eating out of the fridge, remember to warm the slices up for 20 seconds in the microwave.
Notes
Butter - I use salted butter for this recipe. It adds a touch of salt which lifts the sweetness of the cake. You can use unsalted butter and add a pinch of salt to your batter when you first start mixing.
Eggs - I use medium organic eggs, each approximately 65g in weight. Remember to use the freshest eggs for the best cake.
Sugar - I use raw caster sugar (also known as turbinado sugar) for this recipe. It is minimally refined to retain the molasses and colour which deepens the beautiful colour of the cake while adding a slight caramel tone. You can use regular white caster sugar for this recipe if you can't find raw sugar.
Flour - This recipe uses self-raising flour. You can substitute with regular plain white flour or cake flour but you must remember to also add 1 teaspoon of baking powder.
Milk - I use low-fat milk for this recipe. You can use full-fat milk, soy milk or even buttermilk. The buttermilk will add an extra layer of beautiful tang to the cake.
Meyer Lemons - Meyer lemons are sunny yellow with thin skin that can be easily zested. Their flesh is sour and sweet and considered a cross between a lemon and an orange. They are perfect for baking and desserts. If you can't find Meyer lemons, use regular lemons (Eureka or Lisbon). The regular lemons are more tart and acidic so you might have to increase sugar by a quarter cup.
Baking Tins - I have baked this easy lemon cake in three different-sized tins with excellent results. My baking tins are rectangle loaf shape (22cm X 11cm X 7cm high), round (20cm X 7cm high), round (18cm X 11cm high). For all three pan sizes, I use the same recipe as above (no change to quantities, baking time or temperature).
Storage - The lemon cake keeps well at room temperature in a cool corner for up to 2 days. To keep it for longer, store it in an air-tight-lidded container in the fridge for up to 5 days. To serve from the fridge, warm in microwave for 10-20 seconds.
Nutrition
Calories:
340
kcal
|
Carbohydrates:
48
g
|
Protein:
4
g
|
Fat:
15
g
|
Saturated Fat:
9
g
|
Polyunsaturated Fat:
2
g
|
Monounsaturated Fat:
4
g
|
Trans Fat:
1
g
|
Cholesterol:
36
mg
|
Sodium:
109
mg
|
Potassium:
88
mg
|
Fiber:
2
g
|
Sugar:
27
g
|
Vitamin A:
420
IU
|
Vitamin C:
4
mg
|
Calcium:
60
mg
|
Iron:
1
mg
Did you make my recipe?
I'd love to hear how you went! Tag me on Instagram @cookrepublic
Originally published in November 2011. Updated in October 2022 with a better-tested recipe, images and fresh copy. The recipe has been made healthier and more concentrated in flavour.