Beetroot hummus is a delicious way to mix up your hummus game. But you can't just add beetroot to a regular hummus recipe. You need a few extra ingredients and my easy 25-minute recipe is not only delicious but really draws out the earthy beetroot flavour!
Boiling Beetroot Is Best For Making Beetroot Hummus
Every other week I make hummus for my family to snack on. Often I will mix it up with variations like Red Capsicum, Cauliflower, Green Carrot Top, Sweet Potato and this gorgeous Pink Beetroot version. I think the cauliflower and this beetroot variation are my absolute favourites. And it is so easy to make. All you need is a cooked beetroot, a few extra ingredients and a great base hummus recipe.
You can either roast the beetroot or boil it. I prefer boiling it as it keeps the beetroot nice and juicy without drying it out. It is also quicker. A medium-sized beetroot will boil perfectly in just 20 minutes in a saucepan of boiling water on medium-high heat. Once it cools a bit, a sharp knife easily takes off the skin and top.
For this hummus, I chop the beetroot into little pieces rather than add big chunks. This helps in breaking down the beetroot faster ensuring that you get smooth hummus without overprocessing it. I do the same with garlic. I either mice or chop it into little pieces. Adding whole garlic cloves will often give you a hummus with a rogue garlic clove still intact. I hate that!
Beetroot And Pomegranate - A Perfect Pair
When I was little, mum used to say that if I ate more beetroot I would get rosy cheeks like my favourite characters in Enid Blyton books. I would not only load on on beetroot at every meal but would religiously chug the beetroot juice she would make and when she wasn't looking, I would rub the cut ends of the beetroot on my cheeks to make them rosier.
Beetroot is indeed a miracle vegetable. It works wonders for your blood. It is one of those veggies that despite being low in calories is dense in all the right nutrients. Packed with a bit of protein and fiber, it shines in the potassium, manganese, zinc, magnesium, vitamic C, folate and iron department. It is known to reduce and regulate blood pressure and I am getting older, I am not only trying to incorporate more of it in my diet but also get my boys used to having it.
In this recipe beetroot pairs beautifully with pomegranate. The tang of the pomegranate is essential to making a hummus that isn't just flat but has layers of flavour. If you can't find pomegranate molasses, try adding a handful of pomegranate seeds to the finished hummus.
Recipe
Hungry For More Recipes? Subscribe to my newsletter. Check out Facebook, Instagram and Pinterest to see everything I share! And if you love cooking and new cookbooks, join my free Cooking Club on Facebook!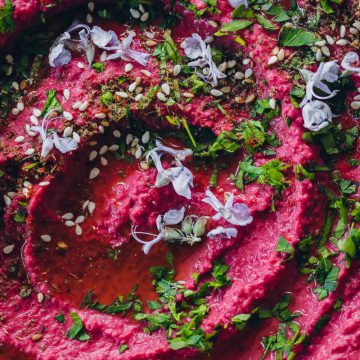 Ingredients
250

g

cooked chickpeas

,

freshly cooked or from a can

1

beetroot

,

medium

3

garlic cloves

,

finely chopped

3

tablespoons

lemon juice

1

teaspoon

pomegranate molasses

¼

cup

tahini

½

teaspoon

sea salt flakes

,

(or to taste)

1

teaspoon

ground cumin

½

cup

warm water

Extra virgin olive oil, Zaatar, sesame seeds, sweet paprika, finely chopped parsley, edible flowers

,

– to serve
Instructions
Cook the beetroot by boiling it in water in a small saucepan for 20 minutes until tender when tested with a skewer. Allow to cool for 10 minutes. Carefully trim the ends, peel and chop the beetroot.

Add the chopped beetroot to a food processor along with the chickpeas, garlic, lemon juice, pomegranate molasses, tahini, salt, cumin and water.

Process until smooth and lump free.

Spoon beetroot hummus in a shallow wide bowl. Make indents in the hummus with the back of a spoon in swirling motions.

Drizzle extra virgin olive oil in the indents.

Garnish with Zaatar, sesame seeds, sweet paprika and parsley. Will keep in the fridge for up to 4 days.
Notes
Make sure you chop the beetroot and garlic into very small pieces to ensure easy processing in the processor and ultimately a smooth hummus.
I have used rosemary flowers. Nasturtiums also go well with the hummus and their spicy taste compliments the sweet and sour flavour profile of the hummus.
Nutrition
Serving:
1
g
|
Calories:
652
kcal
|
Carbohydrates:
64
g
|
Protein:
25
g
|
Fat:
37
g
|
Saturated Fat:
5
g
|
Polyunsaturated Fat:
16
g
|
Monounsaturated Fat:
13
g
|
Sodium:
1965
mg
|
Potassium:
1022
mg
|
Fiber:
17
g
|
Sugar:
9
g
|
Vitamin A:
134
IU
|
Vitamin C:
27
mg
|
Calcium:
224
mg
|
Iron:
8
mg
Did you make my recipe?
I'd love to hear how you went! Tag me on Instagram @cookrepublic