One of my new favourite things to experiment with in the kitchen is the Philips Airfryer. I remember when they first came out in 2010, they were the talk of the town. Deep frying with air? Not oil? It was a mind-blowing concept that really worked.
Using their patented Rapid-Air Technology that circulated hot air to create a tornado effect, the Airfryer mimicked deep-frying without the use of oil. It allowed people to fry using 80% less fat* – a healthier way to make your favourite potato wedges, French fries, dumplings, samosas and nuggets. And it could also bake, roast and grill – allowing cooks to get creative in the kitchen.
Continuing my exploration of all my favourite Philips appliances, I recently collaborated with them to try out the Philips Airfryer XXL (HD9651/91). It is their most popular kitchen appliance with innovative Twin TurboStar technology. The improvement allows you to cook with up to 90% less fat* (so handy when you are trying to maintain a healthy lifestyle and cut out excess oils and fats from your cooking). It also has an ultra-large capacity allowing it to roast a whole chicken or two bags of frozen fries in one go which makes it 50% bigger than their compact Air fryers.
Besides road testing it to fry frozen foods (mainly dumplings and samosas), I have been experimenting with some of my own recipes from the blog and trying to make them healthier and crispy. So far, I have experimented with meatballs, neat-balls (veggie meatballs), falafels, banana fritters, apple fritters, chilli fritters, homemade potato wedges, kale chips and Brussels sprouts. And the Airfryer doesn't disappoint at all. Just a light drizzle or brushing of olive oil makes crispy magic every time.
The Airfryer is quite easy to use. It comes pretty much assembled. The main tray (with the star pattern) that slides out, houses the mesh basket. Everything is cooked in this basket. A metal rack may be placed in this basket to create two levels, increasing the capacity of ingredients you put in. The main digital display has a power switch, temperature control, timer and five one-touch programs. The unit has a little cavity at the back to neatly tuck in the power cable when not in use.
The Philips Airfryer XXL is big, so if you are short on counter space then a more compact version of their Airfryer will be the best choice. If you have the space, then this one is great as it allows you to cook for up to six people without having to repeat the cooking process multiple times. It isn't noisy, probably sounds like the microwave is on (which isn't loud either). What I absolutely love is that I can now enjoy so many recipes I had stopped making because they required deep frying or were too oily when baked in the oven. And it is a breeze to clean (something that is very important to me in the kitchen).
And then because I am so obsessed with cauliflower, I decided to try making crispy cauliflower. It opened up a whole new world for me! In the past week alone we have literally had a crispy cauliflower snack every day, each time with a different flavour. But my absolute favourite, is the Crispy Cauliflower Buffalo Wings – a vegan version of those spicy, punchy, deliciously addictive chicken wings. After trying out three-four batches of these buffalo cauliflower, I am very excited to share this recipe with you.
This recipe creates a cauliflower that is crispy around the edges and has a crunch to it when you bite into it. But the insides are so juicy and perfectly cooked. The combination of the spicy, tangy marinade of the cauliflower with this ridiculously easy-to-make 10 Minute Sour Cashew Cream Sauce is simply divine. If you make this dish, make it with the sauce and serve it with crushed peanuts and big squeezes of lemon. It is a MUST! Absolutely addictively delicious and oh so healthy!
If you love this recipe, I'd love to hear your feedback in the comments below. If you have an Airfryer, I would love to know what you cook in it so I can try it out myself. Don't forget to rate the recipe below and check out the Philips website for more details on their Airfryer range.
Hungry For More Recipes? Subscribe to my newsletter and follow along on Instagram, Facebook and Pinterest to see everything I share!
Recipe
Hungry For More Recipes? Subscribe to my newsletter. Check out Facebook, Instagram and Pinterest to see everything I share! And if you love cooking and new cookbooks, join my free Cooking Club on Facebook!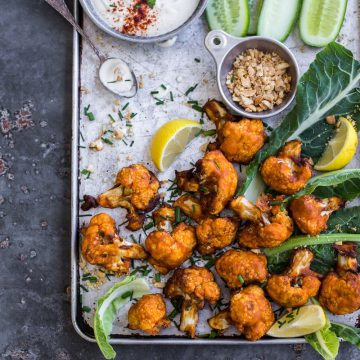 Ingredients
For the Cauliflower
400

g

cauliflower florets

,

(1 small cauliflower)

¼

cup

(

35

g

)

gluten free flour

,

or all-purpose plain flour

1 ½

tablespoons

Sriracha

1 ½

tablespoons

white vinegar

½

teaspoon

smoked paprika

1

teaspoon

garlic powder

1

teaspoon

sea salt flakes

½

teaspoon

sugar

1

teaspoon

oil

¼

cup

(

60

ml

)

water
For the Sour Cashew Cream Sauce
1

cup

(

110

g

)

raw cashew nuts

1

garlic clove

1

teaspoon

lemon juice

½

teaspoon

nutritional yeast

½

teaspoon

sea salt flakes

½

cup

(

125

ml

)

water
To Serve
lemon wedges

chopped chives

crushed peanuts

salad greens
Instructions
To Prepare Cauliflower
Place all ingredients for cauliflower in a large bowl and mix well. Make sure the marinade gets into every bit of the cauliflower florets.

Place marinated cauliflower in the netted tray of the Philips Airfryer.

Turn the temperature on to 180°C, choose the manual setting and set timer at 20 minutes. Press the quick start button. When done, remove cauliflower carefully onto a serving plate or tray.

Garnish with chopped chives. Serve with lemon wedges, crushed peanuts, sour cashew cream sauce and greens.
To Prepare Sour Cream Cashew Sauce
Soak cashew nuts in boiling water for 10-15 minutes. Drain the water.

Place soaked cashew nuts and all other ingredients for the sauce in a jug of a small blender or food processor and blend until smooth.
Notes
Make sure the cauliflower florets are not too small otherwise they will burn. Each floret should roughly be the size of a small chicken drumstick (about 4-5 cms wide at the head). This will ensure a juicy cauliflower experience.
Nutrition
Calories:
516
kcal
|
Carbohydrates:
45
g
|
Protein:
19
g
|
Fat:
33
g
|
Saturated Fat:
6
g
|
Polyunsaturated Fat:
6
g
|
Monounsaturated Fat:
18
g
|
Trans Fat:
0.01
g
|
Sodium:
2106
mg
|
Potassium:
1115
mg
|
Fiber:
8
g
|
Sugar:
10
g
|
Vitamin A:
266
IU
|
Vitamin C:
106
mg
|
Calcium:
90
mg
|
Iron:
6
mg
Did you make my recipe?
I'd love to hear how you went! Tag me on Instagram @cookrepublic
*Compared to homemade fries cooked in a conventional deep fryer.
disclaimer - This post is sponsored by Philips. The recipe and my opinion came about after two weeks of experimenting and testing the Philips Airfryer XXL. My feedback and recommendation for this appliance is a result of my positive experience cooking with it and its usefulness in my everyday kitchen.