A fabulously jewelled chopped salad prepped in only 10 minutes to get that extra veggie boost at meal times. This Feta Corn Salad is deliciously creamy and crunchy with the salty feta and sweetcorn cooked with a clever microwave hack. Try it!
Jump to:
🥗 Why make this Feta Corn Salad?
You know I love my chopped salads and they are often very squeaky and clean like the Texas Caviar and the (Not Really) Jennifer Aniston Salad. But this Feta Corn Salad is not only creamy but very savoury in nature. Here is why you will love it!
It only takes 10 minutes to make!
A fun excuse to use the clever Microwave Corn Hack!
5 veggies in one delicious salad bowl.
Has lots of fiber and protein.
Can be made ahead.
Great for meal prepping.
Perfect for picnics and potlucks.
📝 Ingredients & Substitutions
Corn - Use fresh corn on the cob with the husk on as we will be cooking this in the microwave. When sweet corn isn't at its best, I use canned corn kernels which also work beautifully. You can just rinse and add them without cooking them. See Recipe Notes for substitution quantity.
Feta Cheese - I use crumbled Feta Cheese. This is quite dry and evenly crumbled. It adds a lovely texture and salty creaminess to the salad. If buying blocks or cubes of feta, make sure you drain it completely and crumble it by raking and pressing a fork through it.
Tomato - Use ripe but firm red tomatoes. Plump, red tomatoes add a glorious sweetness to the salad. Deseeding tomatoes and cucumbers helps omit the water content and keep the salad nice and dry.
Cucumber - I use Lebanese cucumbers and deseed them by scooping the seeds with a spoon (I just eat the seeds, they are so delicious. Waste not, want not!). You can use Telegraph cucumbers (thin long cucumbers) but just halve them as you don't need a whole lot.
Allium and Herb - I use spring onions which can be substituted with chives and parsley which can be substituted with dill or fresh oregano or a combination of all.
Bell Peppers (Capsicum) - I add whatever coloured capsicum I have on hand. Red is my favourite bell pepper (capsicum) to add to salads. It has a wonderful sweetness along with a beautiful crunch. Yellow or orange capsicum is a good substitute as it is almost as sweet. Green is grassy and slightly bitter and is wonderful if you love your savoury flavour profile.
Capsicum Fun Facts
All capsicums are green at first. After they mature on the plant and reach their maximum size, if they are not picked they continue to change colour. They become yellow first, then orange and then red. Their nutrition profile also changes as they change colour with the yellow capsicum having the highest Vitamin C content followed by the red capsicum. Both green and red have high Vitamin A with red being the highest. But red capsicum also has the most sugar content and as a result sweet in its flavour profile. All capsicums are good for bad cholesterol, good for eyes and heart health and are anti-inflammatory.
Feta Corn Salad Dressing
This Corn Salad has a basic red dressing made of bright and sweet acidity that helps cut the saltiness of the feta. The main ingredients are
red wine vinegar
balsamic vinegar
olive oil
garlic
salt and pepper
🌽 Cooking Sweetcorn in the microwave
Have you ever cooked a whole corn on the cob in the microwave? It is easy and fun. It softens the corn slightly and makes it sweeter.
Buy the freshest corn of the season with the husk intact.
Place it in the microwave and cook on the highest power for 3 minutes.
Remove and cool slightly.
Peel away the husk. Your corn is now ready to be eaten or shucked for recipes.
🥣 How to make Feta Corn Salad
Cook whole corn in the microwave.
Remove the husk and slice and remove corn kernels with a knife.
3. Make Corn Salad Dressing by mixing all ingredients in a bowl.
4. Chop veggies for Feta Corn Salad.
5. Add all salad ingredients to a large bowl.
6. Add salad dressing and mix well.
🍴Serving Suggestions
This Feta Corn Salad is glorious with a piece of good grilled, wild-caught white fish.
It is also amazing in little store-bought edible canape cups.
Try this corn salad as a side for these recipes
🥄 More Spoon Salad Recipes
In case you were wondering what a spoon salad is, it is basically a finely chopped salad with a slurpy dressing that you can literally eat with a spoon. A delicious burst of a variety of ingredients and textures in every mouthful. Spoon salads are the bomb, they are fun to make and last for a good few days in the fridge. And they are an absolute joy to eat as all ingredients are finely diced and cut. Try some of my favourite spoon salad recipes
Recipe
Hungry For More Recipes? Subscribe to my newsletter. Check out Facebook, Instagram and Pinterest to see everything I share! And if you love cooking and new cookbooks, join my free Cooking Club on Facebook!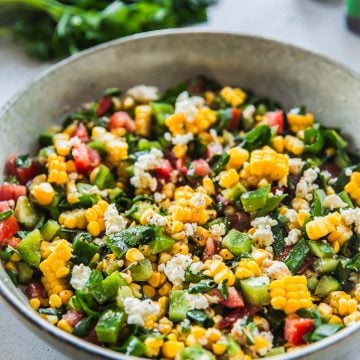 Feta Corn Salad
An easy, delicious spoon salad made with a variety of crunchy salad veggies, salty feta and sweetcorn cooked in the microwave. A perfect light summer salad and a great way to get more vegetables at every meal.
Print Recipe
Rate / Comment
Ingredients
2

corn on the cob

,

(with husk)

1

cucumber

,

deseeded and diced

1

tomato

,

deseeded and diced

½

red bell pepper

,

capsicum, large (deseeded and diced)

¼

cup

chopped parsley

,

packed

1/3

cup

crumbled feta

2

spring onions

,

sliced (green only)
For the dressing
1

tablespoon

red wine vinegar

1

teaspoon

balsamic vinegar

2

tablespoons

olive oil

2

garlic cloves

,

minced

¼

teaspoon

flaky salt

Pinch

of crushed black pepper
Instructions
Prepare the corn by placing each cob (inside its husk) in the microwave and cooking it for 3 minutes at the highest power.

Remove and allow to cool for 5 minutes. Remove the husk. Cut the end off to get a flat surface. Stand the corn on the flat surface and using a sharp knife, slice and remove the kernels.

Add cooked corn kernels, cucumber, tomato, red bell pepper, parsley, feta and spring onion to a large bowl.

Make the dressing by mixing all ingredients for it in a small bowl. Add the dressing to the salad.

Mix well and serve immediately.

Assembled salad keeps well in the fridge for a day. Prepped salad and dressing stays fresh for 3-4 days if stored separately in the fridge in lidded air-tight containers.
Notes
Corn - Canned corn kernels make a fantastic substitute for fresh corn. If using canned corn kernels, use 1.5 cups.
Vegetables are medium to large in size. This salad is quite free-flowing so instead of weight and cup measurements, I have used whole vegetables as units.
Feta Cheese - I buy crumbled feta, it is super handy as I don't have to spend time ensuring perfectly small and even crumbled pieces. But if using feta slabs or cubes, a great way to crumble it is to a rake and press a fork in the feta.
Deseeding tomatoes and cucumbers - This helps keep the salad dry otherwise the longer it sits, the watery it will become.
Allium and Herb - I use spring onions which can be substituted with chives and parsley which can be substituted with dill or fresh oregano or a combination of all.
Nutrition
Calories:
628
kcal
|
Carbohydrates:
62
g
|
Protein:
18
g
|
Fat:
38
g
|
Saturated Fat:
11
g
|
Polyunsaturated Fat:
4
g
|
Monounsaturated Fat:
20
g
|
Trans Fat:
0.01
g
|
Cholesterol:
45
mg
|
Sodium:
1235
mg
|
Potassium:
1527
mg
|
Fiber:
10
g
|
Sugar:
23
g
|
Vitamin A:
5155
IU
|
Vitamin C:
141
mg
|
Calcium:
360
mg
|
Iron:
4
mg
Did you make my recipe?
I'd love to hear how you went! Tag me on Instagram @cookrepublic