This is that viral, healthy and deliciously easy salad that Jennifer Aniston may or may not have eaten every single day for 10 years on the set while filming Friends. Packed with protein and crunch, this quinoa, chickpeas and veg salad can be made in just about 20 minutes. I have it for lunch at least once a week!
Jump to:
🥗 What's The Story Behind The Viral Jennifer Aniston Salad
Now don't quote me on this but back when social media started picking up, what Jennifer Aniston ate while filming Friends was a hot topic of contention. The media has always been fascinated by Rachel Green's hairstyles and outfits. In the same way, the internet has always obsessed over Jennifer Aniston's favourite salad.
Courtney Cox remembers a turkey bacon and garbanzo bean (that's chickpea for us here in Australia!) salad that Jennifer Aniston used to make every day. This claim has been refuted by Jennifer herself over the years. And I believe her. Here's why ...
The viral Jennifer Aniston Salad has copious amounts of raw onion, which I am assuming would be a strict no-no while shooting due to the pungency of the ingredient. I mean, if I was shooting in close proximity with other actors, I wouldn't want my breath to smell of onion.
However, in 2015 when Jennifer took over a famous brand's Instagram account for the day, she shared her perfect everyday salad recipe. It had chickpeas, bulghur, cucumbers, parsley, mint, red onion, feta cheese and pistachios. And that is where the legend of the infamous Jennifer Aniston Salad began. Over the years, it has been reimagined and shared across many websites. My version is gluten-free because I swapped bulghur out for quinoa and it also has a little something extra - garlic!
⏱️ Why You Will Love This Salad
Quick and easy! - If you have a container of cooked quinoa in your fridge, then this salad only takes as long as you would take to chop some veggies. And that is roughly about 10 minutes. How quick and easy is that?
Meal Prep! - This salad is perfect for meal prep. Just chop everything, toast nuts, make the dressing and store it all in individual containers in the fridge until ready to use.
Super healthy! - This salad is a complete vegetarian meal by itself. It has lots of protein from chickpeas, quinoa, feta and nuts. Olive oil ticks the good fats category. Veggies and herbs add fiber and other important nutrients.
Delicious & Gluten Free! - My version, which has quickly become hugely popular in our home is made with quinoa instead of bulghur and it has garlic for that salad oomph. Something that Jennifer would not really approve of (ahem .. hence Not Really Jennifer Aniston Salad!) but makes the salad infinitesimally more delicious.
It looks so fresh! - There is just something about viral tiktok salads that makes you want to whip out your salad bowl and toss ingredients instantly. This salad is no different. I mean, just look at that fresh green bowl! It is a light and refreshing Cobb-style salad with plenty of crunch. For those of you who need a refresher, a Cobb is an American-style garden salad consisting of chopped greens, turkey bacon or chicken, cherry tomatoes, herbs, cheese and vinaigrette.
📝 Ingredients & Substitutions
A can of chickpeas in the pantry and a container of cooked quinoa in the fridge form the base of this super easy, nourishing Jennifer Aniston salad. Here is what you will need.
Chickpeas - Canned chickpeas are great. Just rinse and use. You can substitute with canned black beans or cannellini beans.
Quinoa - When I cook quinoa using this recipe, I use half white and half multicolored quinoa to get a pot of fluffy mixed quinoa that works really well in salads. Not only does it look good but the red quinoa adds more texture and bite. It eliminates the stodginess that comes from using only white quinoa. If gluten isn't an issue, you can substitute quinoa with bulghur or couscous.
Veggies - Onion and cucumber should be chopped really fine. You don't need to deseed the cucumber for this recipe.
Herbs - Lots of parsley and mint, chopped really fine. I often don't add mint and the salad is just as delicious.
Cheese - Lots of sharp crumbly feta cheese is the ideal salad for this recipe.
Nuts - Toasted chopped pistachio nuts add a lovely crunch. You can substitute with toasted and chopped almonds or brazil nuts.
Dressing - The Jennifer Aniston Salad requires a good amount of acidity that comes from squeezing two whole lemons. I make a basic salad vinaigrette with olive oil, lemon juice, salt and pepper. It is punchy and refreshing.
🥣 How to make the Jennifer Aniston Salad?
1. Toast whole, raw pistachios in a dry cast-iron pan on low-medium heat, tossing constantly to avoid burning. Toast for 3-4 minutes until fragrant. Remove from heat and cool slightly.
2. Using a knife, chop the toasted pistachios roughly.
3. Cook quinoa in a pot. Remove from heat and cool completely.
4. Rinse and drain canned chickpeas in a colander.
5. Chop onion, cucumber, parsley and mint as per the recipe.
6. Make the dressing by mixing all the ingredients for the dressing in a lidded glass jar and shaking really well.
7. Add chickpeas, quinoa, onion, cucumber, parsley, mint, toasted pistachios and feta cheese to a large bowl.
8. Add the salad dressing to the bowl and mix all the ingredients really well until everything is evenly coated with the dressing.
🍽 Serving Suggestions
One of the best things about this Jennifer Aniston Salad is that it is a complete meal in itself with a good amount of protein, fiber, carbs and good fats. Here are some more delicious ways of serving it,
Grill a piece of chicken or fish and serve alongside the salad.
Add some extra oomph to the salad by tossing through 2 tablespoons of this delicious green Salsa Verde. Yum!
The Jennifer Aniston Salad goes really well with this warm Zucchini & Sweet Potato Slice.
A big bowl of this salad washed down by a glass of this delicious Honeyed Rockmelon Milk makes the most satisfying lunch ever!
🌿 FAQs
Why should I toast the pistachios?
It doesn't matter what nuts you use in this recipe, make sure you toast them. Toasting any nut really brings out the flavour of that nut. Toasted nuts also become crunchier. When you add them to the salad, they add a lovely crunch and texture even when mixed with the dressing. On the other hand, raw nuts just become chewier.
Is the Jennifer Aniston Salad healthy?
This salad is a complete vegetarian meal by itself. It has lots of protein from chickpeas, quinoa, feta and nuts. Olive oil ticks the good fats category. Veggies and herbs add fiber and other important nutrients. It is a light, low-calorie meal (only 305 kcal per serve).
I don't have canned chickpeas. Can I add lentils instead?
Unfortunately, lentils won't work in this recipe. When making and eating a salad, you want to have a bite and crunch with every mouthful. Cooked lentils are much softer than chickpeas. They are also closer in size to quinoa. Adding lentils will make your salad mushy and uninteresting. Instead, try substituting with firm legumes like canned black beans (they are the most accurate substitute for chickpea in a salad because of their firm texture and sweet nutty taste). Cannellini beans are another good substitute for chickpeas.
How long can I store the Jennifer Aniston Salad in the fridge?
Once mixed, the Jennifer Aniston Salad can be stored in an air-tight, lidded, glass container in the fridge for up to 3 days.
Can I meal prep the Jennifer Aniston Salad?
Yes, you sure can! Chop the veggies and herbs, toast and chop the nuts and make the dressing. Store all three in separate containers in your fridge until ready to use. This salad prep can be done up to 3 days in advance.
17 Vegetarian Chickpea Recipes
Are you looking for delicious new ways to cook with canned chickpeas?
Try my collection of Easy Chickpea Recipes for mouth-watering brunches, work lunches and dinners.
These vegetarian chickpea recipes are loaded with flavour and vegetables. They are perfect for adding that extra protein boost to your vegetarian meals.
Recipe
Hungry For More Recipes? Subscribe to my newsletter. Check out Facebook, Instagram and Pinterest to see everything I share! And if you love cooking and new cookbooks, join my free Cooking Club on Facebook!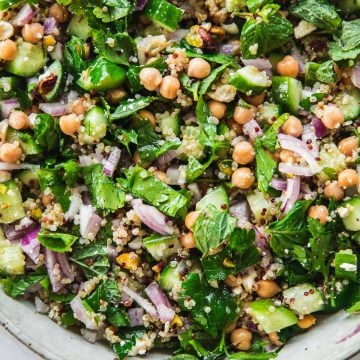 Ingredients
1

cup

(

150

g

)

cooked quinoa

1

cup

(

180

g

)

cooked chickpeas

,

canned or freshly cooked

1

(

100

g

)

red onion

,

finely diced

2

(

250

g

)

small cucumbers

,

finely diced

1/2

cup

parsley

,

finely chopped

1/4

cup

fresh mint

,

chopped

1/4

cup

(

35

g

)

toasted pistachios

,

chopped

1/2

cup

(

100

g

)

crumbled feta cheese

2

(

60

ml

)

small lemons

,

juiced, note 4

2

tbsp

(

30

ml

)

extra virgin olive oil

2

garlic cloves

,

minced

salt and pepper

,

to taste
Instructions
To make the dressing, add lemon juice, olive oil, minced garlic, salt and pepper to a small bowl. Mix well. Set aside for 5 minutes.

Add quinoa, chickpeas, onion, cucumber, parsley, mint, pistachios and feta to a large bowl. Toss and mix well.

Drizzle the dressing over the salad in the bowl. Mix well until everything is coated evenly with the dressing. Serve immediately.
Notes
Make it vegan - Swap regular feta cheese for vegan feta cheese.
Chickpea Substitution - Try canned black beans or cannellini beans instead of chickpeas. Lentils won't work well because they are tiny and might make your salad mushy and less textural.
Quinoa substitution - Quinoa can be subbed with cooked bulghur or couscous but your salad will no longer be gluten-free.
Nut Substitution - Swap pistachios for almonds or brazil nuts. Make sure you toast the nuts for maximum crunch and flavour.
Storage and Shelf Life - Salad can be prepped ahead by making the dressing, toasting the nuts and chopping the veggies ahead of time. Store them in separate containers until ready to use (maximum 3 days in the fridge). Once mixed together, the salad keeps fresh in the fridge for up to 3 days.
Lemons - Usually, a small to medium juicy lemon yields 30ml lemon juice (15ml for each half). This recipe needs to be lemony and punchy to balance all the flavours. Thereby requiring 2 lemons (or approximately 60ml). You can try adding 45ml lemon juice first and add extra only if you feel you need it.
Nutrition
Calories:
305
kcal
|
Carbohydrates:
30
g
|
Protein:
11
g
|
Fat:
17
g
|
Saturated Fat:
4
g
|
Polyunsaturated Fat:
3
g
|
Monounsaturated Fat:
9
g
|
Cholesterol:
18
mg
|
Sodium:
358
mg
|
Potassium:
753
mg
|
Fiber:
8
g
|
Sugar:
5
g
|
Vitamin A:
379
IU
|
Vitamin C:
38
mg
|
Calcium:
184
mg
|
Iron:
3
mg
Did you make my recipe?
I'd love to hear how you went! Tag me on Instagram @cookrepublic