Gingery treats are not just for Christmas! An updated version of an old-fashioned classic, this Ginger Almond Slice baked with spelt flour, lots of ginger and very little unrefined sugar is a good afternoon tea companion, especially on a rainy day.
The charm of afternoon baking and sweet treats laced with ginger
Having grown up in India where home ovens were as rare as unicorns, I didn't know what I was missing until I moved overseas and discovered a whole new delicious world of baking treats for afternoon tea. It started out with me baking treats for after school playdates and potlucks. And it quickly became a ritual. A homemade cake or slice sitting on the kitchen bench under a tea towel or glass dome is a regular feature in our home.  I love when everyone just helps themselves to a piece (or several!).  I am especially fond of baked treats that have a generous amount of spice in them. Ginger is a staunch favourite.
Native to India and China, ginger was an integral part of cooking when I lived in India. The Sanskrit word for ginger is srngaveram which means body like a horn. I use a lot of ginger every day - from a crushed knob infusing in Nick's chai to copious amounts used in curry bases and stir-fries. And I bake a lot with it. When I bake with ginger, I use crystallised ginger by Ceres Organics, organic ground ginger powder and freshly grated ginger. In fact, I use this exact combination of ginger in three different forms. The thing with ginger is that if you bake with it, you might not find the taste strong enough when you taste it just after it has baked. But leave it for a day and the flavour intensifies and takes on a whole new rich profile, deep with warmth and spice.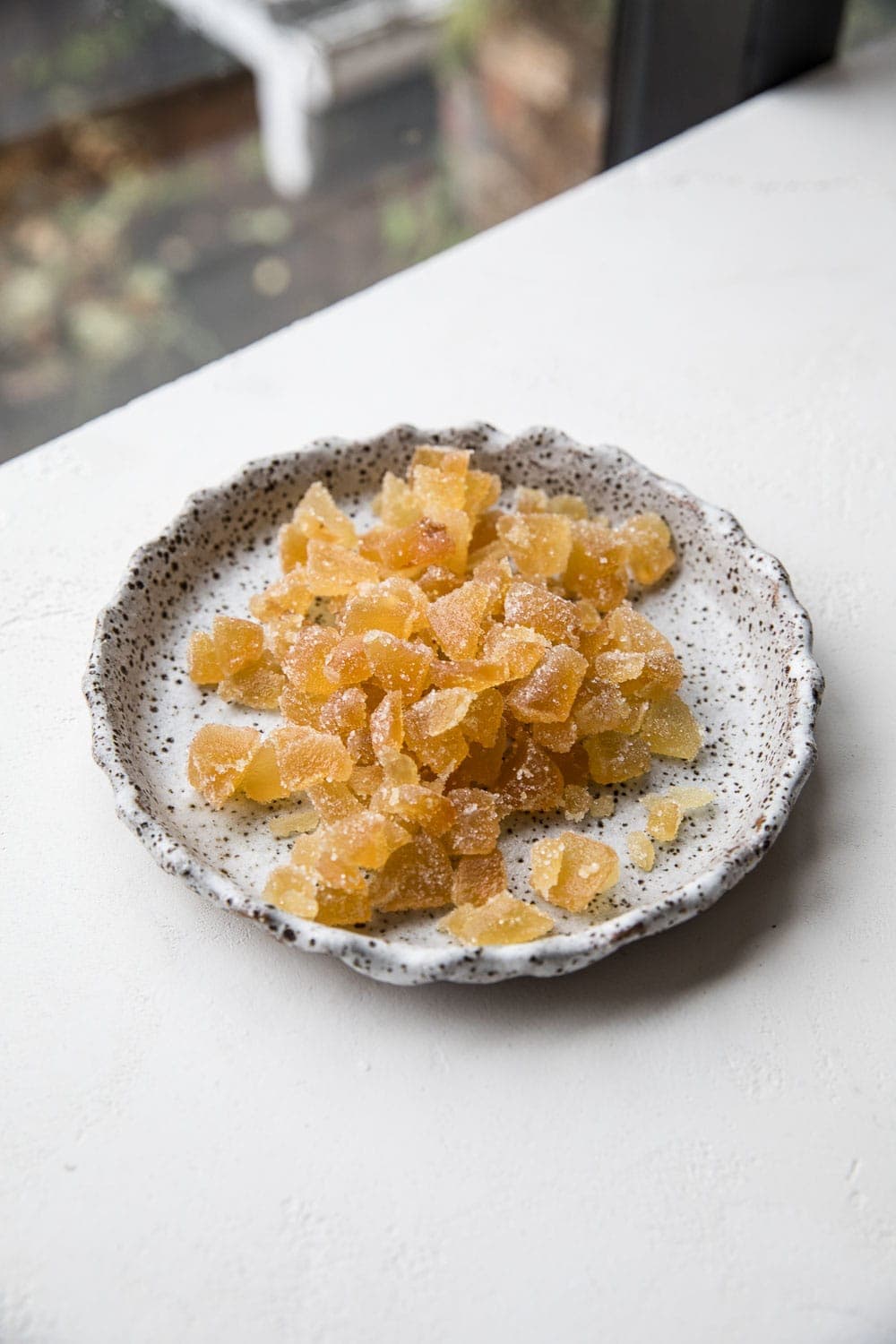 A very good Ginger Almond Slice
I first had a version of this slice when my lovely friend Lisa from the Cheergerm And The Silly Yak blog dropped off a delicious Ginger Almond Slice, still warm from the oven. You must know this about Lisa - she is the queen of shortbread and slices. I have adapted her recipe and given it the Cook Republic treatment with a spelt flour base, lots of more ginger and less sugar.
Because I use rapadura or coconut sugar, the slice has a lovely caramel tone and flavour to it. You could add a bit more sugar to the recipe or a dusting of icing sugar after baking, but we love the low sugar profile here. The spice of the three kinds of ginger I use is warming and comforting with a cup of tea and coffee. The almond meal and the flakes all add to the beautiful texture. The crystallised ginger bits are joyful when you bite into the slice and your teeth sink into a juicy, gingery, jelly-like piece. The slice keeps well for 4-5 days on your kitchen bench, if it lasts that long.
Recipe
Hungry For More Recipes? Subscribe to my newsletter. Check out Facebook, Instagram and Pinterest to see everything I share! And if you love cooking and new cookbooks, join my free Cooking Club on Facebook!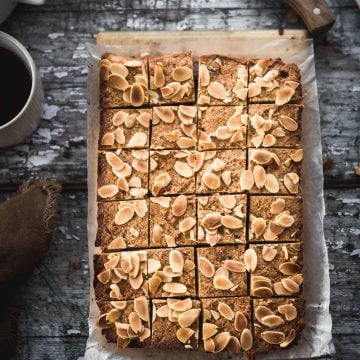 Ingredients
150

g

butter

,

softened

115

g

rapadura or coconut sugar

1

egg

200

g

spelt flour

60

ml

milk of choice

100

g

almond meal

2

teaspoons

ground ginger

1/4

teaspoon

freshly grated ginger

,

optional, for extra kick

125g

crystallized or glace ginger

,

chopped

Handful of flaked almonds
Instructions
Preheat oven to 190C convection (180C fan-forced). Grease and line an 18cm X 28cm slice tin with baking paper.

Add butter and sugar to the bowl of an electric beater. Beat for a minute until light and fluffy. Add the egg and beat for another minute.

Add the flour and milk. Beat for 30 seconds until just combined.

Add almond meal, ground ginger, fresh grated ginger and crystallized ginger. Mix gently with a wooden/silicone spoon until the dry bits are completely incorporated in the batter.

Spoon into the prepared tin. Spread the batter to fill the tin and smooth the top. Scatter with flaked almonds. Bake in the preheated oven for approximately 30-35 minutes until the top is golden.

Remove and cool completely in the tin. Slice and store in an air-tight container in a cool spot of your kitchen for up to 5 days.
Did you make my recipe?
I'd love to hear how you went! Tag me on Instagram @cookrepublic
MORE GINGER RECIPES TO TRY