Aloo Gobi is one of the most iconic dishes from Punjab in Northern India. A dry curry of potatoes cauliflower and spices, this simple peasant dish is popular not only in India and Pakistan but all around the world. You will love my delicious restaurant-style recipe - It only takes 30 minutes, is naturally vegan and truly authentic!
Jump to:
🥔 What is Aloo Gobi?
Aloo (potato) and Gobi (cauliflower) is the most famous vegetarian dry curry originating from Punjab in northern India. A dry curry also called sabzi or sabji, is cooked using a stir-fry/searing technique followed by slow cooking with a bit of moisture (either water or by adding water-laden vegetables like tomatoes).
Aloo Gobi is the king of dry curries. It is perfectly cooked pieces of cauliflower with caramelized edges, and tender but firm potatoes - both dry enough to just eat with your hands. Plus a variety of spices tease all your senses as you squeeze some lemon and take your first bite. It is eaten scooped up with roti or chapati (Indian flatbreads). A quick, cheap and nutritious vegetarian meal.
💛 Reasons To Make
Easy One-Pan Cooking - This delicious dry curry can be made in just one pan on the stove. Easy and convenient!
Authentic - Want to make your home smell like an Indian restaurant? Make my vegan aloo gobi recipe! It has been tried and tested dozens of times and is just like the traditional version served in restaurants and roadside eating shacks (dhabas) in India.
Healthy - A cup of cooked cauliflower provides 75% of your daily vitamin C intake. It also has vitamin K and manganese. Cauliflower is low in carbs with virtually no fat and large amounts of fiber. Potatoes have resistant starch which acts as a prebiotic. This aloo gobi recipe has a generous amount of turmeric with immense health benefits. The dish as a whole is beneficial for heart health, gut health and is packed with antioxidants.
Allergy Friendly - My vegan aloo gobi is also gluten-free and nut free!
📝 Ingredients
Potato - Use a good, all-rounder potato like Sebago. This is a floury potato with high starch and low water content. That makes it ideal for dishes like this where they are roasted in a pan on the stove. King Edward is a great alternative.
Cauliflower - Make sure your florets are small and even sized. Using smaller cauliflowers is preferred as their florets seem to be more tender.
Alliums And Aromatics - Both red and brown onion work well in this recipe. It is important to cook them until translucent before adding the other veggies. Fresh garlic and ginger are preferred. You can substitute with garlic and ginger paste (1 teaspoon each).
Chilli - Use the long red cayenne pepper and deseed it. This chilli has a milder heat. If you can't find a red chilli, use half a teaspoon of red chilli flakes instead.
Dry Spices - Bay leaves, cumin seeds and nigella seeds make up the aromatic base of this dish. Cumin and nigella seeds are very prominent in north-Indian cuisine. Nigella seeds add a touch of smokiness and a herbaceous onion flavour. If you can't find, you can skip it.
Ground spices - Turmeric, coriander, garam masala and amchur are added to this dish for that beautiful authentic Aloo Gobi flavour. Amchur (also spelled amchoor) is dry mango powder and adds a pungent, sour tang to the dish. It can be substituted with chaat masala (a funky, salty, spicy and sour spice blend). Both of these can be found in Indian grocery stores.
Methi - Methi is dried fenugreek leaves. It adds a lively, herbaceous bitterness to the dish and is great for digestion.
Tomato, coriander and lemon - Tomatoes can be found in traditional and adapted versions of Aloo Gobi recipes. My dad always makes this dish without them whereas all the versions I have eaten at authentic Indian restaurants have tomatoes in them. I make my potato cauliflower curry with tomatoes. It is actually a clever way to add a bit of moisture to the dish and round off all the other flavours. Add coriander as a garnish and a squeeze of lemon to elevate the street-style savouriness of this dish.
Olive oil - Olive oil keeps the dish light and fragrant. Traditional versions have ghee or vegetable oil both of which can be substituted for olive oil.
🔥 How To Make Aloo Gobi
A dish I originally learned to cook from my dad in my teens, I usually cook Aloo Gobi by feel, rather than adhering to strict times. Over decades, I have perfected the stove-top version which I share with you today. There is also an amazing Baked Aloo Gobi recipe which is super popular on my site. Try that too!
Heat oil in a non-stick shallow pan on medium and fry dry spices (bay leaves, cumin and nigella seeds) for a few seconds until fragrant.
Add onion and cook for a few minutes until translucent and starting to caramelize.
3. Add aromatics like garlic, ginger and chilli. Saute for a few seconds.
4. Add potato, cauliflower and salt. Toss and cook for 8 minutes until vegetables turn a shade darker and start to soften.
5. Add tomato and ground spices (turmeric, coriander, garam masala, amchur and methi).
6. Add water.
7. Mix well to coat the vegetables evenly with the spices.
8. Cover, reduce heat to medium-low and cook for 15 minutes until vegetables are tender and completely cooked but still firm.
Garnish with fresh coriander leaves and serve hot with lemon wedges on the side.
🔪 Useful Cooking Tips
Cut your vegetables evenly - Potatoes should be cut into one-inch cubes and cauliflower florets should be bite-sized. The size of vegetable pieces is very important while cooking a dry curry like Aloo Gobi. Smaller, even pieces will cook perfectly in the given time and your potato cauliflower curry will be nice and tender.
Don't add extra water - At the end of the cooking process, you might be tempted to add extra water. Don't! This is a dry curry and the consistency should be like a stir-fry.
Use a wide shallow pan - A wide shallow pan offers more surface area to allow the vegetables to cook evenly in the absence of water/liquid. A deep saucepan will only cook the vegetables at the bottom while the ones at the top might stay uncooked and tough.
🍽️ Serving Suggestions
How To Eat Aloo Gobi
This potato cauliflower curry is a joy to eat. It is an Indian version of your roast veggies which makes it the perfect side dish. Great to eat hot off the pan with a squeeze of lemon, or scooped with rotis. Here are some other clever ways to eat this dish.
Make A Sabzi Wrap by slathering some cashew cheese in a large flatbread and layering it with salad leaves, hot sauce and Aloo Gobi.
You can also make spicy toasties by sandwiching this dry curry between two pieces of bread, drizzling with some mango chutney and cooking it in your jaffle maker.
This vegan Aloo Gobi also makes a mean base for a Veg Biryani.
And finally, it also works really well in tacos!
Vegetarian Indian Feast Menu
Make Aloo Gobi the centerpiece of your next vegetarian Indian feast. Serve it along with Indian Raita, Vegan Chana Masala, Ginger Mango Lassi and steamed rice or naan.
👩🏻‍🍳 FAQs
Is Aloo Gobi vegan?
Yes, it is! Like almost all home-style dry vegetarian curries of India, this Aloo Gobi recipe is naturally vegan. Some restaurants add ghee or butter to the dish to make it richer but my recipe and all authentic, homemade versions are vegan.
Is Aloo Gobi spicy?
Aloo Gobi is one of the milder Indian sabjis (dry curry). The heat comes from chopped red chilli (long red cayenne pepper which is a mild chilli) and dry spice like garam masala.
Can Aloo Gobi be frozen?
Yes, it freezes really well! Freeze it in a freezer-safe container for up to a month. To eat, simply thaw at room temperature over several hours or microwave for 8-10 minutes.
How long does Aloo Gobi last in the fridge?
It keeps well in the fridge for up to 5 days.
What to do with leftover Aloo Gobi?
This potato cauliflower curry is fantastic as a leftover. It can be stuffed in wraps, added to bread and toasted as a toastie/jaffle sandwich or added to tortillas for a delicious vegetarian taco.
🧡 More Cauliflower Recipes
Recipe
Hungry For More Recipes? Subscribe to my newsletter. Check out Facebook, Instagram and Pinterest to see everything I share! And if you love cooking and new cookbooks, join my free Cooking Club on Facebook!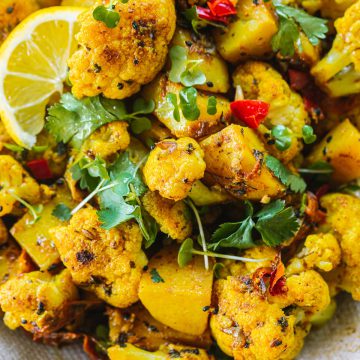 Vegan Aloo Gobi - Potato Cauliflower Curry
A delicious, vegetarian, potato cauliflower curry made with lots of spices. This vegan aloo gobi is a gluten-free dry curry from northern India. It is healthy, quick and freezes really well!
Print Recipe
Rate / Comment
Ingredients
2

tablespoons

olive oil

½

teaspoon

nigella seeds

,

note 1

1

teaspoon

cumin seeds

2

bay leaves

1/2

long red cayenne chilli

,

deseeded and finely chopped, note 2

1

(

100

g

)

small red onion

,

finely chopped

3

garlic cloves

,

minced

1

teaspoon

grated ginger

2

(

250

g

)

small potatoes

,

peeled and cut into 1-inch pieces

3

cups

(

350

g

)

cauliflower florets

1

teaspoon

sea salt flakes

1

(

100

g

)

medium tomato

,

finely diced

½

teaspoon

ground turmeric

1

teaspoon

ground coriander

1

teaspoon

garam masala

½

teaspoon

amchur

,

mango powder, note 3

1

tablespoon

kasoori methi

,

note 4

1/4

cup

(

60

ml

)

water

Freshly chopped coriander leaves

,

to garnish

lemon wedges

,

to serve
Instructions
Heat olive oil in a wide lidded non-stick cooking pan/sauté pan/dutch oven on medium heat. Add nigella seeds, cumin seeds and bay leaves. Sauté for a few seconds until fragrant and seeds start to sizzle and pop.

Add onion. Cook for 4-5 minutes until onion becomes translucent.

Add chilli, garlic and ginger. Sauté for half a minute until fragrant.

Add potatoes, cauliflower and salt. Cook uncovered tossing constantly for 8-10 minutes until both potato and cauliflower are golden and starting to brown.

Add tomato, turmeric, coriander, garam masala, amchur and kasoori methi. Mix well.

Reduce heat to medium-low, add water, cover and cook on that slow heat for 15-18 minutes until the potatoes are cooked through. Check often and toss gently to ensure even cooking and avoiding the veggies from sticking and burning. If too dry, add another tablespoon of water and continue cooking.

Remove from heat, garnish with chopped coriander and serve hot with lemon wedges alongside rotis or rice.
Notes
Nigella seeds - These have a smoky, onion flavour. If you can't find them, just skip.
Chilli - Red Cayenne chilli is a thick long chilli with mild to medium heat. If you prefer your curry to not have this spice, just skip it or add only a couple of slices of the chilli. Can be substituted with red chilli flakes.
Amchur - Amchur/amchoor is Dry mango powder and can be found at Indian grocers or specialty spice shops. It has a sour, tangy flavour. It can be substituted with chaat masala (a funky, salty and sour spice blend). If you can't find either of these spices, just squeeze half a lemon to add the sour element.
Kasoori methi - This is dried fenugreek leaves. It has a bitter earthy flavour that imparts a delicious warmth and richness to this curry. You can also source this at Indian grocers or specialty spice stores.
Your potatoes and cauliflower florets should be bite-sized and even to ensure perfect cooking. After cooking they should be just tender and hold their shape.
Cooking heat - Pay heed to the cooking heat. Most of the cooking is done on medium heat. Then past the halfway point, the heat is reduced to medium-low. Following the right cooking temperature will ensure that your dry curry doesn't burn and still cooks perfectly.
Nutrition
Calories:
194
kcal
|
Carbohydrates:
31
g
|
Protein:
5
g
|
Fat:
7
g
|
Saturated Fat:
1
g
|
Polyunsaturated Fat:
1
g
|
Monounsaturated Fat:
4
g
|
Sodium:
631
mg
|
Potassium:
854
mg
|
Fiber:
5
g
|
Sugar:
5
g
|
Vitamin A:
325
IU
|
Vitamin C:
74
mg
|
Calcium:
57
mg
|
Iron:
2
mg
Did you make my recipe?
I'd love to hear how you went! Tag me on Instagram @cookrepublic