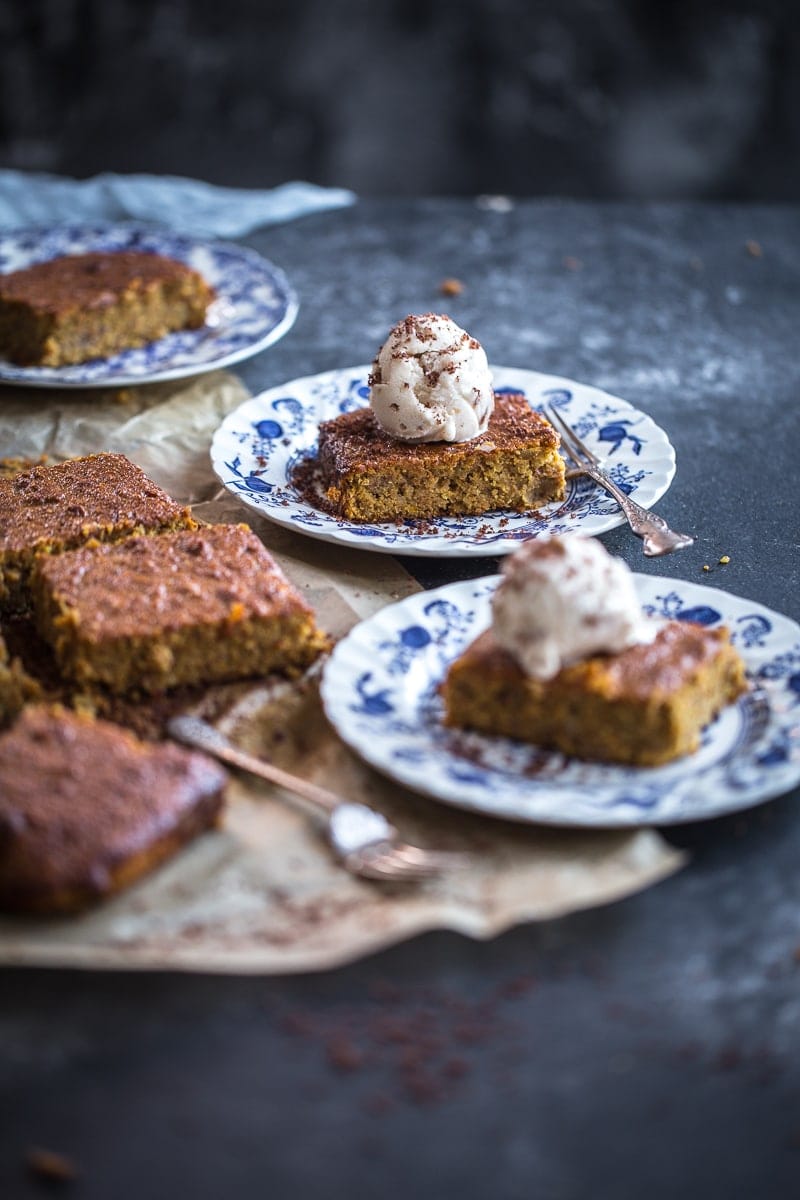 There is a very thin line between a perfectly baked whole orange cake and a soggy citrus mess. And there are two very distinct sets of people on both sides of that line. The ones who enjoy a good pudding like cake that can only be scooped up with a dessert fork or those who like a moist cake with a delicate crumb (like me!).
Whole orange cakes are usually baked in slabs, because there is no way you could un mould one of these from a bundt pan. Being baked in slabs or shallow rectangular tins also makes a whole orange cake a perfect dessert. You could cut it up in squares or rounds (using cookie cutters), top with ice cream, a sprinkling of good chocolate, maybe a dehydrated slice of orange and voila! The easiest, most divine looking dessert ever!
I first started baking whole orange cakes back in 2011 with this Mandarin Polenta Cake after our first mandarin picking trip in Sydney. We used to also buy a beautiful whole orange cake by the slab from a bakery in Sydney. I always found this cake to be too moist, soggy even. Delicious but soggy. Now, everyone can't do soggy. I can, but my youngest can't. So I set out to create a firmer and healthier version of the whole orange cake. I found that most recipes called for large eggs and copious amounts of butter. With these two ingredients as my starting point, I managed to pare down the ingredients and added some flavour boosts in the process.
The resulting whole orange cake had no butter, no oil and no flour. It was light and moist but firm enough to pick up and eat with your fingers (no worries there, if you forgot to pack your fork on your picnic!). The dash of salt and cardamom really lifted the citrus flavours and this quickly became my go to dessert for dinner parties.
The most amazing thing about this recipe is that you can make the batter in the blender. All of it! The oranges are boiled and then blended with eggs. The rest of the ingredients follow suit and you just blend it all up for a few seconds. Because this is a gluten free cake, you cannot go wrong with the mixing - there won't be any under mixing or over mixing here! A really good cake if you are looking to bake with kids or trying your hand at baking for the first time.
Have a look at my notes for really helpful information regarding the size of eggs and the texture of the almonds. I hope you bake this beautiful orange cake. Do share your feedback in the comment/rating below and I would love to see your orange cake photos on Instagram. Remember to tag @cookrepublic #cookrepublic! Thanks lovelies. x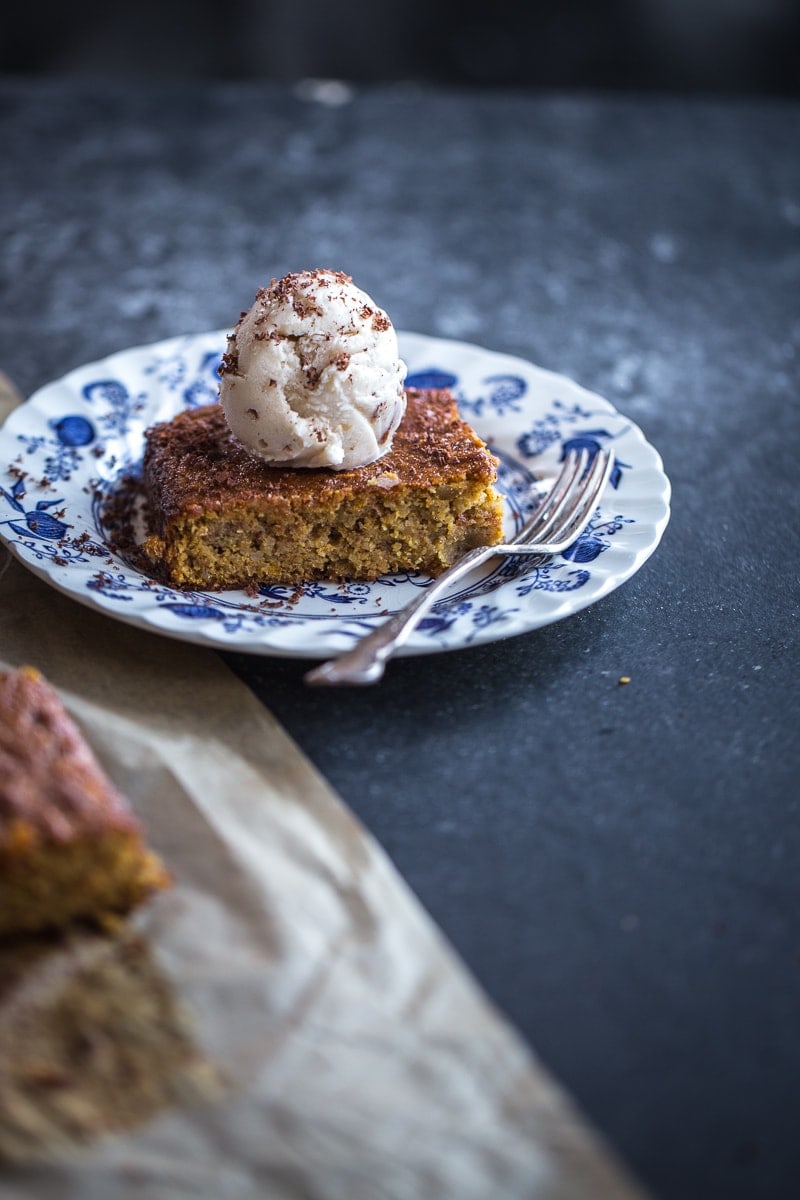 Recipe
Hungry For More Recipes? Subscribe to my newsletter. Check out Facebook, Instagram and Pinterest to see everything I share! And if you love cooking and new cookbooks, join my free Cooking Club on Facebook!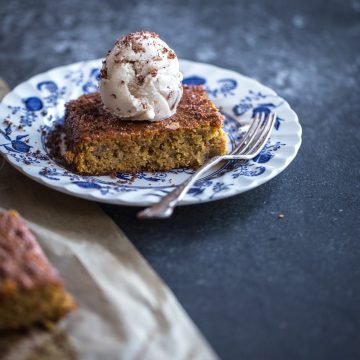 Ingredients
2

whole oranges

,

300g

4

small-medium eggs

250

g

ground almonds or almond meal

180

g

rapadura sugar

1

teaspoon

baking powder

1/2

teaspoon

vanilla powder or extract

1/2

teaspoon

ground cardamom

pinch

of salt
Instructions
Wash and pat dry the oranges. Place in a small saucepan filled with water over medium heat and bring to a boil. Reduce heat to low, cover and gently simmer for an hour. Check to see if water has evaporated and top up if required.

Pre-heat oven to 180C (convention)/ 160C (fan-forced/convection).

Remove from heat and allow to cool. Cut oranges in quarters and slice off the pith/seeds.

Place cute oranges (with skin) in the jug of a blender with the eggs. Blend for a minute on high until smooth.

Add all the remaining ingredients to the jug of the blender and process for a few seconds until just combined. This produces a smoother texture. ALTERNATIVELY pour the orange and egg mixture in a bowl. Add all the other ingredients and mix gently with a spoon until just combined. This produces a coarser texture.

Grease and line a 20cm square tin or 27cm X 17cm slice tin with baking paper.

Spoon the cake batter into the prepared tin. Bake in the pre-heated oven for approximately 40 minutes.

Remove from the oven and allow to cool in the pan slightly, before cutting into slices.

Enjoy warm or store in an air-tight tin in a cool corner of your kitchen for up to 3 days.

Best served with a dollop of vanilla ice cream with grated orange chocolate.
Notes
I have used small eggs for this recipe. They will give you the crumb you see in the pictures (delicate and perfectly moist). Using medium sized eggs will give you a slightly more moist cake. Large sized eggs will give you a dense, moist cake that makes a really good pudding like dessert.
I grind my almonds coarsely in a small food processor. This gives a lovely texture to the cake which is very important as the cake has no flour or butter. Almond meal will give you a smoother texture, still quite nice.
Did you make my recipe?
I'd love to hear how you went! Tag me on Instagram @cookrepublic