When I was little, mum had a round oven with a glass top that looked unusually like a porthole or the domed round window of a bunker when laid flat. It was the most magical thing on earth. It made cakes – sweet and savoury ones. The first time I had a savoury cake, I was about five or six years old and I was intrigued – not impressed but definitely intrigued. It was really a chickpea bread masquerading as a round cake and little did I know that it would become one of my favourite things to eat.
It was made with a fermented batter of rice and lentils and topped with roasted nuts, seeds, caramelized sugar and herbs. The more I had it, the more I grew to love it. This Instant Chickpea Bread is a drive-through version of that labour of love. An ode to the savoury cake of my childhood. It is made with pantry staples that you should be able to source very easily – besan and cornmeal.
Like all gluten-free bread, this one is a dense loaf – a la pumpernickel. In the recipe instruction below, I suggest resting the batter for an hour. You could skip this step for a denser but perfectly delicious "instant" loaf or you could do what I do – rest the batter for even longer, two-three hours to allow for that fermentation sourdough bubbly action to get going. Helped by the sparkling water made in the SodaStream Sparkling Water Maker, this lengthened resting time produces a lighter and airier loaf.
The fragrant spices and the sweet and salty nut topping adds a depth of flavour and a wonderful crunch to this loaf. It is really nice toasted with a mango or tomato chutney. It goes equally well with a lovely green pesto or salsa verde. It will keep well in the fridge for up to three days.
If you make and love this chickpea bread, I'd love to hear your feedback in the comment and rating below. Don't forget to tag me when you share your bread pics on Instagram using @cookrepublic #cookrepublic.
Recipe
Hungry For More Recipes? Subscribe to my newsletter. Check out Facebook, Instagram and Pinterest to see everything I share! And if you love cooking and new cookbooks, join my free Cooking Club on Facebook!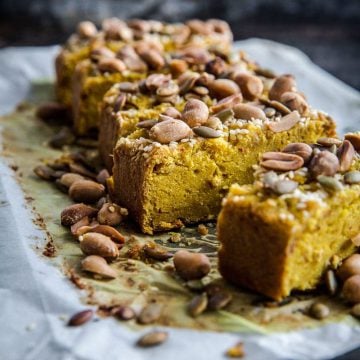 Ingredients
1

cup

(

110

g

)

chickpea flour (besan)

1

cup

(

150

g

)

yellow cornmeal

1

teaspoon

red chilli flakes

1

teaspoon

minced garlic

1

teaspoon

grated ginger

1

teaspoon

ground turmeric

1

tablespoon

sea salt flakes

2

tablespoons

lemon juice

2

cups

(

500

ml

)

500ml sparkling water

,

plus 2-3 tablespoons extra

1

tablespoon

olive oil

½

cup

(

65

g

)

salted peanuts

2

tablespoons

white sesame seeds

1

tablespoon

pepitas

1

tablespoon

raw sugar
Instructions
Pre-heat oven to 190°C (convention)/170°C (fan-forced/convection)/

Grease and line a loaf tin with baking paper ensuring that the ends of the paper hang over the edges.

Place chickpea flour, cornmeal, chilli, garlic, ginger, turmeric, salt and lemon juice in a large bowl. Mix gently with a wooden spoon.

Pour sparkling over the flour mixture. Using a balloon whisk, mix until the mixture is smooth and free of lumps. Start with two cups and add 2-3 tablespoons as needed if the batter is too dry. It should be the consistency of a cake batter. Cover and rest for an hour in a warm spot in your kitchen. The batter will rise slightly and become fluffy.

Spoon the bread batter gently into the prepared tin, ensuring that you don't deflate the batter by mixing.

Heat oil in a small frying pan on medium. Add peanuts, sesame seeds and pepitas. Sauté for half a minute until peanuts and sesame seeds start turning golden. Remove from heat and pour this over the bread batter in the tin. Scatter the sugar evenly over the nut mixture in the tin.

Bake in the pre-heated oven for 25-30 minutes until cooked through and turning golden.

Allow to cool in the oven for another 10 minutes. Remove, slice and serve warm with your favourite chutney.
Did you make my recipe?
I'd love to hear how you went! Tag me on Instagram @cookrepublic