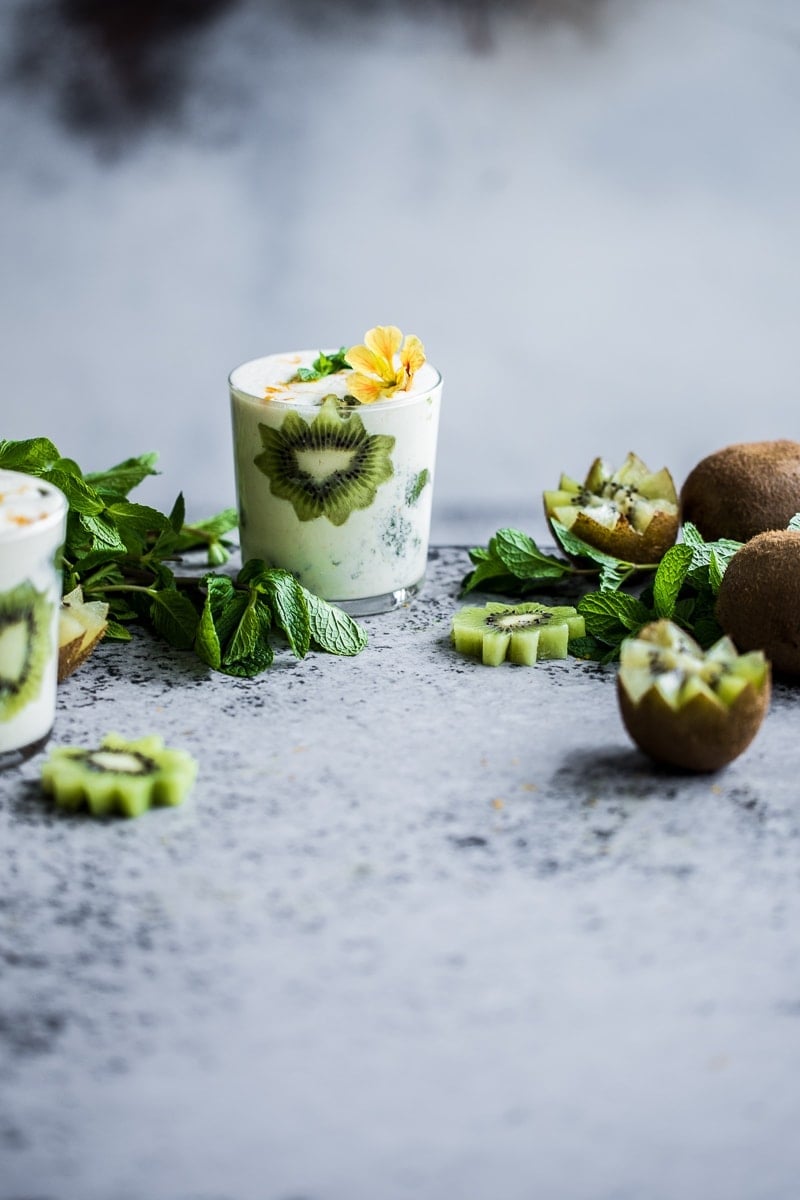 Lately, after discovering the immense health benefits of kiwi fruit, I have been trying to incorporate it more in my recipes. I am not a big fruit lover. Especially ones that need a bit of a peel or prep. I hate cutting and prepping fruit. I probably can assign that blame to mum who used to lovingly prepare gorgeous fruit platters with fruit cut up in lovely shapes thereby making us too lazy to cut it ourselves. But mid-life has brought many surprises and amongst them is the sheer pleasure in prepping and cutting fruit. Sometimes, I don't even recognise the person I have become especially when I am preparing these raw kiwi tacos or playing with fun fruit shapes like here and here.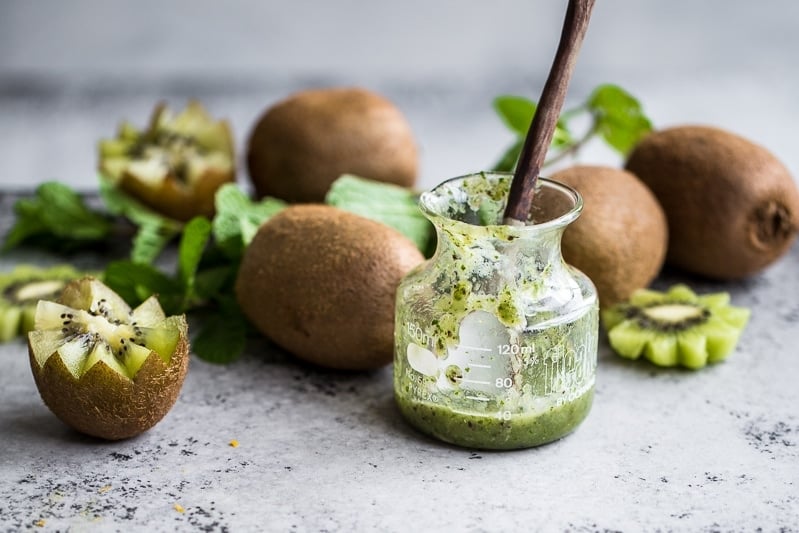 We don't really need a lot of fruit as we get older. We especially need to be mindful of the types of fruit we are eating as most fruits have a lot of natural sugar in them which doesn't metabolise fast enough and cause gas and bloating. But there is one fruit that not only provides essential nutrients and health benefits but also aids in digestion and fights bloating. And that is a kiwi fruit.
A kiwi fruit has very few calories, induces sleep, is great for your skin, provides a big dose of Vitamin C, acts as an antioxidant, helps moderate cholesterol and blood sugar and has has omega 3 fatty acids and polyphenols that promote heart health. The skin of the kiwi fruit is especially nutritious. The whole kiwi fruit acts as a prebiotic, enhancing the good bacteria in your gut. Because of this, I have created a few recipes that incorporate the whole kiwi fruit and taste amazing. The fuzzy skin of the kiwi fruit isn't exactly fun to eat so I blend it in this delicious lassi and no one realises that they are having the skin too.
There is a lot of flavour in this lassi from the orange and cardamom which peaks with floral honey notes and a fresh zing of the mint. You will find vegan substitutes in the notes below. It is an unusual fruit combination for a lassi but it really works as a thoroughly refreshing drink and provides yet another interesting way to consume this gorgeous healthy fruit. If you make this, don't forget to share your creations with me on Instagram by tagging me @cookrepublic. Enjoy! x
Recipe
Hungry For More Recipes? Subscribe to my newsletter. Check out Facebook, Instagram and Pinterest to see everything I share! And if you love cooking and new cookbooks, join my free Cooking Club on Facebook!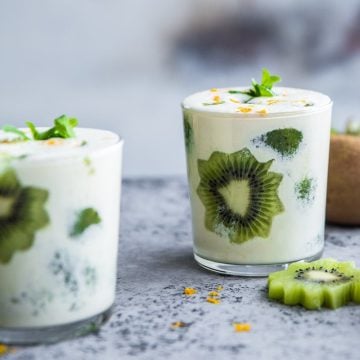 Ingredients
For The Lassi Base
2

cups

(

500

g

)

chilled Greek yoghurt

2

tablespoons

honey

1/2

teaspoon

ground cardamom

zest of 1 small orange
For the kiwi fruit purée
4

kiwi fruit

,

peeled or whole with skin

handful of mint leaves

1/2

teaspoon

sea salt flakes
To Serve
1

kiwi fruit

,

peeled and sliced into rounds

mint leaves, edible flowers, orange zest
Instructions
Place yoghurt, honey, cardamom and orange zest in the jug of a blender. Process for a minute until smooth.

Press a round kiwi fruit slice on the inner wall of  4 X 300ml glass.

Pour yoghurt lassi in the glasses until each is 3/4ths full.

Rinse the blender jug. Add all the ingredients for the kiwi purée to the jug of the blender and process until smooth.

Divide kiwi purée equally over the yoghurt lassi. Swirl gently with a skewer. Garnish with mint leaves, edible flowers and grated orange zest.
Notes
Make It Vegan - Substitute yoghurt with coconut yoghurt or half coconut yoghurt and half coconut water. Substitute honey with maple syrup.
You don't have to use the whole kiwi, you can peel the skin off before blending or only use the skin of 1-2 kiwis.
Did you make my recipe?
I'd love to hear how you went! Tag me on Instagram @cookrepublic