Writing the first blog post of the year on your food blog is kind of like writing the first page of a novel. Either the inspiration hasn't struck yet or if it has, the words just don't flow. I wrote today's blog post several times over the last couple of weeks, determined to publish early in January 2020. But alas, that wasn't meant to be! As I watched my Australia burn, day after day with no end in sight and no respite; I was heavy-hearted with no drive to talk about food.
This current bushfire season has been very confronting as for the first time in nearly two decades, we packed our bags and our cars and evacuated our home for the day. And although we were lucky to not have been directly affected by the bushfires, we watched in shock as millions of hectares of our beautiful land burned, millions of animals died, entire species and ecosystems possibly wiped out and homes and lives lost.
So, the first couple of weeks of this new year were spent trying to be useful, we packed food boxes and dropped them at local collection points for the firefighters, we donated to various charities and I sold 60 copies of my cookbook Tasty Express and donated 100% of Sales raising $1800 for The Salvation Army Bushfire Disaster Relief.
A New Year's Resolution To Eat More Veggies
This year, I have a few quiet resolutions I would like to stick with till the end of the year. Simple, doable and mindful actions that change the way our family lives, for the better. And in doing that and talking about it on the blog, I hope to share some of that inspiration with you too. This year I want to eat more vegetables. Fruits not so much. But definitely more vegetables. And I want to do that in the most delicious, fun and exciting way as possible.
And to start things off right, I'd like to share a little trick I learned as a child but forgot somewhere along the way. If you chop a few salad veggies really fine and dress them with a blast of citrus and salt and pepper for EVERY meal; you will get a couple of serves of your daily veggies without even trying. Enter Pico De Gallo!
Eat More Veggies Daily With A Chopped Salsa At Every Meal.
Pico De Gallo is a type of Mexican Salsa (condiment) that you can whip up in minutes by chopping and mixing onion, tomato, chilli and coriander with lime juice, salt and pepper. I used to make Pico De Gallo only on Taco Nights or when we were having a Mexican-inspired meal. But ever since mango season arrived and I added sweet Kensington Pride mangoes to the mix, I am making Mango Pico De Gallo every other day!
A week before Christmas, our lovely friends organized a working bee to tidy up our gardens and make our property bushfire ready. As Nick hasn't been able to keep up with all the heavy yard work and it has been impossible for the boys and me to stay on top of things, it was an amazingly kind and very appreciated gesture from our friends. On the day of the working bee, I baked cakes, cooked pizzas, whipped up watermelon margaritas and served corn chips with guacamole and Mango Pico De Gallo. The Pico De Gallo was such a hit that it went on to grace several tables at Christmas. And it was so often requested, that I decided to share this simple but absolutely, mouth-puckeringly tangy, fresh and delicious recipe here on the blog.
Helpful Tips To Make Pico De Gallo
I use a sharp Global Chef's knife to do the fine chopping. Finely chopped veggies are the key to a good Pico De Gallo. It makes scooping with corn chips a dream. I always deseed the tomatoes and discard the seeds to avoid getting my pico de gallo soggy. Chilli selection for the pico de gallo is also key to the taste. Ideally, if I was brave (and if you were too!), I would suggest finding jalapeno chilli and using about half of it after deseeding it. But since a lot of people can't handle the heat, I use green Australian Cayenne Chilli (the long green chilli you will find in most supermarkets in Australia) or Poblano pepper for this salsa. Both the Cayenne Chilli and Poblano Pepper are mild in heat and taste fantastic without burning your tongue.
I use a firm-ripe Kensington Pride mango for this recipe. Using a paring knife, I score the flesh in the mango cheeks to resemble a fine grid. I then scoop the flesh with a spoon and watch the tiny little cubes fall in the bowl. So effortlessly easy! And lastly, no matter what you do; don't skimp on the lime juice and salt. You want a salsa that dances in your mouth, you want it to be punchy and bursting with flavour. Make this Mango Pico De Gallo for an after-school snack with corn chips, serve it as a side on Taco Night, top it on some roast veggies (especially great with roasted cauliflower), spoon it over salads or spread in a wrap with some beans and tofu for a hearty meal. Or just chill it for 20 minutes and eat it straight off the bowl with a spoon. Yum!
Recipe
Hungry For More Recipes? Subscribe to my newsletter. Check out Facebook, Instagram and Pinterest to see everything I share! And if you love cooking and new cookbooks, join my free Cooking Club on Facebook!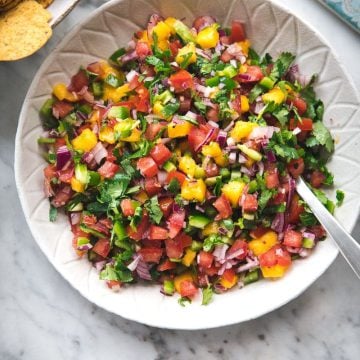 Ingredients
1

medium red onion

,

finely chopped

2

medium tomatoes

,

deseeded and finely chopped

1/2

small green capsicum

,

finely diced

1/2

green cayenne chilli

2

large mango cheeks

1 1/2

limes

,

juiced

Handful of fresh coriander leaves

,

chopped

1

teaspoon

sea salt flakes

Freshly cracked black pepper
Instructions
Place chopped onion, tomato and capsicum in a medium bowl.

Trim the green cayenne chilli and deseed it. Finely chop the chilli and add it to the bowl.

Using a sharp paring knife, make vertical and horizontal cuts in the mango flesh to resemble a fine grid. Using a spoon, scoop out the finely cut flesh into the bowl.

Add lime juice, coriander leaves, salt and pepper. Mix gently.

Chill until ready to use or serve immediately with corn chips.
Did you make my recipe?
I'd love to hear how you went! Tag me on Instagram @cookrepublic