We eat daal once a week, sometimes twice or even thrice (when I am feeling especially lazy). I have cooked at least fifty different kinds of daal on thousands of occasions. But for some inexplainable reason, I don't have a single daal recipe on the blog. None. So this year as I return to cooking and blogging just for the sheer pleasure of it all, I thought I would share the daal that runs through my vein (quite literally) because growing up, I ate this daal at least 2-3 times a week. It was what I called - magic daal. Because it changed from a fiery orange to a bright canary yellow after it cooked. What???
My little four year old brain couldn't get over the wonder of it all. The only reasonable explanation little old me could sum up was that the colour was because of turmeric. It made sense right? And so this became Turmeric Daal. And I would request it every week and weekends and on my birthday too. It was also one of the first mains I learned to cook when I was in primary school. I can cook this daal in my sleep. It is my can't-be-bothered-to-cook backup meal that comes together in a pot in literally 5 minutes and then cooks itself to perfection. It is the single most cooked meal in my home - cheap and nourishing, the ultimate comfort food.
This recipe must be at least forty years old and I am sure my mum made it up at some point or learned it from my grandma. It is a medley of spices along the south-west border of India, mainly Mumbai. The garnishes hint at a Southern India influence where green chillies and curry leaves adorn every single dish. The smell of curry leaves frying in a bit of oil is one of the most tantalising cooking smells ever. And maybe that is one of the reasons why I like to cook this a lot, it reminds me of monsoon in Mumbai and cozy comforting family meals in the dim light of our little kitchen.
Masoor is a brown skinned lentil which is a deep orange on the inside. When skinned and split, you end up with this red split lentil which is one of the easiest lentils to cook with in very little time. Where the brown skinned masoor is cooked to retain a bite and used in salads and vegetarian pasta sauces, the red split lentil cooks to a yellow mushiness and hence is perfect for daals and thickening curries. Food52 also has a nifty little article for identifying and cooking with five basic lentils that I like referring people to. Frying the lentils before cooking them in water is really good to bring out their sweet and nutty flavour. Remember to season the daal very well and keep an eye on the water level while cooking, there is nothing worse than a bland watery daal.
I love that this daal really absorbs the flavour of turmeric. Wherever I can, I try to use a tablespoon of fresh grated turmeric instead of the powder. Fresh turmeric is a beast of a spice and if used in the right quantity, can make a simple dish taste spectacular. If you cook this daal, let me know what you think by leaving a comment/rating below and/or sharing your dish with me on Instagram with #cookrepublic.
🧡 Recipes To Make With This Daal
Recipe
Hungry For More Recipes? Subscribe to my newsletter. Check out Facebook, Instagram and Pinterest to see everything I share! And if you love cooking and new cookbooks, join my free Cooking Club on Facebook!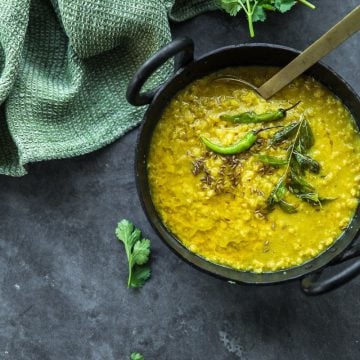 Ingredients
2

tablespoons

coconut oil

,

or ghee

1

teaspoon

cumin seeds

8

curry leaves

2

small green chillies

,

optional

2

cups

(

280

g

)

red split lentils

2

teaspoons

ground coriander

1/4

heaped teaspoon ground turmeric

2

teaspoons

sea salt flakes

4

cups

(

1000

ml

)

water

fresh coriander leaves

,

to serve
Instructions
Heat coconut oil or ghee in a deep 2-litre saucepan over medium-low. Add cumin seeds, curry leaves and chillies. Fry for a few seconds until the cumin seeds start browning. Reduce heat to low and add the lentils. Fry on low, stirring constantly for about 2 minutes until lentils are glossy and turning a shade richer.

Add spices and salt. Mix well. Add water and increase heat to medium-low. Cook uncovered for approximately 20 minutes, stirring occasionally. Top up with half a cup of water if most of it has evaporated. Cover and cook for another 5-10 minutes until the lentils are cooked and creamy. The consistency of the daal should be like a thick soup.

Garnish with coriander leaves and serve hot with crusty sourdough or steamed rice.
Notes
Chilli - I will often chop a small green chilli or a small green capsicum and use that instead of 2 whole chillies in this recipe. It adds a lovely, slightly smokey flavour to the daal. When I do this, additionally I like to pan fry a sprig of curry leaves and a whole chilli or two in a bit of ghee and add it to the cooked daal as a garnish. It looks absolutely beautiful and smells divine.
Did you make my recipe?
I'd love to hear how you went! Tag me on Instagram @cookrepublic