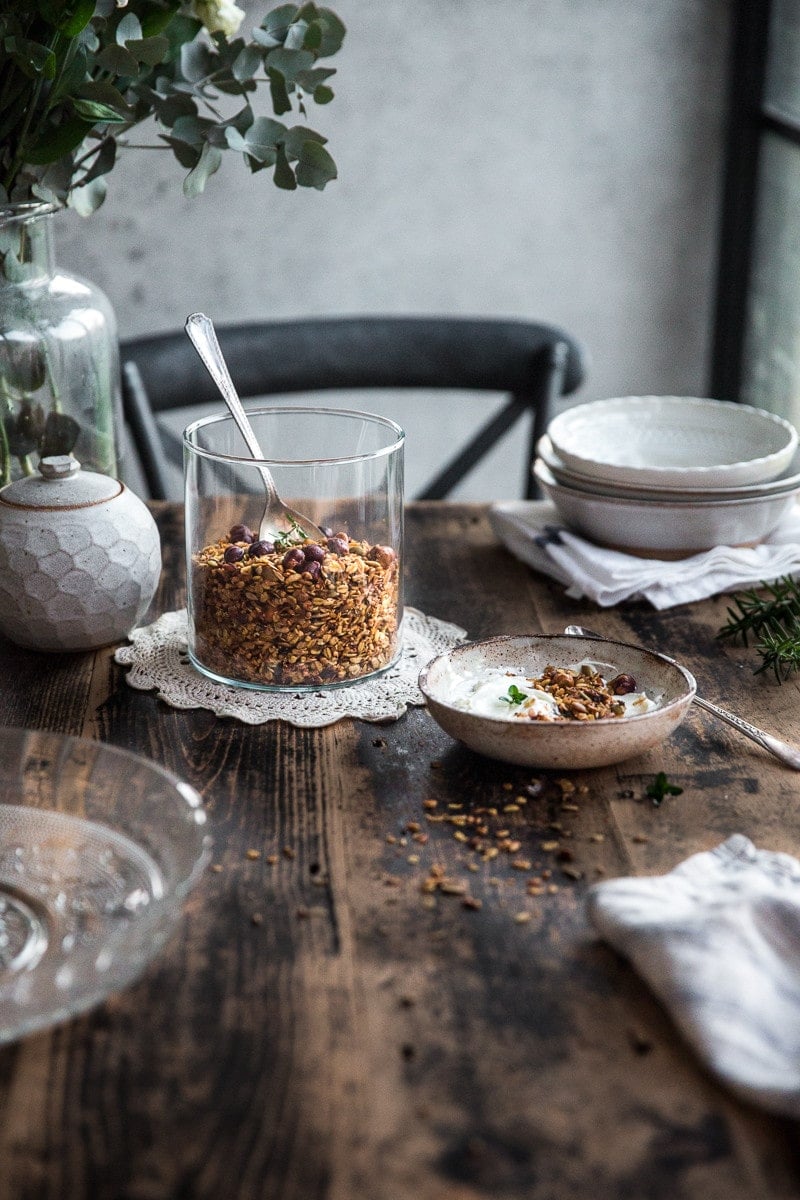 When I was in primary school which was over 30 years ago, times were simpler. In India where I grew up, packaged food was non existent. Sliced bread had created much excitement amongst the community but besides that there wasn't a lot available in terms of cereal and snacks. So of course, everything was homemade. One of the most popular homemade snack was Savoury Granola.
Known as chivda or Bombay Mix, it was a dry roasted mix of rice flakes, nuts, fruit and spices often made fragrant with the addition of curry leaves. Besides eating it straight up, we used to sprinkle it on yoghurt or dry curries. My most favourite way of eating it was rolled up in a flatbread which was totally weird but oh so delicious. Every mouthful was like a lotto, you never knew what you would bite into next.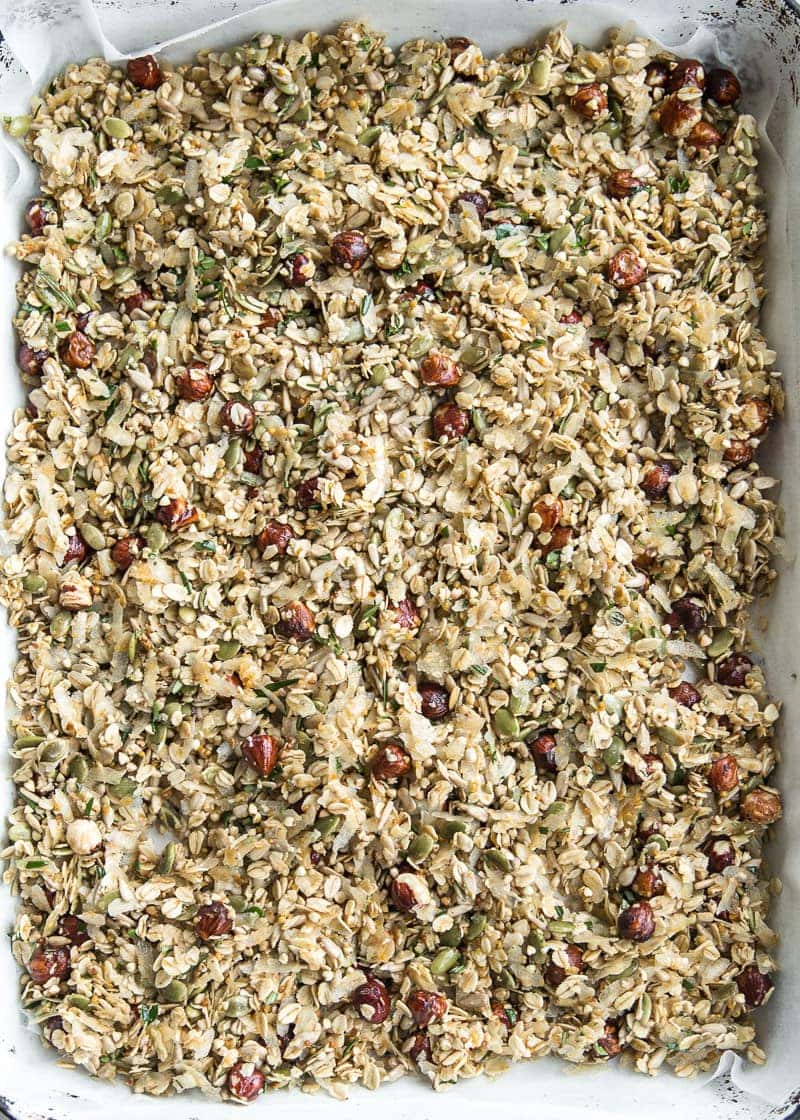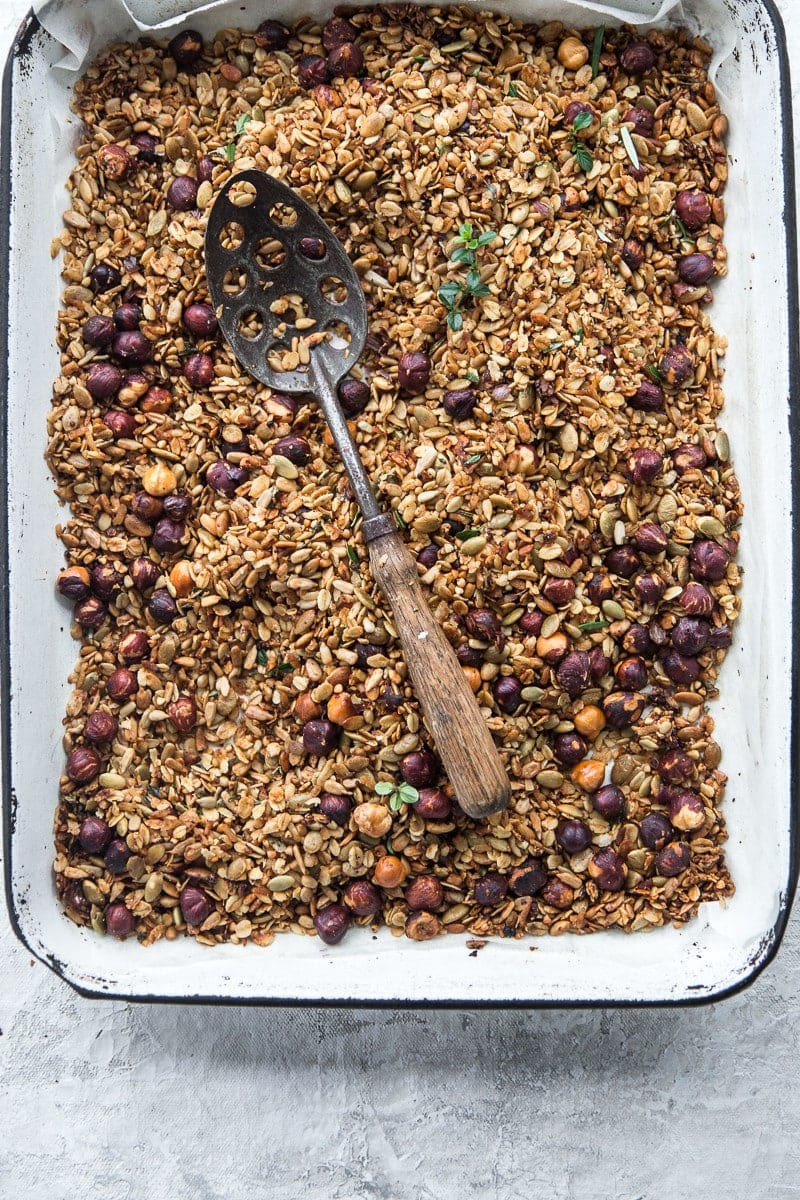 While browsing my newest cookbook buy one night - the gorgeous Green Kitchen At Home by David Frenkiel and Luis Vindahl, I came across a recipe for Savoury Granola. It brought back so many memories of yore. A cleaner tasting version of the one we used to make back home, it was packed with oats, buckwheat, pepitas, sunflower seeds and a generous hit of grain mustard. I did not have any rye flakes on hand so added rice flakes instead, doubled the recipe and tweaked it to be more savoury. This resulted in a granola that was quite simply delicious, full of crunch and beautiful big flavours.
Although you could use this granola in any manner you see fit, its claim to fame would be as a salad or soup topper. Try topping this soup, this daal or these salads with the savoury granola. Since making this batch I have given some away to friends and family in small mason jars. I also find myself heading to the big mother jar and scooping out a handful to munch on while I cook dinner. It is such a tasty and nourishing snack to have on the kitchen counter. It definitely stops me from reaching for the cake slice.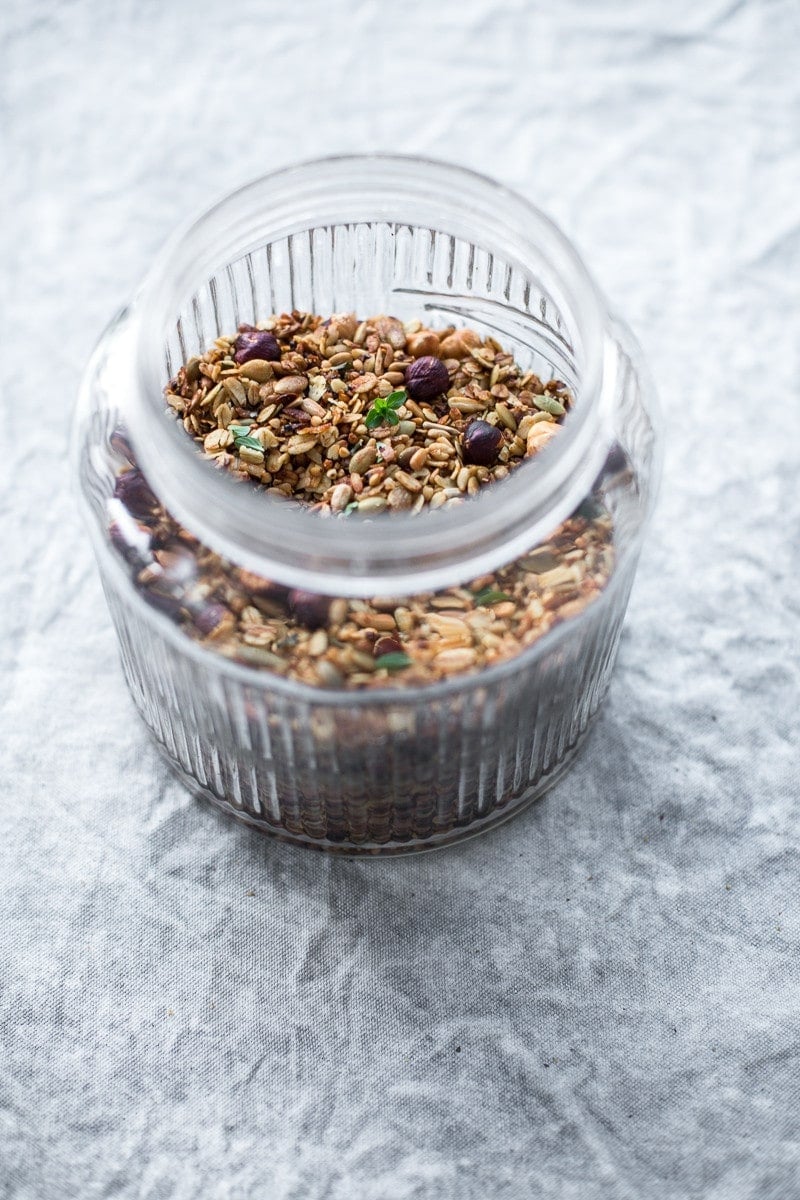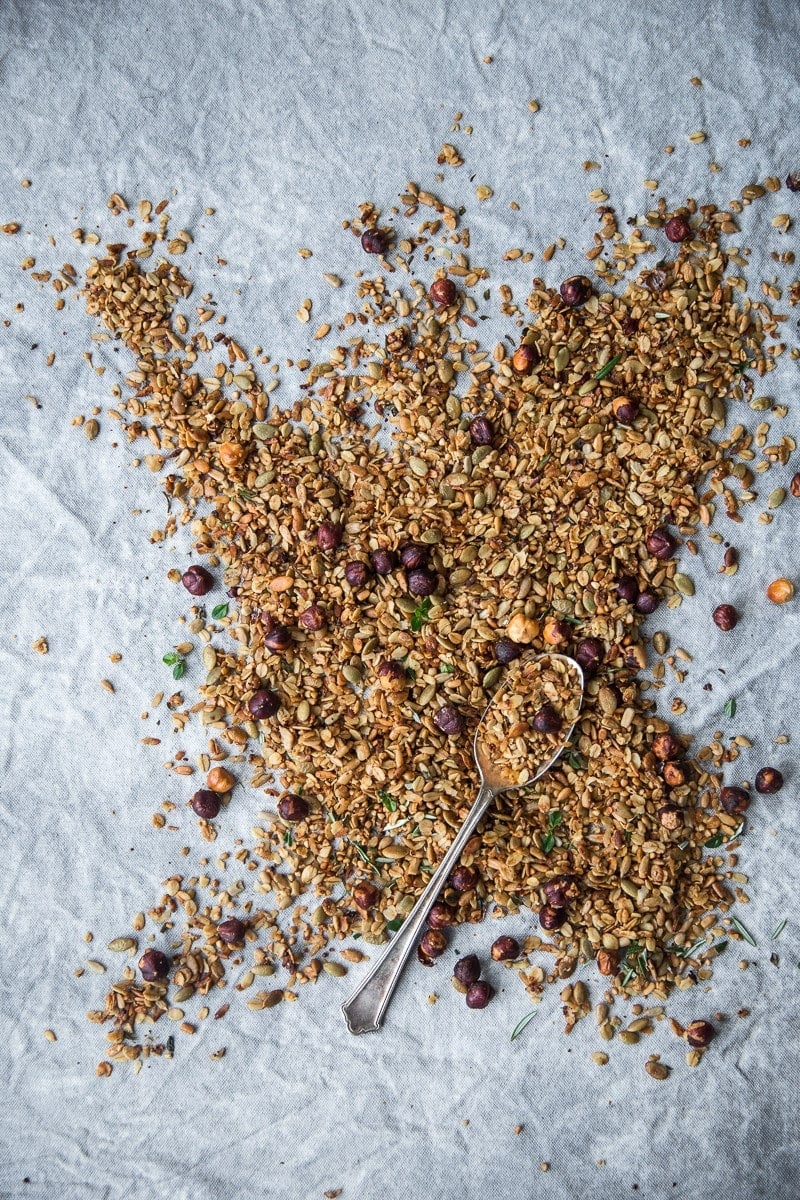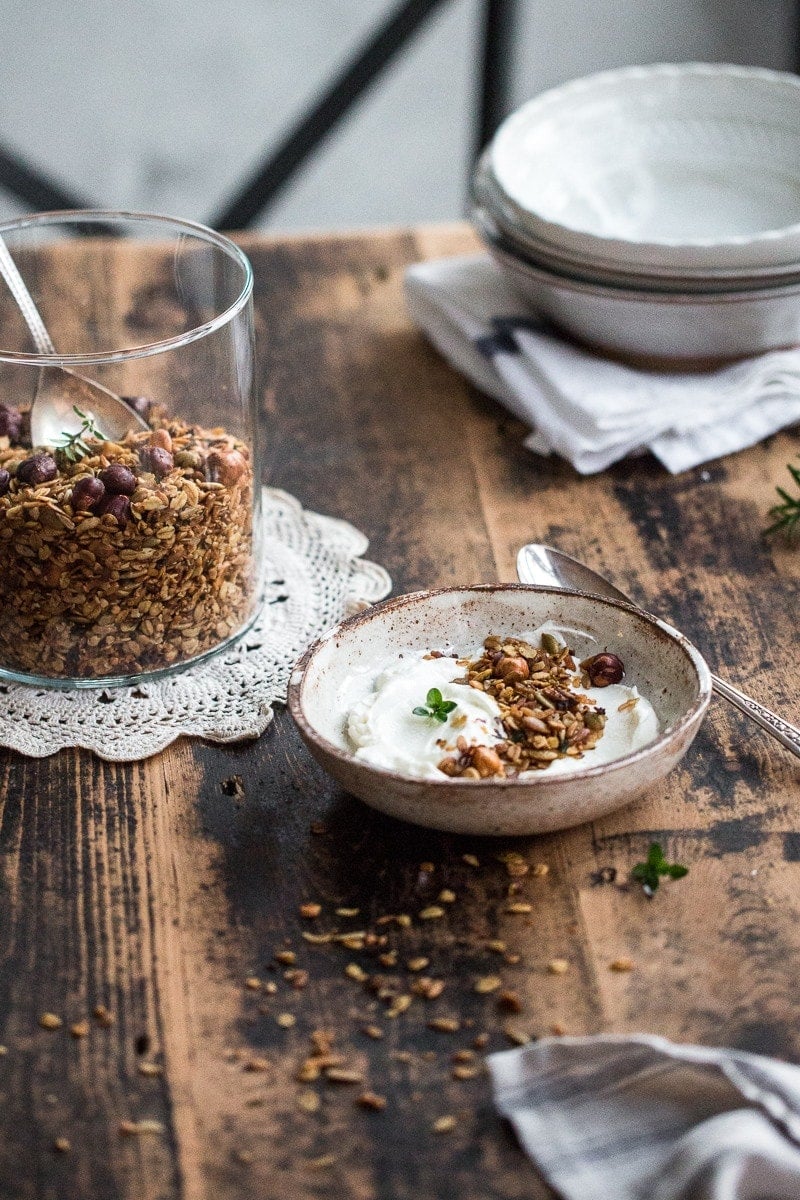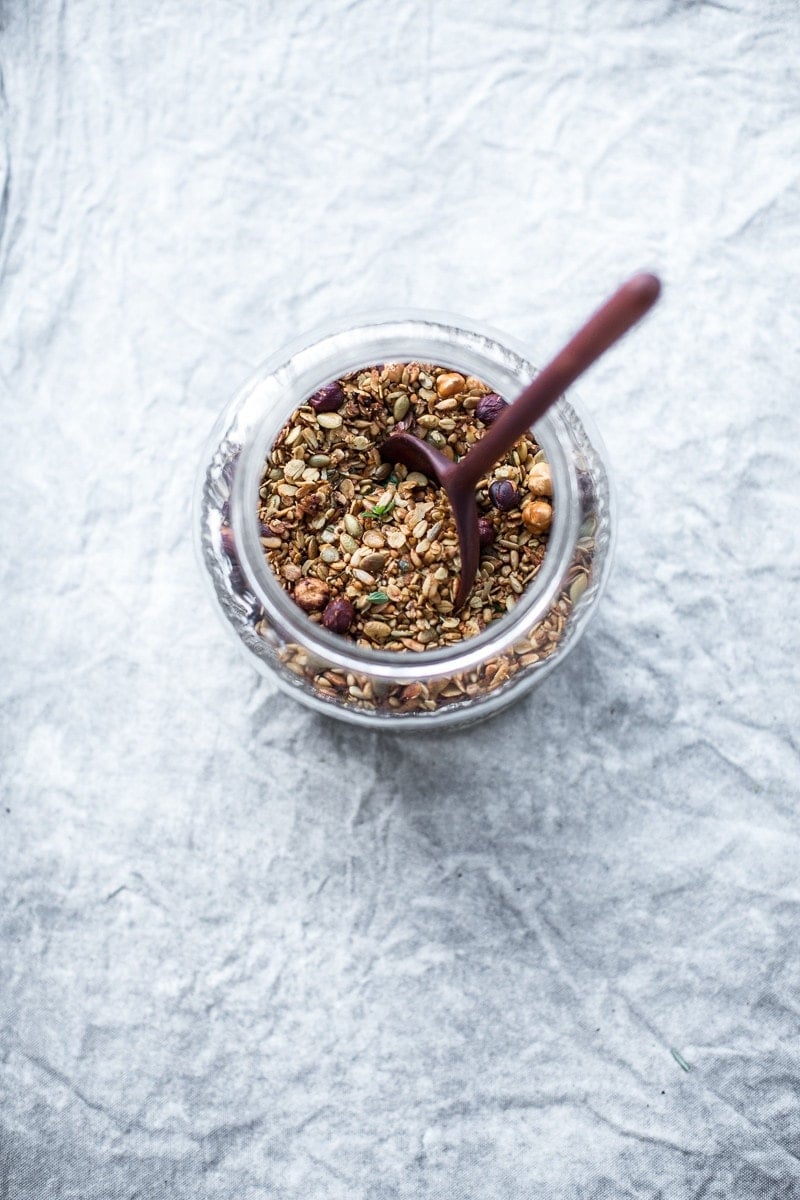 I have cooked endless dishes from the Green Kitchen Stories blog and all of their previous cookbooks. Their recipes are always brilliant and always fail proof with bags of flavour. Not to mention the effortless and moody photography and styling. Over the past week or so I have been exploring the new Green Kitchen cookbook and have found many gems in it.
This recipe though has become an instant favourite in the kitchen. If you cook this, please leave your feedback and rating in the comments below. And don't forget to share your granola with me on Instagram using #cookrepublic.
Hungry For More Recipes? Subscribe to my newsletter. Check out Facebook, Instagram and Pinterest to see everything I share! And if you love cooking and new cookbooks, join my free Cooking Club on Facebook!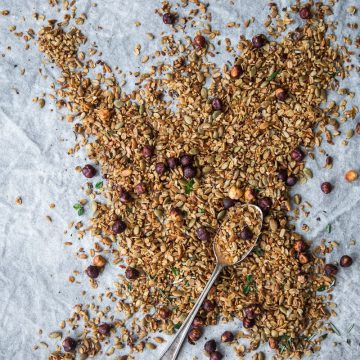 Ingredients
2

cups

(

200

g

)

rolled oats

1

cup

(

100

g

)

rice flakes

1/2

cup

(

100

g

)

raw buckwheat

1

cup

(

150

g

)

hazelnuts

1

cup

(

140

g

)

pepitas

1

cup

(

140

g

)

sunflower kernels

2

tablespoons

fresh rosemary

,

finely chopped

2

tablespoons

fresh thyme

,

finely chopped

3/4

cup

(

180

ml

)

extra virgin olive oil

3

tablespoons

wholegrain mustard

2

tablespoons

maple syrup

sea salt flakes and black pepper to taste
Instructions
Pre-heat oven to 180°C (355°F). Line two large rimmed baking sheets with baking paper.

Place all ingredients in a large bowl and mix well. Spread the granola mix on the prepared trays.

Roast in the pre-heated oven in the middle racks for approximately 25 minutes. Turn the trays around halfway through the roasting and gently toss the granola so it cooks evenly.

Remove from the oven when the time is up and allow to cool completely in the trays.

Fill in a large air-tight glass jar and store in a cool corner of your kitchen.

The granola will keep for up to three weeks.
Did you make my recipe?
I'd love to hear how you went! Tag me on Instagram @cookrepublic