Today I wanted to touch on a childhood memory, a fragment of my mind that seems to have faded because I shared it a long time ago on this blog and haven't thought about it in years. When I was little, I used to take a bus to the station in my little hometown of Thane. Often because of traffic jams and hordes of people selling their wares on the footpaths, the bus would come to a standstill a good few hundred meters from its destination. This is when I would alight and meander my way through the throngs of people buying and selling and walking and simply leaning against bicycles without a care in the world. The assault on my senses would be relentless and the cornucopia of smells would announce the shops as I slowly walked by them.
The cake shop, the tea shop, the bakery and the incense shop. I remember my nose starting to prickle with the first whiff of a milky, cheesy aroma and my pace would quicken as I would walk towards a gloomy-looking store that emanated a cool draft. Through murky glass doors I would see the same scene every time. The man with the big beer gut slumped back on a low raggedy chair, fanning his face with the day's newspaper. In front of him on an equally low counter would be rows of massive steel platters carrying pyramids of what looked like very thick molten yogurt, covered with a netting of sorts to keep the flies at bay.
Behind him would be my object of fascination. A massive hook suspended from the ceiling dangling a giant white pouch, big enough to look like a person cocooned in white. And falling from the bottom of the white pouch would be a steady drip of greyish-greenish water that would collect in a bowl large enough to be a birdbath for 20 birds. This was the Shrikhand shop and that massive lump of white draining away was hung yogurt.
Hung yoghurt is the same as Labneh which is essentially strained yoghurt. It is obtained by draining yoghurt in a cheese cloth-lined colander or sieve over a period of few hours or days. This results in a beautifully thick and creamy yoghurt with the consistency of cream cheese. The drained liquid is whey which can be used in smoothies or curries. Traditionally in India, hung yoghurt or labneh is sweetened with fruit and nuts and served as dessert in pots. In Mediterranean cuisine, labneh is savoury and prepared with herbs, garlic and nuts. It is usually rolled into balls or served as a dip drizzled with oil in a large shallow bowl.
I have been using Jalna yoghurt for years. The pot set nature of the creamy yoghurt reminds me of my childhood and the nightly pot of yoghurt that my mum used to set in her little kitchen. When Jalna recently contacted me to collaborate with them on a new Greek Strawberry Yoghurt from their sweet and creamy range, I knew I wanted to create a dish with some of my childhood nostalgia and give it a fresh, modern twist.
Jalna's strawberry yoghurt is a treat in itself. A pot set Greek yoghurt flavoured with natural strawberry puree and fruit juice, it has no preservatives, colours or artificial sweeteners. It has a gentle blush colour and a lingering delicate taste of strawberries. Taking my inspiration from those fingers we used to dip in sweet fruit yoghurt and surmising the magic of a beautifully garnished labneh dip, I created a beautiful Strawberry And Rosewater Labneh Bowl for sharing. The flavours are distinctively Mediterranean with the addition of rose and pistachios. And it looks absolutely gorgeous on the table. Serve as is or with salty crackers and watch everyone's eyes light up as you bring this to the table.
Father's Day is this Sunday and this would be a fabulous show stopping addition to your outdoor family lunch table, don't you think? If you make it and love it, please leave a comment and rate the recipe below. If you share photos of your creations, I would absolutely love to see them. Do tag me on Instagram @cookrepublic. Thanks lovelies. x
Recipe
Hungry For More Recipes? Subscribe to my newsletter. Check out Facebook, Instagram and Pinterest to see everything I share! And if you love cooking and new cookbooks, join my free Cooking Club on Facebook!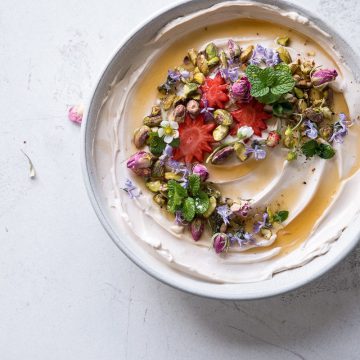 Ingredients
1

kg

Jalna Strawberry Yoghurt

2

tablespoons

honey

2

tablespoons

rose water

¼

teaspoon

sea salt flakes
to serve
2

medium strawberries

,

sliced and cut into sun shapes

¼

cup

toasted pistachios

handful of edible flowers

,

I used rosemary, strawberry and dried rose

few sprigs of mint

2

tablespoons

runny honey
Instructions
Place a large fine sieve inside a large bowl. Make sure the sieve is slightly larger than the bowl so it rests on the rim of the bowl and has enough space at the bottom to drain liquid into the bowl. Place a folded cheese cloth inside the sieve with the edges hanging over the sieve.

Place Jalna strawberry yoghurt, honey, rose water and salt in a bowl. Mix well. Pour the yoghurt mix into the cheese cloth sieve. Fold the cheese cloth lightly over the yoghurt.

Place this bowl and sieve with the yoghurt in the fridge for at least 8-10 hours, allowing the liquid to drain from the yoghurt.

Scoop the drained yoghurt into a serving bowl. Swirl with the back of a metal spoon to smooth the surface.

Arrange strawberry slices and toasted pistachios on the yoghurt. Garnish with edible flowers and mint. Drizzle with honey and serve immediately.
Notes
If you use unflavoured and unsweetened Greek yoghurt to hang and drain, then you must add the flavourings and sweeteners AFTER the draining process otherwise you will lose a lot of the flavour in the dessert.
Did you make my recipe?
I'd love to hear how you went! Tag me on Instagram @cookrepublic
Note - This recipe post was sponsored by Jalna. Story, musings and feels are my own.