I have been wanting to share this vegan gingerbread cookie recipe with you for the longest time, but I didn't have pictures! Ever since I shared this vegan tahini cookie recipe on the blog (which has quickly become my most viewed and most baked recipe on the blog!), I wanted to experiment with something similar for Christmas.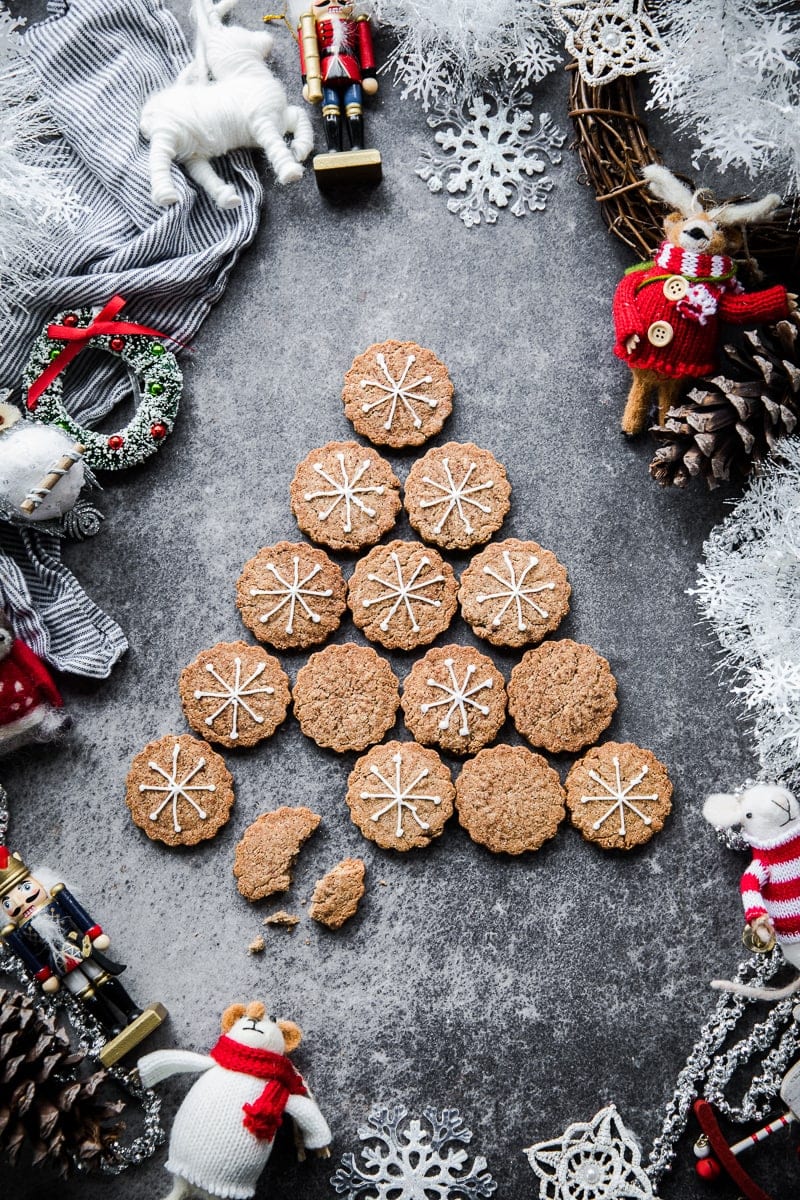 This Vegan Gingerbread Tahini Cookie is pretty much based off the original cookie recipe with a touch of extra coconut sugar and an abundance of gingerbread spices. The secret though is the consistency of tahini. While the original recipe is chewy and uses runny tahini, I wanted to make this like a proper gingerbread cookie which to me is a slightly tough crispy cookie with a biscuit like consistency. This is perfect for all sorts of gingerbread projects - cookie gift tags, gingerbread buttons for stringing up everywhere and of course gingerbread houses. For this vegan gingerbread cookie, I used half runny tahini and half dense tahini. Read all about it in the notes below.
I am an amateur cake/cookie decorator. It is just not my forte. I can never figure out piping bags and piping nozzles. Nor do I have the patience for it or the throat (white sugar in any form closes up my throat and I fall really really sick!). So nine out of ten times, you will find my cakes and cookies unadorned and really simple. But Christmas cookies deserve that something extra. So I've made a bit of effort here. I love stamping round cookies with the base of crystal cut glasses to get that old world festive pattern on them which looks especially lovely after baking. And I have iced them with a vegan frosting I miraculously found at my local health store (even then, I left some cookies un-iced. These shall be the ones I eat!)
Its two days before Christmas and I still have a million things to do, so I shall take your leave and hope you make this fabulous cookie - it is healthy, wholesome and super delicious. Wish you and yours a very merry and bright Christmas. Don't forget to share your vegan gingerbread cookies with me on Instagram by tagging @cookrepublic. Enjoy! x
Recipe
Hungry For More Recipes? Subscribe to my newsletter. Check out Facebook, Instagram and Pinterest to see everything I share! And if you love cooking and new cookbooks, join my free Cooking Club on Facebook!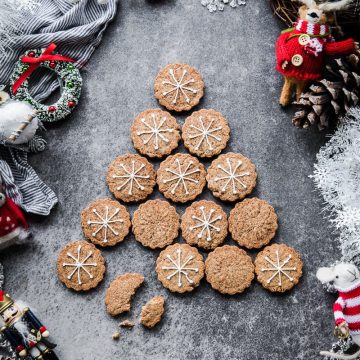 Ingredients
3/4

200g cup tahini (runny)

1/2

cup

130ml maple syrup

1

tablespoon

coconut sugar

2

cups

225g almond meal

1/2

teaspoon

crushed sea salt flakes

2

teaspoons

vanilla powder/extract

2

teaspoons

ground ginger

2

teaspoons

ground cinnamon

1/2

teaspoon

ground nutmeg

1

teaspoon

ground allspice
Instructions
Pre-heat oven to 170C (convention)/150C (fan-forced/convection). Line a rimmed bakjng sheet with baking paper.

Place tahini in a small heavy bottomed saucepan on medium heat. Add maple syrup and coconut sugar. Cook for a minute, stirring until smooth and warmed through. Remove from heat.

Place almond meal, salt, vanilla, ginger, cinnamon, nutmeg and allspice in a medium bowl. Mix gently. Add the tahini mixture and mix with a wooden spoon until just combined.

Using your hands, knead into a stiff dough. Divide in two portions.

Cut two large squares of baking paper (30cm). Place a portion of the dough between the squares and gently roll to just less than a 1/4 inch thickness. Use a press and spread technique rather than rolling freely as the tahini dough is hard and requires a firm hand to roll.

Cut into desired shapes using cookie cutters. Place on a baking sheet lined with baking paper (about 1/2 inch apart). Repeat with the remaining dough portion.

Bake cookies in the pre-heated oven for approximately 13-14 minutes.

Remove from oven. Allow to cool completely on the trays. Ice with white icing or dust with icing sugar. Store in an air-tight container in a cool corner of your kitchen for up to two weeks.
Notes
I use a half runny tahini and half dense tahini. The dense tahini helps make the dough stiff and gives the gingerbread cookie a tough, biscuit-like quality. This makes it ideal for gingerbread house projects, making gingerbread buttons or other Christmas decorations and gift tags that need to be strung.
If you like a softer, chewy cookie like my Vegan Tahini Cookies - use only runny tahini and bake for 10-11 minutes.
The dough is stiff and oily (due to the tahini). The rolling of the dough should be more a pressing down action as opposed to rolling. Dough is also easy to pinch and patch if it cracks or tears.
The cookies develop in flavour over 2-3 days and taste best after.
The cookie dough is fine to be eaten raw and can be rolled into truffles and dipped in chocolate.
Did you make my recipe?
I'd love to hear how you went! Tag me on Instagram @cookrepublic