Life is too short and it is always a good time for a slice of cake. Especially if it is buttery, crumbly and smells and tastes like apple pie. An Apple Pie Cake! A robust, wholesome, brown cake topped with thin slices of tart apple kissed by spices and baked to golden perfection. I promise I'll save you a slice!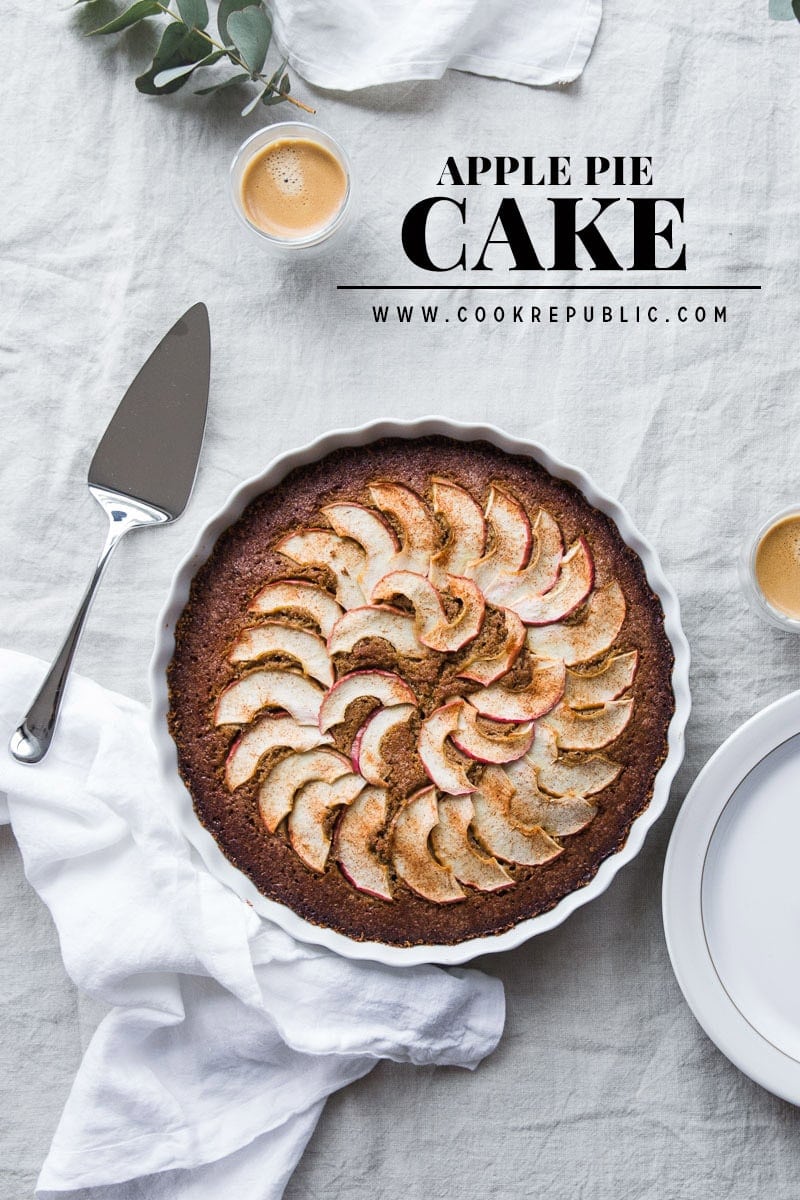 I love apples in baking. I mean, what other fruit can even dream of coming close to everything that apples can achieve in the oven and out of it? Apple pie, apple crumble, apple muffins, apple cake, slow-cooked apple overnight oats, apple tart, apple strudel, baked apples, toffee apples!! I have stretched my affection for this fruit even further with apple jam and apple fritters. In fact, it was over an apple that Nick and I bonded all those many years ago.
And so with my love for apples and baking, I have created a beautiful apple pie cake that is dinner-party worthy. With a petite scoop of ice cream (my favourite is Pana's Salted Caramel Ice Cream. Best ice cream ever!!). Or you could wrap it up in a nice linen tea towel, grab a thermos of hot tea and take it along on a long drive.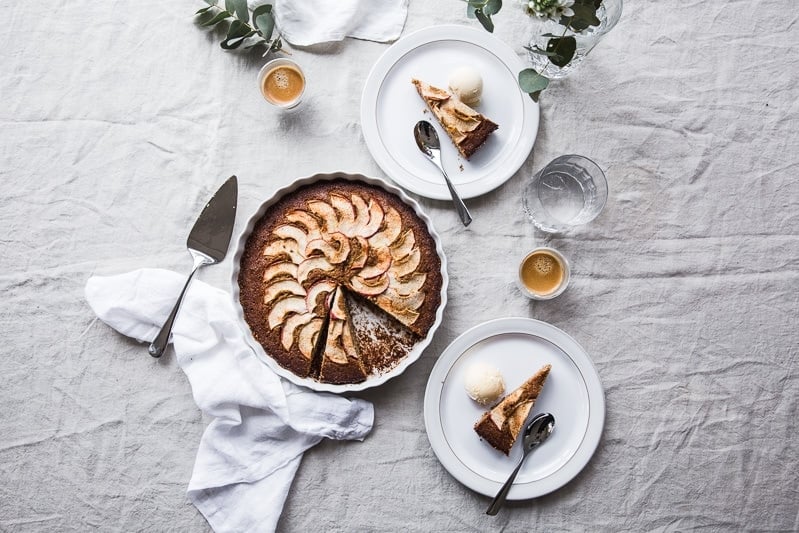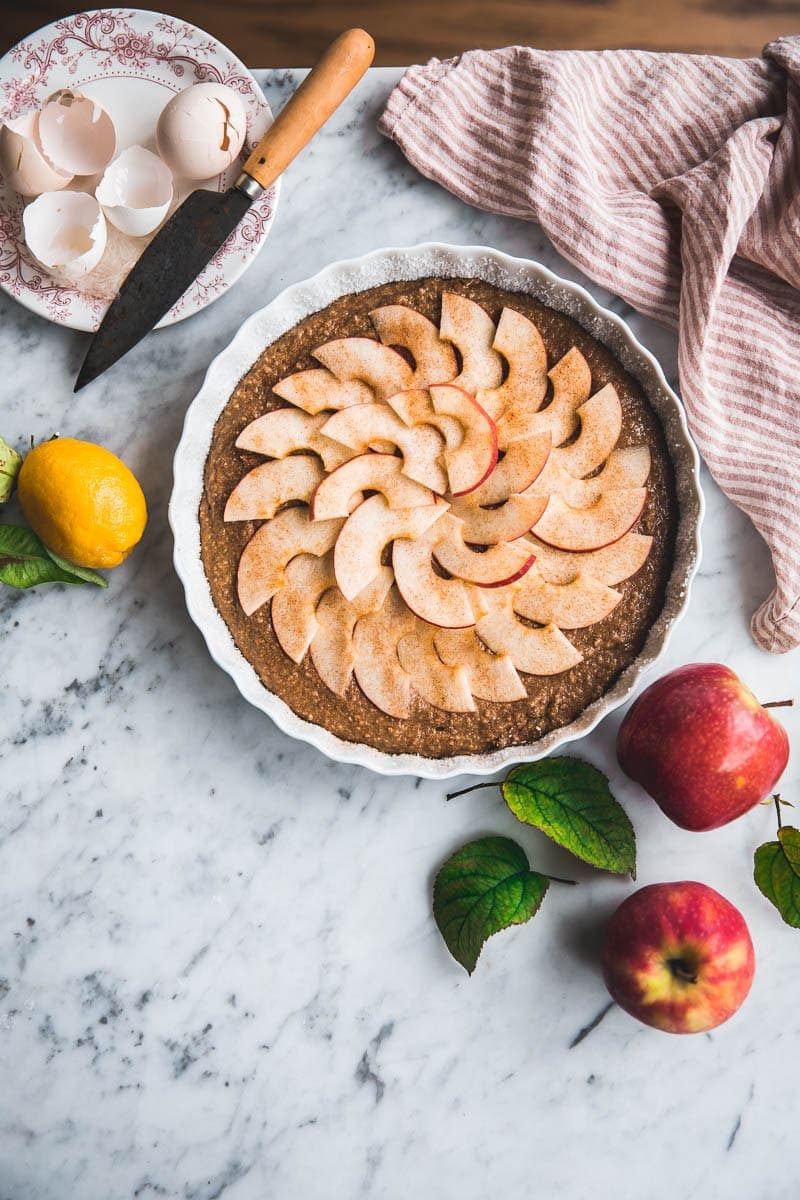 For those of you who have read my Instagram post about Nick's cancer and know about the harrowing few months our little family has had, a slice of this cake was my companion while I waited to hear the outcome of Nick's first surgery. It was the cake I baked again the following week when he went into surgery again and then the following week while he was still at the hospital coping with all the hard things that were going on. This cake got packed in lunch boxes and was often the only lunch I could manage as I shuttled between home and hospital.
What I am trying to say is that this cake, this wholesome and filling cake was like a warm hug when I needed it and it might have saved my life. I grow more fond of it as it grows staler because it gets crumblier and chewier and feels like it can weather anything if that makes sense. For friends in the northern hemisphere where apples are in season and the march towards Thanksgiving is on, this apple pie cake is the most perfect thing to bake. For us folks in the southern hemisphere, apples are still plenty (thanks to cold storage technology and weird weather patterns).
This means, wherever in the world you are, it is a good time to bake this gorgeous cake. I bake it in a wide shallow tart pan because it not only looks pretty sweet, it also creates a delicious crumbly crust. So go ahead and bake this, you won't be disappointed.
If you bake this apple pie cake, don't forget to leave me your feedback in the comments/ratings below. Please also tag me on Instagram with @cookrepublic #cookrepublic and share your apple pie cake pictures with me. Nothing makes me happier, than to see you cooking and baking from the blog. Bon appetit! x
Recipe
Hungry For More Recipes? Subscribe to my newsletter. Check out Facebook, Instagram and Pinterest to see everything I share! And if you love cooking and new cookbooks, join my free Cooking Club on Facebook!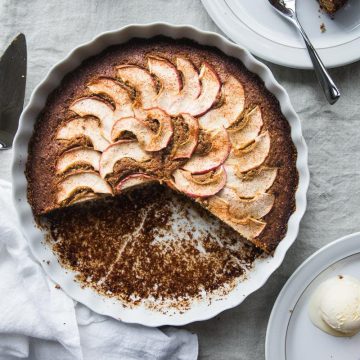 Ingredients
180

g

spelt flour

60

g

desiccated coconut

1

teaspoon

baking powder

Pinch

of sea salt flakes

180

g

rapadura sugar

4

organic eggs

1

teaspoon

vanilla extract

1

teaspoon

ground cinnamon

1

teaspoon

ground allspice

1

lemon

,

zested

200

g

unsalted butter

,

melted and cooled

1

apple

,

cored, halved and thinly sliced

Extra butter and desiccated coconut for greasing

Cinnamon sugar for sprinkling

Icing sugar for dusting
Instructions
Pre-heat oven to 180°C (convention)/160°C (fan-forced/convection).

Place spelt flour, desiccated coconut, baking powder and salt in a medium bowl. Toss to combine.

Place rapadura sugar, eggs, vanilla, cinnamon, allspice and lemon zest in the bowl of an electric mixer and mix for a couple of minutes until light and fluffy. Add butter and mix briefly until well combined and smooth.

Add the dry mix to the wet mixture and mix gently by hand, using a wooden spoon until just combined.

Grease a 25-27cm fluted ceramic pie/flan dish with melted butter. Dust with desiccated coconut and tap and turn the pan to coat evenly. Shake off excess coconut.

Gently spoon the cake batter into the prepared pan. Arrange apple slices in a circular fashion starting from the outer edge, making sure the slices slightly overlap each other.

Dust the cake and apple slices with cinnamon sugar. Bake in the pre-heated oven for 35 minutes until browning and cooked through.

Remove from oven and cool slightly. Dust with icing sugar. Cut into wedges and serve with a dollop of vanilla ice cream.
Did you make my recipe?
I'd love to hear how you went! Tag me on Instagram @cookrepublic