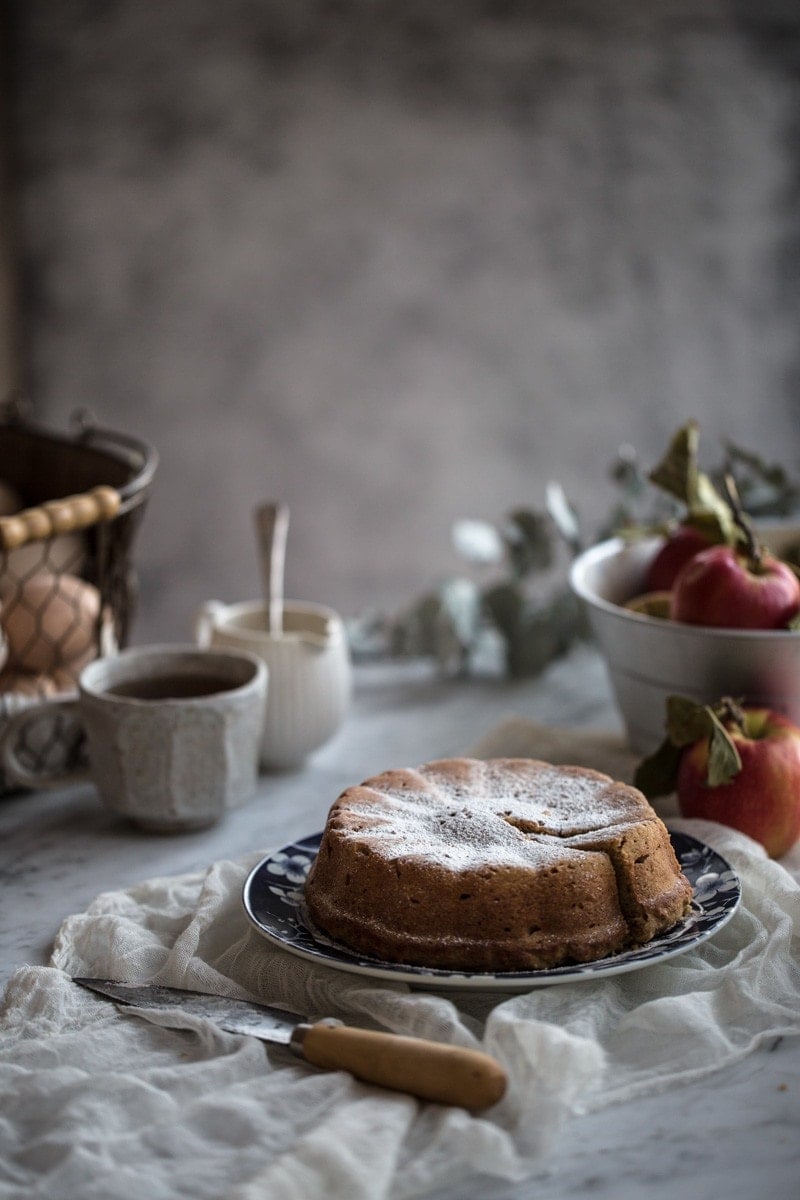 El Nino wrecked havoc on our weather system here in Australia. After waiting patiently through spring and summer for autumn to arrive, it never did. Here in Sydney, it went from summer to a balmy spring straight to winter. As a result, our annual apple picking tour had to expedited as the apple harvest was much lower and shorter compared to previous years. Tomorrow is officially the first day of winter and while the cold has finally set in, the trees are confused with many just about starting to turn red. As the branches still hold on to their golden leaves oblivious to the fact that autumn is gone, the 20 odd kilos of apples we picked are continuing to provide heaps of crunch and cold weather comfort in our kitchen.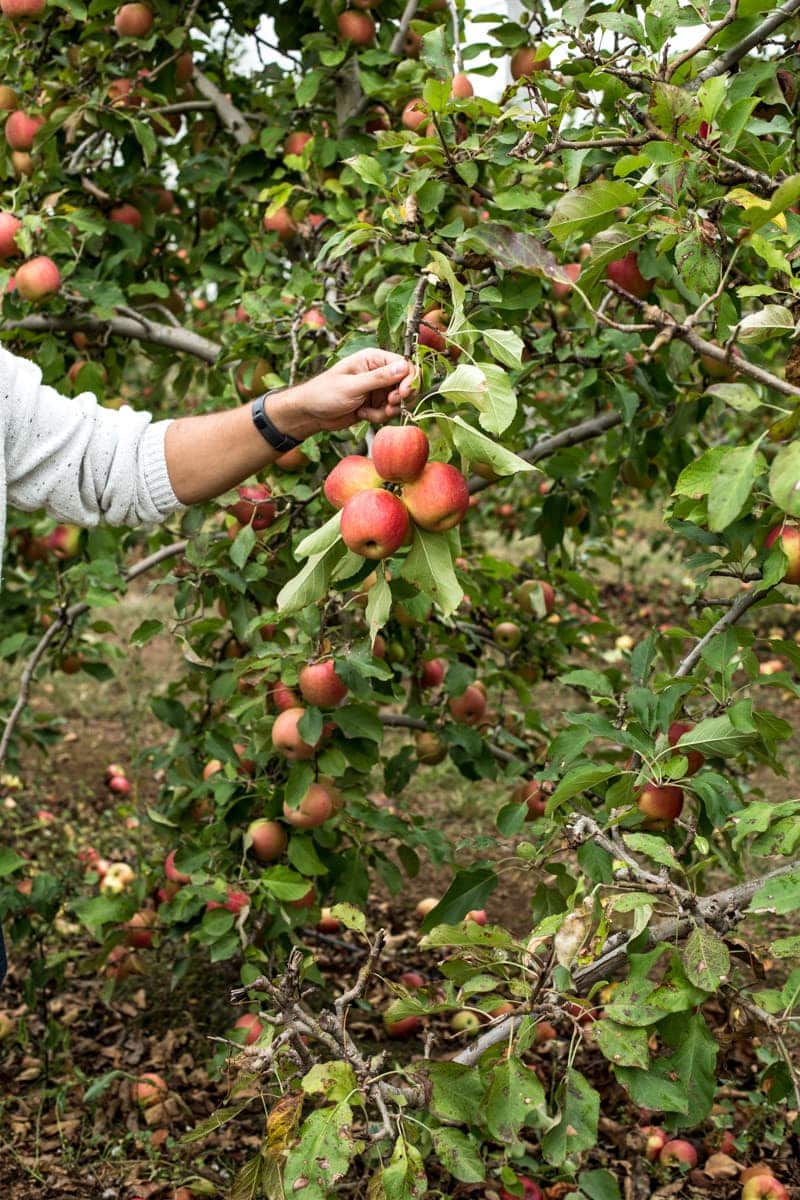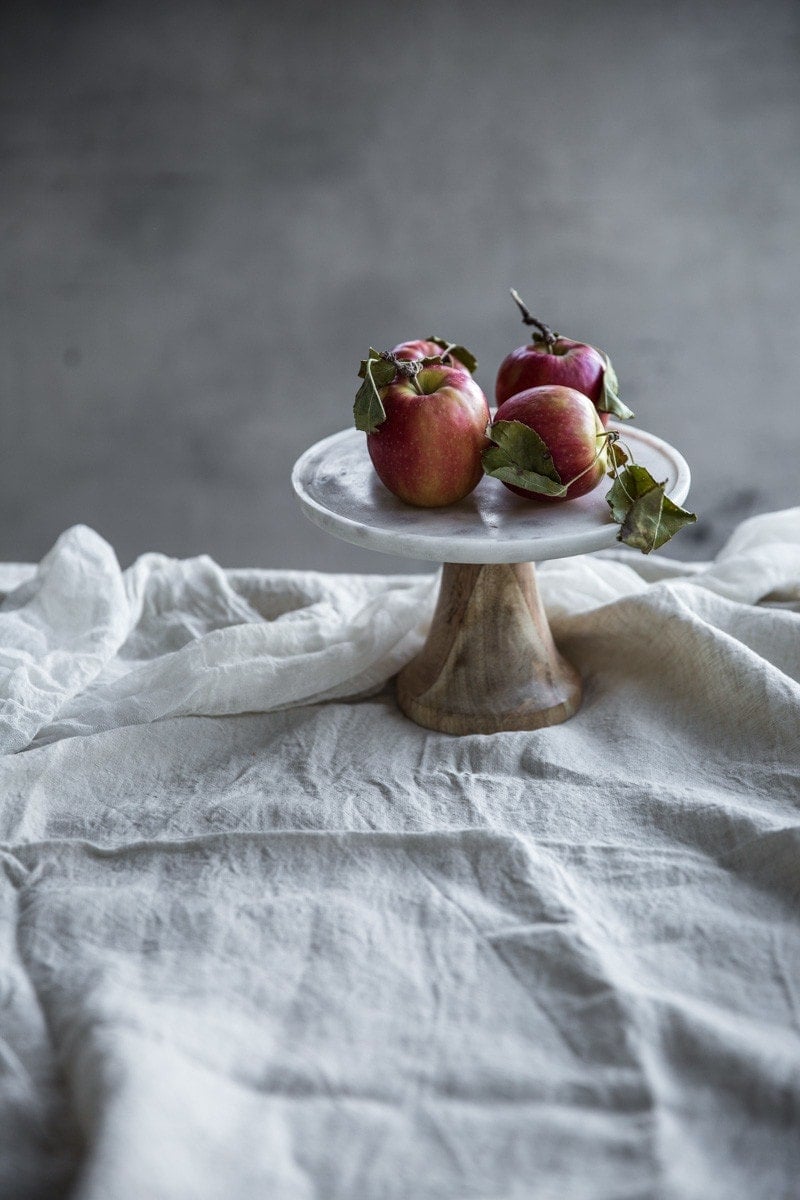 I have baked many an apple cake but never one with almond meal. I wonder why that combination never struck a chord in my mind as it is really delicious. The resulting cake with spelt flour and spices added to the mix is light and warming. I usually top the cake with thin slices of apple but this time I chose to grate the apple. I would suggest using the freshest apples you can find, because the fresh ones will be really sweet and juicy both of which the cake demands as there is very little added sugar or liquid to the cake. Plus fresh apples are a dream to grate with their juices running amok. Have you tried grating an apple from the supermarket? It is a dry as a desert nightmare!
I have a million bundt tins. I love collecting them and looking at them. Recently, I have chucked caution to the wind and actually use a lot of them to bake my cakes. Once you get the hang of greasing and flouring your tins perfectly, baking in bundt tins need not be a nightmare. Even cakes with fruit added to them, like this one. In the recipe below, I share detailed instructions on how to grease, flour and un-mould your bundt tins for a perfectly shaped cake. This apple cake tastes better on the second and third day because the spice really develops in flavour. Best had with a generous lashing of fresh cream and a smattering of ground cinnamon. From a vintage cake tin. Sitting on a blanket of rusty leaves. By the lake. Steaming mug of tea in hand.
If you make and love this cake, I would love to hear from you in the comments below. Also please remember to rate the recipe for others wanting to try it out. If you are sharing your wonderful creations on social media, please do tag me #cookrepublic xx
Recipe
Hungry For More Recipes? Subscribe to my newsletter. Check out Facebook, Instagram and Pinterest to see everything I share! And if you love cooking and new cookbooks, join my free Cooking Club on Facebook!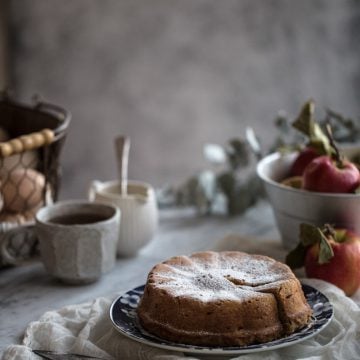 Ingredients
3

eggs

,

lightly beaten

100

g

melted butter

1/4

cup

70ml maple syrup

1/2

teaspoon

vanilla extract/powder

1

cup

110g almond meal

1

cup

140g spelt flour

1/2

teaspoon

ground cinnamon

1/4

teaspoon

ground nutmeg

1

teaspoon

baking powder

pinch

of salt

200

g

grated apple

,

peeled and cored

icing sugar

,

to dust

fresh cream

,

to serve
Instructions
Preheat oven to 180C (conventional) / 160C (fan forced).

Grease and line a 20cm round springform tin with baking paper. If using a bundt tin, brush the insides of the bundt with melted butter ensuring you get the butter in all the nooks and crevices. Dust the inside of the bundt tin liberally with flour, tapping and turning the tin to ensure that every bit of the buttered surface gets covered with flour. Tap and shake off the excess flour.

Place eggs, butter, maple syrup and vanilla in a large bowl and mix with a wooden spoon until smooth and just combined. Add the almond meal, flour, cinnamon, nutmeg, baking powder and salt. Mix well. Stir through the grated apple and mix gently until the batter is evenly mixed.

Pour batter in the prepared tin. Bake in the pre-heated oven for approximately 40-42 minutes until a skewer inserted in the centre comes out clean. Remove from oven.

If using a bundt tin, allow to cool in the tin for 30-45 minutes. At this point the cake should come away from the edges and the bottom of the tin should be just warm. Loosen the sides of the cake with a metal butter knife and whack the bottom with the palm of your hand. Place a large overturned dinner plate onto the top of the bundt tin and then flip it over to let the cake drop on the plate.

Dust with icing sugar and serve with fresh cream.
Notes
To make the cake gluten free, replace spelt flour with amaranth flour/buckwheat flour/gluten free flour with the same quantity used in the recipe.
An extra dusting of cinnamon sugar really elevates the cake.
Make this cake a day ahead to allow the flavours to develop.
Did you make my recipe?
I'd love to hear how you went! Tag me on Instagram @cookrepublic