Today might be the day, your butter-chicken-loving prayers might be answered! In a lighter, more delicious, completely vegan and absolutely homemade fashion. For all those of you who have been gently nudging me via email to share my Vegan Makhani Sauce recipe, thank you! I needed the nudge because this recipe is just too good not to share.
Jump to:
What is Makhani?
So what is makhani, you ask? Makhani is derived from the Hindi word makkhan which means butter. Makhani means something that has butter. And that is the entire premise of every Makhani dish hailing from the North Indian region of Punjab. Chicken Makhani (or as the Western world knows it - Butter Chicken), Paneer Makhani and Dal Makhani. All these famous dishes are built on a rich and slightly sweet tomato and cream curry spiked with lots of butter. But my version today has none of that butter or cream.
I love good makhani curry. What I don't like is the flat sweetness of the curry often found in many Indian restaurants and take away places. The addition of too much cream and too much butter along with artificial colour takes away from a curry sauce that could be gloriously complex in its flavours. And if you use the right spices and let them simmer into submission, the natural amber and rust hues just cannot be beaten.
Why make my Makhani Sauce?
I usually never proclaim my recipes to be spectacular. I mean, they are delicious and we love them and we love that so many of you love them too. But I never make grand statements about them. Although I might make an exception today. Because this Vegan Makhani Sauce is so darned good and it is guaranteed to make your home smell like a fancy Indian restaurant and you will absolutely be licking your fingers so that you don't waste a single drop,
This is Better-Than-Restaurant-Makhani-Sauce.
It is also super light and super easy to make!
You can make it with everyday pantry ingredients.
Ready in 30 minutes.
Can be made ahead and freezes well.
It is vegan!
Ingredients
Here is what you will need to make a Vegan Makhani Sauce.
1. Whole Spices - Bay leaves and red chilli
2. Aromatics - Ginger, garlic, Methi (fenugreek). The dried fenugreek leaves or kasoori methi are truly what makes this curry sauce taste very traditional and authentic. Try and find it if you can. It is available at most Indian grocers or specialty online spice markets and grocers. It has so many health benefits including reducing cholesterol and inflammation, protecting kidney health, controlling appetite, promoting healthy hair growth and being an excellent source of fiber and protein thereby assisting in digestion and gut health by flushing out toxins in the body.
3. Tomato Passata - This is bottled tomato sauce with just salt as an added ingredient.
4. Spices - Sweet paprika, ground cardamom and garam masala.
5. Coconut milk - Canned coconut milk for that rich creaminess.
Now the recipe below makes about 250ml (1 cup) which with the addition of some protein and vegetables would be the equivalent of a standard Indian takeaway curry container to feed 3-4 as a main dish along with rice or naan. I have in the past I have just doubled the recipe to get a larger quantity to feed 6-8 as a main dish (which is of course part of a larger feast). To give you an exact example, last night I made the sauce quantity below and roasted 2 small carrots, 1 large red onion, and 1 cup cauliflower florets to add to the sauce. We (four of us) then ate the Roast Veggie Makhani Curry with some rotis and a dal I had made on the side.
You can basically grill and add any protein you like to this really delicious and versatile sauce. If you make this, please let me know how you went by leaving a comment and rating below. Show me your Makhani Curry pictures on Instagram by tagging me @cookrepublic #cookrepublic. Thanks!
Recipe
Hungry For More Recipes? Subscribe to my newsletter. Check out Facebook, Instagram and Pinterest to see everything I share! And if you love cooking and new cookbooks, join my free Cooking Club on Facebook!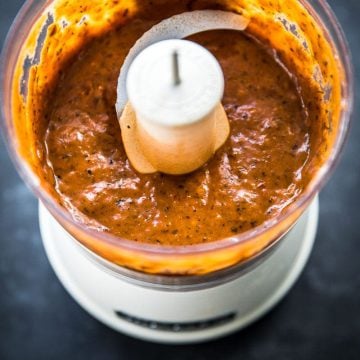 Ingredients
1

tablespoon

olive oil

2

bay leaves

1/2

long green chilli

,

green cayenne pepper, sliced

1

teaspoon

kasoori methi*

,

dried fenugreek leaves

1

tablespoon

ginger garlic paste

1/2

cup

(

120

g

)

tomato passata

1/2

teaspoon

garam masala

1/4

teaspoon

ground cardamom

1/4

teaspoon

sweet paprika

1

teaspoon

sea salt flakes

2

tablespoons

rapadura sugar

1/2

cup

(

125

ml

)

coconut milk
Instructions
Place oil in a heavy bottomed small saucepan on medium heat.

Add bay leaves and green chilli. Sauté for a few seconds. Reduce heat to low and add kasoori methi and ginger garlic paste. Sauté for another few seconds until fragrant and starting to turn golden.

Add tomato passata, garam masala, cardamom, paprika, salt and rapadura sugar.

Cook for 8-10 minutes until the sauce has turned a shade darker and oil starts pooling around the edges.

Add coconut milk. Cover and simmer on low for approximately 20 minutes until rich and fragrant. If it starts to thicken a lot, add 1/4 cup water.

The sauce is ready to use at this point but I like to make it smoother by cooling it, removing the bay leaves and blending it briefly in a small food processor. The sauce is ready to be mixed with pre-cooked protein or roast veggies. It can also be packed away in freezer-safe containers or zip lock bags and will keep well in the freezer for up to two months.
Notes
Sugar - Rapadura Sugar can be substituted with brown sugar or maple syrup. Chilli - Paprika can be swapped with red chilli powder if you like your curry hotter. Ginger & Garlic - If you don't have ginger-garlic paste on hand, substitute with 1 tablespoon fresh grated ginger and 3 minced garlic cloves. Kasoori Methi - It is the Indian name for dried fenugreek leaves. It can be found in the dried herb and spice section of Indian supermarkets. Methi or Fenugreek is bitter and has a unique taste which makes this "Makhani Sauce" authentic. If you can't find fenugreek, try substituting with a teaspoon of mustard powder or Dijon mustard.
Did you make my recipe?
I'd love to hear how you went! Tag me on Instagram @cookrepublic
One Year Ago – CRISPY CHICKPEA EGGPLANT AND KALE SALAD
Two Years Ago – BROCCOLI SOUP WITH CASHEW CREAM
Three Years Ago – RAW CACAO FUDGE FROSTING
Five Years Ago – FIERY PRAWNS ON WONTON CRISPS
Six Years Ago – MUMBAI FISH FRY TACOS
Seven Years Ago – BIG FRY UP BREAKFAST
Eight Years Ago – BALSAMIC BOCCONCINI BASIL SALAD
Ten Years Ago – TESSA KIROS INSPIRED OAT COOKIES