I have taken my best hot cross bun recipe and converted it into a Hot Cross Bun Loaf! A gorgeous, high-top, cafe-style bread with a sticky glaze and packed with dried fruit and spices. This easy loaf is perfect for Easter baking and makes a great breakfast when sliced, toasted and slathered with butter. Yum!
Jump to:
🍞 Why you'll love my Hot Cross Bun Loaf!
It is based on the best traditional hot cross bun recipe!
It looks like a giant hot cross bun and tastes like one too!
It is very easy to make - just mix and prove and bake.
Easy to slice and toast, making it the perfect breakfast whether it is Easter or not.
Great for making an Easter hot cross bun pudding!

📝 Ingredients & Substitutions
Flour - You'll need 00 flour (pizza flour) for this recipe. You can substitute with Baker's flour (Bread flour). If you do, you might need to add an extra 50ml of water as bread flour is coarser than 00 flour and absorbs more liquid.
Tea - I use an Earl Grey teabag to macerate the dried fruit. It is really nice as it has citrus-bergamot notes. You can use any black tea you like. You can even add a dash of brandy or Cointreau for a boozier note to the bread.
Yeast - I use instant dried yeast that looks like a light brown granular powder. This is very convenient and excellent for making quick-rising breads.
Dried fruit - I use raisins and dried cranberries. You can also substitute with sultanas or dried sour cherries and chopped dates.
Sugar - You don't need any more sugar than what is used to bloom the yeast as this is a Sourdough-style fruit bread. I use a honey-water wash to glaze the top for a beautiful aroma and sticky sweet flavour.
Flavour-makers - This hot cross bun loaf has many delicious spices - cinnamon and allspice. You can also add mixed spice or pumpkin pie spice. I also add orange zest for an extra citrus flavour boost.
More Delicious Easter Recipes
Recipe
Hungry For More Recipes? Subscribe to my newsletter. Check out Facebook, Instagram and Pinterest to see everything I share! And if you love cooking and new cookbooks, join my free Cooking Club on Facebook!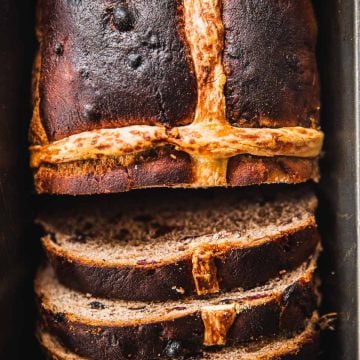 Ingredients
For the fruit
100

g

raisins

100

g

dried cranberries

1

teabag

,

Earl Grey

200

ml

boiling water
For the loaf
150

ml

milk

,

low-fat, skim

1

tsp

instant yeast

2

tsps

raw sugar

500

g

00 flour

,

bread flour or baker's flour

2

tsps

ground cinnamon

1

tsp

allspice

2

tsps

flaky salt

,

crushed

Zest of 1 orange

50

g

butter

,

melted
For the top
2

tbsps

bread flour

1

tbsp

water

1

tsp

raw sugar

Pinch

of salt

extra flour for dusting

1

tbsp

honey

½

tbsp

hot water
Instructions
Add raisins, cranberries, teabag and boiling water to a bowl. Make sure the fruit is submerged in the liquid. Allow to macerate for 2 hours.

Warm milk for a couple of minutes in a small saucepan on medium-low heat until bubbles appear around the edge. Remove from heat. The milk should be just warm to touch. Add yeast and sugar. Mix and allow the yeast to bloom for 5 minutes.

Add flour, cinnamon, allspice, salt and orange zest to a large bowl.

After the 2-hour soaking time, discard the teabag. Add the fruit and soaking water to the flour mixture. Add the milk mixture to the bowl along with the melted butter.

Using a dough hook in a food processor, knead the dough for approximately 4-5 minutes until it forms a wet dough ball.

Cover with a tea-towel and place in a warm corner of your kitchen for 2 hours. It will double at the end of the 2-hour period.

Add flour to a clean, stone, work-surface or pastry board. Tip the wet dough onto the floured surface.

Starting at the top position, pinch the end of the dough and bring it to the center folding it onto itself. Continue doing this in a circular fashion till you've gathered all the end bits into the center.

Flip the dough ball over, seam side down. Cupping the dough ball with your hands, drag and pull the dough ball towards you, tightening the ball in the process. Do this a couple of times. Now, gently shape the ball into an oblong shape.

Line a loaf tin with baking paper and gently place the oblong dough into the tin, seam side down.

To make the cross, mix flour, water, sugar and salt to form a soft pliable dough. Add extra flour if it is too soft. Break into two portions. Roll each portion in the palm of your hands to get thin, long noodle shaped strips.

Place each strip on top of the dough in a cross and gently press down.

Cover the dough with a tea-towel and rest in a warm corner of your kitchen for 1-2 hours.

Meanwhile, preheat your oven to 240°C (220°C fan-forced).

At the end of the second proof, the dough would have risen slightly in the loaf tin. Place the loaf in the hot oven alongwith a couple of ice cubes at the base of the oven or in an empty baking tray below the loaf tin.

Bake for approximately 26-28 minutes until the loaf is well risen and dark and brown on top.

Remove from the oven. Cool slightly and remove from the tin. Cool completely on a wire rack.

Make the honey mixture by mixing honey and warm water in a bowl. Brush the top of the loaf with the honey mixture. Slice and enjoy.
Notes
Flour - 00 flour (double zero flour) is a high-protein, finely milled Italian flour used to make pizza and pasta. It is slightly different from Baker's flour or bread flour which is more coarse in texture. Ideally, you should be able to interchange the flours without any change to the recipe. If while using bread flour you find that the dough is not wet after the first mixing, add an extra 50ml of water. You want your dought to be sticky and wet after the first mixing.
Nutrition
Calories:
385
kcal
|
Carbohydrates:
73
g
|
Protein:
9
g
|
Fat:
7
g
|
Saturated Fat:
4
g
|
Polyunsaturated Fat:
1
g
|
Monounsaturated Fat:
2
g
|
Trans Fat:
0.2
g
|
Cholesterol:
16
mg
|
Sodium:
645
mg
|
Potassium:
225
mg
|
Fiber:
4
g
|
Sugar:
14
g
|
Vitamin A:
192
IU
|
Vitamin C:
1
mg
|
Calcium:
48
mg
|
Iron:
1
mg
Did you make my recipe?
I'd love to hear how you went! Tag me on Instagram @cookrepublic