If you are new to the blog and unaware of my avocado saga, have a read. It is truly funny. And yes, like most people who first start out by eating an avocado with a spoon; I graduated to making guacamole next. And like all those people who first made guacamole, my reaction was the same  - is it really that simple? Why have I not been making this all my life?
Guacamole is one of those traditional recipes that will have the purists, the fusion lovers and the complete novices start a raging debate. Much like the hummus or the daal! Now I have never been to Mexico, nor grown up with avocados. My knowledge of this celebrity dip comes from the internet and talking to other guac fanatics. What i have learned is that guacamole was a simple avocado sauce created by the Aztecs in what is now known as Mexico. Their greatest gift to the culinary world.
It might have just been avocado and salt back then and was traditionally made in the molcajete - a mortar and pestle. But my Mexican friend informs me that the most traditional version would have avocado, onion, lime and salt with some heat from a chilli (Serrano or Jalapeno). I have never seen a Serrano pepper here in Australia but it looks suspiciously similar to the Cayenne chilli growing on my chilli bush in the backyard. So, I have used that in this recipe.
I do occasionally add tomato to my guacamole but prefer without. The idea is to serve guacamole along with pico de gallo (salsa made with tomatoes). So no tomatoes in the guacamole makes sense, doesn't it? We absolutely love our Mexican fusion creations in this home and charred corn and black beans are staples on those nights. For this recipe, I decided to create a simple guacamole and bulk it up with dressed home cooked black beans. The result was so pretty to look at and so delicious that I have been taking it to potlucks whenever I can because it is maximum effect with minimum effort.
Homecooked Black Beans
Oh and if you haven't cooked your own black beans at home, you have to try doing so. The taste difference is just incredible compared to the canned ones. Also known as black turtle beans, these are small and shiny and change their colour to a dark maroon when cooked. They are used heavily in South American cuisines and are native to the American subcontinents. The black beans have a dense, meaty texture and are incredibly nutritious.
Often, at the start of  a cooking session I pop on  a huge pot of black beans on the hob. As they cook, the water becomes dark and murky. I drain and add fresh water and continue cooking them on a slow simmer for approximately 40 minutes. And just like that, they are done. I usually have a box of cooked black beans in my freezer as they are a super delicious vegetarian option for stuffing into wraps, making burgers out of and adding in salads and stir-fries.
Hungry For More Recipes?  Subscribe to my newsletter and follow along on Instagram, Facebook and Pinterest to see everything I share!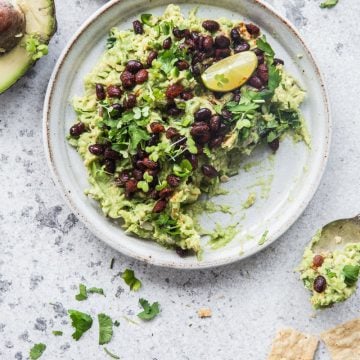 Ingredients
For the guacamole
2

avocados

1

small red onion

,

finely diced

1/4

cup

fresh chopped coriander leaves

juice of 1/2 a lime

1

green Serrano chilli

,

or green cayenne chilli or jalapeno, Note 1

1/2

teaspoon

sea salt flakes
For the black beans
1

cup

cooked black beans

,

(recipe below)

1/4

teaspoon

sea salt flakes

1/2

teaspoon

smoked paprika

juice of 1/2 a lime

freshly ground black pepper
Instructions
Mix all ingredients for the black beans in a small bowl and set aside.

Cut the avocados in half and remove the seed. Squeeze or scoop the flesh into a medium bowl or mortar. Discard the skin.

Add the remaining ingredients for the guacamole and lightly mix with the pestle or a fork.

Spoon the guacamole in a rimmed serving dish. Adjust seasoning to taste (salt, pepper and lime). Top with black beans. Serve with corn chips.
Notes
Chilli - Green cayenne chilli, serrano pepper or jalapeno are the best choices when it comes to making this guacamole. If you don't like things to be too spicy, make sure you scrape the seeds out before chopping the chilli finely. 
Make sure you season the guacamole and beans well.
If you don't have dry black beans to cook or handy in your freezer, use the cooked canned ones. Just rinse and drain before continuing with the recipe.
Did you make my recipe?
I'd love to hear how you went! Tag me on Instagram @cookrepublic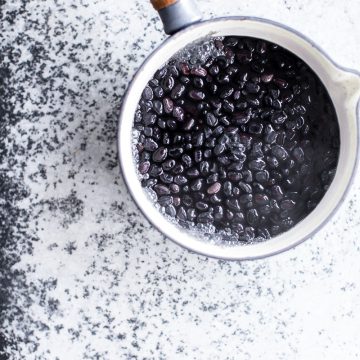 Ingredients
1

cup

(

190

g

)

dry black beans

1/2

teaspoon

sea salt flakes
Instructions
Place black beans and salt in a medium heavy bottomed saucepan with enough water to cover the beans and then some. Bring to a rolling boil on high (approximately 10-15 minutes)

Drain the hot water. Rinse the beans gently. Drain and fill with fresh water, enough to cover the beans.

Reduce heat to medium and bring to a boil (approximately 10-15 minutes).

Drain the hot water. Rinse the beans gently. Drain and fill with fresh water, enough to cover the beans.

Reduce heat to low and simmer uncovered for 20-25 minutes until beans are perfectly cooked. They will still hold their shape but will be cooked and tender.

Drain water and store in an air tight container in the fridge for up to 2 days. Cooked beans can be frozen in an air-tight container in the freezer for up to 6 months.
Did you make my recipe?
I'd love to hear how you went! Tag me on Instagram @cookrepublic