I hope you are no stranger to roasted broccoli because it is seriously one of the most magical and delicious secrets of the plant kingdom. Raw broccoli crisped and charred on a pan is a weekly mantra in my kitchen. But it is only recently, after the tremendous success of these cauliflower steaks that I started making broccoli steaks as well.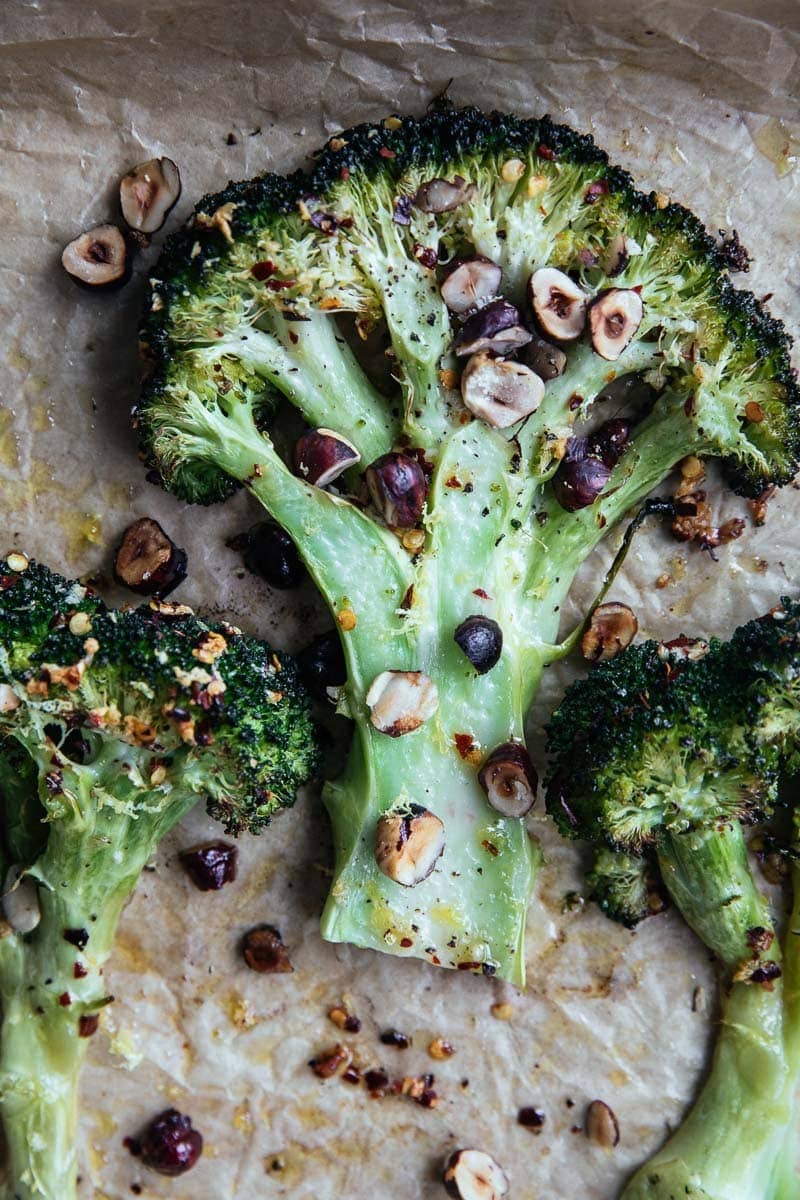 I never really understood why cauliflower or broccoli cut in thick slices and roasted were called steaks. I suppose they sound better than slices? It doesn't really matter as it is only a term for distinguishing the shape. It all tastes the same in the end - florets or steaks. A broccoli steak is astonishingly simple and really hard to stuff up. Cut, rub, sprinkle, roast, done! That kind of lazy cooking I can really get behind.
I still had to give this recipe a good few tries, just to be sure the end result wasn't a limp overcooked green (or rather, yellowy green) broccoli. Pan charred broccoli is fuss-free. You can use oil or not, you watch as it chars and becomes a bit glazed and you know it is done. Oven roasted broccoli is slightly different. There are three main factors for a good roasted broccoli steak - the amount of oil, oven temperature and roasting time.
In my all my different tests, I varied all three. I found that using more oil resulted in a soggier end result that went limp as soon as it cooled. So did a longer cooking time. You want the broccoli al dente and just seared and curling around the edges. The recipe below will remedy that. Remember to use the freshest broccoli, cut into quarter inch thick slices and roast away in an already hot oven. Good hot or cold, so can be prepped ahead for a lunchbox option the following day. Enjoy and let me know what you think in the comments/ratings below! Bon appetit! x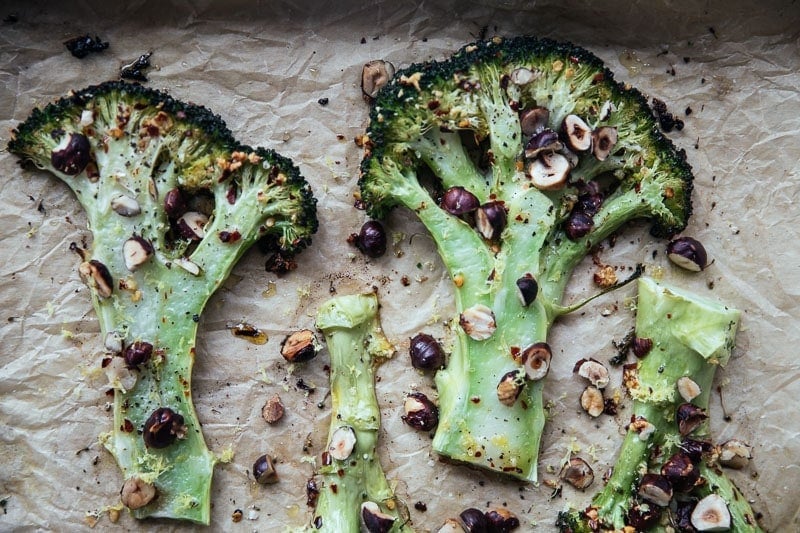 Recipe
Hungry For More Recipes? Subscribe to my newsletter. Check out Facebook, Instagram and Pinterest to see everything I share! And if you love cooking and new cookbooks, join my free Cooking Club on Facebook!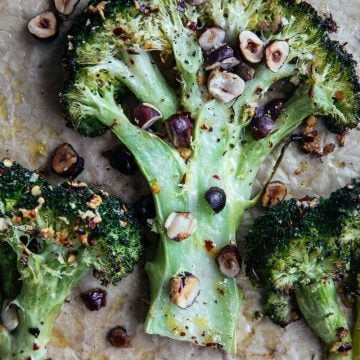 Ingredients
1

large head or 2 small heads of broccoli

,

approximately 450g

40

ml

extra virgin olive oil

1

teaspoon

red chilli flakes

2

large garlic cloves

,

minced

2

tablespoons

hazelnuts

,

chopped

zest of 1/2 lemon

generous pinch of sea salt flakes and black pepper
Instructions
Pre-heat oven to 210C (convention)/190C (fan-forced/convection).

Slice a bit of the bottom of the broccoli stalk to ensure it is level. Place broccoli on this cut side on a chopping board. Slice broccoli head into 4 thick steaks, ensuring that the stalk is cut into equal parts.

Place broccoli slices cut side down on a lined baking sheet.

Mix olive oil, chilli flakes and garlic in a small bowl. Brush the broccoli steaks (stalk and florets) evenly and generously with the garlic, chilli and oil mix using a pastry brush.

Sprinkle with sea salt flakes and scatter with hazelnuts.

Roast in the pre-heated oven for 18-20 minutes until the edges of the broccoli start to char.

Remove from oven. Sprinkle with black pepper and grated lemon zest. Serve hot.
Did you make my recipe?
I'd love to hear how you went! Tag me on Instagram @cookrepublic
One Year Ago – 8 INGREDIENT VEGAN CHOCOLATE AND ALMOND BUTTER COOKIES
Two Years Ago – ROASTED SWEET POTATO SALAD WITH HARISSA CHICKPEAS
Three Years Ago – CREAMY SWEET POTATO AND HALLOUMI PASTA
Five Years Ago – HOT CROSS BUN AND NUTMEG TRAYBAKE
Six Years Ago – AMARANTH COFFEE AND WALNUT CAKE
Seven Years Ago – LUNCHBOX COUSCOUS