A Tofu Larb is a meat-free version of the popular Thai street food. Classified as a warm salad, this fast stir-fry with its sweet, sour, salty and spicy flavours and ample fresh herbs is a delight to eat on its own or as a side.
Making A Tofu Version Of The Famous Thai Street Food
I love Larb! That time we went to Bangkok years ago before our boys were born, we tried all kinds of Thai street food being hawked by vendors. And we ate a lot of larb gai. Larb is essentially a meat salad of ground meat, herbs, chillies, fish sauce and toasted rice. Larb Gai is a chicken version of it (gai means chicken in Thai). The dish originated in Laos and is traditionally made with either beef, pork, chicken or duck. But I wanted to make a meat-free version, so I could cook and eat it more frequently.
Converting a larb recipe into a tofu version is not very straightforward and there is some science involved in creating a cohesive plant-based dish that tastes as fabulous if not better than its meat counterpart. My recipe is meat-free, but it isn't vegetarian as it uses fish sauce and oyster sauce. This Tofu Larb would classify as a pescatarian dish. But if you would like to make a vegetarian/vegan version, please see my notes for substitutions. I have made this version too and it is utterly delicious.
The Anatomy Of A Larb
Drawing upon the sights and tastes of the larb gai we sampled everywhere in Bangkok, I realized a couple of things.
The salad dish is barely warm.
It doesn't use any oil/fats, but rather utilizes the fat in the meat itself to cook it to juicy tenderness.
Some elements are cooked and some are added raw to retain the crunch and freshness.
It is spicy. Fiery, even. And the spice rarely ever comes from fresh chillies. It is dried chillies all the way.
The salad involves adding toasted rice powder to thicken it. The sticky rice powder mixes with the meat fats to create a gelatinous quality in turn rendering a moist and tender final result.
The sweet and sour elements are always added at the end along with all the fresh herbs to retain the freshness and tart flavours.

Using Clever Cooking To Make A Tofu Larb Juicy And Delicious
In my recipe, I use oil and garlic to inject the fat and flavour components of the dish. The tofu is barely cooked to ensure it doesn't dry out. In addition, I add a mix of cornflour and water to create that glutinous texture that keeps the tofu moist.
The Thai use a coarse dried red chilli powder called prik bon which is made by hand grinding dried and toasted birds eye chillies. You can very well imagine how hot that is going to be! While you can source this prik bon from Asian supermarkets, I find Korean Gochugaru (red pepper powder) to be much more effective. Not only does it have that grainy, coarse, chilli powder/flake texture but it also has a beautiful aroma and is low in the spice department. With a good amount of heat which is not super overpowering, it makes a Tofu Larb that even my youngest loves eating. If you can't find Gochugaru, try substituting with a teaspoon each of red chilli flakes and red chilli powder.
Lemongrass is key to this recipe. The fragrance is unbelievable. If you can't find fresh lemongrass, stock up on lemongrass powder. In fact, I keep supplies of lemongrass, galangal and kaffir lime powders in my spice drawer to season my Asian dishes without the need to go looking for expensive fresh out-of-season herbs. And finally, making your own toasted rice for the garnish and the last step of the Tofu Larb is super simple. I use arborio rice when I can't find sticky rice and give the toasted rice a good pounding in my Mexican molcatje (mortar and pestle).
Serving Suggestions
Recipe
Hungry For More Recipes? Subscribe to my newsletter. Check out Facebook, Instagram and Pinterest to see everything I share! And if you love cooking and new cookbooks, join my free Cooking Club on Facebook!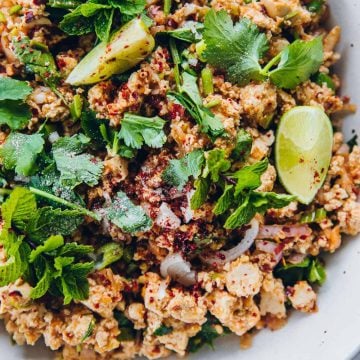 Ingredients
5

tablespoons

sticky/arborio rice

,

note 1

2

tablespoons

olive oil

2

garlic cloves

,

minced

1

tablespoon

grated ginger

1

teaspoon

red chilli flakes

1

lemongrass stalk

,

thinly sliced (white only)

4

shallots

,

peeled and thinly sliced

4

spring onions

,

washed and thinly sliced (white and green)

1

bunch coriander roots

,

washed and finely chopped

400

g

firm tofu

,

finely crumbled

2

teaspoons

cornflour mixed in ¼ cup water

,

note 2

1

tablespoon

oyster sauce

2

tablespoons

fish sauce

1

tablespoon

coconut sugar

2

teaspoons

Korean red pepper powder

,

(Gochugaru) note 3

1/4

cup

fresh coriander leaves

¼

cup

fresh mint leaves

,

roughly torn
Instructions
In a heavy bottomed frying pan, toast the rice on medium-low heat. Toss constantly to avoid burning. Toast until the rice is evenly golden. This takes about 4-6 minutes. Remove from heat and cool for 5 minutes. Grind to a coarse, grainy powder in a mortar and pestle. Set aside.

Heat oil in a small wok over medium. Add garlic and ginger. Sauté for a few seconds until fragrant. Add chilli flakes, lemongrass, half of the shallots, all of the spring onion white and half of the spring onion greens. Sauté for a minute until spring onion and shallots are glazed.

Working quickly, add coriander root and tofu to the wok. Stir-fry while mixing and breaking up the tofu for a minute until tofu is warmed through. Add cornflour mix, mix well and cook for a few seconds until starting to thicken. Remove from heat and transfer to a large serving bowl.

Add the oyster sauce, fish sauce, coconut sugar, lime juice and red pepper powder to the tofu. Toss and mix well. Add 2 tablespoons of the rice powder, remaining shallots and spring onion greens. Mix well.

Garnish with coriander and mint leaves. Serve with lime wedges and extra red chilli flakes.
Notes
Rice - To make the rice powder, if you can't find Thai sticky rice; use arborio rice instead.
Cornflour - Also known as cornstarch, this is the fine white powder used to thicken sauces in Asian cooking.
Gochugaru or Korean Red Pepper Powder is a beautifully fragrant red pepper powder that is not very spicy and has a nice, grainy texture. This not only improves the colour and fragrance of the larb but also gives it a gentle heat. If you can't find Gochugaru, substitute with 1 teaspoon red chilli flakes and 1 teaspoon red chilli powder.
Make It Vegan – Substitute fish sauce with a mix of lime juice and soy sauce. Substitute oyster sauce with Vegetarian Oyster sauce or Hoisin Sauce.
Nutrition
Calories:
264
kcal
|
Carbohydrates:
31
g
|
Protein:
12
g
|
Fat:
11
g
|
Saturated Fat:
1
g
|
Polyunsaturated Fat:
4
g
|
Monounsaturated Fat:
5
g
|
Sodium:
888
mg
|
Potassium:
237
mg
|
Fiber:
3
g
|
Sugar:
5
g
|
Vitamin A:
804
IU
|
Vitamin C:
6
mg
|
Calcium:
166
mg
|
Iron:
3
mg
Did you make my recipe?
I'd love to hear how you went! Tag me on Instagram @cookrepublic