Whether you are eating at a fancy Thai restaurant or just ordering your Friday night takeaway from the local Thai canteen, chances are you have ordered Thai fishcakes at some point in your ordering history. Maybe more than once, if you are an avid fishcake connoisseur. I have had my share of Thai fishcakes over the years. There have been some standouts but for the most bit, they are two things, if not anything else - spicy and greasy. But wait till you try my version - Thai Green Curry Fishcakes!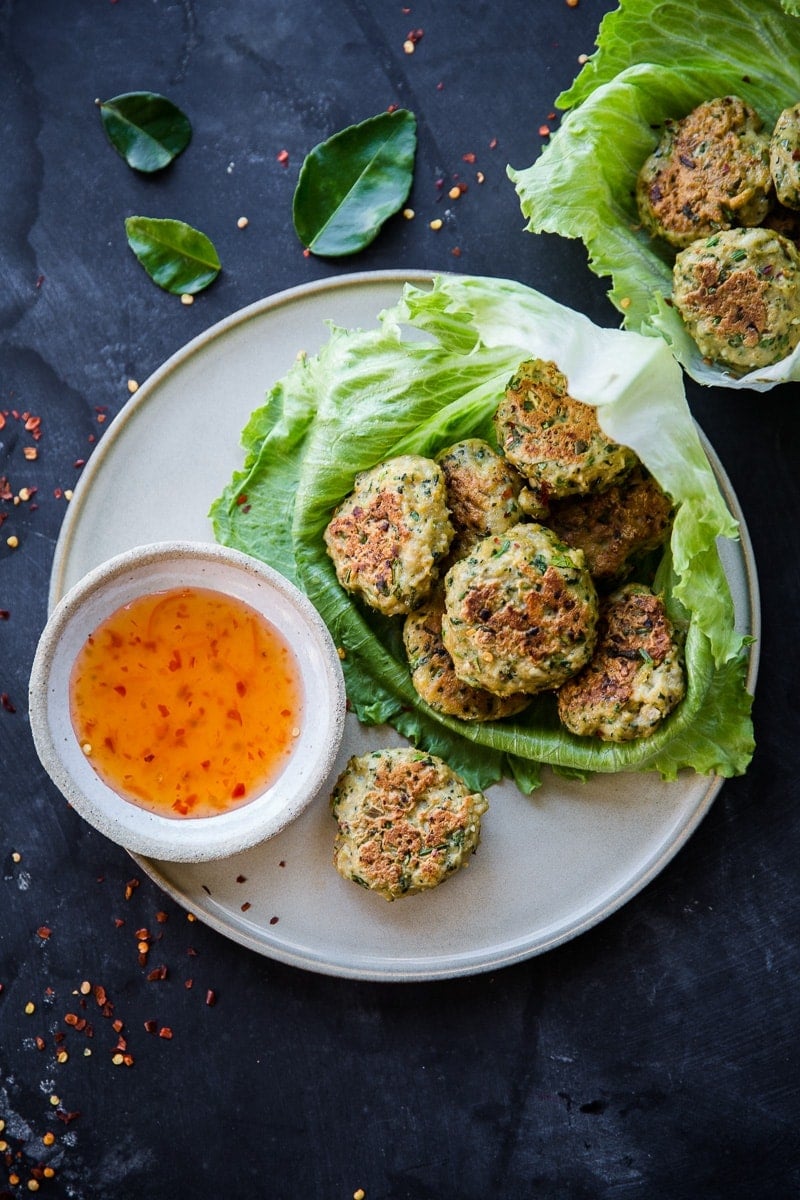 Green Thai Fish Cakes
The little fishcakes are a true rebel in every sense. First of all, they are nice and thick (none of that soggy, thin-like -fat-salami-slices bs!). And they are green. Oh so green! You can taste the green in every delicious mouthful. The zing of ginger, the bite of garlic, the heat of chili, the clean lemongrass, the herby coriander and the freshness of the lime leaves. All brought together with perfectly cooked white fish. Non-oily! Non-spicy!
It would be appropriate to say that this is one of my boys' favourite after-school snack. It is easy to whack together in a food processor and cooks really quickly. Tastes great hot or cold (which is always a massive selling point for me!) which means they can take it and run to soccer practice or I can take it to a potluck picnic. I have based it off my super-popular-in-my-friend-circle Thai Green Curry Sauce recipe.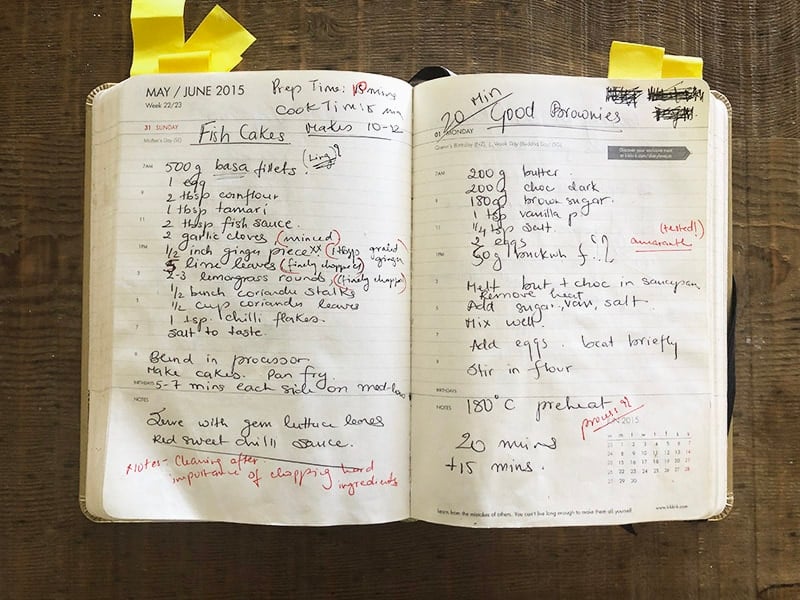 Tried And Tested Recipes From My Diary
As you can see from the grainy picture of my (prized!) handwritten recipe diary, it has gotten a lot of love before it has dreamed of reaching your eager little hands. This 2015 diary is almost nearly full of hundreds of recipes that I have jotted down as I have cooked and cooked again in my kitchen. There are corrections, iterations, variations, notes and a lot of stuff that you don't see on the paper but is triggered in my brain from remembering the day/s I was actually cooking these recipes. I am estimating that this fishcake recipe was cooked about 60 times (maybe more!) over the course of the past two years. It is solid. So just make it and tell me how you go?
There are a couple of things to bear in mind - use fresh fish fillets. I almost always use basa which is a firm white fish. Ling is great too. But if you are using frozen fish,  make sure you thaw it completely and blot excess liquid with a paper towel. Frozen or watery fish fillets will give you tough chewy fishcakes. And we don't want that. Also please read my notes on the importance of chopping, mincing and grating the ingredients and the cleanup. They are key to getting a good fishcake and also avoiding chucking out your food processor when the fish and cornflour congealed and wouldn't come off because you were too lazy to clean it right after. You are warned!
What I Was Cooking In Past Years
One Year Ago - Instant Vegan Mango Ice Cream
Two Years Ago - Lemonade Sling
Three Years Ago - Mango And Sour Cream Blender Pops
Five Years Ago - Quinoa Lentil And Smokey Eggplant Salad
Six Years Ago - Mushroom Zucchini Cream Spaghetti
Seven Years Ago - Daisy Cake
Eight Years Ago - Shahi Paneer - Indian Cottage Cheese In Cream Sauce
Recipe
Hungry For More Recipes? Subscribe to my newsletter. Check out Facebook, Instagram and Pinterest to see everything I share! And if you love cooking and new cookbooks, join my free Cooking Club on Facebook!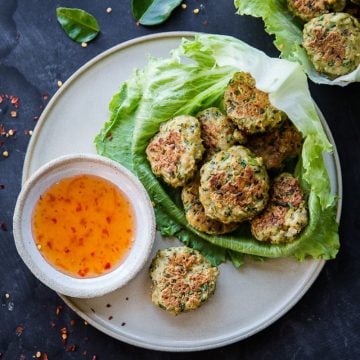 Ingredients
500

g

white fish fillets

,

basa or ling

1

egg

2

tablespoons

cornflour

1

tablespoon

tamari

,

or gluten-free light soy sauce

2

tablespoons

fish sauce

2

garlic cloves

,

minced

1

tablespoon

grated ginger

4-5

kaffir lime leaves

,

finely chopped

1/2

inch

lemongrass piece

,

finely chopped (white only)

1/2

bunch coriander stalks

,

roughly chopped

1/2

cup

fresh coriander leaves

,

roughly chopped

1

teaspoon

red chili flakes

salt to taste

lettuce leaves and Thai sweet chili sauce

,

to serve

olive oil

,

to fry
Instructions
Place fish, egg, cornflour, tamari, fish sauce, garlic, ginger, lime leaves, lemongrass, coriander stalks and leaves, chili flakes and salt in the bowl of a food processor.

Process briefly until the mixture comes together but is still a bit chunky.

Roll the mixture into 10-12 rounds and flatten each to resemble a fishcake.

Heat a large frying pan on medium. Drizzle about half a tablespoon of olive oil in the pan. Place half of the fishcakes in the pan. Reduce heat to medium-low. Cook each side for approximately 5 minutes until both sides are cooked and golden. Press down on the fishcakes with a spatula during cooking.

Repeat with the remaining fishcakes.

Serve in lettuce leaves with Thai sweet chili sauce on the side.
Notes
Ginger And Garlic - It is important to mince the garlic, grate the ginger and chop the lime leaves, lemongrass, and coriander. This is because the fish chops and comes together very quickly in the food processor and if you don't prep, chop and mince the other ingredients; you will be left with chunky pieces of garlic or lemongrass while the fish is completely pulverized.
Cleaning - When you finish processing the fish mixture, immediately clean the bowl of the processor by filling it with hot water and scraping off bits of the mixture stuck to the sides and blades. If you don't do this, the fish and cornflour mixture will dry and be pretty much impossible to clean.
Did you make my recipe?
I'd love to hear how you went! Tag me on Instagram @cookrepublic