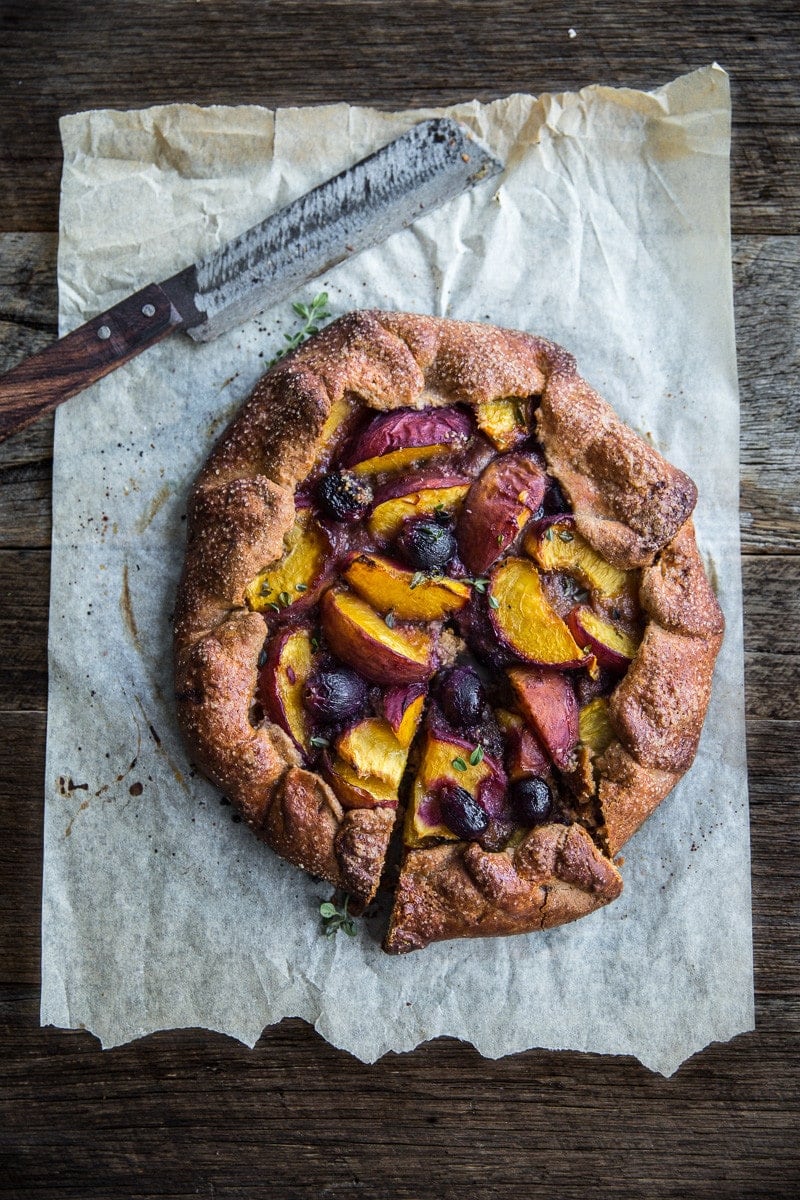 I love the wildness that a galette brings to the dessert table. A tiny bit messy and a whole lot rustic, it is the free spirited child of a pie. One of the main advantages of a galette (which is essentially a freeform pie) over an actual old-fashioned pie is that you don't have to bake the pastry twice. There are only a handful of galettes I make with a rhubarb and strawberry number being the most baked in my kitchen but come summer and a juicy peach galette is a must.
Ever since I started using the Magimix Cook Expert last year, I have completely stopped buying store bought pastry. This fabulous appliance has a pastry function which allows me to tip all pastry ingredients in the bowl and just press a button to get a perfectly kneaded and pliable ball of pastry. It literally doesn't get simpler than that. This frees me up to experiment with all kinds of flours for pastry. This time around I made this peach galette with my foolproof spelt pastry.
Mind you, I don't make nearly enough galettes and pies to justify the number of rolling pins I have sitting in a basket in one corner of my kitchen. But every time I do and use one of the old heirloom wooden rolling pins to gently roll pastry, I feel like the epitome of domestic bliss and am transported to some fictitious rambling farmhouse in the countryside. Yes, galette making is good for the soul!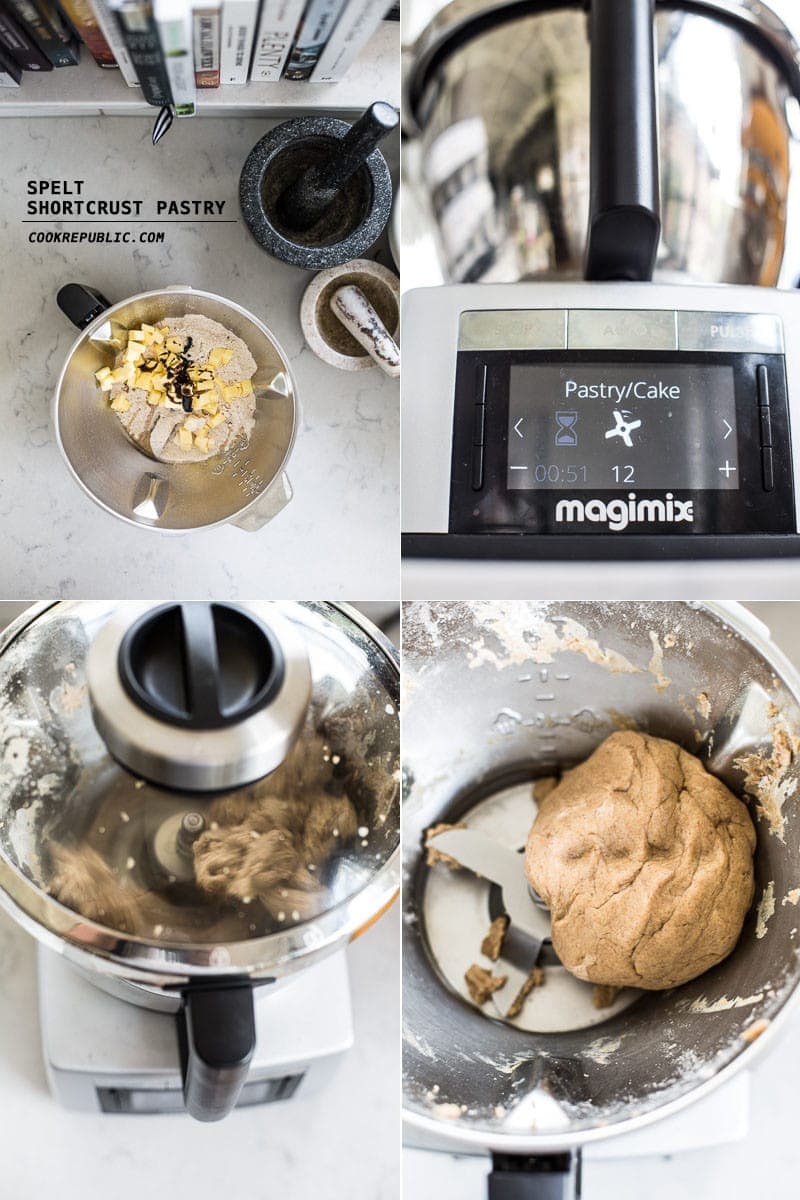 After being inspired by a photo of a galette in the most recent issue of Donna Hay magazine, I decided to convert the recipe to a more robust and wholesome version without the use of complicated ingredients like - lard (I wouldn't know where to begin sourcing it!). I made and baked two versions and they were both gorgeous, but the one I am sharing is my most favourite in terms of flavours and crispness of the pastry. A generous few sprigs of thyme really helped balance the sweet and sour flavours of the peach and the grape. Making a galette is one of the simplest pastry endeavours you will undertake in the kitchen but just heeding a few pointers will ensure that your galette is just right every time - evenly browned, crispy pastry and no wet soggy fillings.
Galette 101 - My Tips
After you make your pastry, roll it out between two sheets of baking paper to the desired size. Lift paper and rolled pastry onto a tray and chill in the fridge for 30 minutes. I like to roll a warm, pliable ball of pastry dough as opposed to first chilling the dough and then struggling to roll a hardened ball of dough into a flat pastry. This ensures that you control the thickness of the rolled dough and avoid cracking and tearing along the edges.
Make sure the pastry is rolled to about half a centimetre in thickness, not too thin and not too thick.
Make sure the filling is not too wet. When mixed in a bowl, it should have no stray liquid sloshing around the bowl.
Keep the filling flat and low. Which means your galette should always be wider and thinner to accomodate more filling arranged in a single layer in the middle of the pastry.
Always dot the folded and prepared galette with butter to ensure even browning of the pastry.
This galette tastes fabulous with a dollop of pure cream. The blandness of the cream cuts straight through the sweet and sour flavours, creating a oh-so-delicious morsel. If you give this a go, don't forget to leave your comments and rating to help others who would like to try making them as well. As always remember to follow the conversation along on Instagram to see what everyone is saying about this recipe!
Recipe
Hungry For More Recipes? Subscribe to my newsletter. Check out Facebook, Instagram and Pinterest to see everything I share! And if you love cooking and new cookbooks, join my free Cooking Club on Facebook!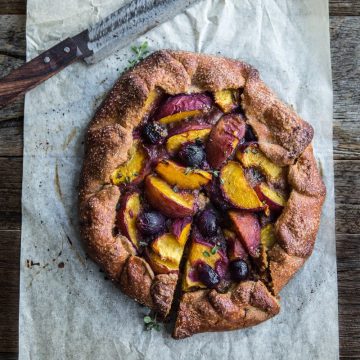 Ingredients
for the pastry
1 1/2

cups

(

235

g

)

spelt flour

1/4

cup

(

60

g

)

raw sugar

110

g

chilled butter

,

cubed

1

teaspoon

vanilla extract

1

tablespoon

apple cider vinegar

pinch

of salt

1/4

cup

(

60

ml

)

iced water
for the filling
1/4

cup

(

60

g

)

rapadura sugar

70

g

black grapes

450

g

peaches

,

cored and quartered

4

thyme sprigs

,

leaves picked

1/3

cup

(

50

g

)

almond meal

melted butter or whisked egg

,

for dotting

raw sugar

,

to sprinkle
Instructions
To Make The Pastry
Magimix Cook Expert Method - Place all ingredients for pastry in the metal bowl of the Magimix Cook Expert. Secure the lid. Run the PASTRY/CAKE program.

Regular Method - Place all ingredients in a large bowl. Rub the cubed butter into the flour mixture with the tips of your fingers till the mixture resembles breadcrumbs. Bring the mixture together into a rough ball of dough and knead for a few minutes until the dough comes together in a smooth ball.
To Make The Galette
Place ball of dough on a large sheet of baking paper. Cover with another similar sized sheet of baking paper. Using a rolling pin, roll out the dough gently between the two sheets of paper to a rough 24cm wide circle. Make sure the thickness of the pastry is about half a centimetre.

Lift and place baking sheets with pastry on a large metal baking sheet. Chill in the fridge for 30 minutes. Pre-heat oven to 200°C (convention)/180°C(fan-forced).

Place rapadura sugar, peach, grape and thyme in a medium bowl. Toss gently to combine.

Remove tray of pastry from the fridge. Peel back the top baking paper. Spread almond meal on the base of the pastry leaving a 5cm border. Put fruit on top of the almond layer, leaving a 3-4 cm border. Fold over and press the edges over the filling.

Brush/dot edges with butter or egg wash. Sprinkle raw sugar over the whole galette.

Bake in the pre-heated oven for 20 minutes. Reduce heat to 180°C (convention)/160°C(fan-forced) and bake for another 35 minutes.

Remove from the oven and cool on a wire-rack. Slice into wedges and serve with a dollop of fresh cream or ice cream.
Did you make my recipe?
I'd love to hear how you went! Tag me on Instagram @cookrepublic