If you are a vegetarian or vegan during the unfolding Coronavirus crisis, you might be starting to worry about how you would cope food-wise over the next few months. Especially if you have to self-isolate or quarantine. Although vegetarians and vegans could probably survive on beans, legumes and rice till the end of time, the bulk of their daily diet depends heavily on fresh vegetables and fruits. So whether you are a devout vegetarian/vegan or just someone who cannot live without their daily supply of veggies, I've got a practical grocery list and heaps of recipe ideas for you to use when stocking your vegetarian/vegan pantry during the Covid-19 crisis if you have to self-isolate or if supplies run dry.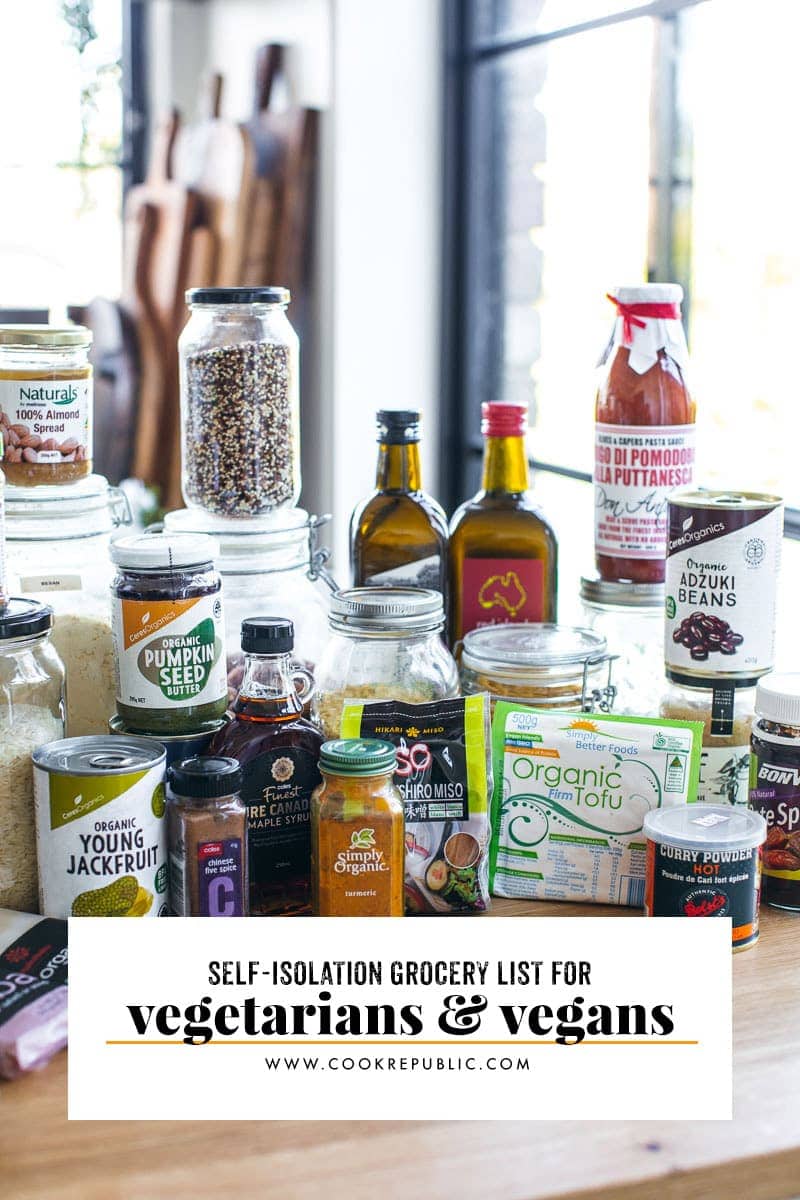 How To Stock Food If You Are A Vegetarian/Vegan – The Self-Isolation Grocery List
(Even if you have a bag of rice and a couple of bags of lentils, you can live for a couple of weeks while you slowly build up your stock following my rolling order technique). Below are some categories and examples of what you can stock in your vegetarian/vegan pantry and recipe ideas for those items.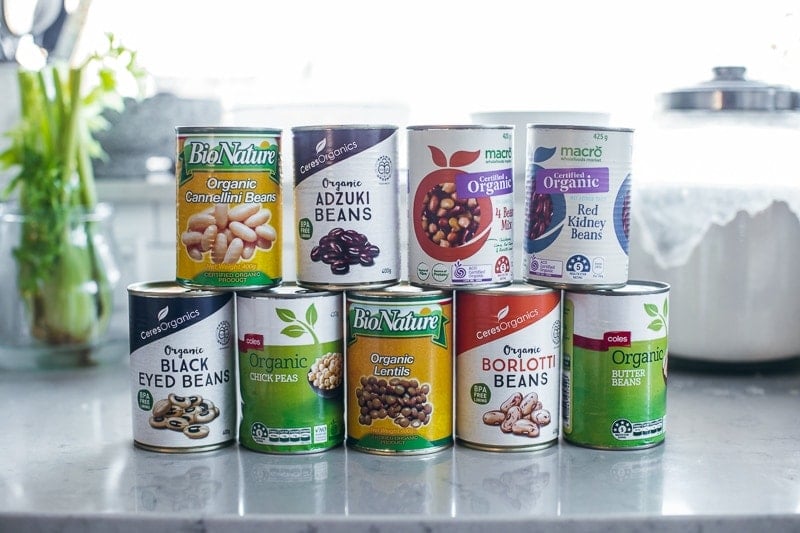 A. Non-Perishables
Non-Perishables keep well in your pantry for a couple of years, some even longer. They also go the distance. With a bit of water and some spices and dried herbs, non-perishables like beans/lentils and rice will give you endless meals when you in lockdown or don't have access to fresh produce.
1. Fats  – olive oil, coconut oil, grapeseed oil, sesame oil, ghee
2. Rice & Seeds– basmati rice (for taco rice), brown rice, jasmine rice, quinoa, millet, chia seeds (all your desserts and puddings sorted), pumpkin seeds and sunflower seeds (make a great pesto!), flaxseed meal (great substitute for eggs in vegan baking)
3. Pasta & Noodles– spaghetti, penne, macaroni, lasagna sheets, soba noodles, rice noodles, egg noodles, couscous
4. Flour & Meals– spelt flour (for baking), gluten-free flour, baker's flour (for pizzas), buckwheat flour (for pancakes), besan (for vegan omelettes), almond meal (for gluten free cakes), corn flour, tapioca flour
5. Beans & Legumes (Dried or Canned) – chickpeas (hummus ,burgers and curries), red kidney beans, black beans (salads), cannellini beans, butter beans, borlotti beans, red lentils (yummy dals), yellow lentils, mung beans
6. Long Life Milk – Nut milks, Oat Milk, Soy Milk, Coconut Milk
7. Nuts & seeds - almonds (make your own almond milk), cashew (make your cashew milk or vegan cheese sauce), walnuts, pistachios (in flourless cakes or bliss balls), pecans, pinenuts
8. Canned Veggies – Whole or diced tomatoes (for minestrone soups and pasta sauces from scratch), asparagus, sweetcorn, beetroot
9. Sauces Pastes & Condiments – Pasta sauces, Salsa, Curry Paste, Chilli Paste, soy sauce, vinegar, tahini (vegan sauces and vegan cookies), mustard, ketchup, sriracha, apple cider vinegar
10. Dried Spices & Herbs–turmeric, chilli, cumin, coriander, cinnamon, garlic powder, ground ginger, thyme, rosemary, oregano, parsley, dried mushroom, nutritional yeast
11. Butters & Sweeteners– Peanut butter, almond butter, maple syrup
12. Others– coffee, tea, kombucha, vegan wine, cereal, snacks, chocolate, sugar, salt, pet food
B. Perishables
Unlike non-vegetarian/non-vegan perishables, perishables for a vegetarian/vegan diet last much longer in the fridge (at least a week to couple of weeks depending on what the product is) with non-dairy milk being the one with the shortest shelf life in the fridge. To rectify this, make sure you have a supply of nuts in your pantry and just make your own nut milk in very small batches as and when you need it.
1. Long Fridge Life
plain soy milk, cashew milk, almond milk, rice milk, coconut milk
non-dairy yogurt
miso
tofu
tempeh
ferments like sauerkraut, kimchi
pickled veggies
2. Frozen
Frozen veggies
Frozen fruit
Non-dairy Ice cream
---
Always Have Flavour Bombs - The Stars Of The Vegetarian/Vegan Pantry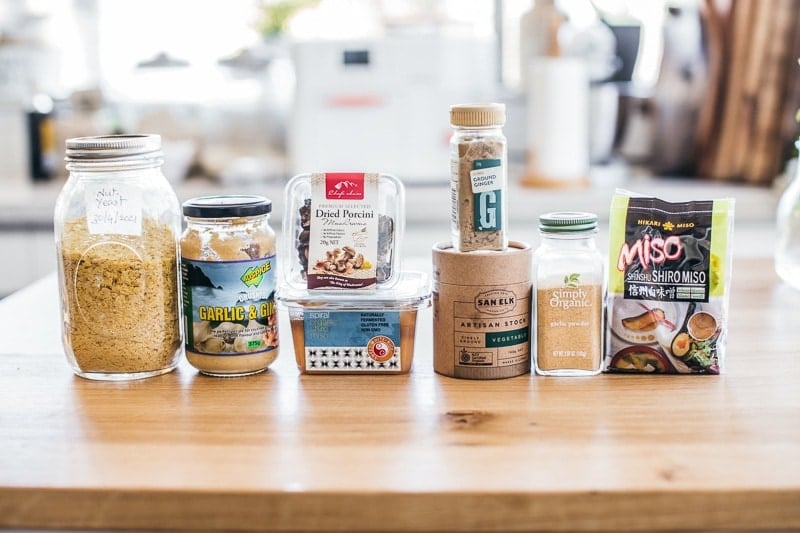 A. Ginger And Garlic
These are sometimes hard to come by even in season, so make sure you stock up on individual bottles of ginger paste and garlic paste. I also like to stock garlic powder, garlic granules and ground ginger. All fabulous flavour boosters that you will be glad you have on hand.
B. Dried Mushrooms
Dried mushrooms like shiitake, porcini and Forest mushrooms can be easily rehydrated by soaking in hot water. If you have a few packs of these in your pantry, you won't miss having fresh ones in times of non-availability.
C. Veggie Stock Powder
Fresh stock is great but if you don't have access to fresh produce during long periods, stock up on veggie stock powder and make sure you check the ingredient list to see that the stock includes actual powdered veggies and herbs. Veggie stock powders are great for soups, risottos, curries and even as a nourishing hot drink when you need a little pick me up.
D. Nutritional Yeast & Miso
Both are excellent source of protein and loads and loads of flavour if you are on a vegetarian or vegan diet. Both have an excellent shelf life - nutritional yeast can be stored for months in your pantry and miso paste will last a couple of months in your pantry as well.
---
// For Lacto-Ovo Vegetarians
Long life dairy milk (keeps well in the pantry), slabs of butter, paneer, halloumi, feta (will all keep in the fridge for a few weeks), cream and cheese can be refrigerated or frozen, eggs will keep in the fridge for a few weeks.
Some Things To Remember
Always remember to stay calm.
Also remember that if you are home and not moving around as much, you won't need your usual portions of food and to be mindful of training your tummy to adjust to your new level of physical activity.
Shop online, try different online sources and stores. Do smaller orders for pantry essentials every week or every other week to keep a small backup going. Support independent online stores, they will usually have stock and will be very happy for your business in these tough times.
And lastly, remember that this is not a permanent situation. It will pass. The food situation will get better once people settle down. There is always more food being produced, the temporary surge in demand will reduce once everyone is stocked up and the supply chain moves faster. Remember that!