Isobaking is real and it is a term I foresee being added to the Dictionary next year along with a list of other terms that were invented during the Coronavirus days. I am definitely Isobaking. Are you? I hope you are because I have got a fantastic recipe for a very jammy, country-style, hearty, autumn cake that is pretty much made up of pantry ingredients. A gluten-free pantry jam cake!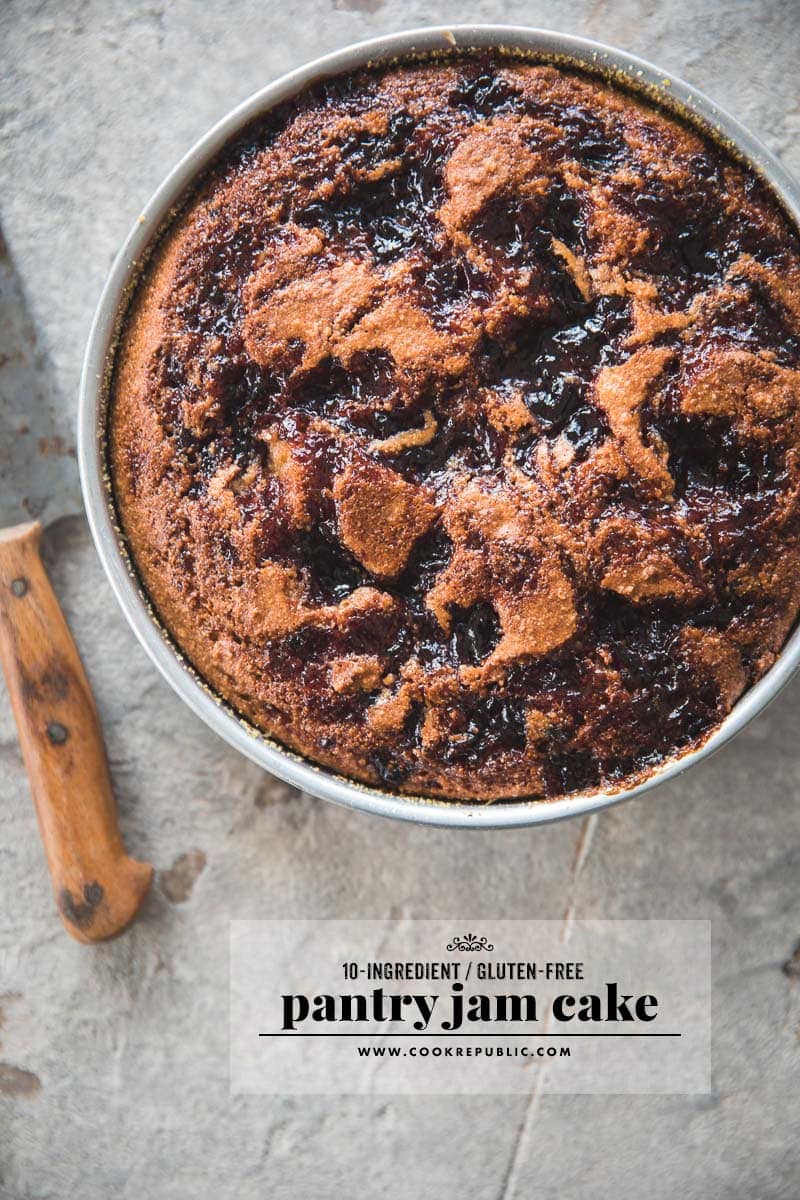 I love jams and I cannot lie ...
I have never been known for a sparse pantry. Long before the hoarding epidemic, I was already doing it. Maybe it is the adventurous foodie in me. I can never go past a new ingredient - whether it is in a jar or a eco-friendly brown packing. I especially love jams as you can see from the images below. I hoard jams for a whole lot of reasons. They remind me of my childhood. The thought of smearing a good jam on a toasted and buttered Sourdough slice makes me go weak in the knees. I love the labels and the country charm. And I love that they last forever and ever.
And as I am discovering during these times of isobaking, jams are great to bake into cakes. Like this scrumptious chocolate number! Or this gorgeous slab version. Jams are also great for creating sandwich cakes like this and this. This time around, I have baked a beautiful sturdy and rustic gluten-free cake and swirled some homemade jam on top before baking to golden perfection with puddles of jelly-like baked jam on top. YUM!
Baking the perfect gluten-free pantry jam cake
If you ask me about my favourite type of cake, it would be a sturdy cake. And I love perfecting that sturdy cake base so I can add on to it. Today's cake is a result of trying to perfect that gluten-free base without the need for actual gluten-free flour. This cake is made up of almond meal and polenta, two pantry staples I always have on hand. The cake base itself is low in sugar to accommodate the rich and tart sweetness of the jam swirled on top.
This gluten-free pantry cake is a one-bowl, mix-and-bake operation. I add everything to a bowl and just mix with a wooden spoon. You don't really need to line the base of the pan, but you could if you wanted to. I just grease with oil and dust generously with polenta. This cake requires a smaller pan than usual. A 7-inch base diameter pan is perfect, otherwise, the cake batter will just spread and you won't get any height to the cake.
A tart rather than a sweet jam is a perfect match for this gluten-free pantry cake. So think plum and cherry. In fact, I bought a plum and cherry homemade jam from a local roadside farm stall where I live and forgot all about it. I found it last week and after popping the lid off and tasting it, decided that it was the best jam for the job. Warming the jam in the microwave helps loosen it for dolloping and swirling. A word of caution - let the cake and jam cool completely before eating. The jam gets very hot after baking and you don't want to burn your mouth.
If you bake this and love it, please leave me your feedback in the comments below. Show me your pantry jam cakes by tagging me on Instagram @cookrepublic #cookrepublic. Happy IsoBaking!! x
Recipe
Hungry For More Recipes? Subscribe to my newsletter. Check out Facebook, Instagram and Pinterest to see everything I share! And if you love cooking and new cookbooks, join my free Cooking Club on Facebook!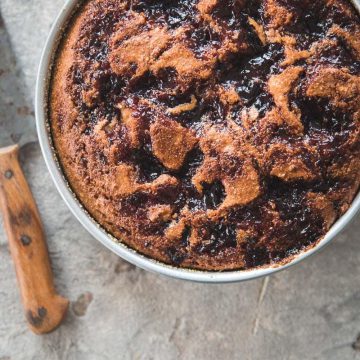 Ingredients
1 ½

cups

(

200

g

)

almond meal

1/2

cup

(

80

g

)

polenta

1 ½

teaspoons

baking powder

½

teaspoon

sea salt flakes

grated zest of 1 large lemon

¼

cup

(

60

ml

)

extra virgin olive oil

¼

cup

(

60

ml

)

maple syrup

¼

cup

(

60

g

)

rapadura or coconut sugar

2

eggs

,

lightly whisked

½

cup

jam
Instructions
Preheat oven to 170°C (convention)/150°C (fan-forced/convection).

Grease and line an 7-inch (base diameter) shallow cake tin with baking paper. (I grease it with olive oil and dust it generously with polenta, instead of lining with baking paper).

Place almond meal, polenta, baking powder, salt, lemon zest, olive oil, maple syrup, sugar and eggs in a large bowl. Mix well using a wooden spoon.

Scrape batter into the prepared tin.

Place jam in a small microwave safe bowl and warm it for 20 seconds to loosen it.

Drop dollops of jam evenly over the cake batter. Using a wooden chopstick or skewer, swirl the jam around gently over the batter.

Bake in the preheated oven for approximately 40 minutes until the top is springy to touch (make sure you don't poke your finger in the hot jam when you check). Turn off the oven. Let the cake sit in the warm oven for 5 minutes. Remove from the oven and cool completely in the tin. Slice and enjoy with fresh cream or as is.
Notes
It is important to use a smaller tin (7-inch base diameter) in this recipe as the quantity isn't a whole lot and if you use a bigger tin, you won't get any height to the cake. My tin is 7 inch wide and just less than 2 inches tall.
Did you make my recipe?
I'd love to hear how you went! Tag me on Instagram @cookrepublic