I bet if you have a tray of golden baked, nutrition-packed Zucchini And Sweet Potato Slice in your fridge; your mornings will become a whole heap easier. Just warm a slice of this delicious Zucchini And Sweet Potato traybake for each member of your family for breakfast or wrap in parchment paper and pack along with salad for lunch.
When my boys were little, eating well (or even eating for that matter) was the farthest thing from their minds. Friends with older kids would always encourage me to have hope because they had older boys that single-handedly demolished their fridges and pantries every month. I used to smile indulgently wondering how that could even be possible with my two.
And then my firstborn went through a growth spurt and arrived at the thresh hold of puberty/teen years simultaneously and everything changed. For the first time, I realised that there might be some truth to what experienced parents say to newbie parents and that it is not just a lot of fluff and privileged talk that comes from them having reached that position before us.
Packed lunches for school are always a real struggle!
When Rivs, my older boy started finishing his lunch at recess when it was barely 10 in the morning, I knew I was in trouble. Little boy food was just not going to cut it for him while Rish, my littler boy was still only interested in playing handball and trading Pokemon cards at school lunch instead of eating. Needless to say, school lunches became a bit of a challenge. Finding the right thing to pack that would not only satiate the older one's growing appetite but interest the little one long enough to stop playing and eat, became my mission.
My boys love savoury food, hot savoury food to be precise. It is not that I have spoiled them, it is my preference too, one that they have picked up on. So I got little Thermos food flasks and started heating up leftover pasta and fried rice from the previous night's dinner for their lunches. As time went on, I got more creative with packing hot dumplings, grilled sandwiches and even soups.
And then we started high school this year and with the older boy leaving home a whole ungodly hour and a half earlier, I suddenly lost access to not just some extra sleep but the time I took to prep some fresh hot food for their lunch. So I turned to fritters and slices. Hot, savoury and packed with veggie goodness and every other food group you could think of. Something that would make them feel full and satisfied. Zucchini became a constant fixture in my market bag/trolley. It is the one ingredient that brings together hot, savoury, packed meals on the go.
A good, solid zucchini slice recipe for lunchboxes.
This zucchini slice is an evolution of the plain zucchini slice I have been making for years. The grated sweet potato not only adds body and texture to the slice, but a subtle sweetness that eliminates the need for sauces and accompaniments. Now ideally, I would make this ad-hoc. By that, I mean that I would grate a zucchini and a sweet potato and then chuck only the quantity I feel is right to make a good batter in the bowl with other ingredients. The rest gets fed to the chickens. I would also add spelt flour or buckwheat flour (to make it gluten free) or sub bacon with mushrooms (to make it vegetarian).
No matter what combination or quantity of ingredients I add, I look for one thing at the end. A batter that has the consistency of pouring sludge or if we want to use a more pleasant term, cake-like batter! So if it is too thick, I thin it with a bit of milk. If I can only see veggies in the bowl and not enough flour, I'll add more flour. So on and so forth. But you don't have to do any of that, as this is a tried and tested recipe with exact measurements that the boys absolutely love. As do Nick and I. I love that it can be prepared one evening and sorts out lunch boxes for 3 days in a row. Or I make a tray full of this and freeze it for a rainy day. And don't be afraid to season it well, this slice is really something when it has the right amount of salt and pepper.
If you make this nutrition-packed Zucchini And Sweet Potato Slice and love it, please leave me your feedback in the comments below. Don't forget to share your slice photos with me on Instagram by tagging me @cookrepublic.
Recipe
Hungry For More Recipes? Subscribe to my newsletter. Check out Facebook, Instagram and Pinterest to see everything I share! And if you love cooking and new cookbooks, join my free Cooking Club on Facebook!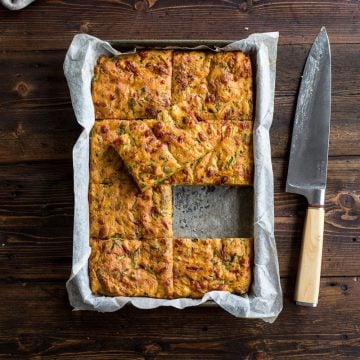 ZUCCHINI AND SWEET POTATO SLICE
A solid Zucchini Slice recipe bulked up with spelt flour and sweet potato and perfect for meal prepping and packing in school lunches.
Print Recipe
Rate / Comment
Ingredients
2

tablespoons

olive oil

2

bacon rashers

,

finely diced

1

small red onion

,

finely chopped

2

garlic cloves

,

minced

1

large zucchini

,

grated and squeezed dry (220g) (Note 1)

1

small sweet potato

,

peeled and grated (200g)

1

small red capsicum

,

finely diced

2

spring onions

,

sliced (green only)

1/2

cup

packed mozzarella cheese

,

grated

1/4

cup

fresh parsley

,

chopped

4

organic eggs

,

lightly whisked

1/4

cup

milk

1

cup

self raising flour

sea salt flakes and black pepper

,

to taste
Instructions
Preheat oven to 180°C (convention)/ 160°C (fan-forced/convection). Grease and line a shallow, rimmed 20X30cm baking tray with baking paper.

Heat one tablespoon of oil in a frying pan on medium. Add bacon, garlic and onion. Sauté for 3-4 minutes until the mixture starts to caramelise, tossing to avoid sticking. Add capsicum and spring onions. Cook for another 2 minutes until glossy.

Remove from heat and scrape the pan roasted veggies into a large bowl. Add the zucchini, sweet potato, cheese, parsley, eggs, milk, flour, remaining tablespoon of oil and seasoning to the bowl. Make sure you season the batter well with salt and pepper.

Mix gently with a wooden spoon until thoroughly combined.

Pour into the prepared tin and bake in the oven for approximately 35 minutes until golden on top and cooked through.

Turn off the oven and let the slice sit in the warm oven for 5 minutes.

Remove from the oven and cool completely. Cut in squares and enjoy.
Notes
Grating & Squeezing Zucchini - After grating zucchini, leave it in a bowl for 10 minutes sprinkled with a pinch of salt. This helps draw out the liquid. Empty the zucchini from the bowl into a sieve (over a sink or bowl) and press down to squeeze out as much liquid from the zucchini as you can. It usually takes 2-3 minutes of squeezing to get the zucchini dry enough and ready to bake with.
When serving for lunch boxes, I like to heat the slice quite hot in the microwave and then wrap it in triple foil with a dash of ketchup or hot sauce.
Slices can be wrapped in baking paper and frozen in freezer bags for up to 3 weeks.
Make It Vegetarian - Substitute bacon for chopped Swiss mushrooms.
Make It Gluten Free - Substitute regular flour for buckwheat flour and don't forget to add a bit of baking powder.
Did you make my recipe?
I'd love to hear how you went! Tag me on Instagram @cookrepublic
ONE YEAR AGO – MANGO AND SOUR CREAM BLENDER POPS
THREE YEARS AGO – QUINOA LENTIL AND SMOKY EGGPLANT SALAD
FOUR YEARS AGO – MUSHROOM ZUCCHINI AND CREAM SPAGHETTINI
FIVE YEARS AGO – DAISY CAKE