Why have plain old boring potato fries when you can stir-fry them with spices and your favourite Chinese sauces? These Chilli Garlic Potatoes are inspired by the humble potato fries and Chinese flavours. They are healthier, highly addictive and intensely delicious.
Jump to:
What is Indo-Chinese Cooking?
When I shared this Indo-Chinese Paneer Fried Rice a couple of months ago, I got so many messages to share more recipes from this relatively small and rare cuisine. Indo-Chinese cooking originated in Eastern India, a result of the adaptation of Chinese cooking techniques and seasoning to Indian tastes by the ethnic Chinese community settled in Kolkata. Most of these Chinese migrants were of Hakka origin, hailing from the Hakka-speaking provinces in China.
The cuisine which is extremely delicious and has a wide variety of vegetarian dishes (to satisfy the veg-loving Indians) is therefore an ode to the diaspora of the Hakka community and is characterized by a beautiful fusion of soy sauce, vinegars, ginger, garlic and traditional Indian spices like coriander, cumin and chilli.
The story behind the Chilli Garlic Potatoes
Today, I would like to share another recipe inspired by these flavours. I first had something similar when I was only 18. I was living in Mumbai and had just met Nick (25 years and counting!). We were studying engineering and working part-time. The first shopping mall had just opened up in our city and we had taken an hour-long train ride to eagerly visit this shopping mall. The food court was hip and happening as the kids liked to proclaim back then. Foregoing traditional Indian fare, the food court had an array of delicious fusion stalls and the Indo-Chinese stall was the most popular. I ordered a dish called Chilli Potatoes and besides the fact that the potatoes were cubed and deep fried, today's Chilli Garlic Potatoes are exactly the same as the ones I had then.
Using Oven Baked Potato Fries As a Recipe Base
I make a lot of Oven Baked Potato Chips/Wedges for the boys. Something, that has gotten easier after getting an Air Fryer. There are so many creative ways of using baked or air-fried potato fries. I use them as a base for nachos, I make an Indian Chaat with them and I make a variety of delicious stir-fried meals with them.
As I always maintain while cooking a stir-fry, I follow the Wok Clock (place prepped ingredients in a clockwise fashion in the order in which they go into the wok) and make sure my sauces are mixed in a bowl and ready to go. In today's recipe, I mix the soy sauce, vinegar, Sriracha and ketchup in a bowl to make things easier.
These potatoes are perfect on their own. All you need is a spoon to dig in. Try them and let me know what you think, they are so good! Please also check the footnote in the recipe for a word on the chilli component and heat of this recipe. This recipe has a nice heat to it, but if you prefer something less spicy, skip the chilli flakes.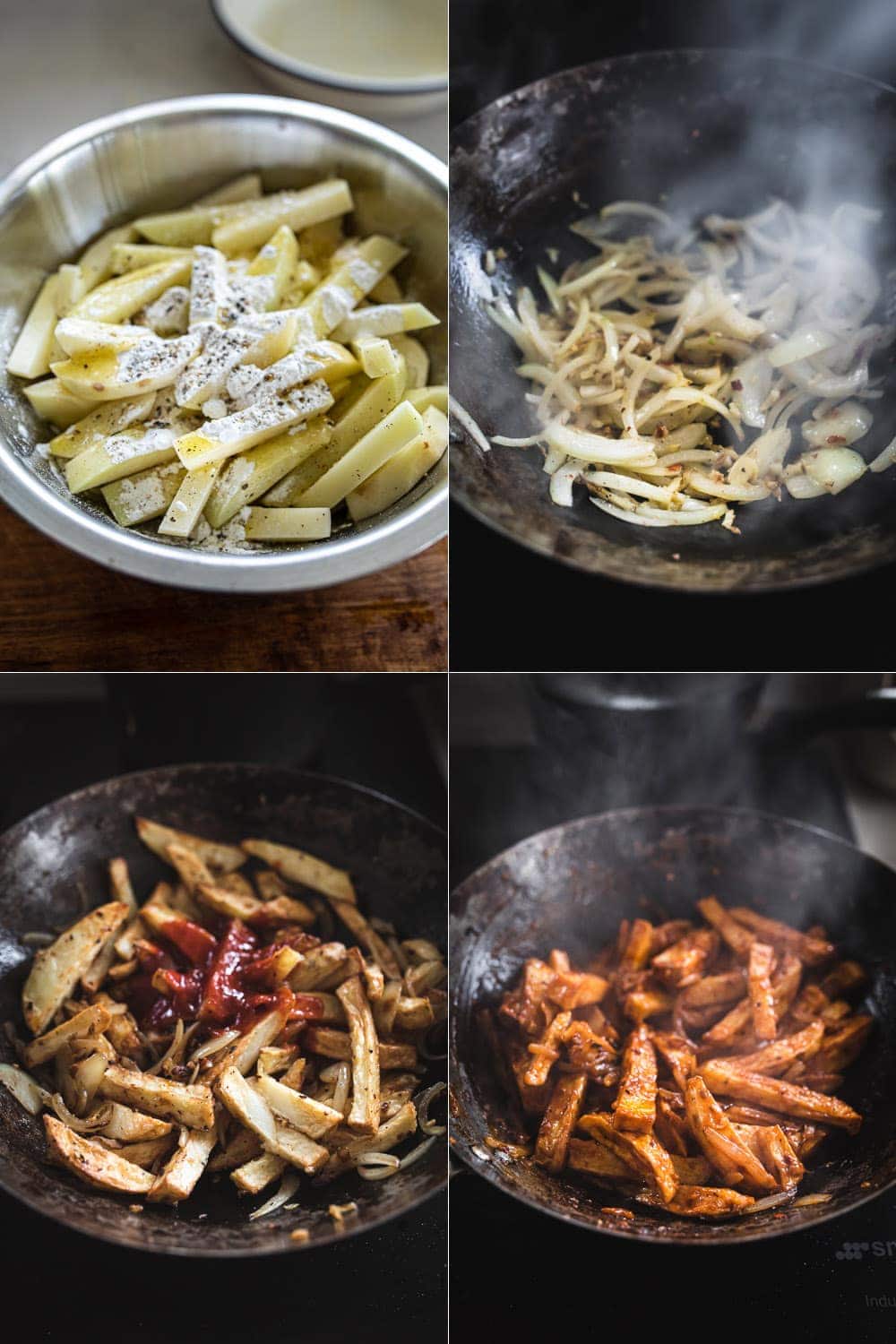 The chicken that wanted to escape!
And before I go, I wanted to share something incredible that happened on Sunday. It is something I have always dreamed would happen ever since we started raising chickens almost 10 years ago, but it never did. Our Blue Australorp Miso had been hopping the fence from the chook run into our main garden with the veggie patches. No matter what we did (made the fence higher with lattice panels and wires), she would somehow still manage to hop onto this side of the garden. What was even strange was that she always did it in the morning and once we found her and put her back in the chook run, she was happy to stay there.
When this happened on Sunday morning, our 12-year-old (the curious one in the family) started following her around the yard and found that she disappeared into the bushes and settled in. He crawled in and tried to get her but she wouldn't budge. Eventually, he got bored and walked away. That is when she decided to pop out of the bushes. So he caught her and put her back in the chook run.
And then his curiosity got the better of him and he crawled in the bushes to see where she was sitting. Lo and behold - he found a little stash of 11 eggs that she had laid over the past two weeks. It was the most excitement we had during our quarantine and it certainly made our Sunday sunnier.
Until next time, hope life's curiosities find you and brighten your day too! x
More Potato Recipes
Recipe
Hungry For More Recipes? Subscribe to my newsletter. Check out Facebook, Instagram and Pinterest to see everything I share! And if you love cooking and new cookbooks, join my free Cooking Club on Facebook!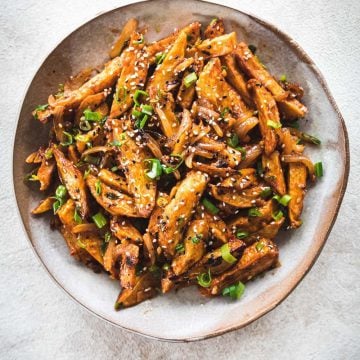 CHILLI GARLIC POTATOES
A highly addictive snack dish inspired by Indo-Chinese flavours and the humble potato fries! This healthier version involves air-frying or roasting the potato fries and then stir-frying them with spices. Yummy!
Print Recipe
Rate / Comment
Ingredients
For the potatoes
4

(

800

g

)

medium potatoes

2

tablespoons

olive oil

2

tablespoons

cornflour

1

teaspoon

sea salt flakes

Freshly ground black pepper
For the sauce
1

tablespoon

olive oil

1

tablespoon

minced garlic

1

teaspoon

grated ginger

½

teaspoon

red chilli flakes

1

small brown onion

,

halved and thinly sliced

1

tablespoon

light soy sauce

1

teaspoon

white vinegar

1

tablespoon

Sriracha or Chilli Sauce

2

tablespoons

tomato ketchup

1

teaspoon

cornflour mixed in ¼ cup water

¼

cup

finely chopped spring onion

,

green only

White and black sesame seeds
Instructions
Wash and peel the potatoes. Cut them into ½ inch thick batons. Place them in a large bowl along with the oil. Mix well. Add the cornflour, salt and pepper. Toss gently to coat thoroughly.

To Cook The Potatoes – In an Airfryer, cook them at 200°C for 18 minutes OR In a pre-heated oven, cook them at 200°C for approximately 28-30 minutes. Remove and set aside.

In a medium wok, heat 1 tablespoon of oil on high. Add garlic, ginger, chilli flakes and onion. Stir-fry while tossing rapidly for a minute until the onion starts turning translucent. Reduce heat to medium and continue cooking for another minute. Add potatoes and mix well. Cook for a few seconds.

Add soy sauce, vinegar, Sriracha and tomato ketchup. Mix well until potatoes are coated. Reduce heat to low and add the cornflour mix. Mix well and cook for a minute until heated through.

Remove from heat. Sprinkle with spring onion and sesame seeds. Serve hot.
Notes
This recipe has a lovely bite to it. If you prefer it to be less spicy, skip the red chilli flakes.
Did you make my recipe?
I'd love to hear how you went! Tag me on Instagram @cookrepublic