A new meal-prep favourite, Crispy Vegan Potato Torte - layers of thin buttery potatoes baked to crispy perfection. super versatile vegan and gluten-free meal that can be topped with eggs for a satisfying breakfast or some poached salmon and greens for a light lunch. Absolutely delicious and so easy to make!
The Magic Of Dutch Cream Potatoes
When potatoes are cooked right with just generous amounts of salt and pepper, magic happens! And if those potatoes are Dutch Cream, every mouthful is sheer delight. For the longest time, I have been cooking with merely brushed potatoes - those dirt-covered wholesome-looking potatoes in bulk bags at Coles or Woolies. They never stipulate what variety the potato is, but I am pretty sure it is Sebago - a floury all-purpose variety great for mashing, roasting and baking.
Then last year at the start of lockdown in March 2020, I switched to online grocery shopping and discovered Dutch Cream potatoes from a farm in Robertson, NSW via Delish Deliveries. They are honestly the best-tasting potatoes I have ever had. Rightfully known as the queen of potatoes, the Dutch Creams are a deep golden colour and have delicious buttery flesh. When my fruit and veg order arrives early Saturday morning, these potatoes are the first to be cooked. I will either make good old rosemary-infused Airfryer Potato Wedges, or a Spanish omelette like my mum used to make or this decadent Crispy Vegan Potato Torte that I share below.
Waxy Vs Floury Potatoes
Dutch Creams are waxy potatoes which means they have high moisture and low starch content. They don't fall apart or disintegrate like the floury varieties that have a high starch and low moisture content. That is probably why they don't bind as well into a cake/omelette shape in this dish. But they are superiorly more delicious. You can make this recipe with any kind of potatoes really, but if you can get your hands on Dutch Creams, I would highly recommend that.
How To Cook A Perfect Potato Torte
Another reason why this torte doesn't bind as much is that I use olive oil and not butter, cream or cheese. It keeps the dish incredibly light and more-ish allowing you to add more elaborate things on top like poached salmon, greens and salsa verde for a light brunch or fried eggs and pico-de-gallo for a breezy breakfast. I like to peel the potatoes and submerge them in cold water for an hour. This relaxes the starch and results in a really creamy and beautiful final dish.
I have a small, light, iron Solidteknics frying pan that has seasoned really well over the years and great for cooking on induction and then shoving into the oven for baking. It is 22cm and a really good size for breakfast-sized thick frittatas and such. The compact size can hold one kilo of thinly sliced potatoes and crisp them to perfection. In fact, once they are cooked the top looks like delicious melted golden cheese even though the recipe has none. And there is no sticking whatsoever.
Instead of mixing everything in a bowl and then layering, I add all the seasonings to individual layers in the pan. Starting with a drizzle of olive oil, I like to lay the slices in an overlapping spiral fashion. I then sprinkle generously with sea salt flakes and freshly crushed pepper. Another sprinkling of dried thyme and it is time to drizzle with olive oil and repeat with another layer of potatoes. In the end, weight from a heavy-bottomed saucepan or mortar will help flatten and compact the potatoes.
Salads And Sides To Try
Recipe
Hungry For More Recipes? Subscribe to my newsletter. Check out Facebook, Instagram and Pinterest to see everything I share! And if you love cooking and new cookbooks, join my free Cooking Club on Facebook!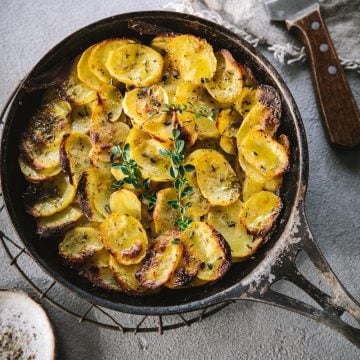 Ingredients
1

kg

Dutch Cream potatoes

4-5

tablespoons

extra virgin olive oil

Sea salt flakes and freshly crushed black pepper

2

teaspoons

dried thyme

Fresh thyme leaves to garnish
Instructions
Pre-heat oven to 200°C / 180°C (fan-forced).

Peel and wash the potatoes. Place them in a large bowl and cover them completely with cold water. Set aside for an hour or overnight in the fridge.

Using a sharp knife, slice each potato thinly into 15-20 slices.

Heat a tablespoon of oil in a 20cm cast-iron frying pan or skillet on medium heat.

Arrange a layer of potato slices, overlapping them in a spiral fashion. Sprinkle with sea salt flakes and black pepper. Sprinkle half a teaspoon of thyme over the potatoes. Drizzle with another tablespoon of oil. Repeat this process of layering with potato slices, salt, pepper, thyme and oil until all potatoes are used up (you should have 4 layers).

Using a heavy-bottomed saucepan, press down gently to flatten and compact them.

Place the skillet in the preheated oven and bake for approximately 50 minutes until the top is golden and crispy.

Remove from oven. Garnish with fresh thyme leaves. Scoop or slice into wedges and serve hot or cold.
Notes
Potato Varieties - I have used Dutch Cream potatoes because I love how creamy and sweet they are. Their flesh is a bright yellow and super buttery when cooked. But they are a waxy potato with high moisture and low starch content. This means that this torte falls apart when you cut into it to serve. If you want a torte that sets and cuts like a cake, you might want to use floury potatoes like Yukon Gold and Desiree or starchy varieties like Sebago or King Edward. Seasoning - Don't skimp on the oil or salt. It is imperative to the proper cooking of the potatoes.
Did you make my recipe?
I'd love to hear how you went! Tag me on Instagram @cookrepublic