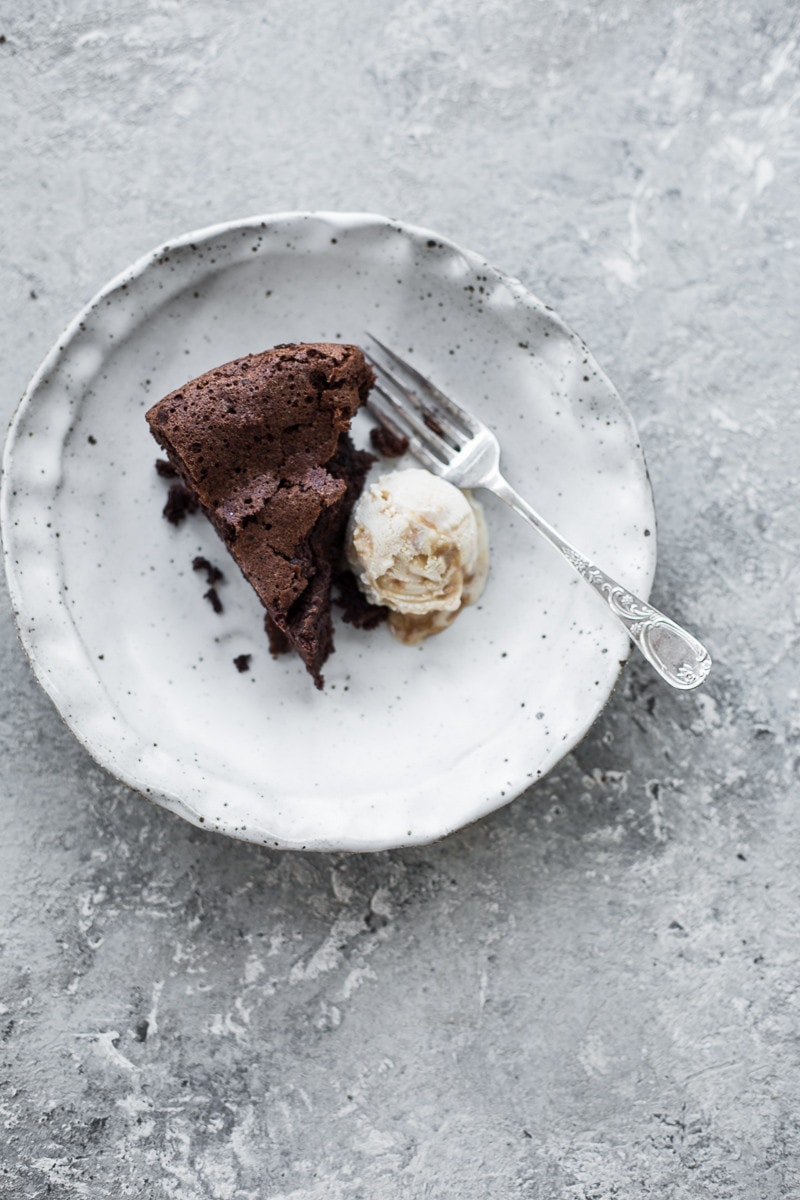 A good flourless chocolate cake is molten and rich on the inside while the outside is held up by a thin baked facade of chocolate. A cracked sinking crater on top is a testament to that perfect ballooning and collapsing of the egg and chocolate rich batter. It is a no brainer of a recipe. Melt chocolate and butter, whisk egg whites and yolks separately. Add it all together and bake. No brainer!
And the result is truly spectacular and instantly special. It could be a private treat for you and your plus one, baked in a pudding mould and eaten straight from it, legs entwined on the couch with a spoon to share. Or a dessert centrepiece at your weekend party, planted on a cake stand and piled mile high with fresh berries and dollops of light fluffy cream.
This version of my flourless cake used to grace a chocolate marked scrap of note paper, where I had scribbled the recipe years ago and stuck it to the fridge. But because it is so simple and I have repeated it in my kitchen so many times, I didn't notice the recipe note slide around and slip through the cabinet crack where it lay forgotten for a while. When I accidentally managed to retrieve it while rescuing a prop spoon from under the fridge, I was tickled to see that as time had passed, I had altered my own recipe.
From the time the recipe note went missing, I had resorted to using less sugar. The cocoa powder had been replaced by cacao powder. It never fails to amaze me how we are constantly evolving and changing the way we eat ... and loving and embracing it. My recipes tend to have now have much less sugar and more base flavour than in the past and they taste incredible. I decided that this cake was at its peak, like the perfect songstress or pop star - somewhere past the hideous costume phase and approaching power mama phase. It wasn't going to get any better than this. And for that reason, it deserves to be shared with you.
I have reached an age and time in my life where days are special just because and I try not to let societal norms and the internet tell me what to bake when and what food to celebrate with. I mean, if you can bake a smashing, totally wicked chocolate cake and eat it anytime you want, why would you wait until Feb 14? But if you have no other back up plan and the look of this tempts you to no end, then baking it will be the wisest thing you do all day! It will be my 21st Valentine's day with Nick tomorrow and we still have some of this cake leftover in the fridge to enjoy while watching the latest episode of The Walking Dead, on the couch (maybe legs entwined, if it is not so bloody hot!) with a generous dollop of ice cream and a spoon to share. Happy V Day my lovelies! Hope your day is as special as your everyday with an added dash of chocolate. x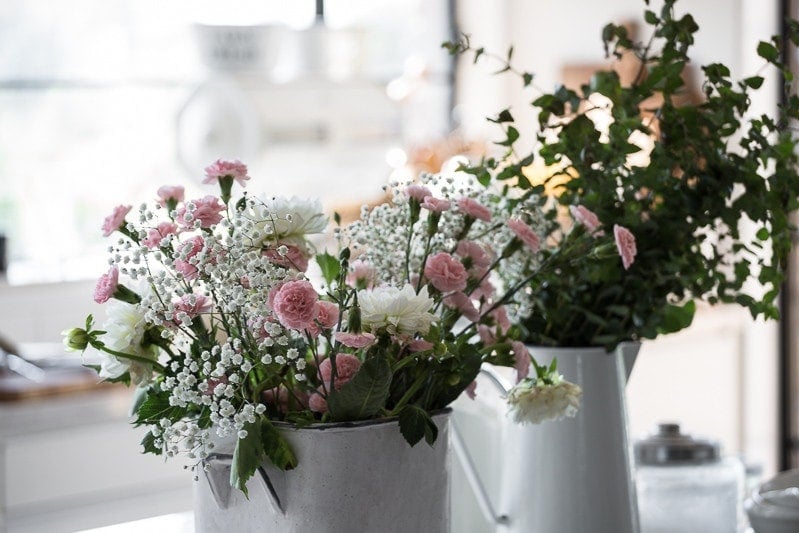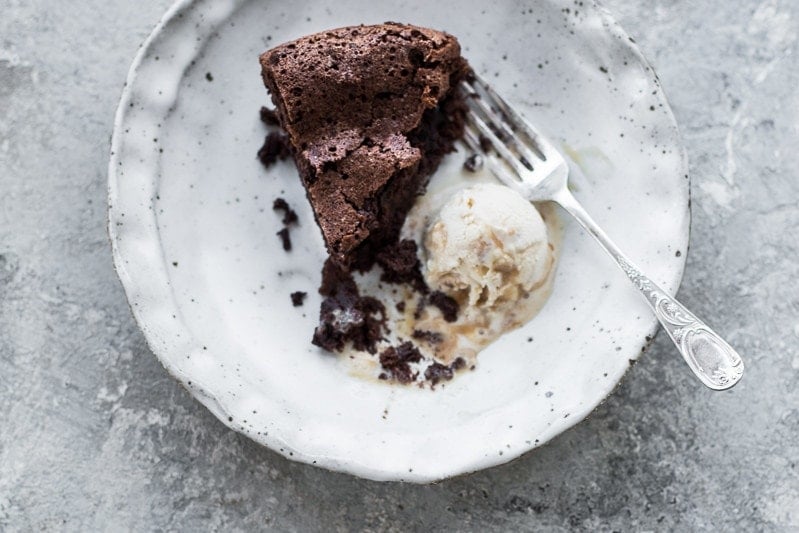 If you bake and love this, I'd love to hear your thoughts and feedback in the comments below. Don't forget to check out my Instagram for photos and Insta stories that I share from my kitchen and garden throughout the day.
Recipe
Hungry For More Recipes? Subscribe to my newsletter. Check out Facebook, Instagram and Pinterest to see everything I share! And if you love cooking and new cookbooks, join my free Cooking Club on Facebook!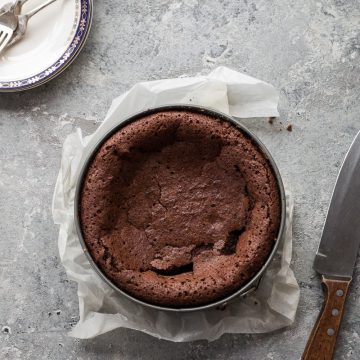 Ingredients
200

g

salted butter

180

g

dark chocolate

,

70% cocoa

1

tablespoon

instant coffee

6

large organic eggs

220

g

golden caster sugar

2

tablespoons

cacao powder
Instructions
Preheat oven to 160ºC. Grease the base and sides of a 20cm springform cake tin and line it with baking paper.

Chop chocolate and butter into rough cubes. Place both in a small, heavy bottomed saucepan on low heat. Allow to melt, stirring occasionally until smooth and glossy. Remove from heat when completely melted. Add the coffee and stir well. Set aside to cool slightly.

Separate the egg yolks and whites in two large bowls. Whisk the egg whites for 1 to 2 minutes, or until soft peaks form.

Add the sugar to the yolks and beat for 4-5 minutes until pale and frothy. Add the cacao powder and beat for another minute until combined.

Using a silicone spoon, stir the melted chocolate into the yolk mixture. Gently fold through the egg whites until smooth.

Pour the batter into the prepared tin, smooth the top and place in the hot oven for approximately 1 hour, or until an inserted skewer comes out clean.

Allow to cool completely on a wire cooling rack, then carefully remove from the springform tin and slide onto a serving plate. Cut into slices and serve with ice cream or fresh cream and berries.
Did you make my recipe?
I'd love to hear how you went! Tag me on Instagram @cookrepublic