The augment of autumn often translates to camping season here in Australia. There is something about a slight chill in the air and the leaves falling that makes us want to jump into a car crammed with our life possessions, tow bar burgeoning under the weight of bicycles and our offsprings squashed in there somewhere in the crevices between rolled up tents and sleeping bags. Because the boot is full of enough food to feed ourselves and any campers who might be stranded for the two nights that we would be spending outside the comfort of our warm homes.
Coming out of a long hot summer where barbecued corn was enjoyed every few weekends at the quintessential Aussie backyard barbie, we still carry a bagful of fresh corn safely tucked in their husks in our boot. A prize from last week's farmer's markets. Because we also know how much better the corn tastes charred on an open campfire next to the river as the dark grey clouds threaten to flood our tents (yes that's right, it always rains when we camp!)
The best corn is the organic one available at the markets, still encased in its silky husk. The best way to grill it, is to carefully peel the husk back but let it stay attached to the base. Remove the silky strands from the cob, rub with butter and spices and grill to perfection on an open fire. Then slather with squeezed lime or more spices and top with parmesan if that rocks your boat even more. After all, you are camping and you will need all the sustenance you can muster when the tent flies off in the rain.
I like mixing different dried spices with coarse sea salt flakes in little glass jars. The spice mix keeps for days in a dark corner of your pantry and the culinary uses are not just limited to corn but render well to roast veggies, tofu skewers and anything that needs a generous lashing of oil or butter before going on the fire. And these little glass jars also make an excellent I-am-coming-over-for-tea-and-cake present!
Hope you enjoy these simple recipes. Please don't forget to comment and let me know how they turned out for you. If you loved them, please do rate them as well. And lastly I would love to see what you are cooking and enjoying from the blog. If you share it on social media, do tag me on Instagram with #cookrepublic
Recipe
Hungry For More Recipes? Subscribe to my newsletter. Check out Facebook, Instagram and Pinterest to see everything I share! And if you love cooking and new cookbooks, join my free Cooking Club on Facebook!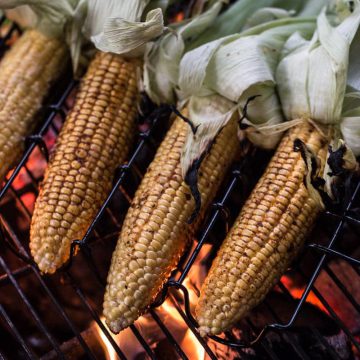 Ingredients
Lime And Salt Spice Rub
zest of 1 large lime

¼

cup

sea salt flakes
Cajun Corn Spice Rub
1

tablespoon

sweet paprika

1

teaspoon

smoked paprika

1

teaspoon

black pepper

2

tablespoons

sea salt flakes

1

tablespoon

garlic granules
Hot Mexican Spice Rub
1

tablespoon

ground cumin

1

teaspoon

chilli powder

1

teaspoon

red chili flakes

1

tablespoon

dried oregano

2

tablespoons

sea salt flakes
For the corn
6

corns on the cob

,

husks intact

butter

,

for brushing

lime wedges

,

to serve
Instructions
Prepare each rub (spice mix) by mixing the ingredients stated for it in a small bowl. Store all three spice mixes in three individual glass jars. Store in the fridge or a cool and dry part of the pantry for up to two weeks.

Prepare corn by gently peeling back the husks keeping them attached to the base. Brush the corn with butter using a pastry brush. Rub with desired spice rub and barbecue on a hot wood smoked barbecue for 10 minutes turning occasionally until cooked and slightly charred. Serve with lime wedges.
Did you make my recipe?
I'd love to hear how you went! Tag me on Instagram @cookrepublic