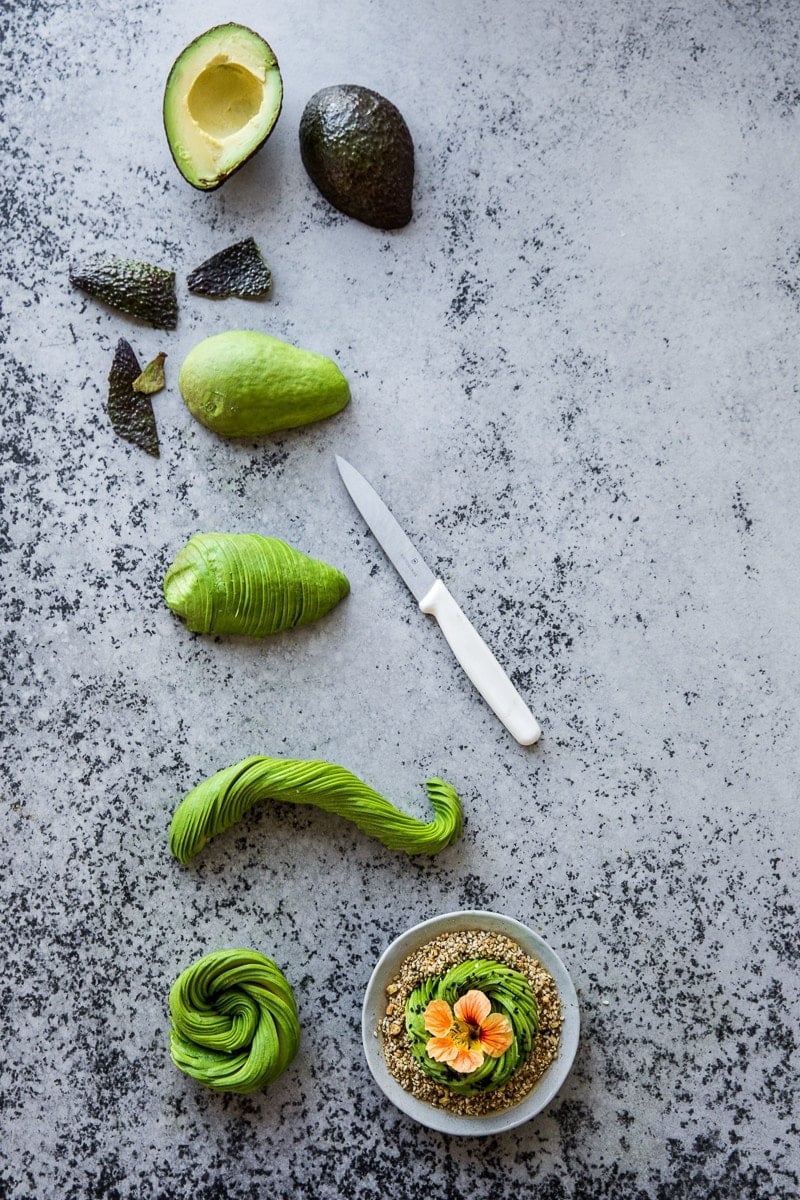 When I first moved to Australia in 2005, I had never seen an avocado in person. When I did bring home one shiny green avocado, it turned out to be hard and tasteless (little did I know that there was an exact science to choosing and eating a perfectly ripe avocado). The next time I brought one back, I let it sit in the fruit bowl till it went quite dark and to my disgust had turned a murky brown on the inside. I eventually did manage to taste a reasonably green and ripe avocado but hated it.
Not one to give up, I would occasionally buy an avo and it would die a slow death in my fridge or fruit bowl, much to Nick's amusement. I think it was inertia and an initial bad experience but I just couldn't bring myself to eat a whole avocado and it became a running joke between us. Nick challenged me to eat a whole avocado for a $100 bet and yet I failed miserably for nearly 3 years.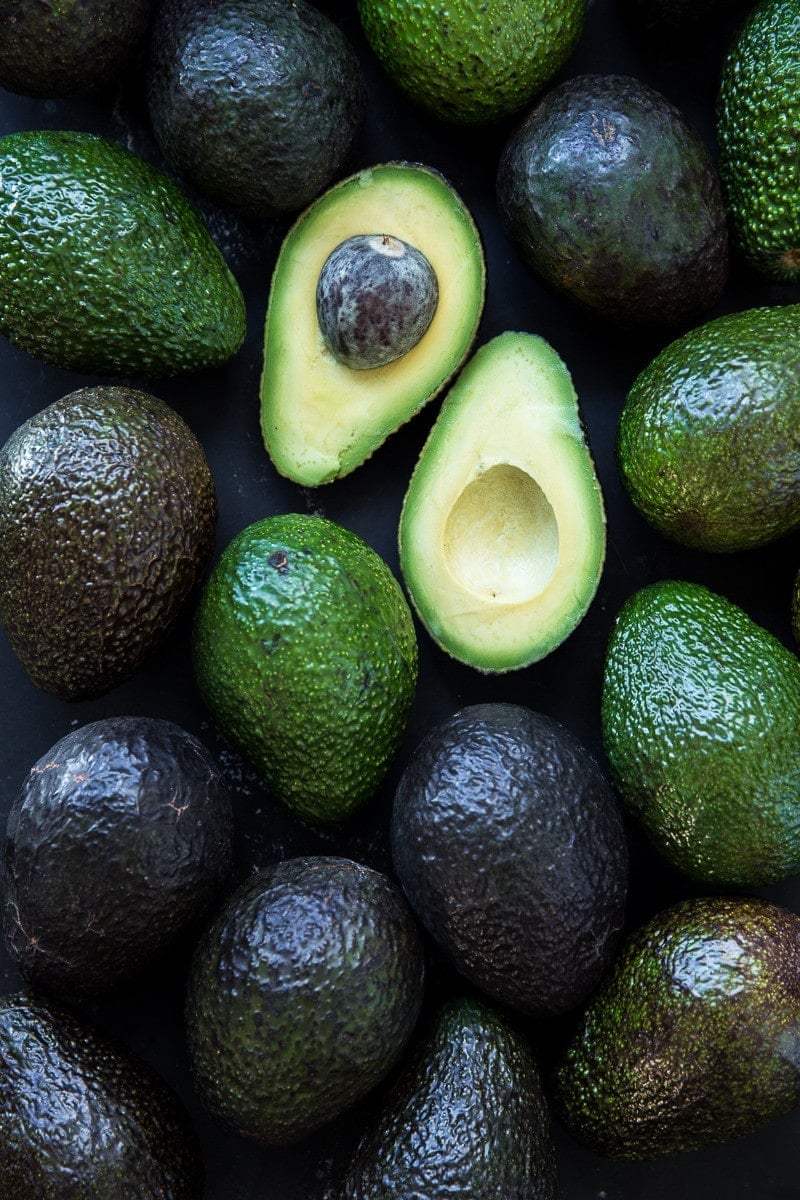 Then I got pregnant with Rish and had massive cravings for green olives. I would pop a couple in my mouth throughout the day and feel extremely gratified. But one fine day, I realised that I had only 2 olives in the olive jar and none in the pantry. I was crestfallen and ravenous. Damn pregnancy brain! As I stared blindly at the fridge shelves, I saw an avocado I had picked at the markets just a couple of days ago. It was still a bit green but more burnished. Did I dare? Absolutely. I cut it in half and instantly felt a guttural reaction to the creamy vibrant green on the inside. I took out the seed and sat on a stool with a spoon and scooped every single bit of the creamy flesh with a renewed sense of wonder.
The next day, I brought back a perfectly ripe avocado back home with me and when Nick and I were chatting over a cup of tea in the evening; I reminded him of our ridiculous avocado bet.
"I bet you still can't have one! My $100 are safe!" he gloated.
"Why don't we give it yet another go?" I said as I wrinkled up my nose.
"Okay!" he said happily.
So I got out the avocado, sliced it in half and sat there with the spoon wondering whether I still felt good about the avocado or it was just a one off incident the previous day. I took one scoop and put it in my mouth and within minutes had devoured the entire avocado. I don't know what made me happier - that I had eventually overcome my avocado fears or the look on Nick's face as he coughed up $100.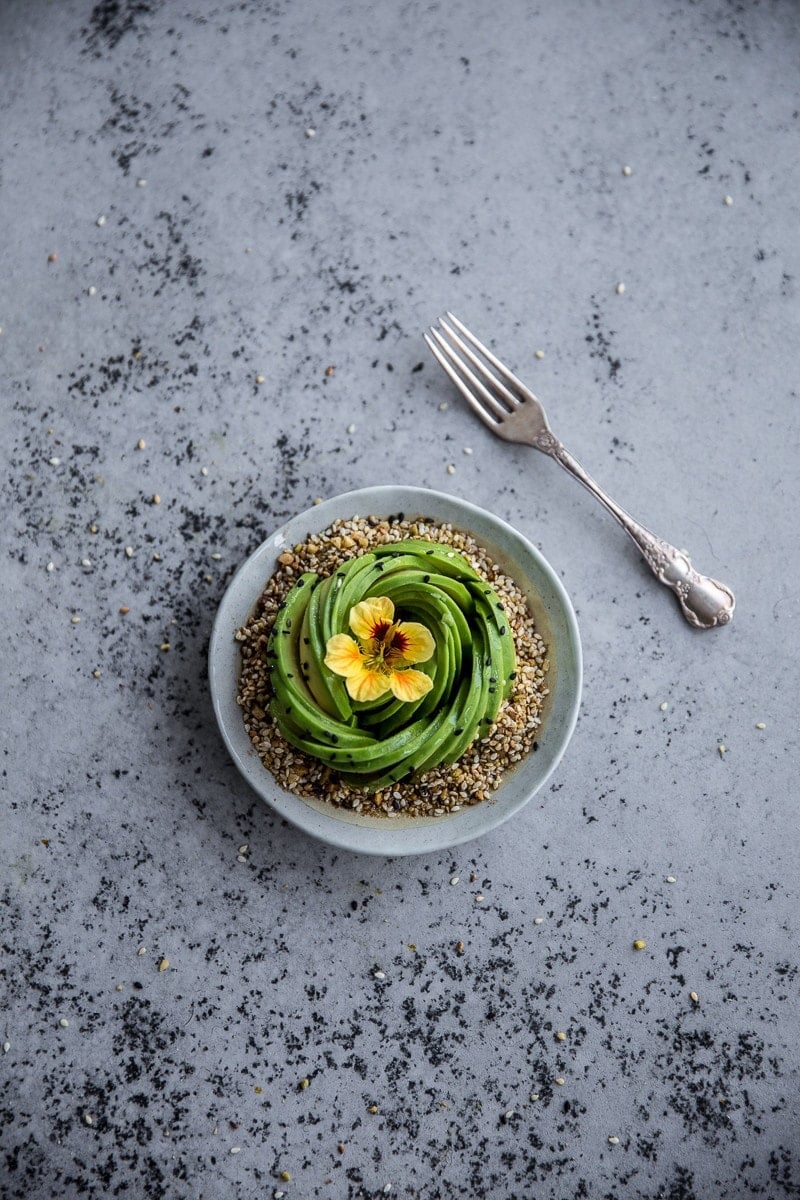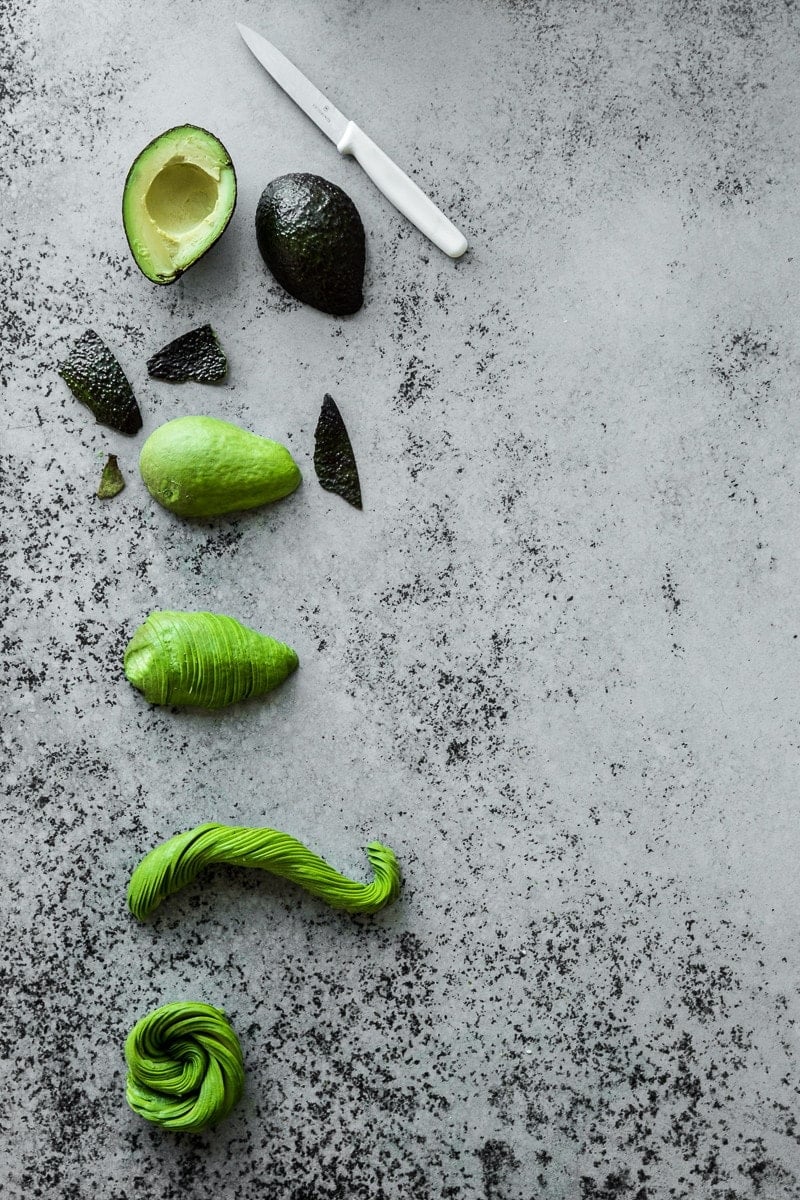 And so for the past eight years, I have scooped an avocado with a spoon or chopped it up for a salad. Until now! I recently discovered the most perfect technique to creating an avocado rose and I am hooked. I can't believe how simple it is and how special it makes the avocado look. And you can get so creative with the rose itself and present and serve it in a variety of ways to finish off a great dish. I have shot a step-by-step flatlay for you to see how to cut and shape the avocado rose. And I created this simple raw avocado and dukkah salad/canape with it. Imagine a table full of tiny little bowls of this Avo rose and dukkah creation. Amazing!
I hope you try making this dish. Don't forget to tag me on Instagram @cookrepublic if you do share. And if you practice a lot and are left with extra avocados, just freeze them in ziplock bags after rubbing them with a bit of lemon juice or make these avocado smoothies.
Recipe
Hungry For More Recipes? Subscribe to my newsletter. Check out Facebook, Instagram and Pinterest to see everything I share! And if you love cooking and new cookbooks, join my free Cooking Club on Facebook!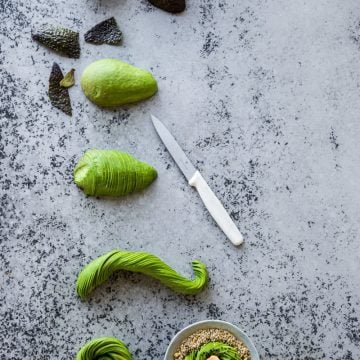 AVOCADO ROSE AND PISTACHIO DUKKAH BOWL
An absolutely beautiful and simple canapé idea for a party or a special vegetarian/vegan side dish for a brunch gathering. The dukkah can be made ahead and stores well in the pantry for up to 2 weeks.
Print Recipe
Rate / Comment
Ingredients
2

ripe avocados

generous drizzle of olive oil

sprinkling of black sesame seeds

4

nasturtium/any edible flowers
for the dukkah
½

cup

(

64.99

g

)

unsalted pistachio kernels

2

tablespoons

corianders seeds

2

tablespoons

sesame seeds

1

tablespoon

ground cumin

¼

teaspoon

salt

¼

teaspoon

red chilli flakes
Instructions
For the Dukkah, place all ingredients in a dry frying pan. Toast the mix on low heat for 5 to 8 minutes until fragrant, stirring often. Remove from the heat, cool and grind coarsely using a mortar and pestle.

Using a sharp knife, score the avocado down the middle, length ways. Gently twist both halves to separate them. Whack a heavy knife on the seed to lodge the blade in it. Twist the knife gently to easily remove the seed. Using the tips of your fingers, gently peel the skin off the avocados.

Lay each half of the avocado horizontally, cut side down. Gently slice the avocado extremely thinly. Spread the slices out in a winding curve (as shown in the pictures) and start curling the slices up into a tight rose bud shape.

Using a spatula, lift the avocado rose up and gently place in the centre of a 10cm wide, shallow bowl. With a spoon, scatter the dukkah around the avocado rose. Sprinkle black sesame seeds on the rose. Drizzle with olive oil and garnish on top with an edible flower. Enjoy immediately.
Did you make my recipe?
I'd love to hear how you went! Tag me on Instagram @cookrepublic