I usually buy a big punnet of watercress from the veggie stall at the markets on Thursday, especially when I have a big weekend of entertaining planned. It is a great salad filler. But if it doesn't get tossed through a salad, it will sit on my fridge shelf ambition-less and get chucked into the chicken run for my chickens to feed on. This bothers me to no extent. I love watercress. Right from its peppery clean taste to the tight groupings of miniature lily pad like leaves. It always feels like a loss when my chickens enjoy watercress more than us. So, I have been making a conscious effort to incorporate this beautiful green water vegetable (It grows naturally in water but can be grown successfully in soil as well) in our diets.
Putting it in a smoothie seems like the most natural way of using up loads of it. Especially and avocado smoothie.We are well into spring and everything green has suddenly sprung into the limelight. Spring also heralds the smoothie and juice bar in my kitchen when my slow juicer comes out of hibernation and my blender gets super active everyday. The tried and tested Smoothie 101 guide gets pulled out of my cutlery drawer and tacked onto the fridge for easy everyday reference. But I have been thinking of updating it lately as I have really gotten into sugar-free smoothies (or savoury smoothie if you will).
One of my recent favourites is this luscious can-scoop-with-a-spoon green avocado smoothie that is velvet smooth and surprisingly light. Blended on a coconut water base, there is a healthy dose of chlorophyll in the form of watercress and spinach. The abundance of mint and lime make this buttery smoothie really sublime and you won't feel the need for any sweetener. But if you must, a granny smith or pear tossed in, should suffice.
This recipe serves one and I urge you to grab a spoon and dig into your thick avocado smoothie with gusto, knowing that this is one of the best ways to get a cup of gorgeous watercress greens in your system. The watercress is extremely high in calcium, iron and Vitamin C, often ranking at the top of superfood lists. Combined with the healthy make-your-skin-glow benefits of avocado, you just can't go wrong.
Don't forget to share your creations with me on Instagram @cookrepublic and/or commenting below and letting me know your thoughts. Happy drinking! x
Recipe
Hungry For More Recipes? Subscribe to my newsletter. Check out Facebook, Instagram and Pinterest to see everything I share! And if you love cooking and new cookbooks, join my free Cooking Club on Facebook!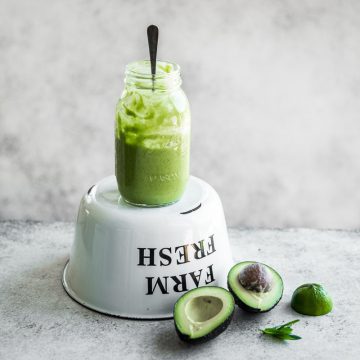 Ingredients
1

avocado

,

peeled and seed removed

1

small Lebanese cucumber

,

chopped

1

cup

baby spinach leaves

1

cup

watercress

1

whole lime

,

peeled and deseeded

handful of mint leaves

1

cup

chilled coconut water
Instructions
Place all ingredients in the jug of a blender and process until velvet smooth and thick.

Enjoy immediately.
Did you make my recipe?
I'd love to hear how you went! Tag me on Instagram @cookrepublic