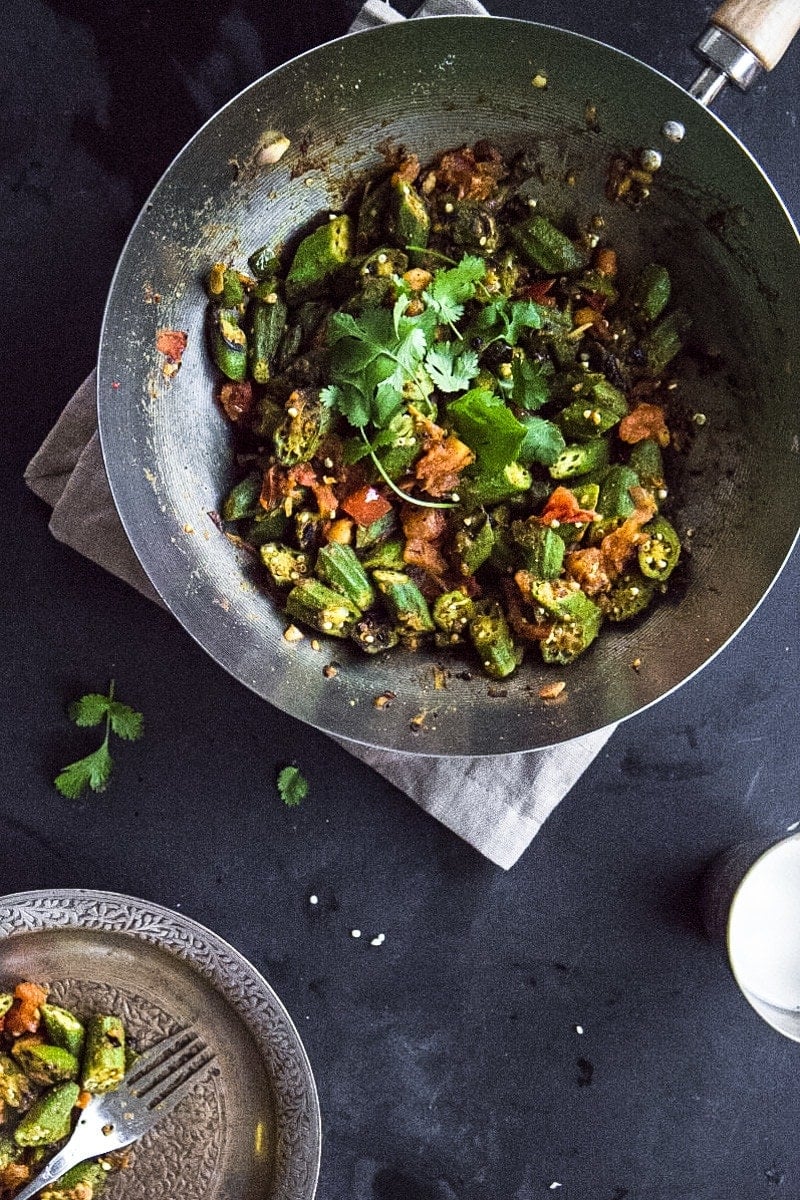 One of our local market stalls is run by an Indian family. And because of that, they seem to have a never ending supply of okra most of which is depleted after I visit their stall every Thursday. You either love okra or hate it. Like Brussels Sprouts. Your affection or lack of for it can be chalked down to how it was prepared. If you were unfortunate enough to try a slimy version, you probably don't like okra very much unless you like slimy things. But if you had the good fortune of trying okra in its crispy charred glory or a fast flavourful stir-fry like the one I am about to share today, you will love it. Called bhindi in the Indian subcontinent, bhindi masala is a traditional dry curry made by sautéing okra with a range of spices.
So I make a dry okra curry (stir-fry to non-Indian households) at least once in a couple of weeks. Each time, it is different. Each time, it takes me less than 20 minutes to present a delicious veggie full meal brimming with spices. Each time, I get nostalgic about my 6 year old self writing my birthday request menu painstakingly for my mum with this okra curry at Number 2 on the list of at least 8 of my most favourite things to eat in the world. Mum always complied and the okra curry stayed on the list till I was in high school. And each time, I think about sharing what I cook at home in my kitchen with you lot. Not something I create with fancy ingredients, but much loved, much cooked recipes.
I am going to share a few okra secrets that I have learnt over the years either via mum or by trial and error. Always pick okra that is a bit supple. Not very hard and not wilted. In India when we went to the fresh markets (as they were called back then), people would always hold an okra between their index finger and thumb and gently flick the thumb to snap the bottom tip off. If it was too hard, it wouldn't come off cleanly. If it was too limp, it would just bend. But if the okra was right, it would snap cleanly and that went in the basket! Well, don't do that because you might get told off (as we did back then).
After you bring your okra pods home, wash them gently in running water and pat them dry with a tea towel. I like to roll them up in the tea towel after drying them so any excess moisture from the wash-up is absorbed. When cutting okra if your knife gets too slimy, just wipe it with a tea towel. Okra cooks quite quickly. In a wok at high heat, it will cook in just under 10 minutes with enough moisture. Cooked okra has a tendency to get slimy which is easily rectified by a generous squeeze of lemon juice at the tail end of the cooking process.
This is simple Indian home cooking at its best. Fresh, flavourful and seasonal. This version is the simplest of all okra curries and a staple in many a work lunchbox during the week. We will usually have this as part of a full Indian thali which will include rotis, steamed rice, daal and chopped salad. Tell me, do you cook with okra? I look forward to your comments and interesting observations, don't forget to rate the recipe and share it with me on social media using #cookrepublic if you love it!
Recipe
Hungry For More Recipes? Subscribe to my newsletter. Check out Facebook, Instagram and Pinterest to see everything I share! And if you love cooking and new cookbooks, join my free Cooking Club on Facebook!

Ingredients
500

g

okra

2

tablespoons

olive oil

,

or ghee

1/2

teaspoon

cumin seeds

1/4

teaspoon

mustard seeds

1

green chilli

,

chopped

1

tablespoon

ginger

,

finely chopped

2

garlic cloves

,

crushed

1

large tomato

,

diced

2

small red onions

,

diced

1

teaspoon

ground coriander

1

teaspoon

ground cumin

1/2

teaspoon

garam masala

1/4

teaspoon

ground turmeric

1

teaspoon

sea salt flakes

,

or to taste

1

teaspoon

dried mango powder

,

amchoor

juice of 1 lemon

fresh coriander leaves

,

to serve
Instructions
Wash okra and dry by patting with a tea towel. Trim the top and bottom tips off. Slice each okra diagonally into 2-4 pieces.

Heat oil in a wok on high. Add cumin seeds, mustard seeds, chilli, garlic and ginger. In a few seconds when it starts to sizzle and the mustard seeds start popping, gently add the tomato and onion. Reduce heat to medium and sauté for a few minutes until onion is caramelised and the tomato is soft. Add ground coriander, cumin, garam masala and turmeric. Sauté for another minute or so till the masala mix is tender and fragrant.

Add the okra and salt. Stir well to mix evenly. Add a quarter cup water to the pan. Cover and cook until water has evaporated.

Remove from heat. Stir in the mango powder and lemon juice. Garnish with coriander and serve hot with steamed rice or naan.
Notes
Dried mango powder is called amchoor and can be bought in Indian grocery stores and online. It is sour and pungent and works well with okra. If you can't find it, you could sub it with a dash of pomegranate molasses or tamarind pulp or even a little sprinkle of sumac.
Did you make my recipe?
I'd love to hear how you went! Tag me on Instagram @cookrepublic