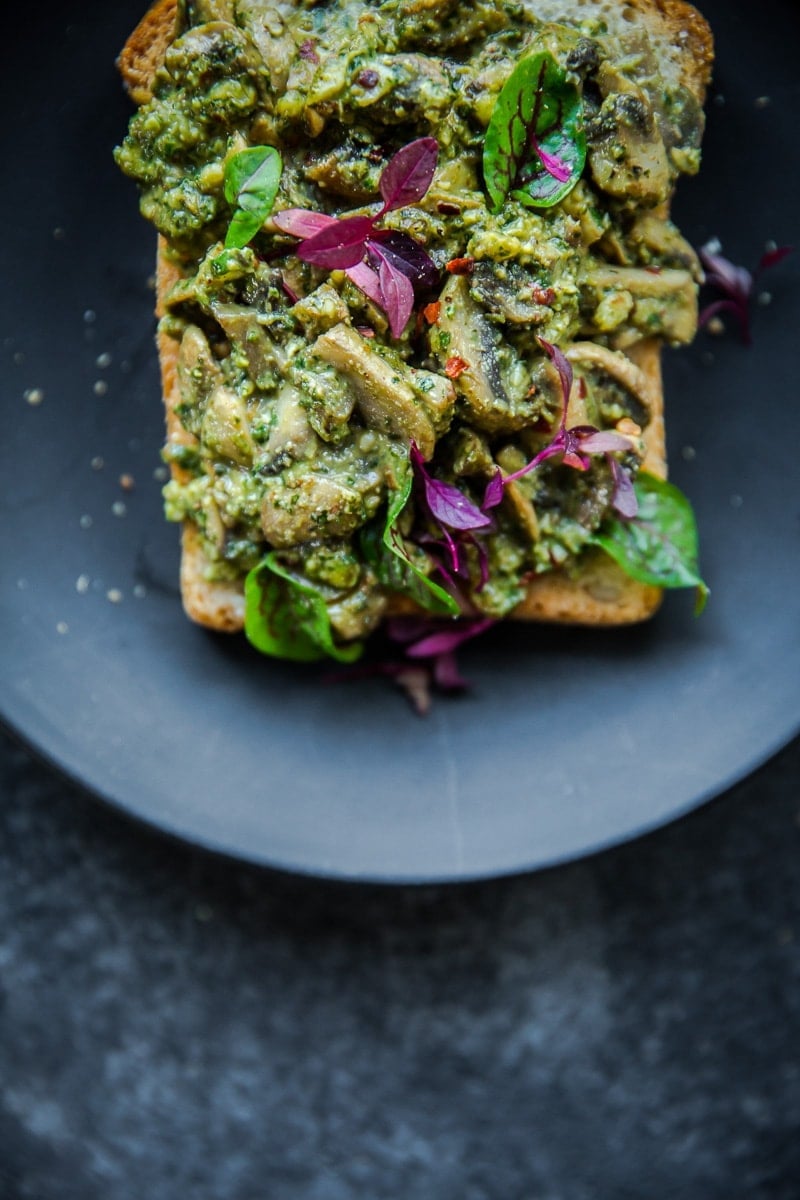 Mushrooms are a constant fixture in my fridge. I have always loved mushrooms for their umami flavour and their ability to cook instantly. In fact, if mushrooms are super fresh (like at our local markets), I have been known to eat them raw on my way back home from loading my baskets with fresh produce. A fresh raw mushroom is a delightful thing, meaty and crisp and incredibly sweet! Now I buy a few bags of tiny button mushrooms (tiny white ones that I use for instant pickling), larger button mushrooms (slightly bigger white ones that I have used for this recipe), Portobellos (giant Swiss Brown mushrooms that I use for baking and making curries) and a mix of Enoki and Oyster mushrooms (for stir fries and pastas).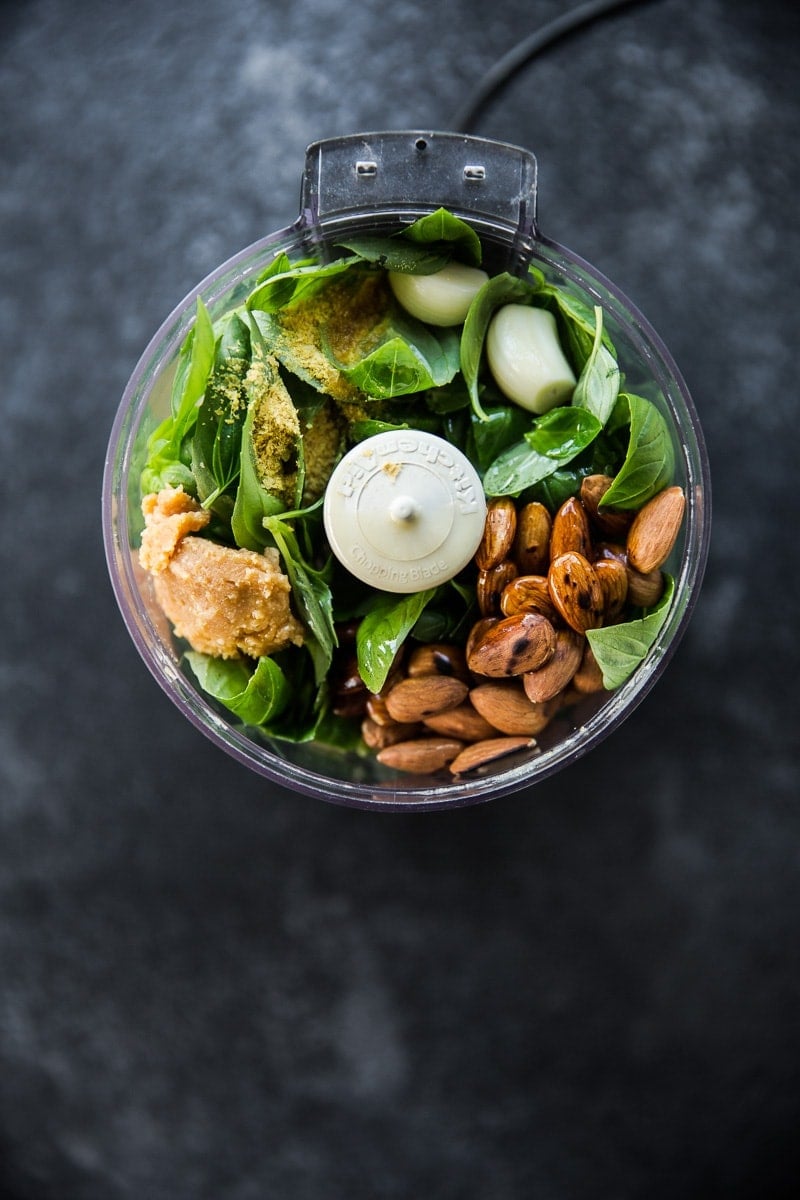 And because I have to use up all my mushrooms within a few days, I get really creative with them. While the bulk of them end up in this curry pretty much every week, I also make this dry curry, this stir fry, this risotto, this vegan bolognese, this salad and this broth every few weeks. And yet, there are so many fast, delicious mushroom recipes that get cooked in my kitchen every week that I thought I would share some of the most cooked and most loved ones. Starting with this Mushroom Pesto Sandwich.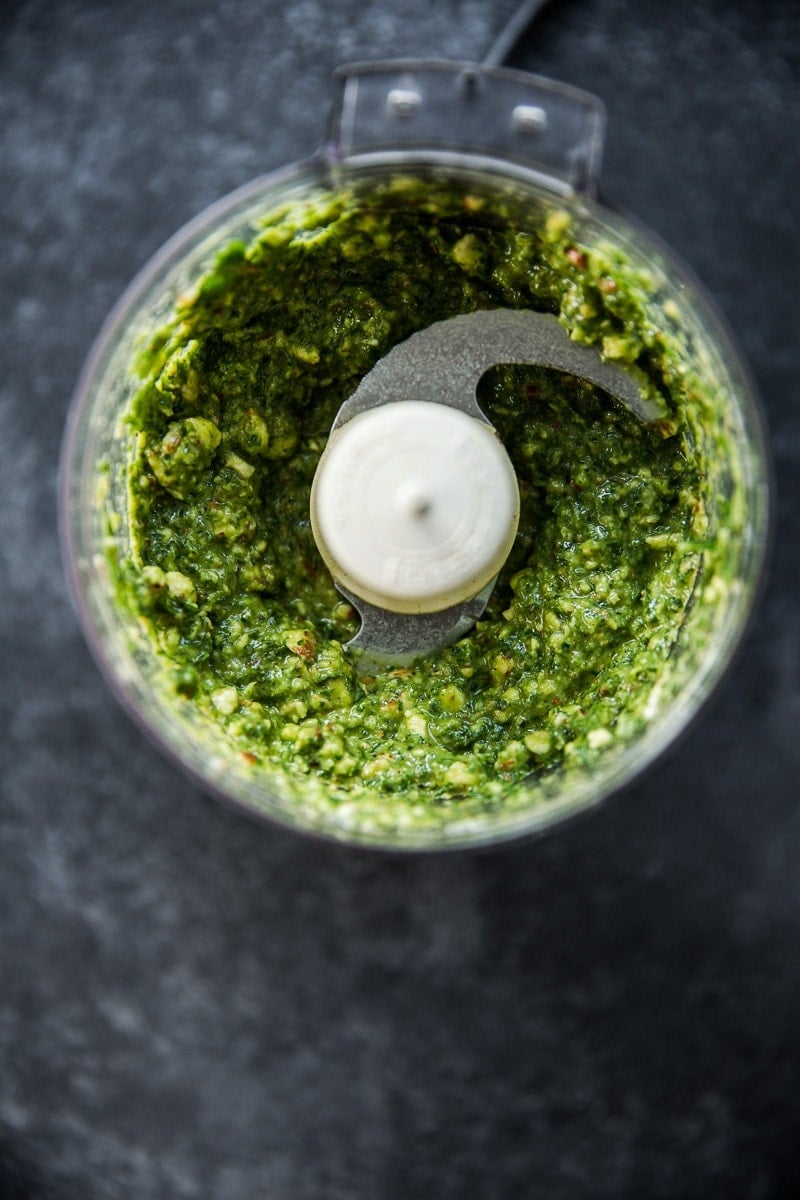 Years ago on a prop sourcing trip, walking around with bags of vintage pans and silverware; I came across a quaint little cafe somewhere in the city. Hungry and utterly exhausted, I ordered a strong coffee and the only vegetarian sandwich they had on their menu - a mushroom basil sandwich. I was expecting a big Portobello mushroom grilled or pan-fried and stuffed inside two slices of extremely chewy sourdough with a few basil leaves. Maybe a grilled tomato or a smear of ricotta to make it go down easier, if I was lucky. But the sandwich that arrived, wrapped in brown parchment paper was quite the revelation.
It was a Mushroom Pesto Sandwich bursting with chopped up plump fresh mushrooms swimming in a generous amount of the freshest green pesto I had ever tasted. I remember there was a lot of olive oil, in the pesto and on the slices of (not at all chewy!) grain sourdough. But boy, was it good! Each juicy mouthful a burst, of fresh flavours. And it was such a simple sandwich too. Mushrooms tossed in a pesto and stuffed between slices of bread. Why had I never thought of that before?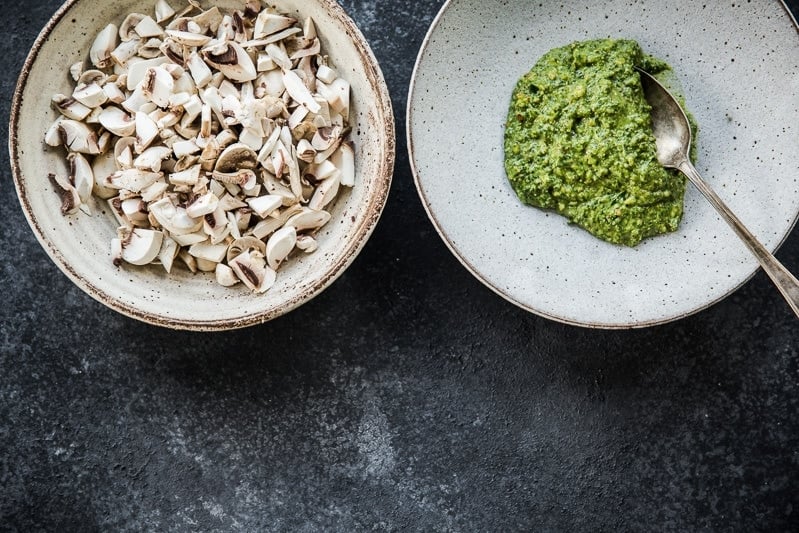 So, I started making this sandwich at home. A different pesto and a different bread every time. It became a go-to mushroom recipe (I know, I have many go-to recipes but these are all so simple; how can you not go to them every time?). A fast brunch, a quick snack or a sophisticated starter - it is all in your imagining of this recipe. This version that I share, is my favourite. With a delicious vegan pesto that is to die for! A garlicky, toasted almond pesto tossed through pan seared chilli mushrooms sandwiched in a pumpkin seed gluten free bread from the markets. Yum!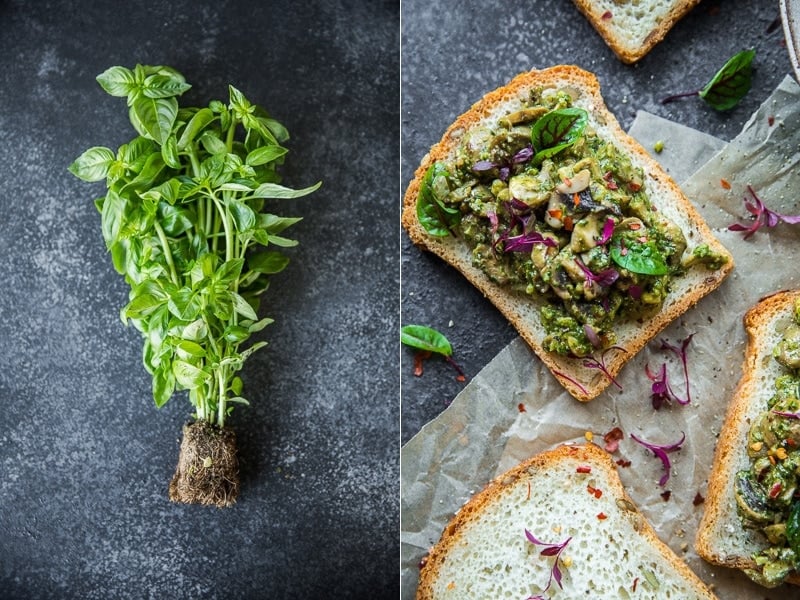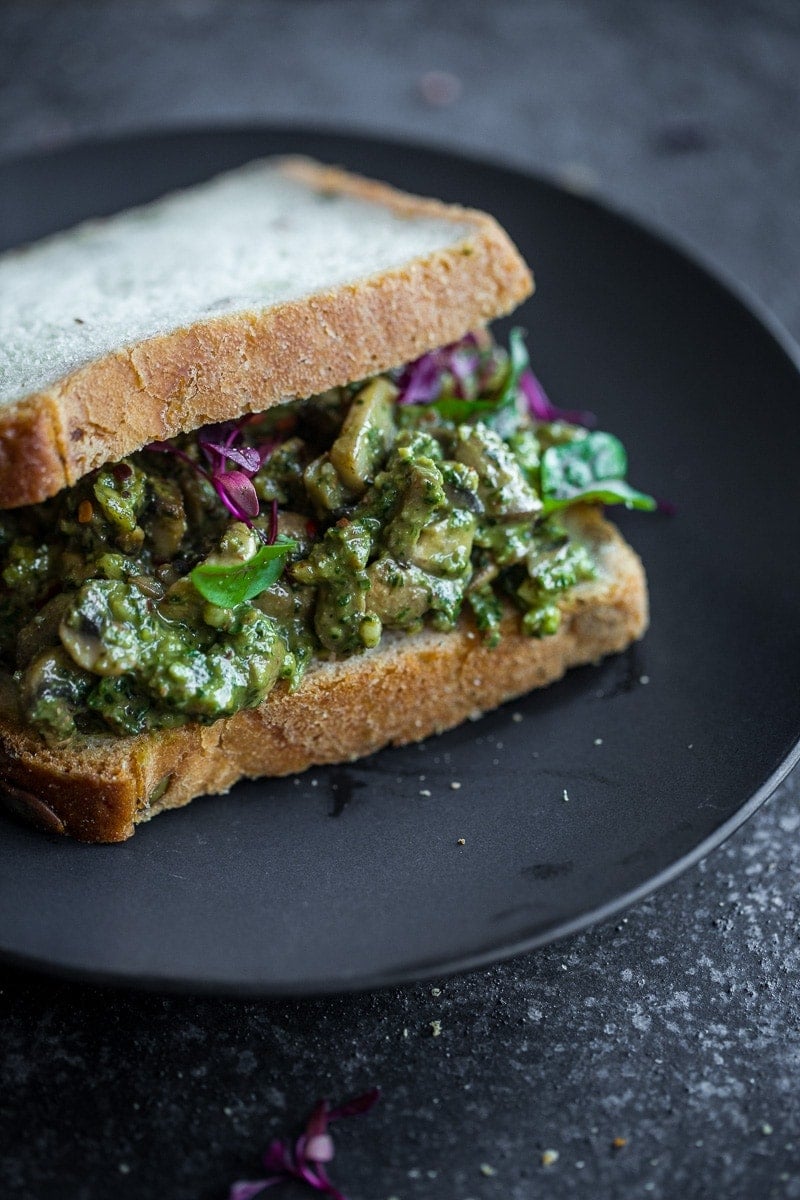 I love slathering this mushroom pesto mix over a toasted bread slice for a sensational open sandwich or filling little canapé cups with for a dinner party. Always turns out delicious! If you make it and love it, please do share your feedback in the comment/rating below. Share your mushroom pesto sandwich photos with me on Instagram using #cookrepublic. Enjoy my lovelies!
Recipe
Hungry For More Recipes? Subscribe to my newsletter. Check out Facebook, Instagram and Pinterest to see everything I share! And if you love cooking and new cookbooks, join my free Cooking Club on Facebook!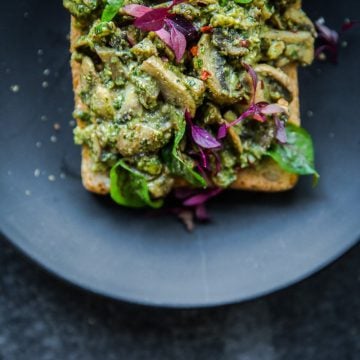 Ingredients
for the mushrooms

250

g

button mushrooms

,

chopped

1

tablespoon

extra virgin olive oil

1/4

teaspoon

red chilli flakes

freshly cracked black pepper

for the pesto

1

bunch basil

,

leaves picked

2

large garlic cloves

,

use 3-4 if the cloves are smaller

1/4

cup

(

40

g

)

toasted almonds

1

tablespoon

white miso paste

1

teaspoon

nutritional yeast flakes

1/4

cup

extra virgin olive oil

to serve

bread slices

,

herbs, extra virgin olive oil
Instructions
to prepare the mushrooms - Heat oil in a large frying pan on high. Add mushrooms, chilli flakes and pepper. Stir fry for 4-5 minutes until glazed and dry. Remove from heat and allow to cool slightly.

to prepare the pesto - Place all ingredients in the bowl of a small food processor and process just smooth and still slightly chunky.

Place pesto in a medium bowl. Add the mushrooms to the pesto and mix well.

To serve, toast a slice of sourdough bread. Top with the mushroom pesto mix. Sprinkle with herbs and lightly drizzle with extra virgin olive oil.
Notes
This recipe makes enough for four open/closed sandwiches or 24 small canapé cups.
It is important to fry the mushrooms on high heat to seal the moisture and keep them dry. Pan frying them on low or medium heat will make them sweat. If this happens, just bump the heat to high again till all water dries out.
Pesto can be made a day in advance and stored in the fridge. Alternatively the whole mushroom pesto mix can be made a day in advance and stored in the fridge. Just remember that you won't be able to warm the mixture as it will discolour the pesto.
Once cooked and stored in the fridge, the mushroom pesto mix will keep well for up to 3 days.
Did you make my recipe?
I'd love to hear how you went! Tag me on Instagram @cookrepublic