A super-easy, delicious, healthy salad ready in just 15 minutes! This Green Avocado Salad is not only completely made of green-coloured ingredients but is packed with lots of nutrients. It is extremely refreshing, tangy and gorgeous with the creamy avocado, crunchy green apple and bell pepper and a fresh lime salad dressing. A crowd-pleaser!
Jump to:
A healthy Green Avocado Salad
I love a good avocado salad. One that has lots of texture and lots of flavour. Because admit it, as much as we all love avocado, it is pretty bland on its own. But that is the beauty of this gorgeous green fruit, it takes on other flavours and becomes something else completely.
Avocado is super healthy - packed with good fats. To make this salad healthier and green, I added all green-coloured ingredients to it. I didn't realize that the final salad would be so incredibly delicious and packed with crunch.
This is why you'll love my green avocado salad,
No cooking is involved, except toasting the pepitas!
Tastes tangy, clean and refreshing.
Packed with lots of nutrients.
Light and healthy.
Can be meal prepped ahead.
Keeps fresh in the fridge for up to two days.
Only 15 minutes to make!
Ingredients & Substitutions
Almost all ingredients for this green avocado salad are everyday ingredients you will find easily at supermarkets or farmer's markets. Try not to substitute them as we are trying to make a "green" coloured salad. Here is what you'll need.
Avocados - If you can lay your hands on Greenskin (Shepard) avocados, try those in this recipe. They are truly the best avocados as they don't brown after cutting and perenially have green skin. They are also firm, making them ideal for tossing through salads. Unfortunately, they have a very short season. So, Hass avocadoes it is. Pick firm Hass avocados with dark green-purple skin that has the slightest give when pressed. These are perfectly ripe for a salad.
Spring onions - Also known as shallots or scallions in some parts of the world, spring onions add a lovely deep green colour to the salad along with a distinct allium bite. Use only the green parts.
Green Apple - Another green ingredient that adds a tart sweetness and plenty of fresh crunch. Keep the skin on.
Green Bell Pepper (Capsicum) - Green bell peppers have a grassy, savoury and slightly bitter flavour. They are excellent salad additions and provide a good crunch in every mouthful.
Coriander/Cilantro - If you are like me and love coriander, yay! If you are one of those coriander-hating people (we are not friends!), you'll still love this salad as the amount of coriander used is quite small and it doesn't overpower the salad in any way. If you must leave it out, substitute with parsley.
Chilli - I have used green cayenne chilli for this salad. You can also substitute with jalapeno. Cayenne chilli is roughly 12 times hotter than jalapeno. On the Scoville Heat Scale, it sits roughly at the halfway point which would make it 5/10 in a regular heat rating. I love it in this salad as it adds a slight heat which compliments the sweet and sour flavours. I even add the seeds. To make it less hot, discard the seeds and membrane. And if you like things much milder, use a jalapeno instead.
Pepitas - Pepitas or pumpkin seeds are a fixture in our home. They are liberally added to so many recipes, from a healthy granola and Thai cabbage salad to carrot muffins and veggie garden burgers. If you can't find pepitas, substitute with sunflower seeds.
Avocado Salad Dressing
Although this avocado salad dressing isn't green in colour, it definitely tastes green. And by that, I mean really fresh and healthy! You'll need the following,
limes
good quality extra virgin olive oil
maple syrup
wholegrain mustard
salt and pepper
Prepping Hass Avocados for salad
Use a sharp paring knife to cut an avocado in half, lengthways. Twist both halves and separate them.
Carefully remove the seed from one of the halves using the knife.
Run the knife down the centre of the flesh, lengthways.
Slice the avocado flesh into thin slices horizontally.
Using a spoon, scoop out the flesh and let the slices drop into the bowl.
How to make Green Avocado Salad?
Toast pepitas with spices for a few minutes until starting to turn golden.
Make salad dressing by mixing all ingredients in a bowl.
3. Prep green bell pepper (capsicum) by cutting in half first, trimming the top and cutting each half into two. Using a sharp knife, carefully remove the seeds and membrane.
4. Cut each of the four pieces into strips and chop them into smaller pieces.
5. Add all salad ingredients to a large bowl.
6. Add salad dressing and toss gently to mix well.
Serving Suggestions & Storage
Fully prepped salad can be stored in the fridge in an air-tight container for up to two days.
Meal-prepped salad can stay fresh in individual containers in the fridge for 4 days.
How to meal prep Green Avocado Salad
Prep spring onion, coriander, chilli and green bell pepper. Store in a lidded glass container in the fridge for up to 4 days.
Mix the dressing and store in a lidded jar in the fridge for up to 2 weeks.
Toast the pepitas with spices. Cool and store in a lidded container in the fridge for up to 2 weeks.
When ready to eat, cut avocado and green apple. Assemble the salad with prepped ingredients.
What to serve with Green Avocado Salad
This salad is a great accompaniment to a piece of grilled fish or chicken. Try serving with these recipes
More Avocado Recipes
Recipe
Hungry For More Recipes? Subscribe to my newsletter. Check out Facebook, Instagram and Pinterest to see everything I share! And if you love cooking and new cookbooks, join my free Cooking Club on Facebook!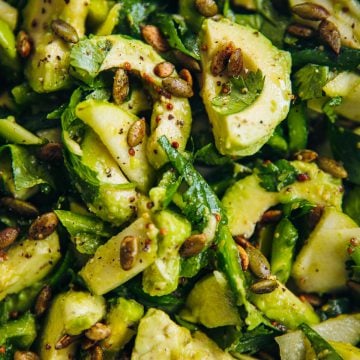 Ingredients
3

avocados

,

Hass or Shepard

2

spring onions

,

thinly sliced, white only

1

green apple

,

cored and finely diced

1

green bell pepper

,

(capsicum), deseeded, membrane removed and finely diced

1

tbsp

green cayenne chilli

,

finely chopped

1/3

cup

coriander leaves

,

packed and chopped
for the pepitas
1

tsp

olive oil

1/4

cup

pepitas

1/2

tsp

sweet paprika

1/2

tsp

dried oregano

pinch of flaky salt
for the avocado salad dressing
2

tbsps

lime juice

2

tbsps

extra virgin olive oil

1

tbsp

maple syrup

1

tbsp

wholegrain mustard

1/2

tsp

flaky salt

pinch of crushed black pepper
Instructions
To prepare the pepitas, heat oil in a small frying pan on low heat. Add the pepitas, paprika, oregano and salt. Mix well. Toast on low heat, tossing occasionally for 6-8 minutes until fragrant and starting to turn golden. Remove from heat and cool completely.

Make the salad dressing by mixing all ingredients for it in a bowl and mixing well.

Add spting onion, bell pepper (capsicum), coriander and chilli to a serving bowl.

Prep the avocados last to prevent them from browning. To prep avocados, cut each in half, lengthways. Separate both halves by twisting them. Remove and discard the seed. Cut the flesh of each half into thin slices using a sharp paring knife. Cut the slices in half down the middle. Use a spoon to scoop the flesh out of the avocado half and drop the slices into the serving bowl.

Add salad dressing. Toss gently and mix to ensure that everything is evenly coated with the dressing.

Top with toasted pepitas. Serve immediately.
Notes
Toasted pepitas will keep in the fridge in an air-tight container for up to 2 weeks.

Salad dressing keeps fresh in the fridge for up 2 weeks in a lidded glass jar.

Avocados - Hass or Shepard avocados are both great for this salad.
Cayenne Chilli - Remove the seeds and membrane before chopping the chilli if you don't like spice. For a milder chilli, try jalapeno instead of cayenne chilli.
Wholegrain mustard - This can be substituted with Dijon mustard.
Green apple and green bell pepper - You may substitute with a red apple or red/yellow bell pepper but try to stick with the green counterparts for a clean-tasting salad that also looks very green.
Nutrition
Calories:
388
kcal
|
Carbohydrates:
27
g
|
Protein:
5
g
|
Fat:
33
g
|
Saturated Fat:
5
g
|
Polyunsaturated Fat:
5
g
|
Monounsaturated Fat:
21
g
|
Trans Fat:
0.003
g
|
Sodium:
365
mg
|
Potassium:
923
mg
|
Fiber:
13
g
|
Sugar:
10
g
|
Vitamin A:
641
IU
|
Vitamin C:
45
mg
|
Calcium:
45
mg
|
Iron:
2
mg
Did you make my recipe?
I'd love to hear how you went! Tag me on Instagram @cookrepublic