If you are really looking for a legitimate excuse to eat your favourite chocolate for breakfast, albeit in a softer gooier form and encased in a moist, buttery, raspberry studded cake; then you are in the right blog post with the most perfect recipe. The Bourke Street Bakery Dark Chocolate And Raspberry Muffins have been a staunch favourite in our home for as long as I can remember. And because we live so far from the actual iconic bakery in Sydney, buying the cookbook and baking them myself is literally the next best thing.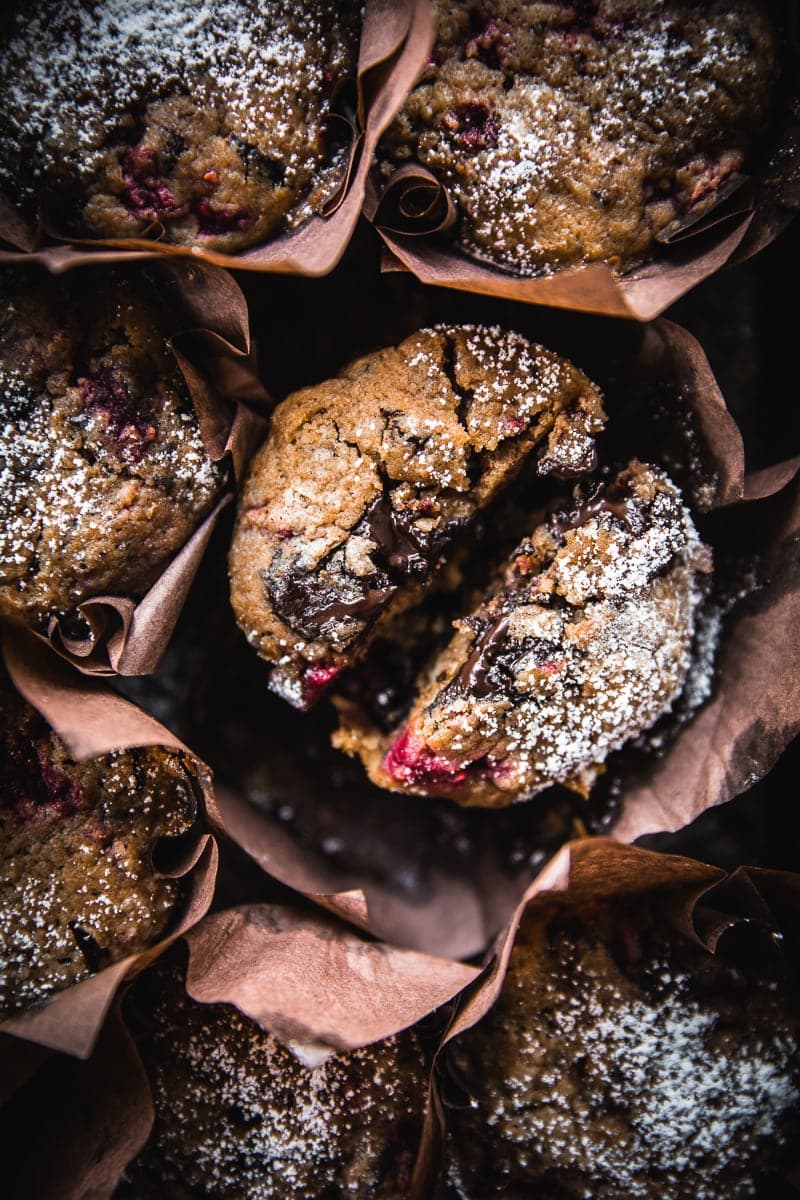 A healthier and more wholesome Bourke Street Bakery Muffin.
I made this recipe for the first time and shared it here on the blog nine years ago. Back then, I would usually follow recipes to the letter as you will see from the insane amount of butter, sugar, and buttermilk in that first recipe. Through years and years of cooking and baking every single day, I have thankfully figured out a system to reduce sugar and fat in a baking recipe and swap for healthier ingredients without losing the taste or the texture. In my opinion, recipes used way too much sugar and butter in the past and it is only a matter of training your tastebuds to appreciate flavours when they are not masked by excessive sugar or other junk. Don't you agree?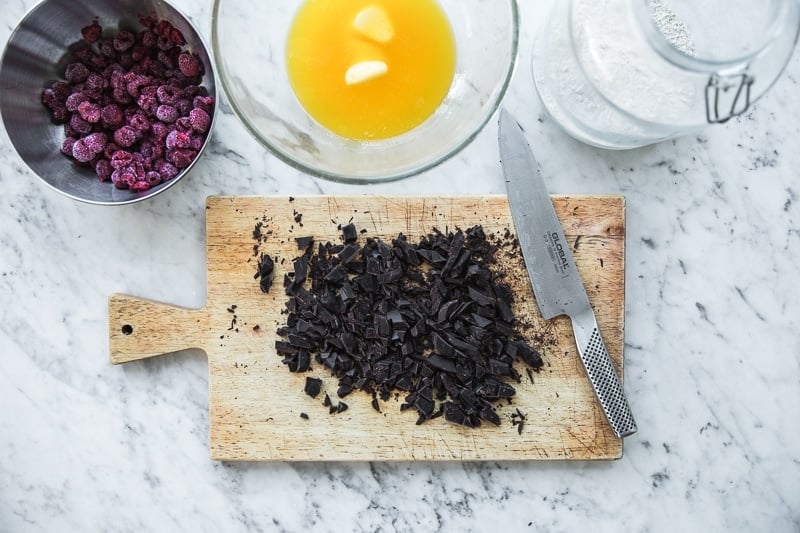 Spelt flour is a great ingredient for baking robust breakfast treats.
So, this recipe uses a combination of regular and spelt flour. I love how the spelt flour adds extra texture to the muffin and more fiber too. I have only used unrefined sugar and cut that down drastically too. Instead of using buttermilk, I have used yoghurt and water. It is possibly lighter, delivers the appropriate tang to the overall taste and is the perfect viscosity to attain that lumpy muffin batter. It is a trick I learned years ago and is always handy - because really, who has buttermilk on hand in the fridge on any given day?
It is still a reasonably naughty muffin. But if your goal is to sink your teeth in gorgeous dark chocolate and have happy brown smiles that can only be washed down with a good cup of coffee, then mission accomplished!  If you bake these, I must warn you, they won't last very long. Happy baking my lovelies! x
Recipe
Hungry For More Recipes? Subscribe to my newsletter. Check out Facebook, Instagram and Pinterest to see everything I share! And if you love cooking and new cookbooks, join my free Cooking Club on Facebook!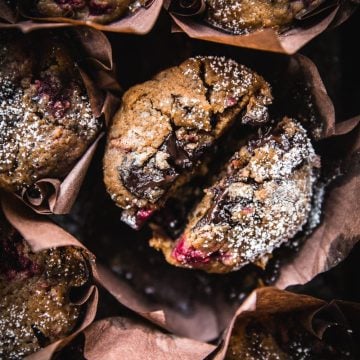 Ingredients
150

g

wholemeal spelt flour

200

g

plain flour

raw sugar for sprinkling and icing sugar to dust

2

teaspoons

baking powder

200

g

rapadura sugar

100

g

Greek yoghurt

250

ml

water

250

g

salted butter

,

melted and cooled

2

eggs

,

lightly beaten

1

teaspoon

vanilla extract

225

g

frozen raspberries

200

g

dark chocolate

,

roughly chopped
Instructions
Pre-heat oven to 190°C (convection)/ 170°C (fan-forced). Line a 12-hole muffin tray with baking paper cups.

Place spelt flour, plain flour, baking powder and sugar in a large mixing bowl. Toss to combine.

In a smaller bowl, place yoghurt and water. Mix lightly using a fork until smooth. Add butter and eggs. Stir once or twice to just combine.

Pour the wet mixture over the dry mixture in the larger bowl. Using a wooden spoon, mix gently with a light hand until the batter is just combined.

Gently fold through the raspberries and chocolate till all the dry flour bits are wet and the batter is still lumpy.

Scoop batter into the muffin cups until each is two thirds full. Sprinkle with raw sugar. Bake in the pre-heated oven for approximately 25 minutes until cooked through and golden on top.

Remove from the oven. Dust with icing sugar once cooled. Either enjoy warm or cool completely and freeze in individual ziplock bags for breakfast on the run. Will keep in the fridge for up to five days and in the freezer for up to a month.
Notes
Rapadura sugar can be substituted with coconut sugar or brown sugar.
Did you make my recipe?
I'd love to hear how you went! Tag me on Instagram @cookrepublic
One Year Ago – 5 Ingredient Vegan Almond Tahini Cookies
Two Years Ago – Avocado And Lime Margarita
Three Years Ago – Apple Strawberry Pie Muffins
Five Years Ago – The Valentine Smoothie + Healthy Smoothie Guide
Six Years Ago – Mango Coconut Rice Pudding
Seven Years Ago – Vegetable Fritter Salad
Eight Years Ago – Petite Carrot Muffins